Here's a little something to get you through another night glued to the couch. Our latest instalment of the Sunday Screening motorcycle video series takes a look at 2 very different bikes. The first is a Bonneville Triumph T120 by Thornton Hundred Motorcycles in the UK customised for a repeat customer. The second is the all-new BMW Motorrad R18 which has just been unveiled in its final production specification. Enjoy the show…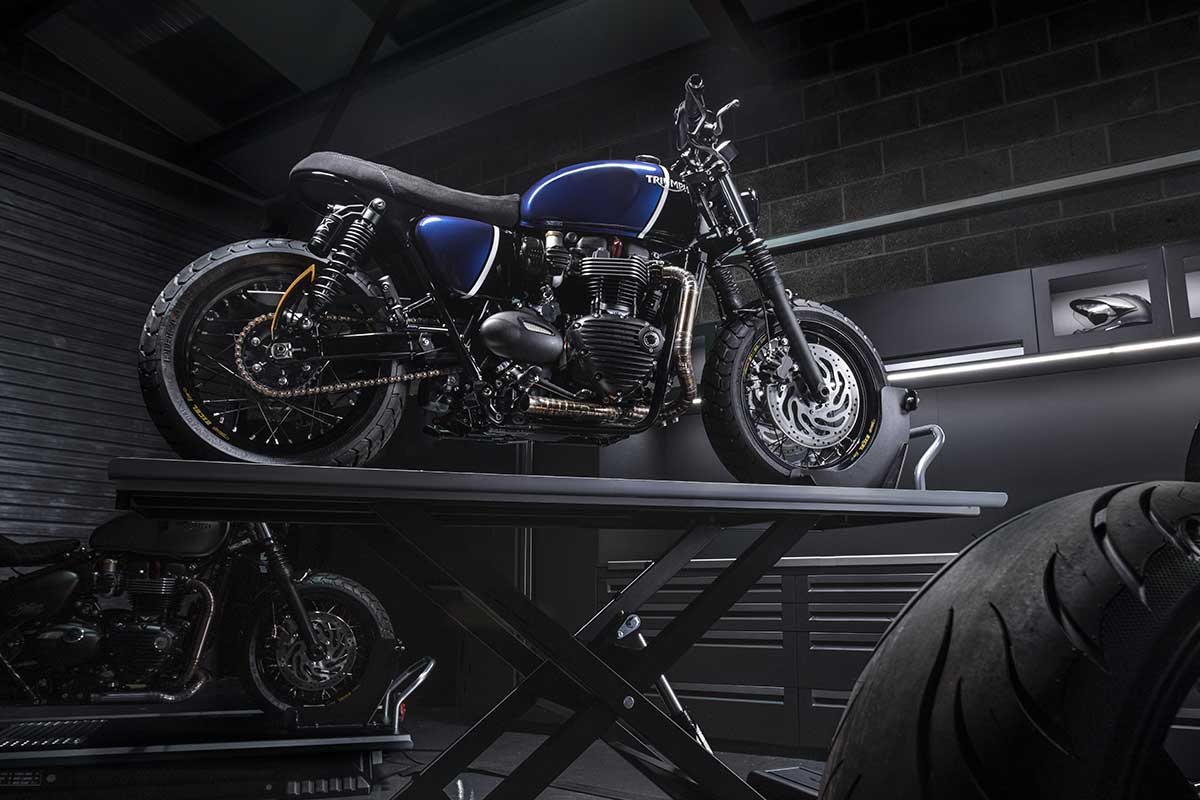 Thornton Hundred Motorcycles T120 Bonneville
Last year we featured a show-stopping custom Ducati Panigale by Jody Millhouse of Thornton Hundred Motorcycles. Since then Jody's been busy churning out a steady stream of custom builds. Lately, he's been keeping himself busy with a slew of Triumph based builds including this bike, a tastefully modified and upgraded T120 Bonneville. During this project Jody kept the cameras rolling. When the project was finished he put together this great video that documents the process from start to finish.
The custom Bonneville T120 was built for Body Coach Joe Wicks who already owned a supercharged Triumph Bobber, also built by Jody. The goal with the T120 was to make it stand out from the crowd and to eek a bit more oomph out of the parallel-twin. This involved installing a wide wheel kit and upgraded suspension, trimming the frame, fabricating a pie cut custom exhaust and a making a few internal engine tweaks. Hit the play button below to see the build from start to finish. If you'd like to see more detailed photos of the finished bike check out the feature over on Pipeburn.
BMW Motorrad R18 Heritage Cruiser
BMW Motorrad has just lifted the covers of the final production version of their R18 cruiser and it's a behemoth of a bike! Not only does the R18 feature the biggest Boxer twin the Bavarians have ever built, but it's also big in every sense of the word. The BMW R18 has a wheelbase of 68 inches (1,731 mm) making it almost 4 inches longer than Harley's Electra Glide. At 772lbs (350kg) it's a shade lighter than the latest Goldwing and the steel used to build its massive exhaust system costs more than than the GDP of Mozambique. Then there is, of course, that enormous Boxer twin. Surprisingly, despite a capacity of 1,802cc the engine is only putting out 91bhp. It makes up for a lack of horses though with 116Nm of torque which is readily available low in the rev range.
The R18 isn't your typical BMW and that's because it wasn't built for your typical BMW customer. This bike is very clearly aimed at taking on the US cruiser market, and with the current state of its competitors, it has a pretty good chance of succeeding. The BMW R18 also features plenty of American cruiser styling cues such as a laid back riding position, wide handlebars and chrome, chrome and more chrome. As with the R nineT BMW wants R18 customers to customise their rides so they have already released images showing the few custom examples. These have all been made using parts from an extensively stocked R18 catalogue that's been released in conjunction with the new bike. As for price the BMW R18 goes on sale with a base model price of $17,495 USD.
For an in-depth look at the BMW R18 watch the 2 videos below. The first is the BMW Motorrad official launch video, the second is a compilation of all the R18 press videos wrapped into one for easier viewing.