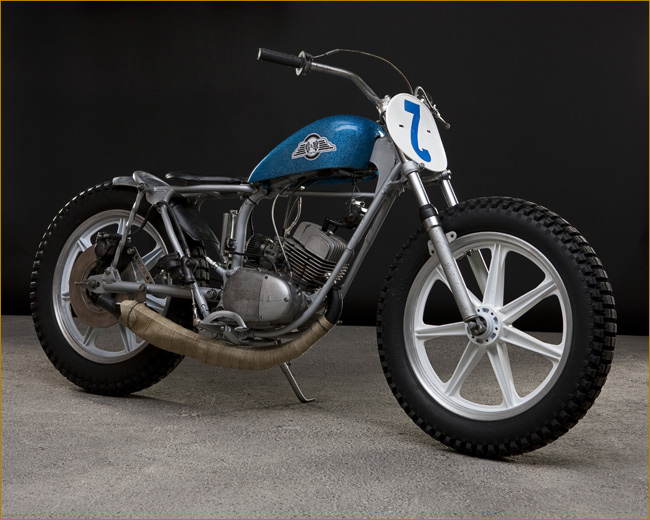 "Funny thing about motorcycles, when you get one, you want two. When you get two, you want ten. Then one day you have ten motorcycles and you start to think about how to combine all the bikes into one bike. Not literally combine the parts into one bike, but take all the knowledge you have accumulated and build one bike that encompasses your vision of the ideal bike.
The ONE Bike."
And with that an idea was born. A group of builders from different states, walks of life and most importantly different custom building styles were invited to contribute.
Steam Punk Scooter
Yamaha SR Cafe Racer
Every motorcycle that appeared at the show had a story. Whether it was a basket case revived from the dead, a restored classic or a ground up custom build each was unique and when they came to the show it wasn't just to be put on display, it was to share their stories. The One Motorcycle show was about sharing the process, the life long dream, the passing down of parts, the photos, the heart ache and the fun.
New Norton Commando
The 50 or so custom motorcycles included Cafe Racers, Bobbers, Trackers, Choppers, Classics, Sports bikes and some Steam Punk looking contraptions have been captured on camera and pulled together in to a book simply title "The One Motorcycle". The 98 page full colour, hardcover publication was on sale at the show and can now be purchased online at blurb.com. As always it lovely to read about such things but photos tell more of the story than I ever could. Enjoy.
BSA Bobber
A "Frankenstein" Honda 350 built entirely from donor parts