Triumph Motorcycles range of Modern Classics is arguably the best mix of modern technology and classic style money can (currently) buy. But in the custom motorcycle world, there's always room for improvement. So when a customer approached Grzegorz Korczak of Polish workshop Unikat Motorworks wanting to amp up the vintage appeal of his 1200cc Triumph Thruxton, Grzegorz eagerly accepted the challenge.
Fettling fine customs from Hinkley's Modern Classics is nothing new to the Unikat team. In the past, we've seen them produce a limited run of off-the-shelf Triumph T100 cafe racers that were covered by Triumph dealership warranties. And they even modified the first 3 Triumph Thruxton RS to be sold in Poland. So to say they already had a good idea of what they were doing would be an understatement. But that doesn't make their work with this Thruxton any less impressive.
"The owner, Kazimierz, wanted this modern bike to look as vintage as possible," says Grzegorz and after 3 months of hard work that's precisely what he got.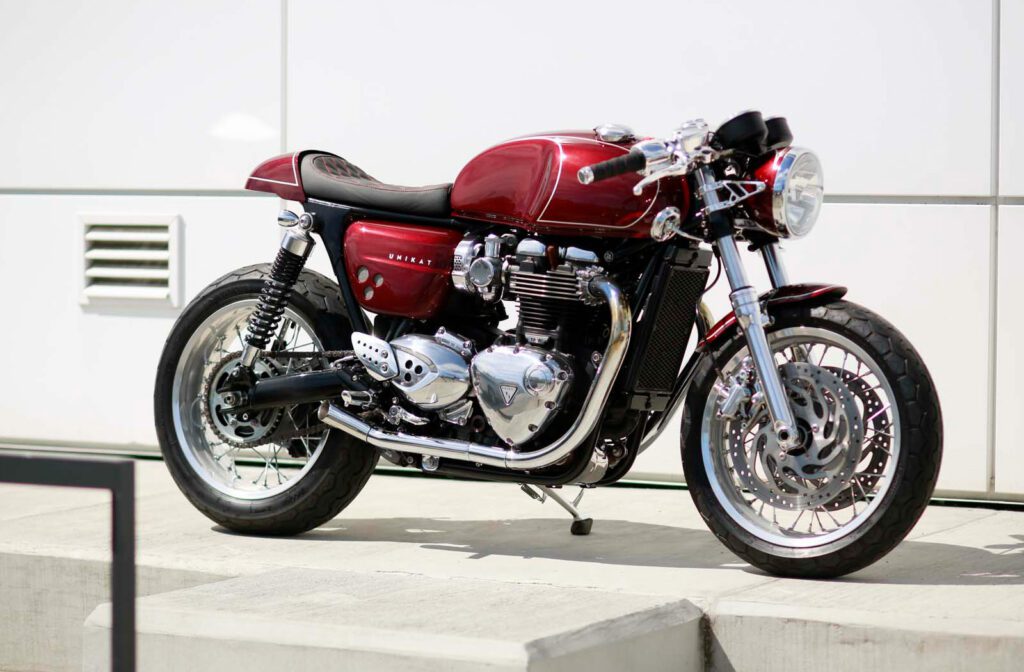 One key aspect of giving the Thruxton its classic vibe was to remove any banal modern finishes. A hot favourite with manufacturers at the moment is brushed and clear coated alloy and the Triumph Thruxton bears no shortage of it.
The list of culprits included the Thruxtons engine cases, levers, heel guards and injection covers. When it came to giving these parts more of a classic cafe racer vibe the solution could only be achieved with good old elbow grease. So after removing the parts from the bike the Unikat team got to work hand buffing each item to a more classically styled mirror finish.
But Unikat didn't stop there.
To really amp up the retro vibe they then stripped the paint from the top clamp, fork legs, brake callipers and more so they too could be all shiny and chrome.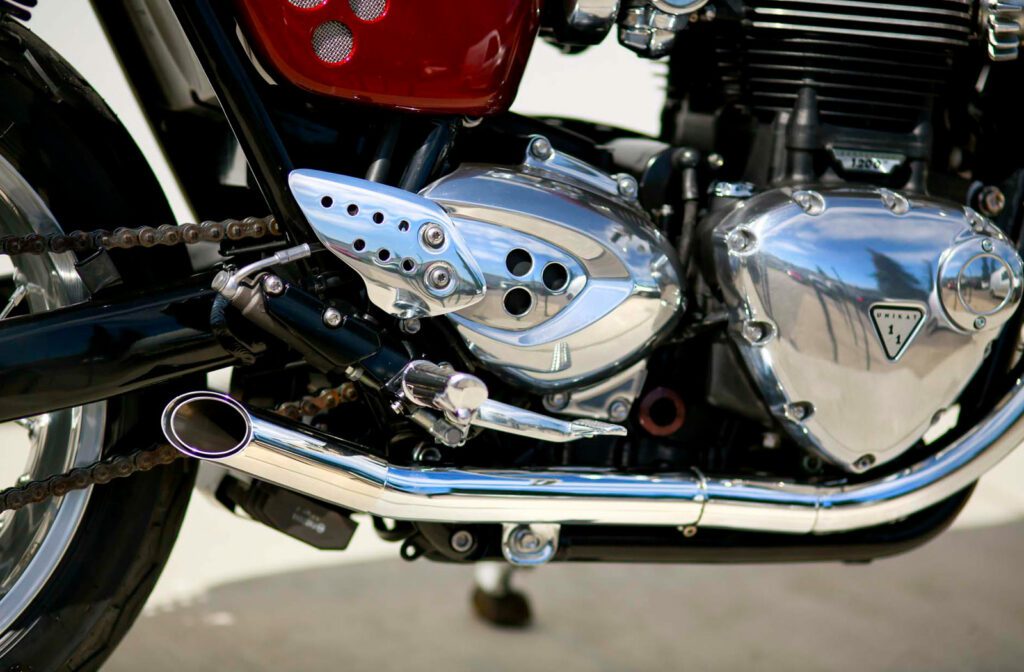 Next, they turned their attention to removing any unsightly homologation design components. The first to go was the ungainly rear fender and bulky rear light assembly. To do this they dispensed with the factory items and designed an entirely new rear end from scratch. Starting with the subframe Unikat reshaped the rear section ready to receive a new, custom made tail unit. They then built and upholstered a bespoke seat pan and added a removable hornet's tail style cowl built entirely in house.
To retain roadworthiness rear end lighting duties are governed by retro bullet-style indicators. These also double as brake lights, helping to keep things as minimalistic as possible.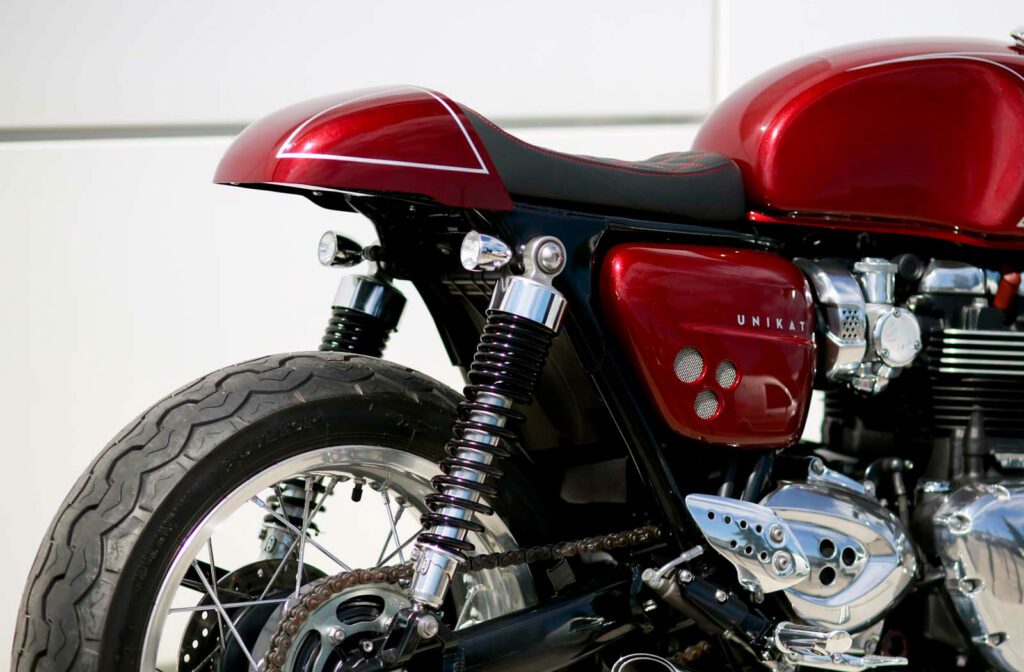 At the front end, Unikat continued to trim things down. Starting with the front fender they cut it back to expose more of the front wheel. The Thruxtons modern-looking headlight stays were then replaced by lighter weight alternatives that tuck the factory headlight in tight. Custom made clip-ons sit on the fork stanchions and the mirrors have been relocated to hang off the lower triple clamp. This left nothing sitting higher than the top of the fuel tank – recreating the low slung look synonymous with cafe racers.
Again to keep things clean Unikat opted for Motogadget bar-end m.Blaze Disc indicators and the chunky ignition block was swapped out for a keyless alternative.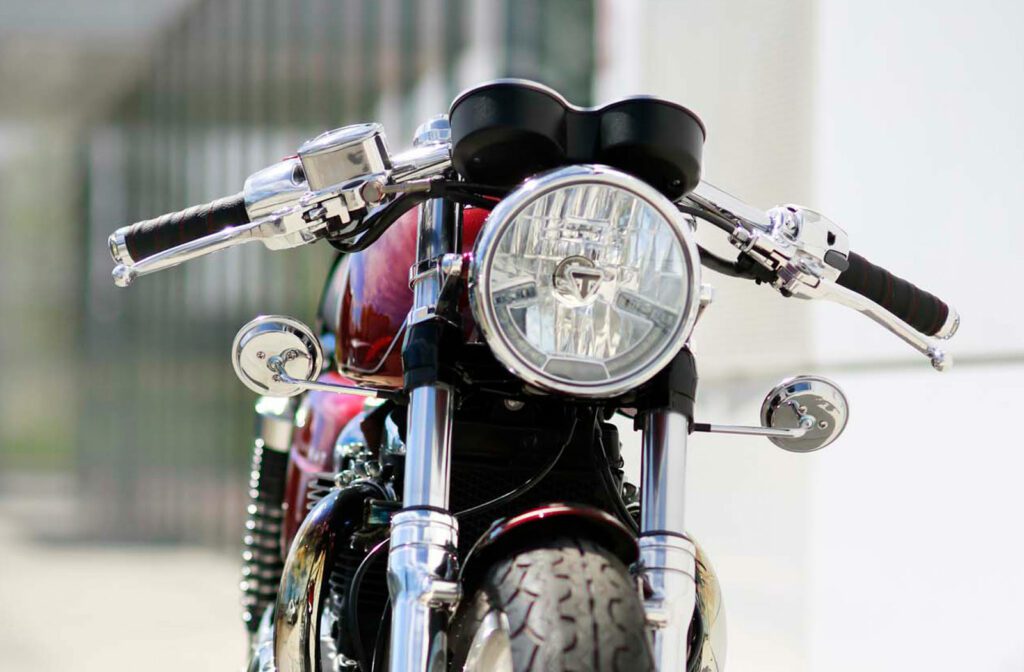 Wrapping up the custom parts list on this tasteful transformation is a set of slash-cut style pipes which Grzegorz confesses he loves the sound of. The grips are made from leather, stitched to match the seat and the tyres are Dunlop's vintage look K81 / TT100 rubber.
When the time came to choose a colour Grzegorz pitched a rather bold scheme to the bike's owner. "I love the fact that was he brave enough to paint his machine this dark Bordeaux metallic red," he says. "We invented it with our painter. In the shade, it's really dark but in the sun it shimmers with bright sparkles."
To add one more touch of classic flair Unikat then laid pinstripes using a theme-matching bright silver paint.
As for whether Grzegorz was happy with their latest build – he handed the keys back to Kazimierz stipulating that if the bike ever went up for sale, he should be the first person he calls. Which we're pretty sure means he likes it.