Great bikes should be ridden. Matt built his Triumph Trophy cafe racer as a tribute to a motorcycle once ridden by his late father. Pieced together over 3 years the Trophy was always destined to be raced. So, when the Bike Shed London held the first ever Cafe Racer Cup Matt signed up without hesitation. On the day of the event, social racing soon turned competitive. When the dust had settled Matt and his Trophy held a respectable 4th place amongst 70 riders. In conjunction with The Bike Shed here's the story of how Matt's bike came to be…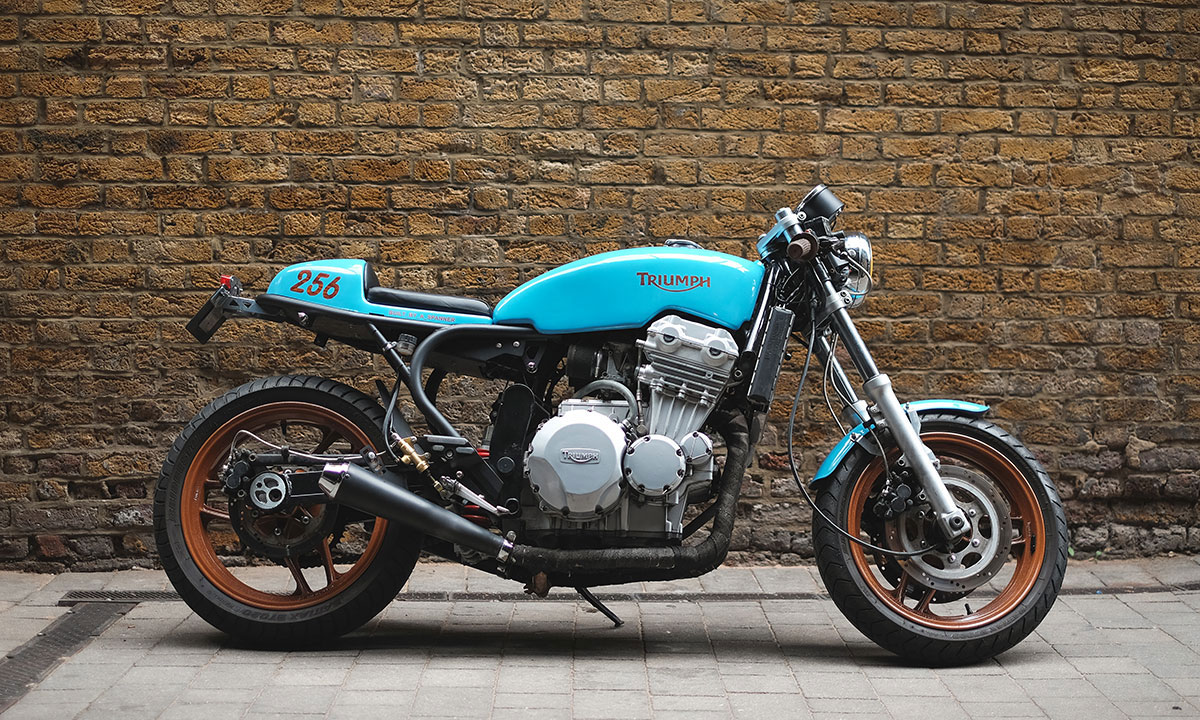 "I wanted to build a tribute to Dads old Ariel 250 that first got me into motorcycles. It was highly tuned. I got to spend plenty of time handing spanners across to him in the garage so that we could take it racing again." says Matt. "I'm not a particularly skilled mechanic. I started looking for something that would fit my lanky frame and that I could build with my limited skill set. I found a company on the Isle of Wight named 'Cafe Racer Kits' who make subframe and bodywork kits for old Hinckley Triumphs so I bought the Trophy and got to work."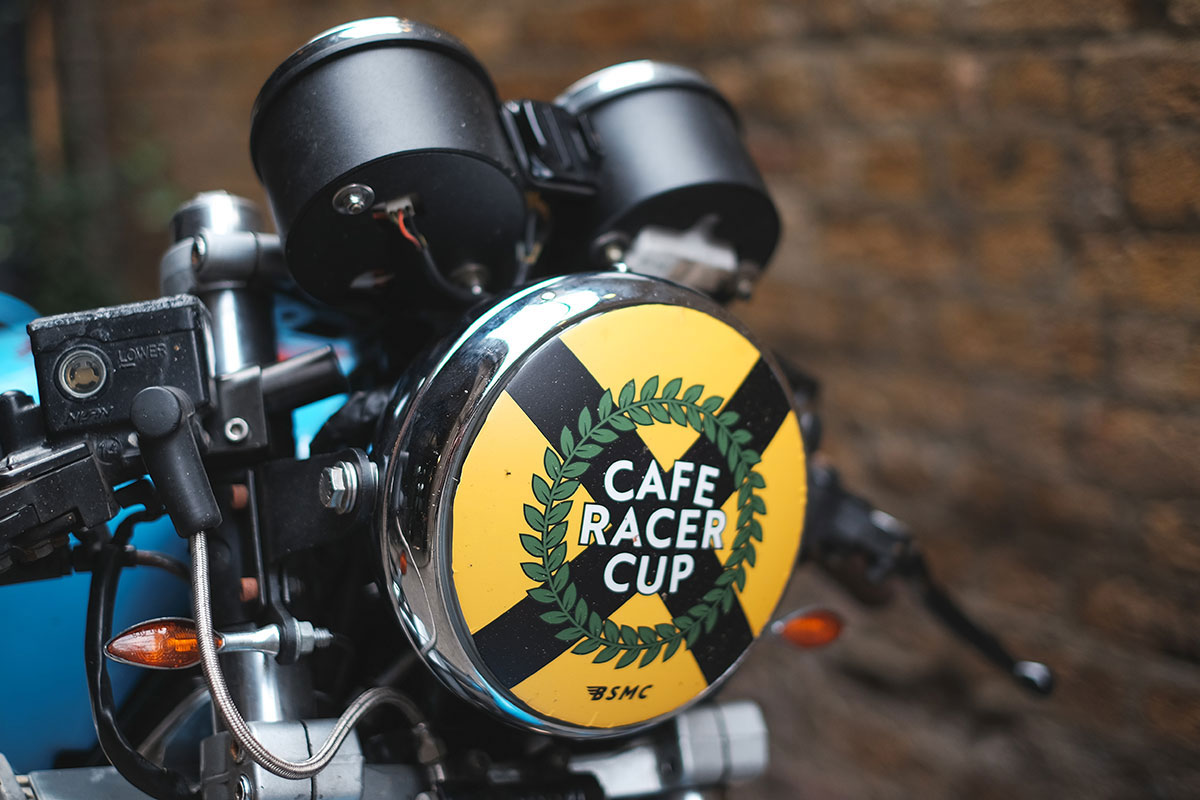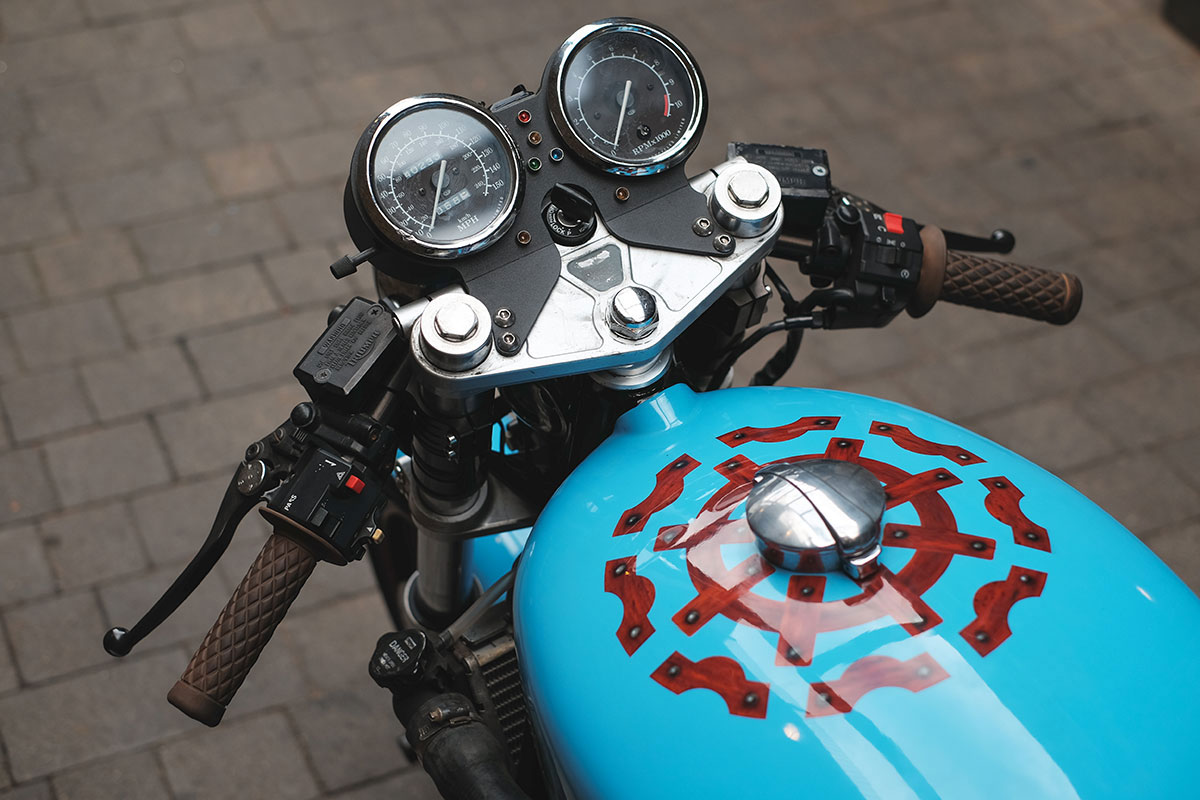 Soon afterwards the bodywork and subframe kit arrived from Cafe Racer Kits UK complete with detailed instructions. The build began, as most do, with a full teardown. Unfortunately, things quickly went beyond what Matt had hoped for. As he became more intimate with the bike he discovered that several things were in worse condition than predicated. This blew out his timeframe and meant he would have to pick up some new skills to get the job done. Then came the most stressful stage of the build, cutting the frame.
"This was a nervous time. I measured 3 times then got a cup of tea. Measured a couple of times more and called mate over. Had another cup of tea. He measured it twice and finally I was convinced I was cutting correctly!"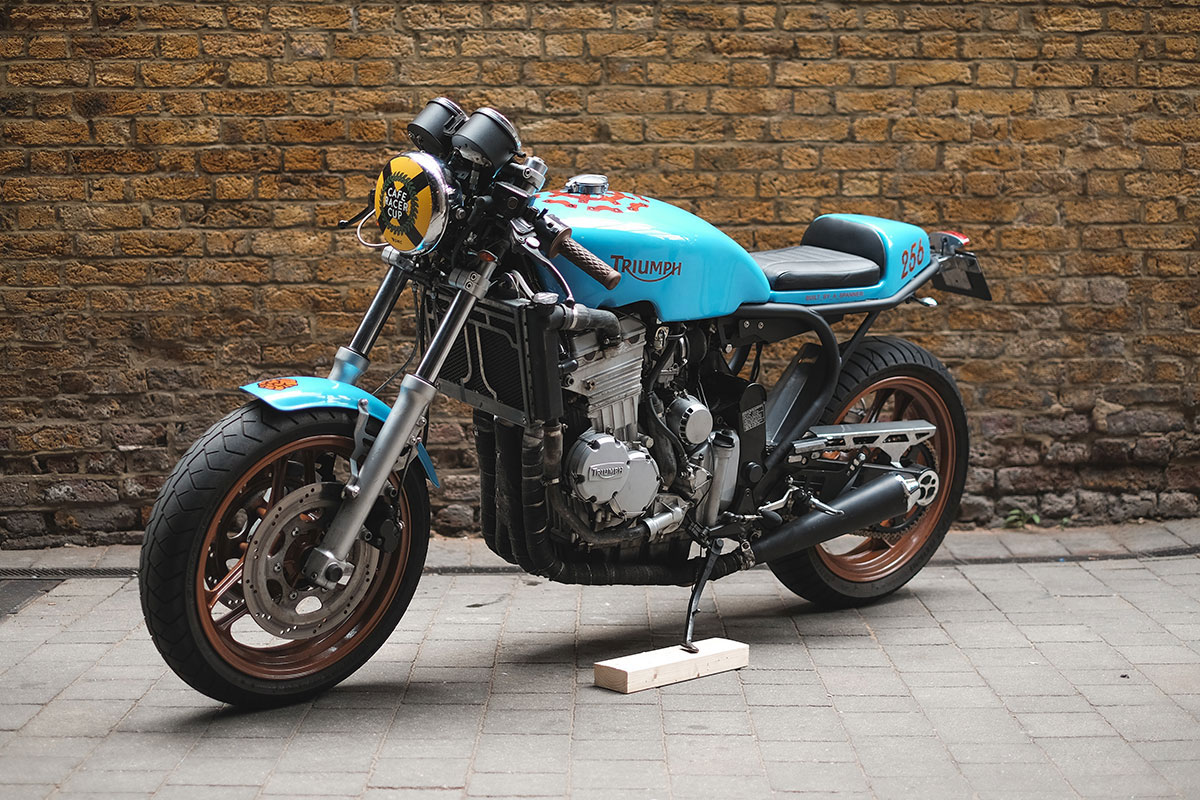 After a few carefully made cuts the new subframe bolted straight on. Then, to future proof things, Matt powder coated and refurbished the swinging arm and wheels. Thanks to his girlfriend, the engine was rebuilt using a pro-bolt kit and safety wired in preparation for the track. A Hagon shock was fitted to improve handling and add some rear end lift for a more aggressive stance.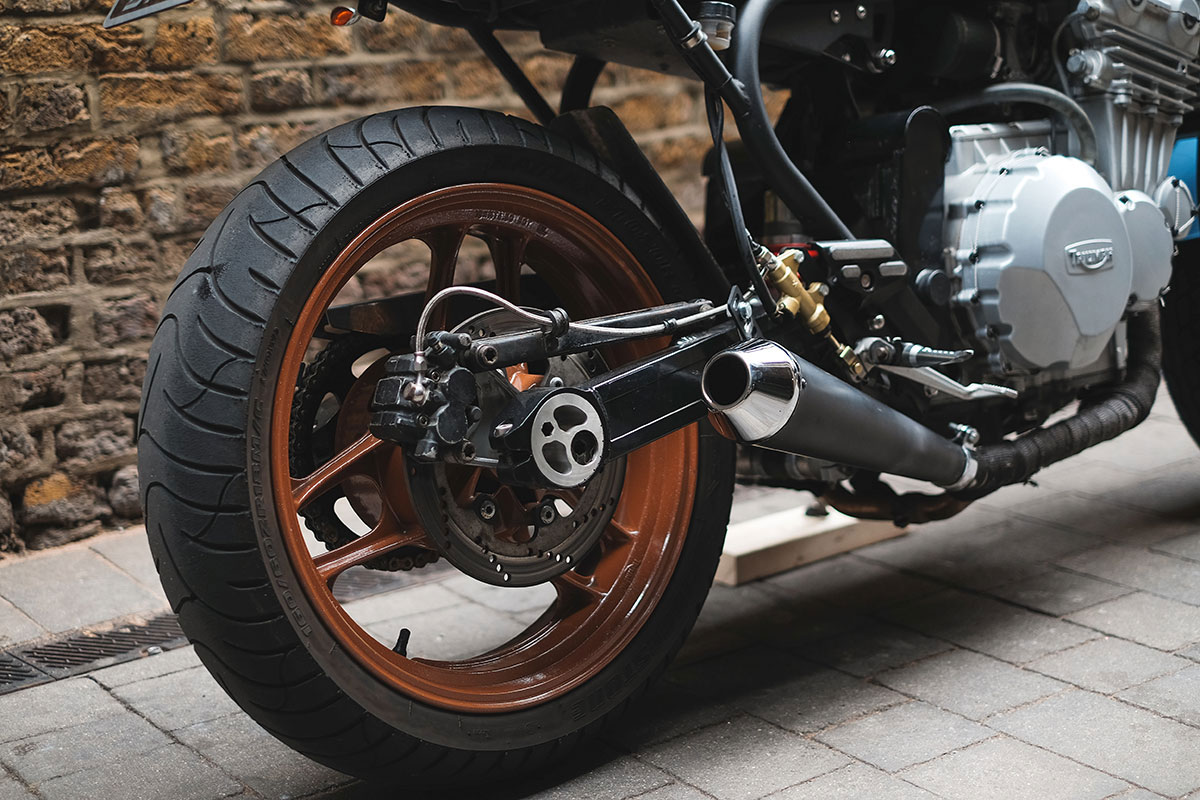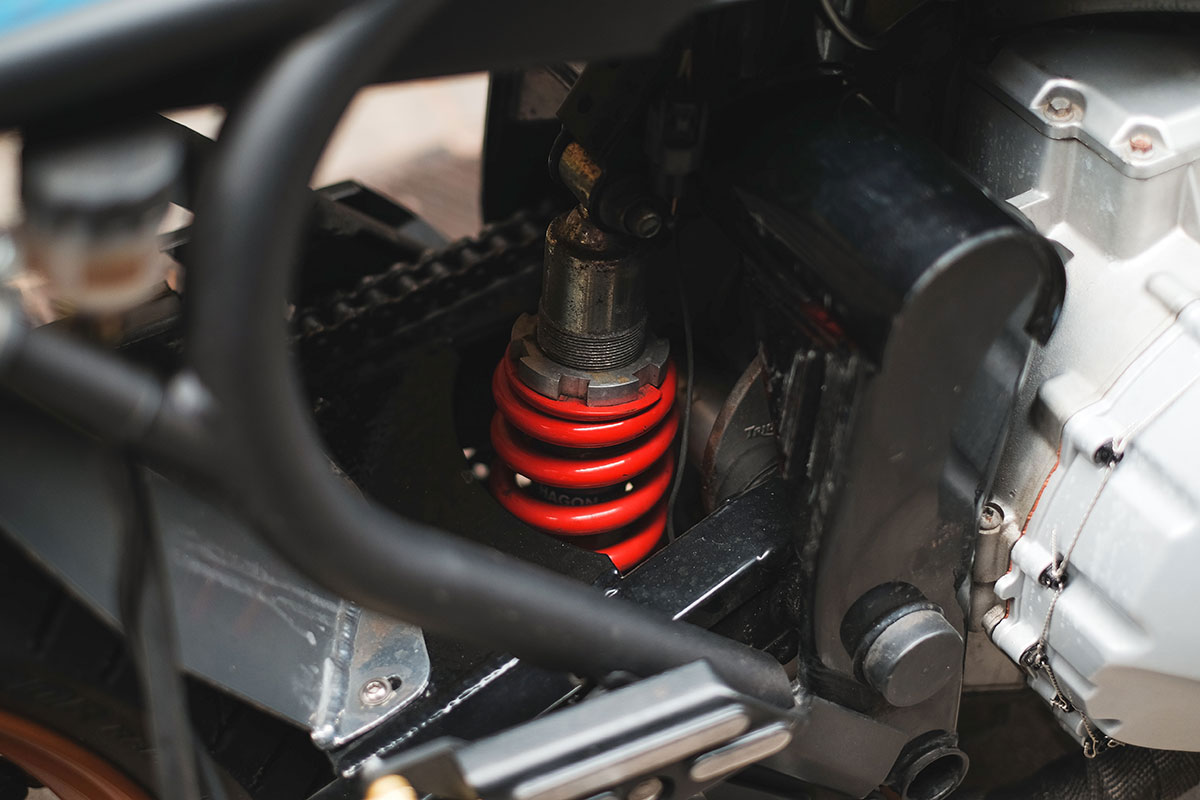 Matt also invested some serious time into the Triumph's electrical system. The bolt-on kit relocated the battery, which he had swapped for a lightweight version and added a new fuse box. He then began the tedious task of building a completely new wiring loom based on the original. Since the bike was destined to race a few performance modifications were also in order. Free-flowing air filters replace the stock box, a custom exhaust system was installed and the carbs tuned to suit.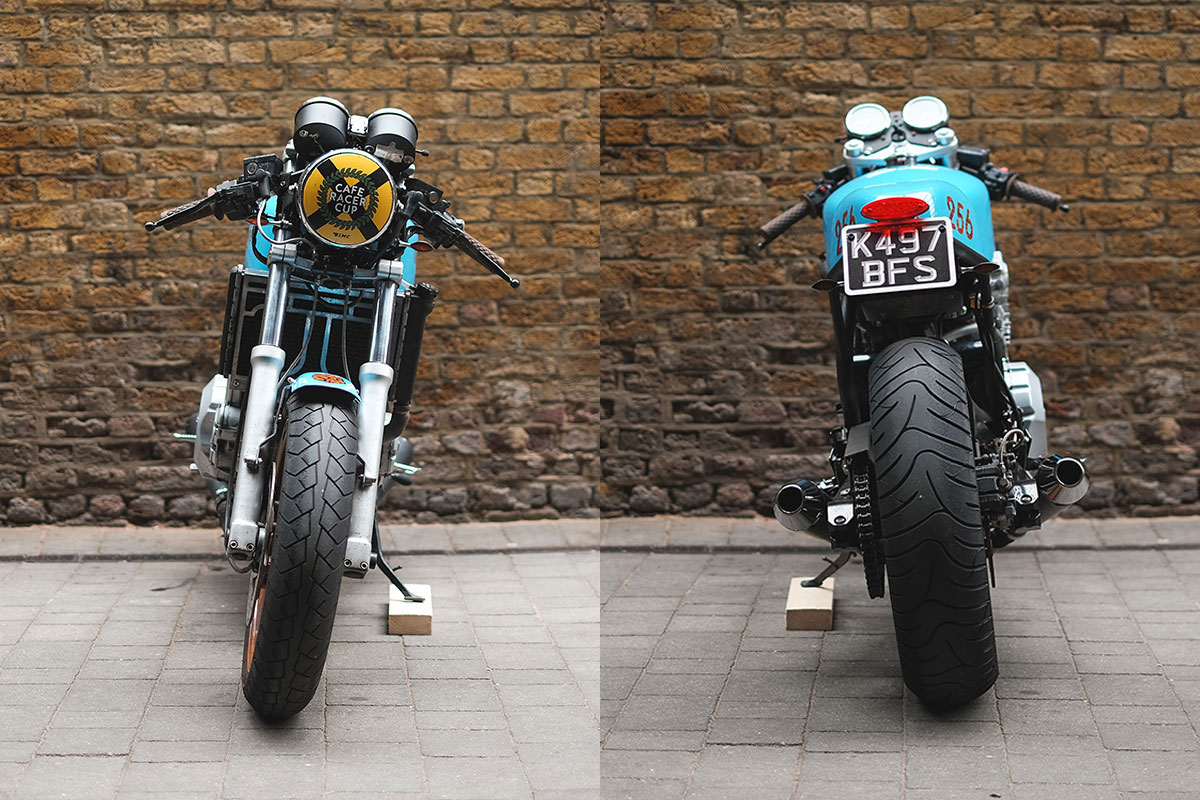 To finish the build off Matt took inspiration directly from his fathers old Ariel. "The body is the same blue that was on Dad's and bares his race numbers," says Matt. "I also added a simplified Buddhist Wheel of Life with an alchemist symbol on the outside. The piece means 'live in your years' and that's what I wanted to capture with this bike because Dad really lived. I'm trying to do the same thing."
"I'm not a mechanic. I don't have too many skills. But, if you take your time, you number everything,
take loads of photos, take loads of notes, you could build something like this."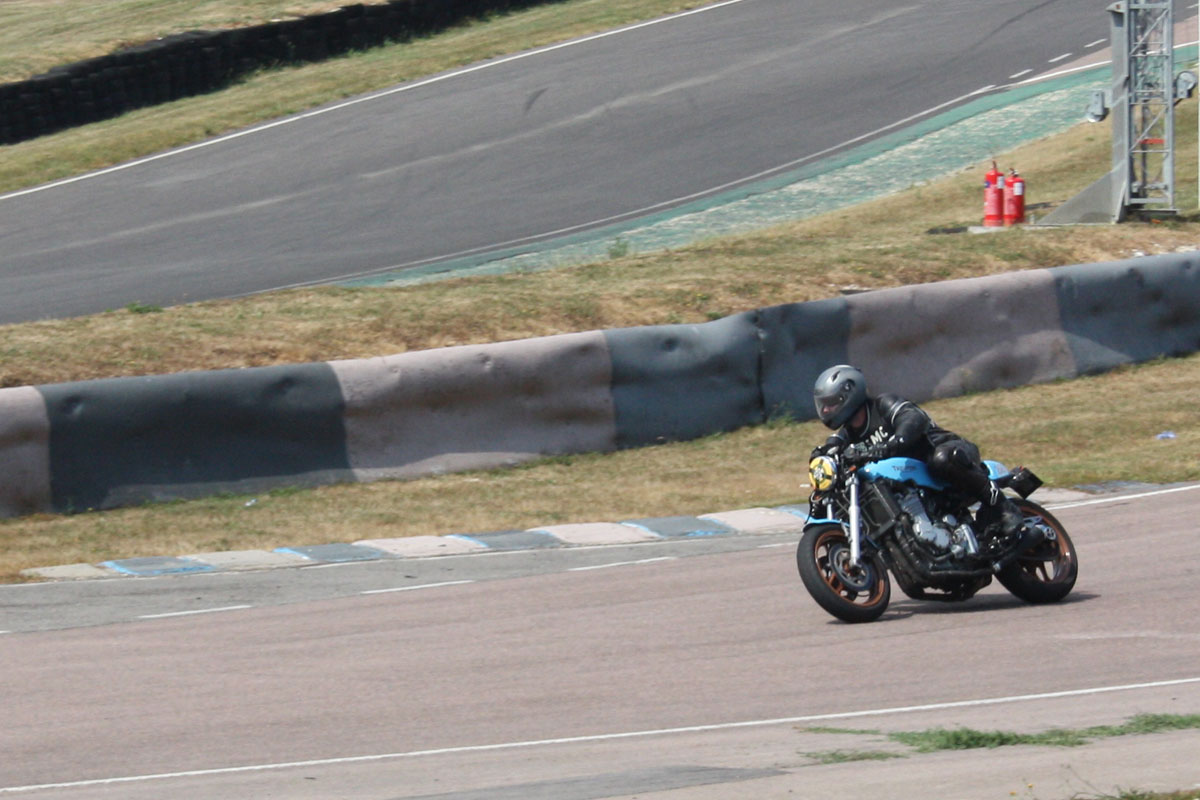 Matt's father raced at Lydden Hill, the same track where the BSMC Cafe Racer Cup was held. It was the first time he'd had taken the Triumph racing and it clearly performed well. Along with an impressive 4th overall placing he arranged to have a few photos taken that mimicked shots he had of his father racing his Aerial. It's a moving tribute and an experience that is sure to be a lasting memory.
For the complete build story of this Triumph Trophy cafe racer, in Matt's own words, watch the Bike Shed video below.
Special thanks to The Bike Shed.   First photo in story by Amy Shore