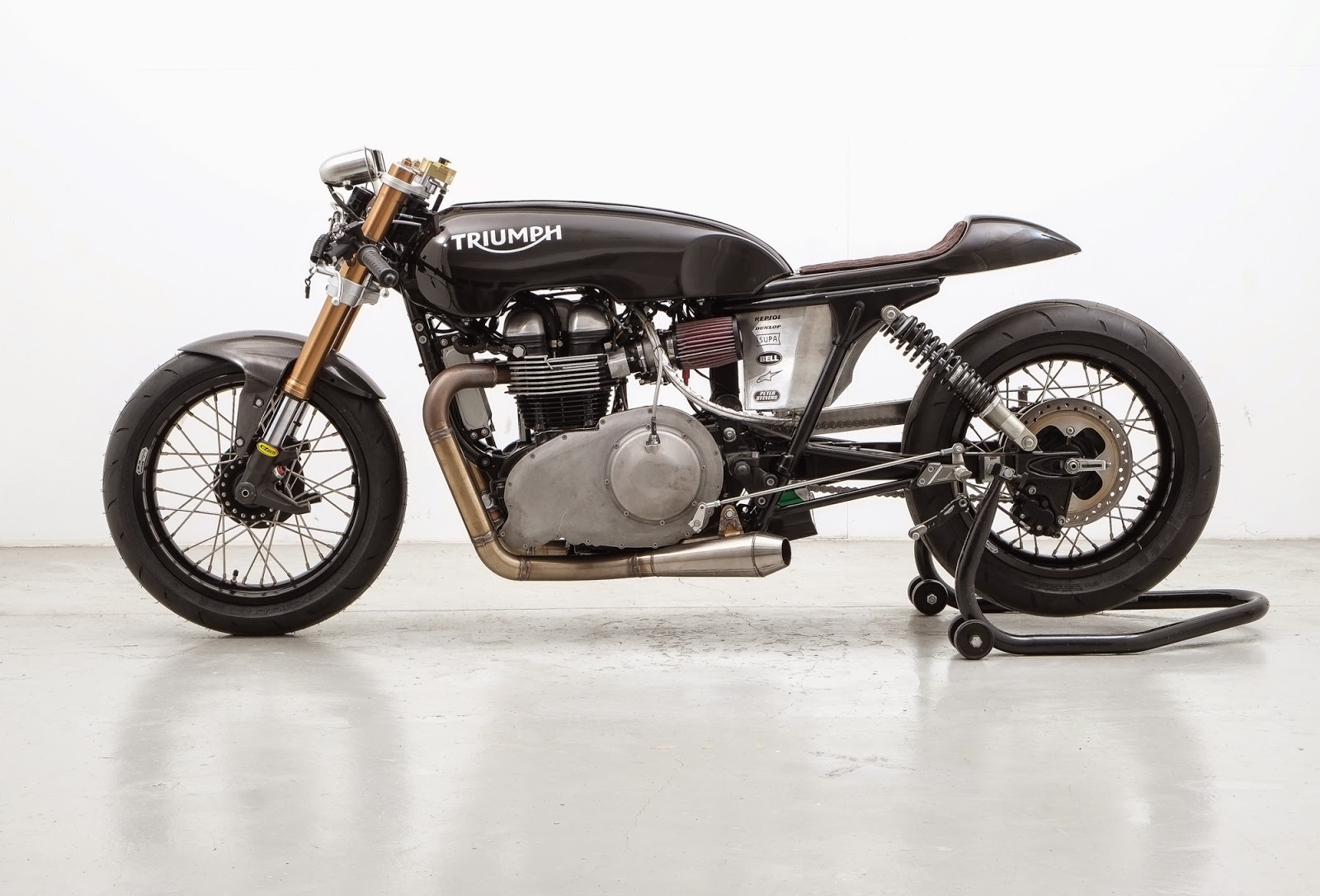 No it doesn't have a headlight. No it doesn't have indicators, a rearview mirror or a stop light. No it's not going to be comfortable for long rides and no you can't have a go. This is the 'Triumph Salt Racer'. A purpose built land speed record breaker (fingers crossed). It's the work of a few local geniuses here in Melbourne who have combined their talents, resources and know how to build a land speed bike with its sights set firmly on setting a new DLRA record at Lake Gardiner in South Australia at the end of this month. Cloaked in carbon fibre and boasting a "few" more horses than your regular Thruxton, this Triumph's far from stock and every tweak that's been made had no other purpose than to make it go as fast as possible!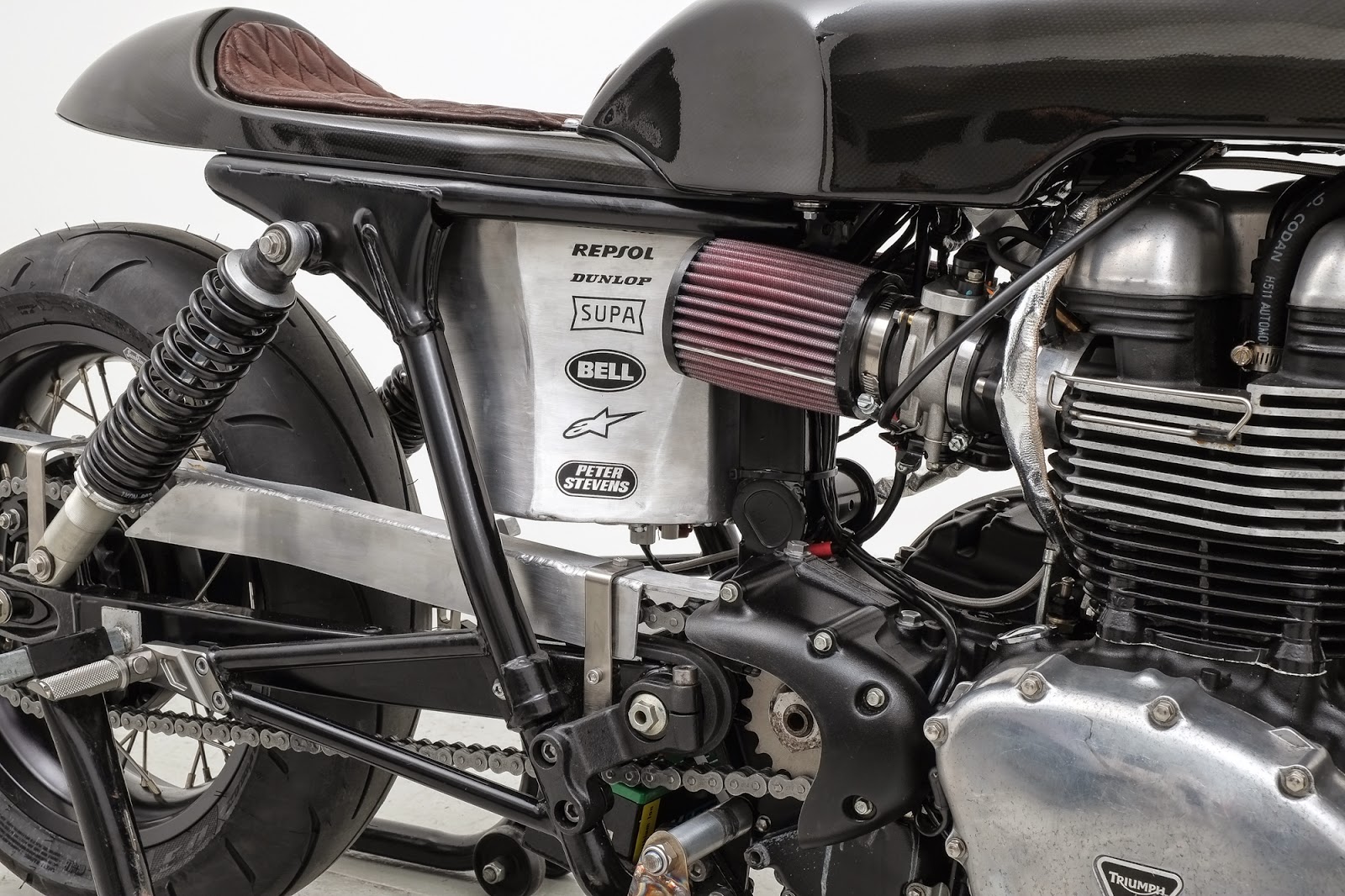 The project began with a stock standard 2008 Triumph Thruxton and the formation of a development team. At the helm was Triumph Australia and Peter Stevens Motorcycles who were joined by engine and tuning guru Andrew Hallam and engineering experts Ross from Supacustom and Adrian from Skrunkwerks. Out of all the bikes in Triumph's lineup the '08 Thruxton was chosen because of the flexibility its fuel injection system offered for tuning and due to its 360 degree crank which was deemed more appropriate for land speed racing by Hallam.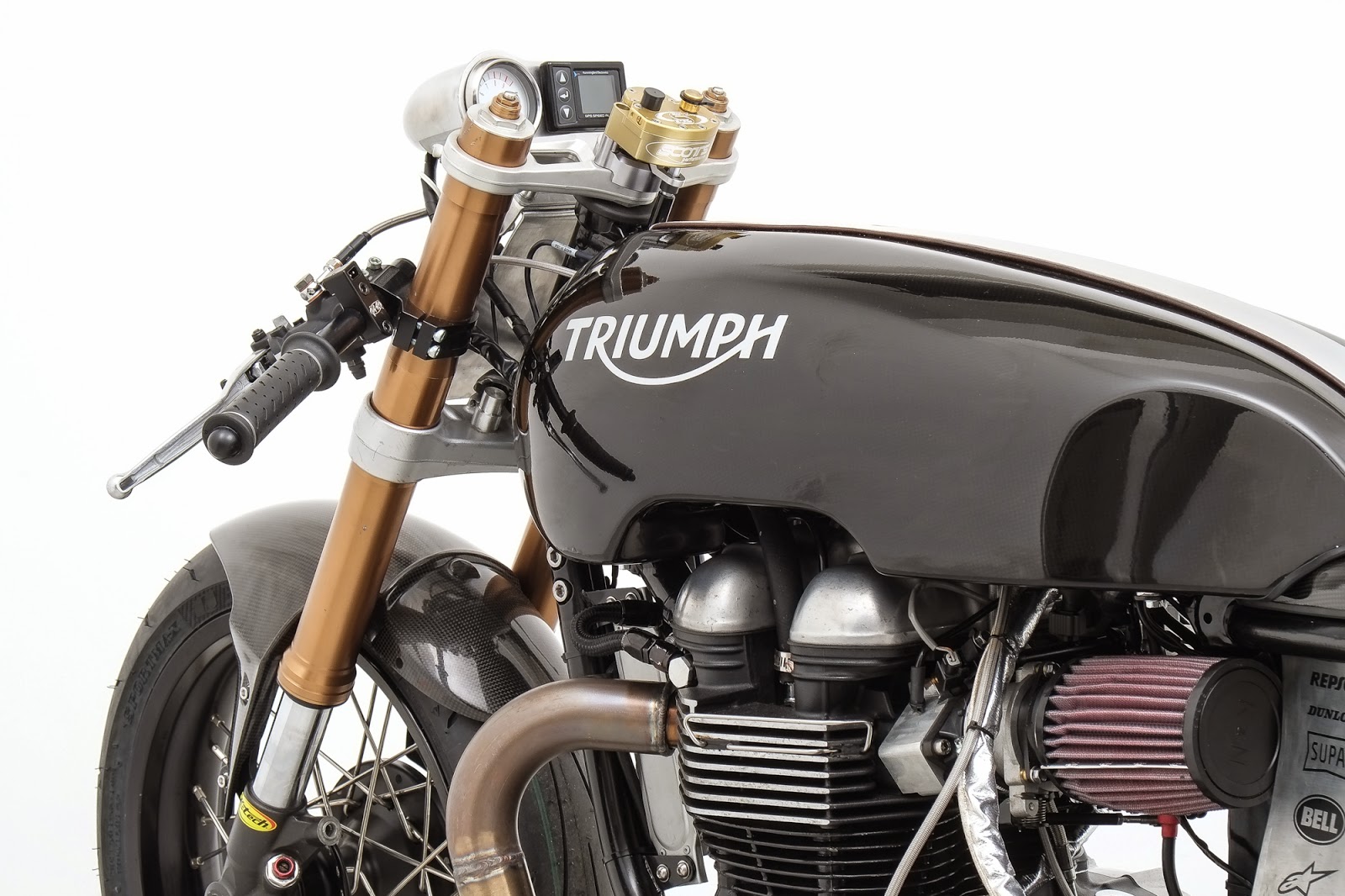 With the engine left in Hallam's capable hands Ross and Adrian started work on the frame and bodywork. Trimming off excess tabs and cutting away the stock tail loop the frame was left much leaner than stock with only the essential mounting points remaining. Custom foot controls for the stretched out riding position were mounted to new struts welded to the frame and an extended swingarm was bolted in place. A set of adjustable inverted forks from a Triumph Daytona 675 and new rear shocks replace the original Thruxton gear for improved high speed handling on the salt and the low mounted, 48mm Vortex clip on bars position the "pilot" low on the tank for improved aerodynamics. Ross drew up several different designs for the bikes bodywork during its development, but it was his sleek Cafe Racer inspired sketch that got the winning vote. Made entirely from carbon fibre the fender, tank and tail weigh a fraction of the bikes original bodywork and create a visual line that makes the bike look fast while standing still.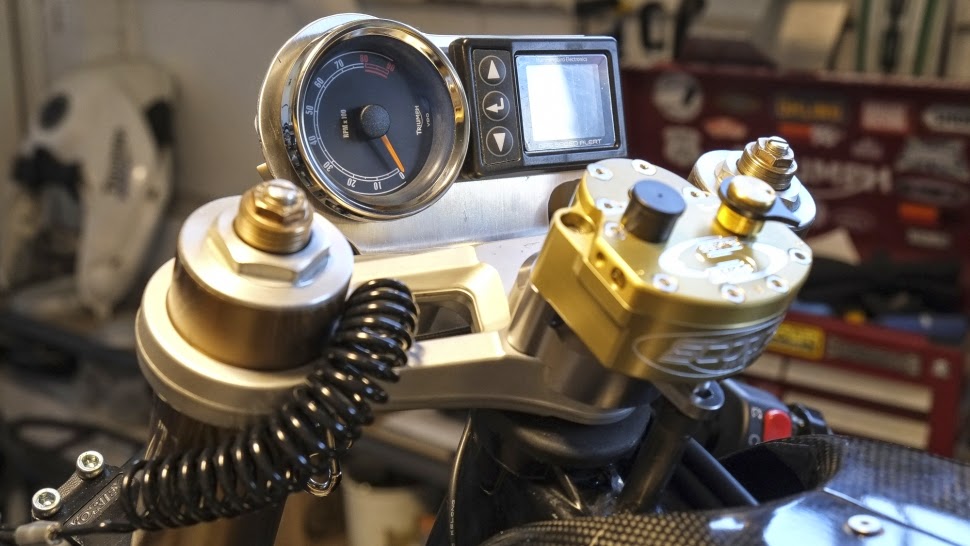 On the Salt Racer's top clamp you'll find an essential part of the bikes design in the form of a GPS speedo. While it may seem redundant to have a speedo when you're not bothered about adhering to local speed limits it allows the rider to monitor speeds during official safety runs on the salt. The original Triumph electronic tacho was deemed suitable so it was mounted on a simple alloy bracket next to the speedo. A steering damper and additional engine kill lanyard strap have also been added to the front end to meet land speed racing regulations and the regulator/rectifier is mounted up front to maximise cooling and avoid any inconvenient electrical mishaps.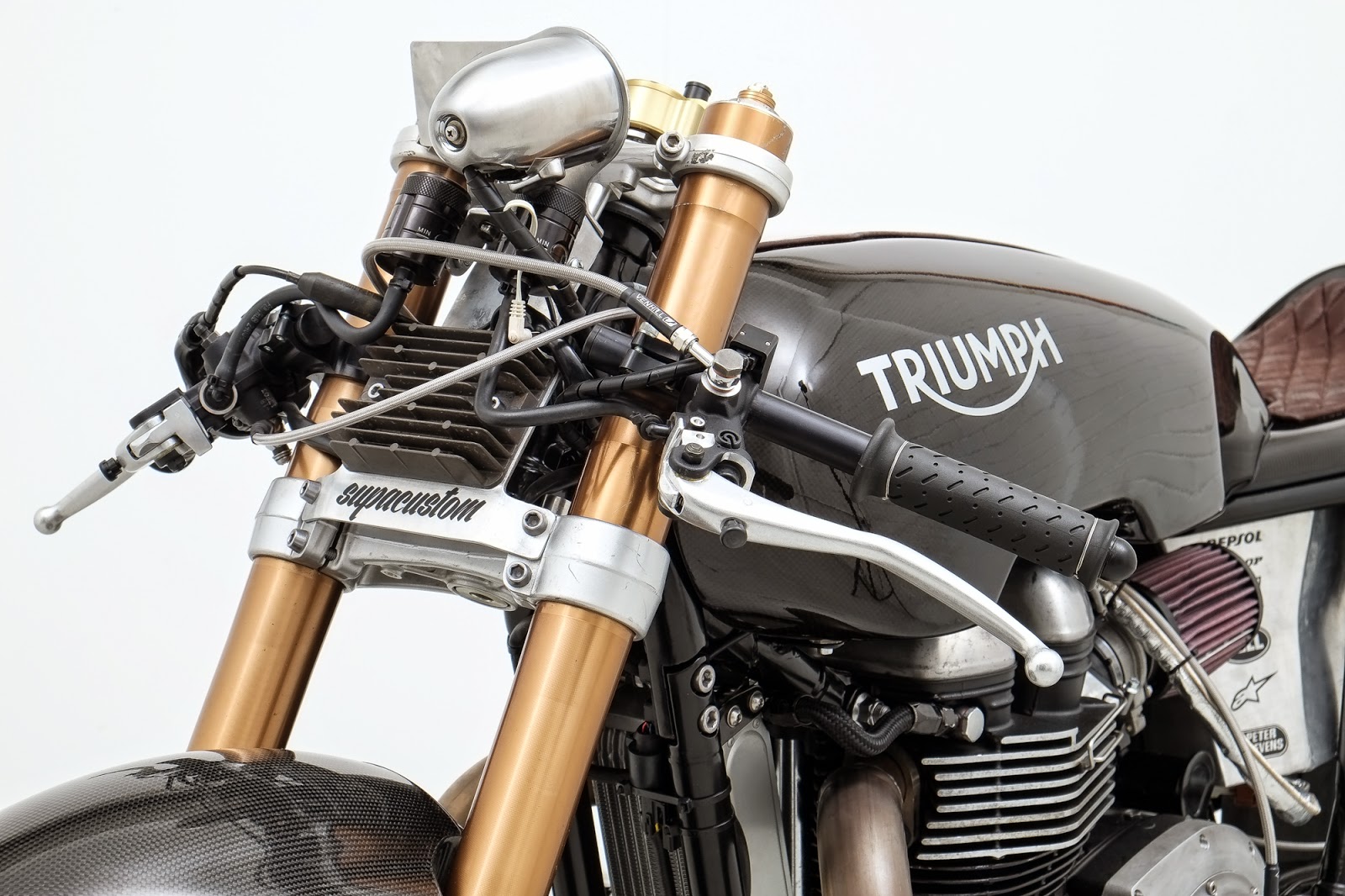 In stock form the '08 Triumph Thruxton engine was good for around 69bhp (42 at the wheel). While this might be fine for a cruise to your local cafe it's not going to be setting any records on the salt so a few modifications were required. The exact details of what's going on inside those cases will remain the secret of the Salt Racer team, but some of the modifications include larger inlet and exhaust valves, a heavily modified head, increased bore and stroke to 1000cc, high performance pistons and rods, enlarged throttle bodies, a power commander and modified Stator. With these changes the bike is expected to produce in excess of 100bhp and Hallam is confident it can go even higher after some trial runs. The engine will be running on alcohol placing the Salt Racer into the 1000MF class which currently stands as an open record, so as long as the Salt Racer completes its runs out on the salt a record will be set…but just how high that record will be is the question we're all waiting to be answered.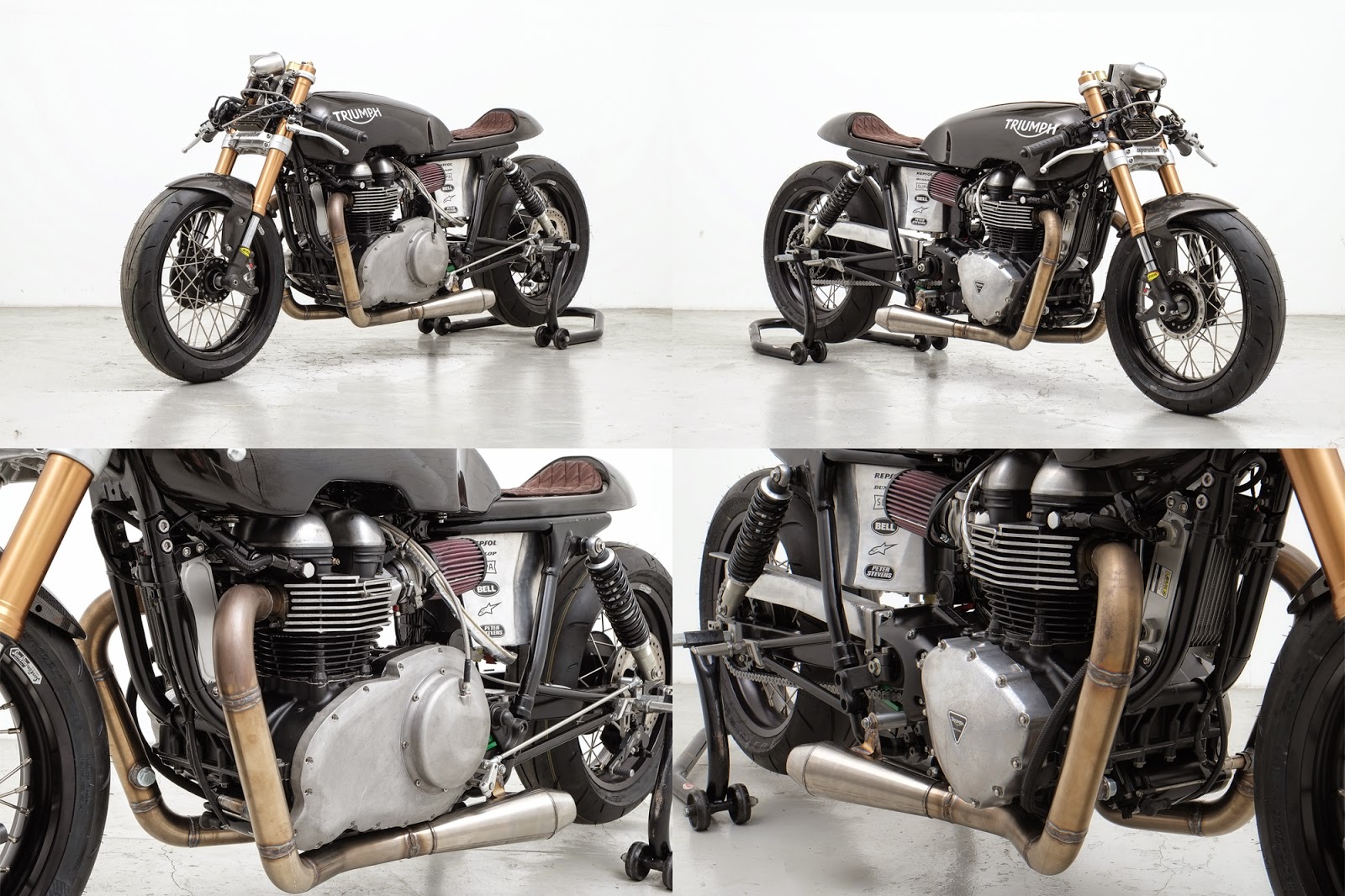 Ross Osborne from Supacustom has played an integral role in the development of the Triumph Salt Racer. He's a talented dude and it's been great hearing about this project from him over the past 12 months. He's been covering the build on his Supacustom blog and in his most recent "reveal" post he had this to say about bike… "The Triumph Salt Racer is finally finished and ready to race, the past few weeks have been intense to say the least, many late nights in the shed, hours of sleep lost thinking about the build and now, I almost can't believe it's done!"
I've had the pleasure of meeting all of the members of the Triumph Salt Racer crew and I'm confident they'll be returning home with some awesome stories and a record under their belts. Good luck boys, give that salt hell!