Is it possible to improve on perfection? After spending some time in the saddle of a Thruxton R you could easily argue no. The Brits did a stellar job with their top of the range Modern Classic. From the bike's external appearance to its impressive performance the Thruxton ticks all the boxes and even the grumpiest of burnt out, old motorcycle journalists will agree.
Frenchman Serge Heitz and his team of automotive craftsmen will, however, argue the opposing view. At their 'Hedonic' workshop, about an hours drive west of Bordeaux, they're creating unique, made-to-order motorcycles and to demonstrate their ability they've gone and built a better Triumph Thruxton.
Hedonic is a relatively new venture launched by Serge due to his love of cars, boats and of course, motorcycles. To help launch the Hedonic brand Serge and his team have already built a handful of custom creations with this Thruxton R being the standout build in the motorcycle category. Although this bike was designed entirely by the Hedonic team, customers will be treated to a very hands-on design process where they can work with Serge to develop a unique design tailored to their own taste without compromising on performance.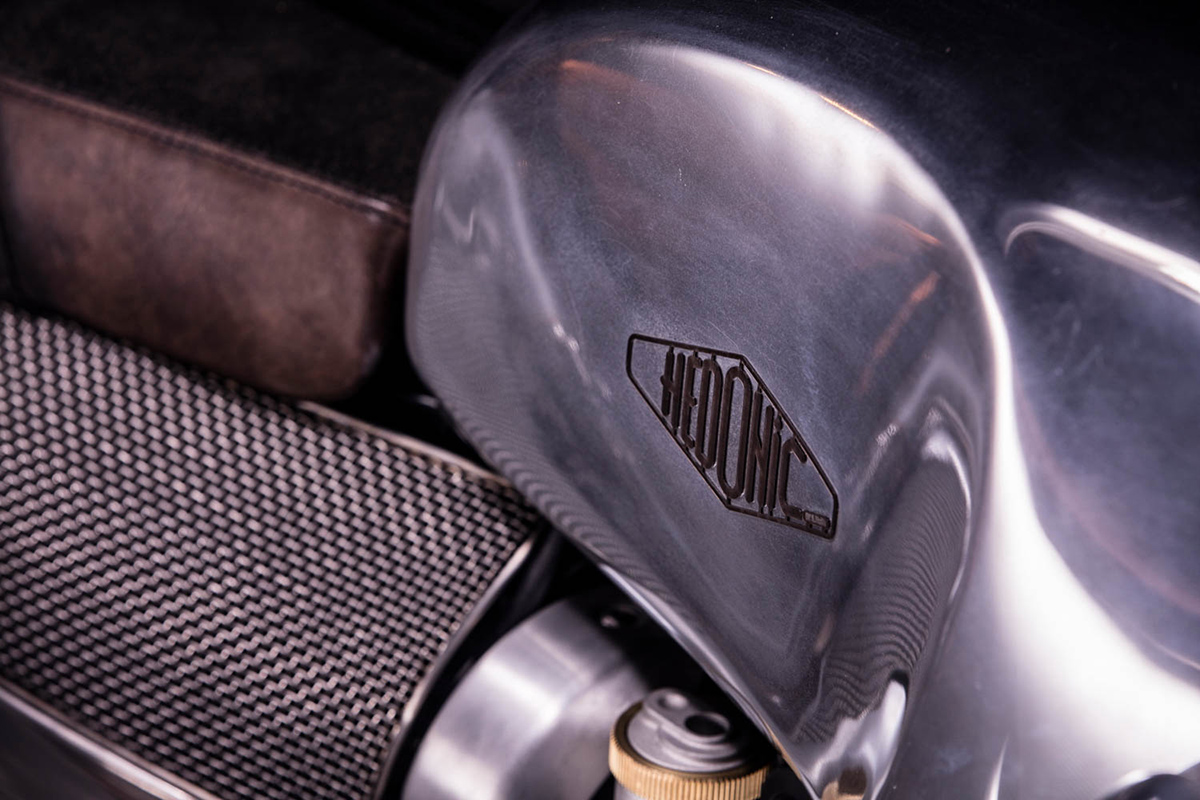 Aptly named "Amazing" the Hedonic Thruxton R is a masterpiece of metal shaping. The bikes fuel tank, half fairing, fender, seat pan, belly pan and side covers are all one off custom components designed to complement the existing lines of the bike. Over 150 hours of labour went into forming the aluminium components which have allbeen polished and left raw to ensure there's no question about the quality of their workmanship.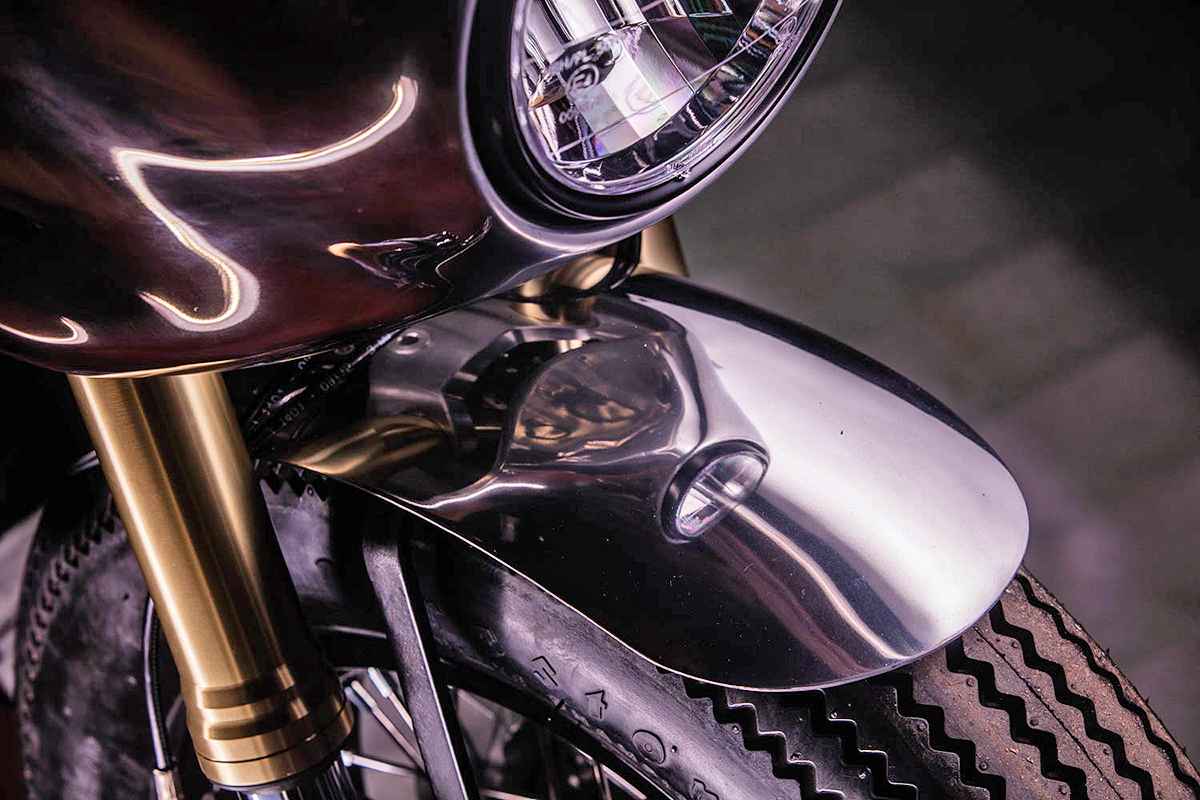 Despite the Thruxton R already wearing performance forks of its own, Serge opted to exchange them for Yamaha YZF R6 items.  Wheel rim diameters have been changed to 16 inches front and rear and have disappointingly been fit with Firestones rather than retaining the performance focused Pirellis (my only gripe about this bike). The brakes remain the same as stock.
A set of custom fabricated clip on handlebars feature an integrated brake master cylinder and clutch cable and wear inverted levers. To slim down the bike's proportions the factory indicators have been replaced by tiny LED units mounted to the fairing and rear wheel hugger.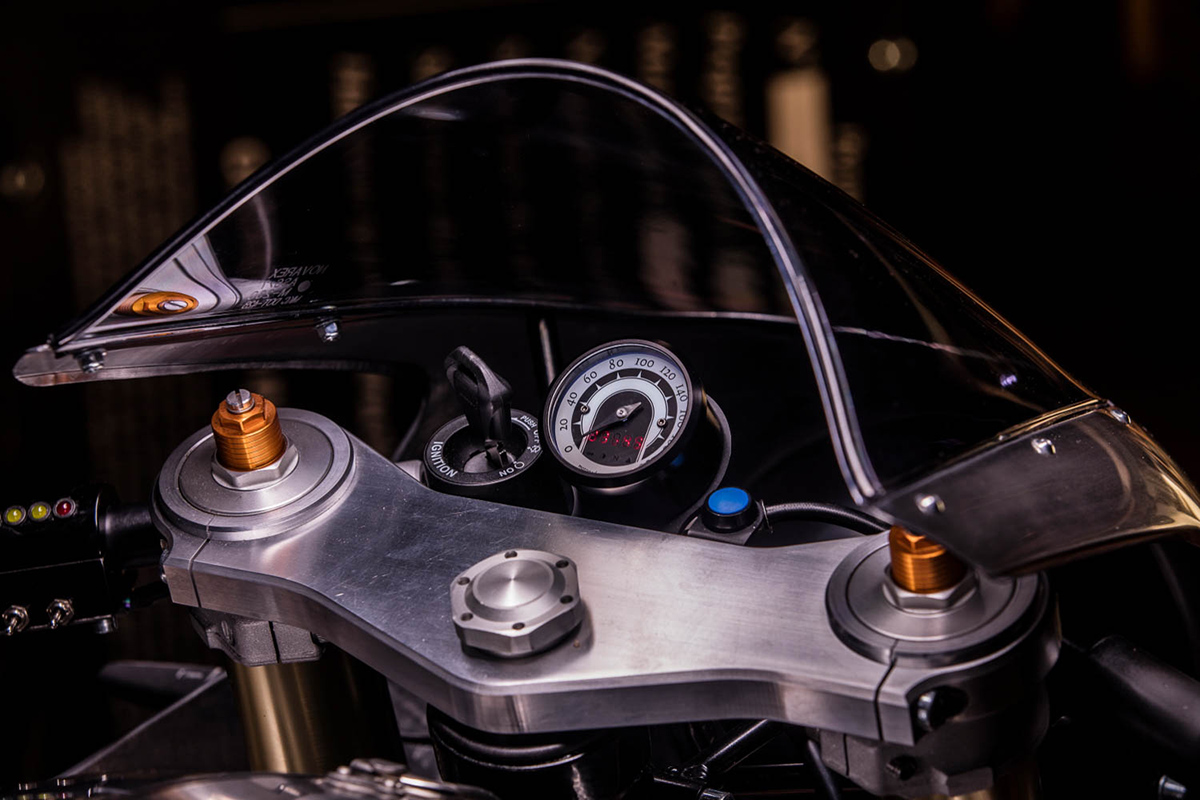 Beneath the perspex screen, the cockpit consists of a single Motogadget gauge, ignition barrel and ignition button while all of the other warning lights have been relocated to the left-hand switch block. Personally, I usually frown upon cliches such as Union Jacks, but the subtle two tone brown leather scheme used here gives this bike a vintage air that fits its look perfectly.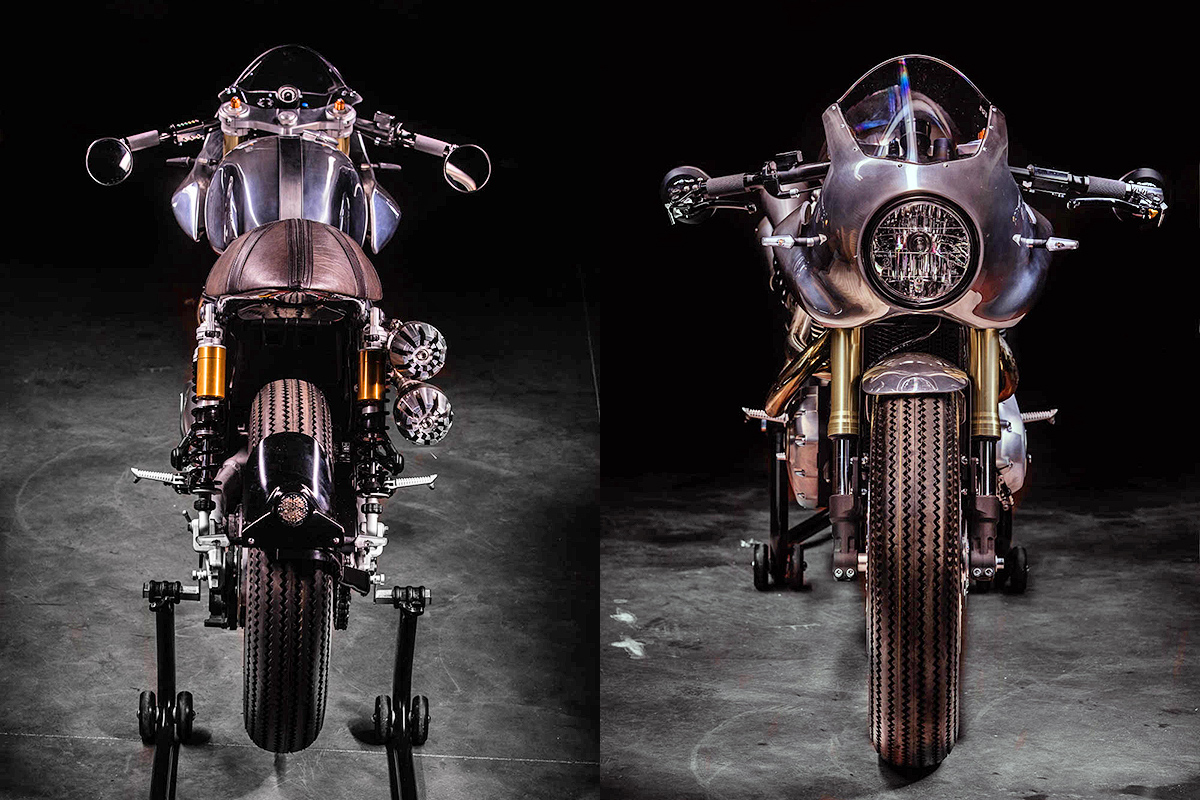 While the Thruxton's 97 bhp isn't to be sniffed at Serge and his team wanted to unlock some additional grunt from the 1200cc twin so they fabricated the high mount stainless exhaust system complete with "turbine style" mufflers. As with all of their custom motorcycle builds the final product is fully Euro 4 standard approved and street legal so now all that's left to do is drop it off at my place.