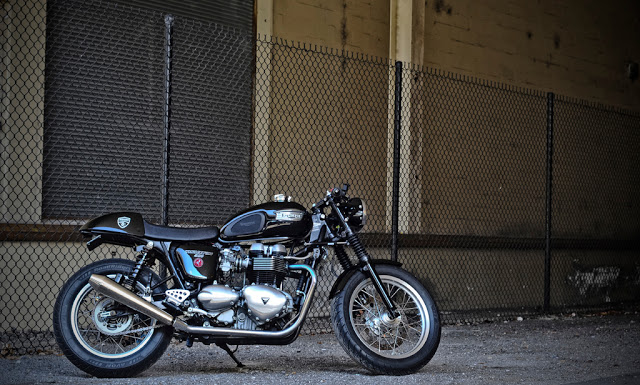 I often wonder what the guys who run the custom motorcycle workshops ride. You'll see plenty of photos of their customer's rides or the motorcycles they enter in the shows, but what gets them from A to B? I have these fantastical ideas that their bikes are things that us backyard builders could only dream about, with parts unobtainable by most, custom forged from scratch in their workshops. The reality is though that more often than not they ride bullet proof, reliable motorcycles, tweaked to perform to their high standard and customised enough to reflect their workshop and their own style.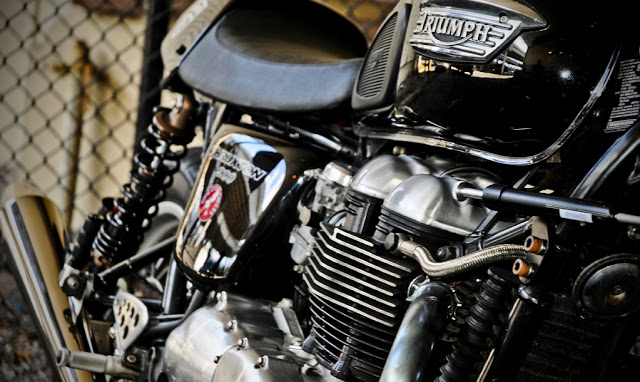 Herm Narciso is one of the owner/operators of US-based Dime City Cycles who have been making big waves in the Cafe Racer scene over the past year or so. Knowing he wanted to build a modern classic Herm couldn't go past a brand synonymous with Cafe Racer history and a model that was based around an air-cooled twin, so a 2004 Triumph Thruxton was chosen as a base. The '04 Thruxton was one the last of the carburetion models and it was about to receive a modest makeover featuring a blend of top shelf aftermarket upgrades and a few of DCC's  own custom components.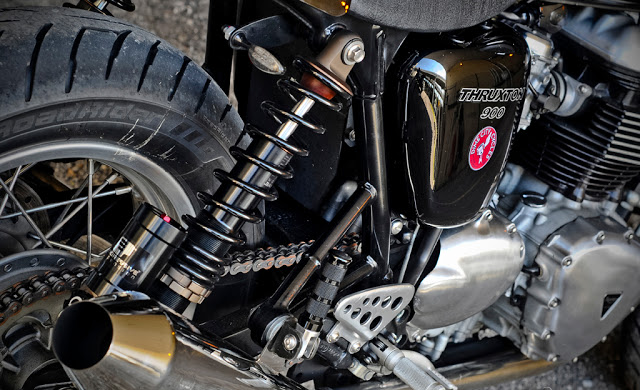 Starting with the Thruxton's aesthetics the factory gauges were replaced with an Acewell unit using a DCC custom bracket. A set of LSL clip-on's were slipped onto the fork tubes complete with DCC billet grips and a single bar-end mirror to dress up the front end. A DCC Monza cap, DCC tail light and indicators and DCC GP style foot pegs also replaced the factory equivalents to add a touch more "Cafe Racer" to the Thruxton's appearance. The original Thruxton seat was retained so Herm's wife could occasionally join him on a commute and the bodywork was removed and powder-coated a mix of gloss and satin black paint.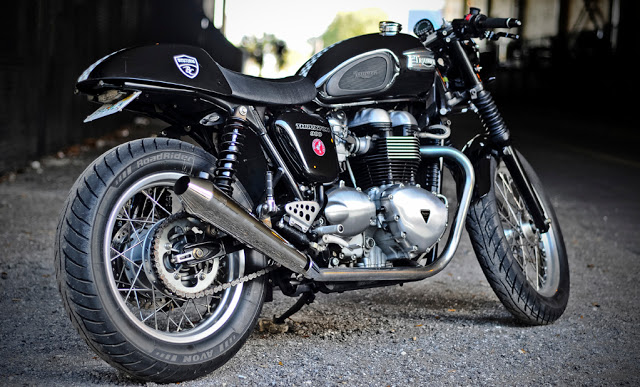 With the Thruxton now looking right Herm set out to upgrade the bikes overall performance. The front suspension was improved with a set of pre-loaders and Progressive springs as well as a DCC steering damper kit. The rear end was treated to a set of gas charged, adjustable, Progressive cartridge shocks which can be easily adjusted for whatever type of ride Herm is planning. To squeeze more power out of the engine a full British Customs Predator exhaust along with rejetted carbs and hi-flow K&N filters have been fitted giving maximum improvements without risking reliability.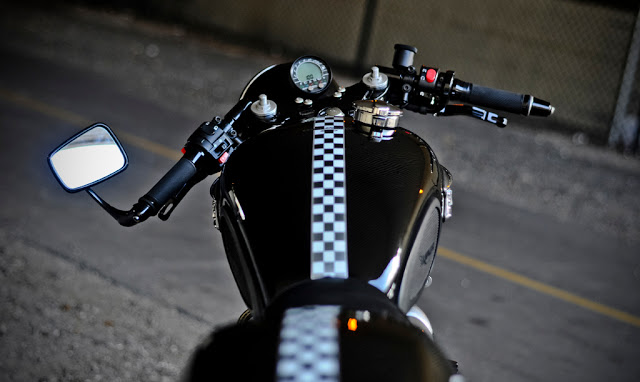 For a workshop bike this Thruxton could be considered to be quite mild, but in reality what Herm has created is a huge improvement on Triumphs original Thruxton. The improvements in handling and performance make it a formidable street racer and the DCC design tweaks bring its looks even closer to the Cafe Racer style it was originally modelled off.