The Tarantulas are a collection of motorcycle loving friends in Portland, USA. They are riders and builders of Cafe Racer styled motorcycles and are focused on building a community of like minded people to share their experiences and knowledge with.
There's something about The Tarantulas work that really appeals to me. They aren't just producing bikes to a Cafe Racer template. Each motorcycle they have completed looks a little more individual than the last with beautifully fabricated custom components and timeless finishes. Here's a taste of their work…
1971 Honda CB175 "Maybaline"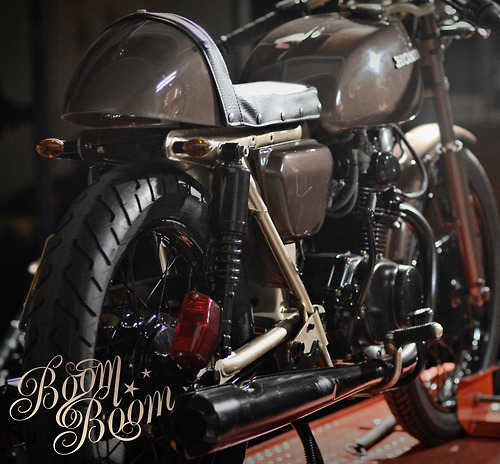 Kara's Boom Boom Cafe Racer. This bike is a mix of CB and CL parts pieced together using all the best bits from the two bikes. As with any performance based project limited by small engine capacity a lot of components have been done away with. The seat now does the job that a rear fender once would have (keeps the riders back dry) and the original seat has been replaced with a much leaner single saddle.
The chocolate/honeycomb paint scheme works great against the primarily black engine and wheels of the bike, it's a combination that most wouldn't consider but one that certainly works here.
"The Natural" Honda CB750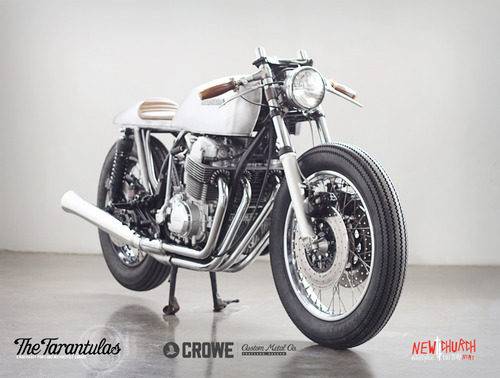 Another Honda in the Tarantulas lineup except this one has a lot more grunt. The Natural has been a couple of years in the making but is nearing completion. I'm a huge fan of raw metal and I can only assume this is how the Natural got its name.
Most of the custom fabrication work on this bike was completed by Crowe Customs and a regular contributor to Tarantula custom builds. The work done by Crowe on this bike includes the incredibly clean clip on handlebars, levers, throttle assembly, cowl and seat pan.
The custom covered seat by New Church Moto and gum finish Beston grips add the only color to the bike and I hope it stays that way.
2007 Triumph Thruxton "Doomrider"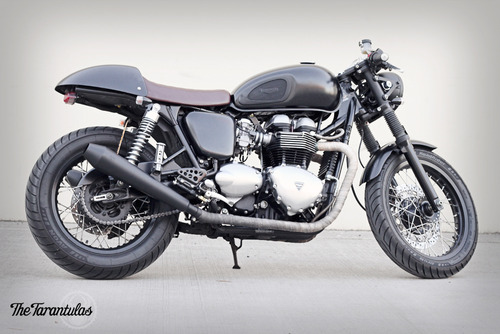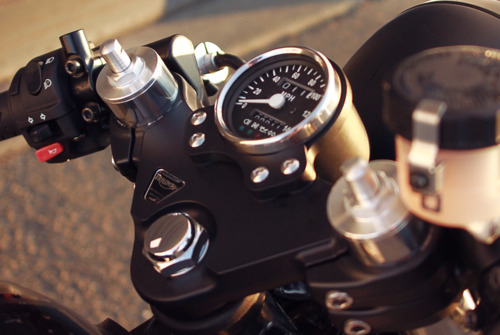 The Doomrider was a very quick custom build taking place over a few weeks/weekends. The list of mods included powder coated wheels, fork tubes, clip ons and headlight bucket in satin black, the rubber was also upgraded and fork gaiters were added for a classic look. It was primarily an aesthetic upgrade which as you can see places this bike firmly in the "Cafe Racer" style category.
"We are working on building a community to share learned experiences / wrenching tips / stories / advice / anything motorcycle related. The goal is connection." – The Tarantulas.
Other bikes in the pipeline include a Yamaha XS650, a 07 Ducati Sport Classic and plenty more Honda CB builds. I'm really looking forward to seeing what the Tarantulas will grow to become…could they be Portlands own version of the Wrenchmonkees?