Antonio Lupiañez and Salvador Alasino of Vida Bandida motorcycles are two Argentinian Industrial Designers who devote their spare time to modifying motorcycles. As a personal project, they decided to build a cafe racer using something other than the "go to" 70s and 80s Japanese motorcycles. They wanted to show their customers that not all builds had to be based on tired old donors and the bike they chose for the challenge was Honda's 250cc trail bike, the Tornado.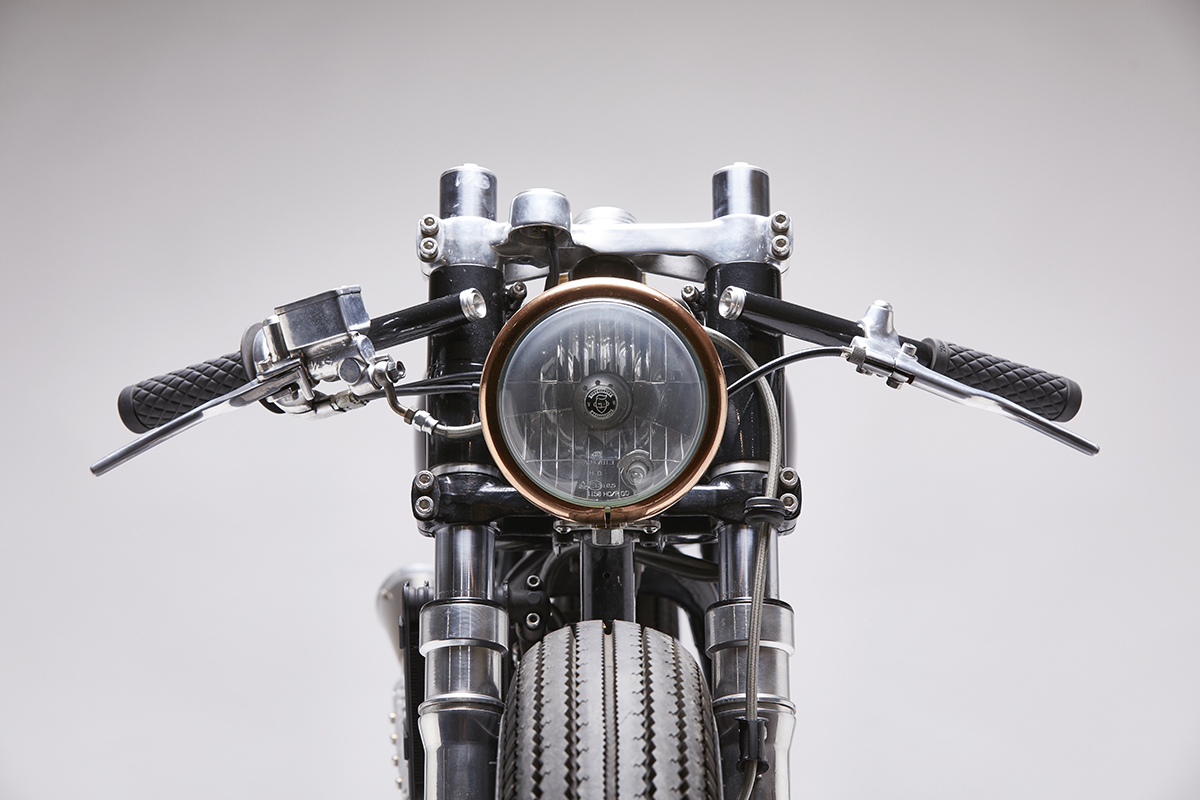 When converting a trail bike into a cafe racer there are some significant hurdles to overcome. Trail bikes stand tall, have large diameter wheels and suspension that's designed especially for undulating terrain. They also have little to no visual features that embody café racer styling. So, it goes without saying that Antonio and Salvador had their work cut out for them.
"We wanted to do something clean and pure," says Antonio so the project began with a teardown and a dramatic frame overhaul. After cutting away the entire rear triangle of the frame a whole new subframe was designed that would see the Honda converted from a mono-shock setup to a more classically styled twin shock configuration. Shock mounts were incorporated into the new frame and custom brackets added to the swingarm to accept a pair of Harley Davidson 883 Sportster shocks. This task is the one that Antonio says was the most challenging aspect of the build, but essential to getting a more period correct appearance.
A brat inspired seat and short fender wrap up the Honda's rear end and a pair of indicators sit out of view beneath the rear loop. The new brake light is a custom creation put together using the red lens from a bicycle light, a section of 50mm alloy pipe and some brass and copper caps turned on the shop lathe. Since none of the original bodywork was suited to the build Antonio retrofit a 1960s Harley Davidson fuel tank by fabricating new mounts that sit it level on the frame.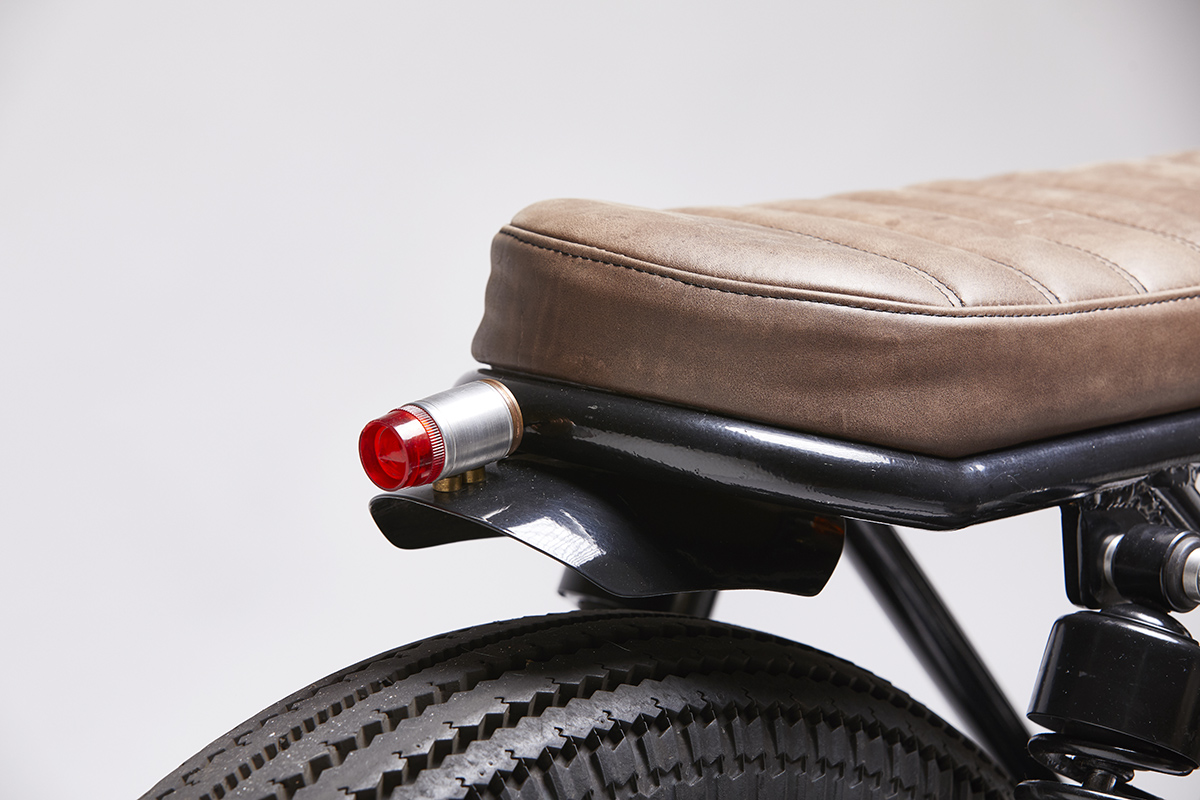 In order to lower the Honda's front end, the fork legs have been shortened by a whopping 170mm. To cope with the drop in height and shorter travel they've been stiffened with new internals.  Along with a set of clip-on bars, the boys added sleeves between the triple clamps to fatten up the front end and mounted an 883 Sportster headlight between them. Electrics have been relocated to beneath the fuel tank and the battery lives under the swingarm to help lower the bike's center of gravity.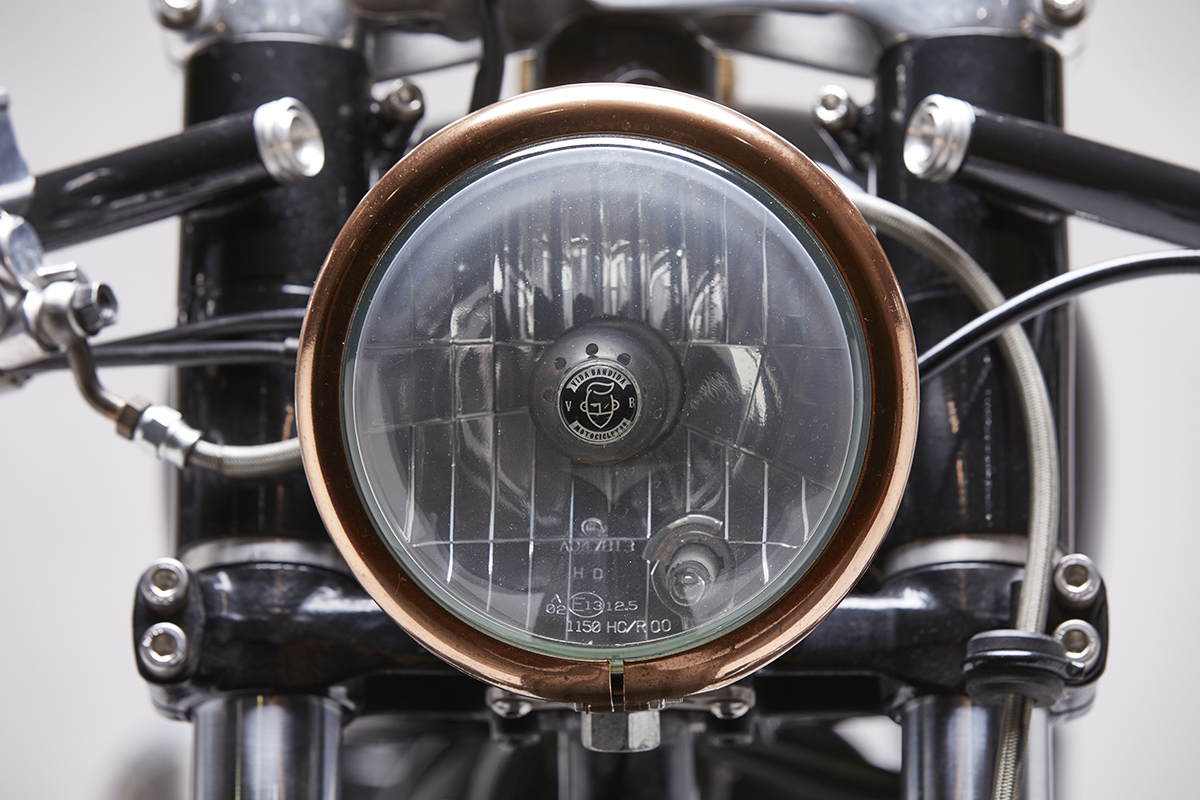 The engine remains untouched internally but its exterior had been given a refresh with new paint and polished side covers. The carbs now inhale freely through conical filters and the engine exhales via a custom exhaust system and throaty stainless muffler.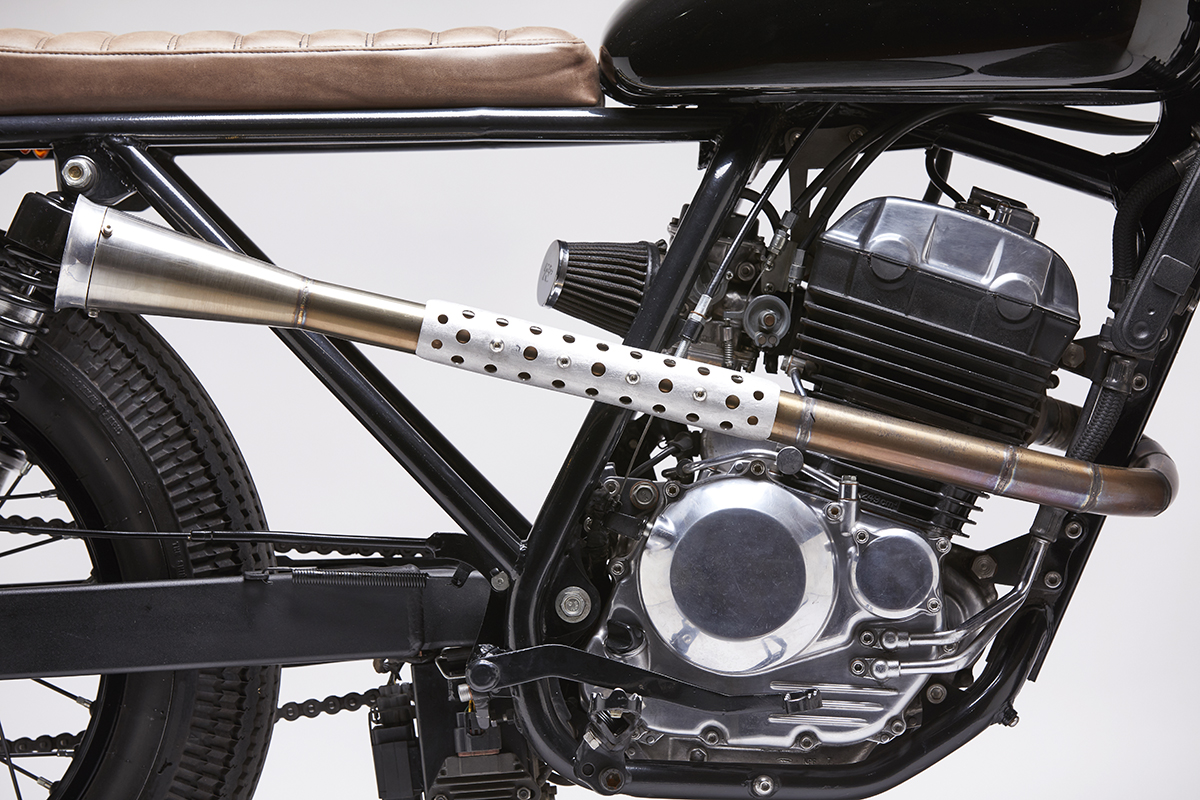 To complete the Tornado's stance the Honda hubs were laced to 16-inch rims wearing chunky Shinko rubber. Although I will admit some aspects of this café racer many be more design focused than functional, the boys have certainly proved their point.
As I'm typing this I find myself thinking that it actually makes a lot of sense to use a trail bike as the basis for a cafe racer build. They're light, lack complicated electrics and are geared for good fun, yet they are often overlooked. This is undoubtedly because it takes a fair whack of work and a good eye to transform a trail bike into a motorcycle that's worthy of being considered a cafe racer.