Italian workshop Free Spirits are back again with another fantastic showcase of their work with modern Triumphs. This Bonneville 'Evo' Cafe Racer is their latest custom build and it's packed with bolt on upgrades from their product catalogue. Every engine and suspension modification on the bike provides significant performance improvements over the factory set up and like their other builds, is completely reversible so the bike can easily be returned to original specification.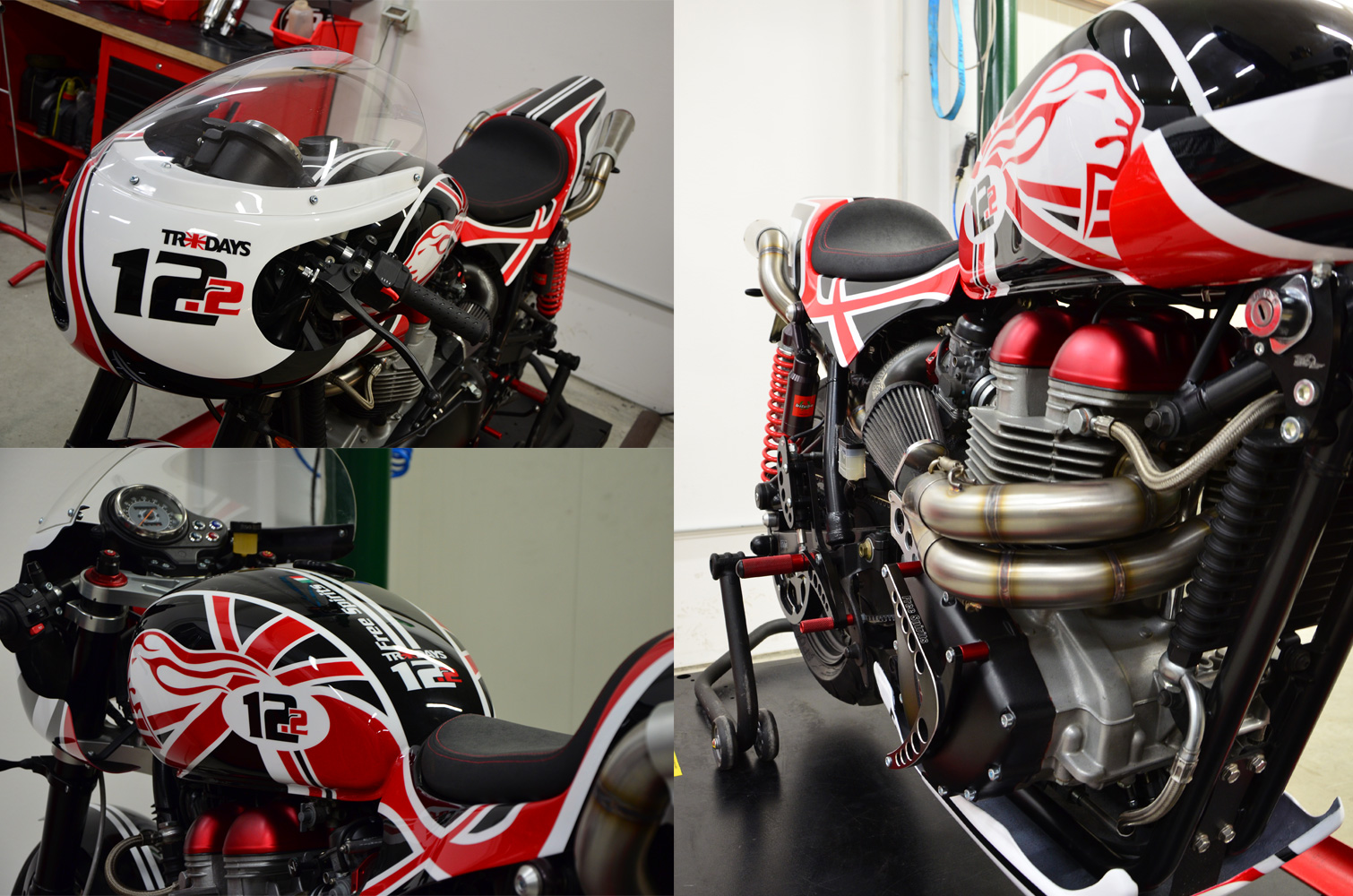 Starting with the transmission Free Spirits replaced the factory chain drive with one of their low maintenance, minimum power loss Bonneville belt drive conversion kits. Along with the belt drive an extended swingarm was added to allow the use of a 17" rear wheel wrapped in Metzeler Sporttec M3 rubber (160/60). Bitubo adjustable shocks in the rear and a set of 2007 Speed Triple forks with modified hydraulics drastically improve the Bonneville's suspension, and Newfren 320mm discs with Brembo callipers  provide ample stopping power. A Free Spirits high flow intake system complete with 180° curved intake tubes and conical filters forces air into the Bonneville and fuel delivery is managed by a Free Spirits ECM Tfi unit. At the other end of the combustion cycle a pair of stainless steel headers  snake their way around the motor to exit on either side of the tail via a set of custom made mufflers.
If the performance mods aren't enough to grab your attention the paint job certainly will. It's a traditional Free Spirits black-white-red scheme designed by Steven Flier and featuring S. Marco's Lion from Italian history, the Union Jack to pay hommage to the Triumph's roots and a mix of Tridays and Free Spirits branding. The tank is original but the tail section and front fairing are again parts from the Free Spirits product catalogue.
If you ever want your stock Bonneville to look and go faster I'd suggest a visit to the Free Spirits website.