Last week I posted a Triton and had a moan about how long it had been since I featured a featherbed framed bike, well lo and behold here's another one! It's funny how that happens but I'm certainly not about to complain.
Today's Triton is a bonafide UK sixties built Cafe Racer from a fellow Melbourner, Pete Ingram. Pete's Triton came into his possession with the sad passing of his father and although Pete had previously put an end tohis riding days the Triton had him back in the saddle again…and it's easy to see why!

Back in '84 the Triton was imported from England and locked away in storage. There it sat for over 10 years until in 1996 Pete's Dad purchased the bike. By that time the Triton was pretty much a basket case so the bike was stripped bare, motor and all. Over the following few years the bike was rebuilt and restored using overhauled parts from the original bike and some new ones that his Dad personally picked up in the UK ("we didn't have the internet or eBay back then!").
The Triton's engine is from a 1965 Pre-unit Triumph Bonneville which has been fit with 3134 cams, 9 stud/2 plug head, B.T.H magneto, Mark 1 30mm Amal carbs and an AMC Norton gearbox. Looping around the Triumph twin is an original 1956 Norton Wideline featherbed frame, "the best handling frame that a (cafe) racer could have".
The Triton rides on a set of 19 inch Borrani rims with Commando T.L.S brakes held in place upfront by a set of Roadholder forks. The 5 Gallon tank is again the real deal from the sixties painted in classic silver with red/black pinstriping and hand painted Triton emblem. A twin dunstall system manages the exhausts and the gauges are Smiths Chronomatics.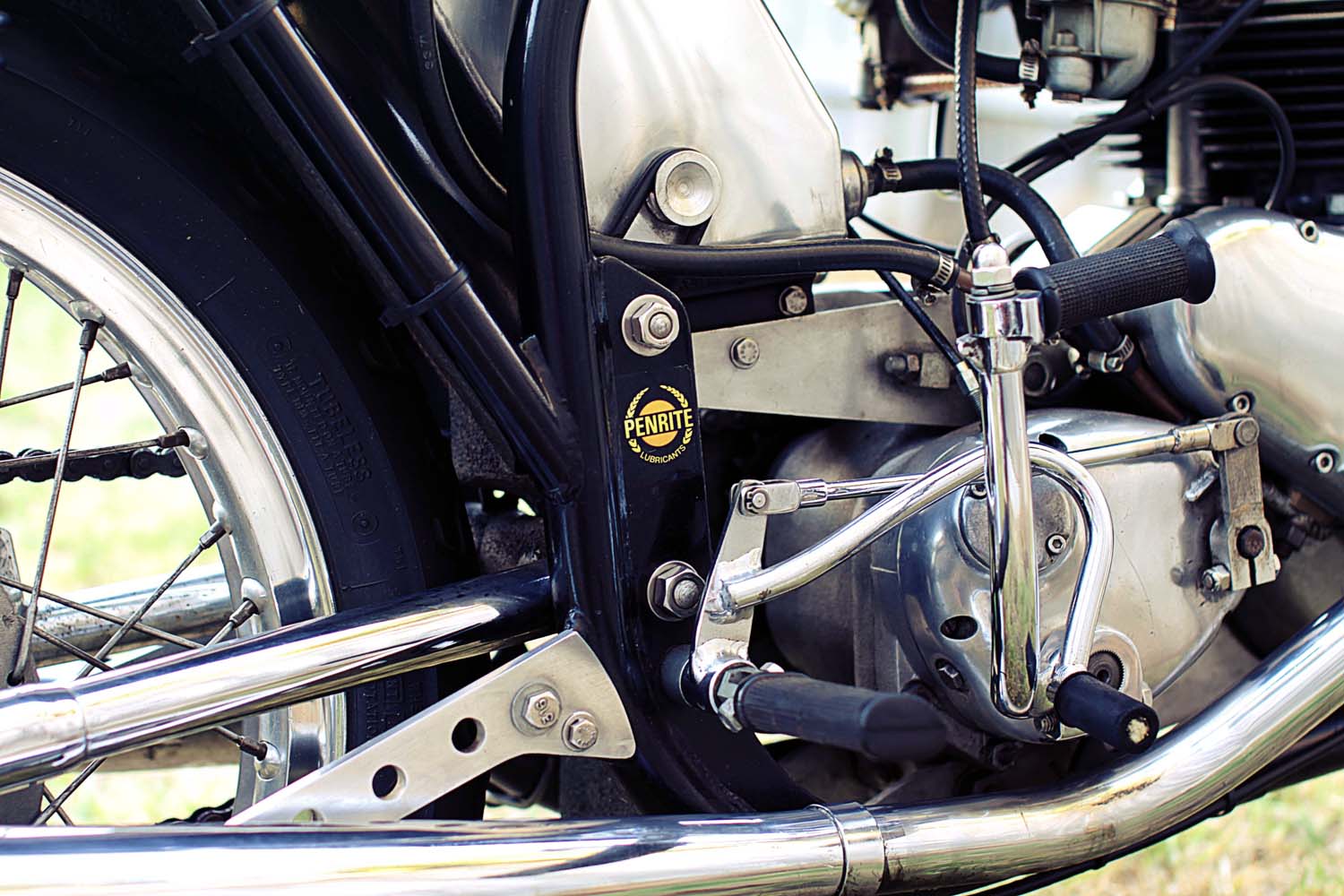 After breaking his back when his R1 had a nasty encounter with a tree, Pete thought his riding days were over. But when he had the Triton sitting there in his driveway it seemed a shame not to ride it, so Pete's back on the road again and loving every minute. He says he's done very little to the bike other than polish and clean it although he has entered it in three shows and has 3 trophies to prove it.