Medusa Fabrication is a small 3 man workshop run by two fabricators/blacksmiths (Chad & Theo) and a mechanic (Tyler). Out of their workshop in Kansas they produce Cafe Racers and custom motorcycles that feature unique, hand fabricated components and smartly recycled and reclaimed parts. The Medusa Triumph Thruxton Cafe Racer is Theo's own ride which has become a showcase of the workshops skills and a testing platform for their ideas. Here's Theos story of how it all came together…

"I purchased a brand new Triumph Thruxton in June of 2008, rode it for a few hundred miles and that November stripped it down and cut it in half. The subframe was made the old school way, no machines, just heat it up, bend it over a jig and voila! Just like that (No, not really just like that). Next up, the rear cowl, I formed some sheet metal until I started to like how the shapes were coming together, just kinda winged it; same goes for the monoshock. Using a Suzuki '94 RF900 shock Chad and I had some small trial and error runs getting it right but now it works and handles ten fold. The gas tank which is off a Honda CB200 was just kinda lying around the shop. I gave it to my wife for her bike but took it back again because it just seemed to work better on the Triumph, like the headlight which came off of another project bike in the garage.
The Thruxton just kept coming together in this wabi sabi (侘寂: aesthetic centered on the acceptance of transience and imperfection) kind of way, from the foot controls to the tacho, the fuel sight gauge, and all the little details in between. And then there's always the dreaded wiring nightmare! I ended up hitting my point and called Tyler, together we ended up ditching the old harness and making a new one, it's so basic now, and it all fits nicely inside the rear cowl."
"It's kinda funny that it all worked out the way it did especially with a deadline that got thrown in the mix toward the end of phase one of this build. The super long days and some all nighters paid off. It still wasn't painted or anything but at least it was back on the road. Good old wd-40 and scotchbright was the finish for almost a year. The stage that its at right now being a "finished" bike is a whole other story."
"During this build we decided to really make a go at it and start our own business. We moved out of my garage and over to Tylers. We started getting some more bikes and people were getting interested in what we were doing. When talk of a big event in Atlanta started we knew we had to go with the Thruxton complete but the deadline was fast approaching. We tore the bike down again and got to work. Doing all the finishing touches and remaining details on a tight budget can become really frustrating, especially when you have an image in your head of how it was originally suppose to look, with the right friends and business partners though, the Medusa Cafe Racer was complete."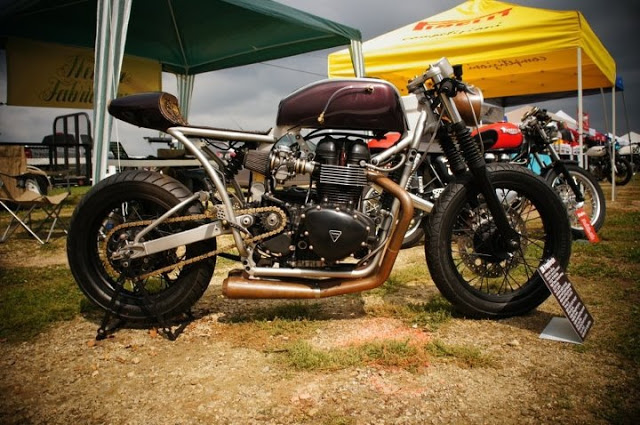 Custom rear subframe
Swing arm conversion to monoshock using a '94 RF900 shock
Hand-formed rear cowl containing all electronics
M.O.T.Y. battery
Acetylene gauge brake light
Copper seat pan with tooled leather
CB200 tank with fuel sight gauge
Custom tach made from coffee thermos lid
Copper plated bobber headlight
Driven clip-ons
Custom RCA headphone jack key
Modified levers
Custom engraved brass rear sets
All Photos Copyright of Carrie McGuinness (CMCG) 2012. Check out Medusa Fabrication for more.