"I'm from Southern California and grew up surfing, skateboarding and dirt biking. I fell in love with Cafe Racers in 2007 and started my blog along with my custom Triumph Bonneville build, in 2008. While getting my start in the moto world, I joined a motorcycle club, BA Moto, in Long Beach, CA. I did some freelance work with British Customs and got to know Jason Panther quite while. I continued blogging and attending events and getting to know people in the industry. In 2012 I was selected by Cycle World Magazine to compete in their "Honda NC700X Challenge" which was a 4 part video series. In 2014, I landed a marketing position with Ducati North America and now run all their online marketing efforts, hence the sale of my custom Triumph Bonneville you see here. I'm already planning out my next Ducati cafe racer build and can't wait to get started!"
"The story on my Triumph Bonneville Cafe Racer is a fun one. It was actually the inspiration for 'The Bullitt' in the first place. The Bullitt started out in 2008 with the simple plan of charting the progress of a bone stock Triumph Bonneville custom build, with high hopes of turning it into a cool Cafe Racer. The original tag line of The Bullitt was "From a Standard Cruiser to a Cafe Racer", and that's exactly what was featured. As time progressed, my involvement in the motorcycle community grew and grew. I started adding more events and local happenings and before I knew it, The Bullitt was no longer about my specific build, it had organicallygrown into something much larger."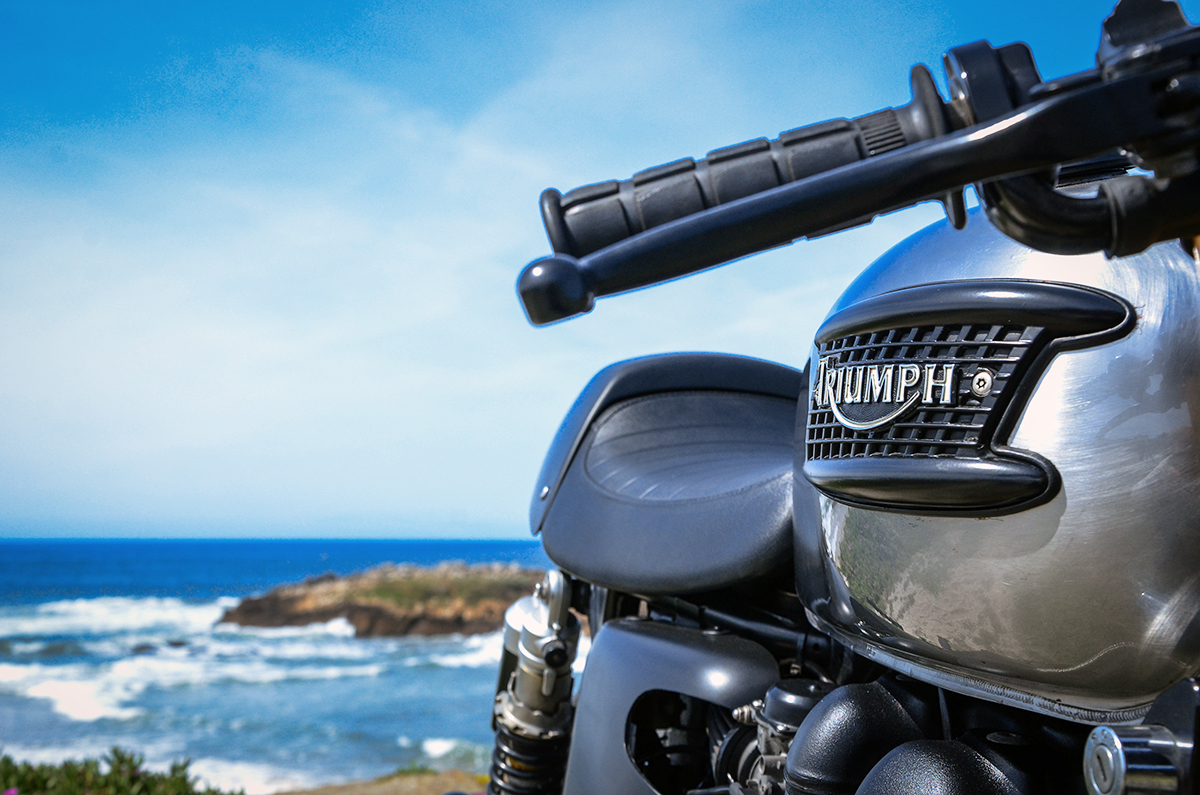 "My Bonneville has seen many different iterations and has a dedicated page on my site that tracks the whole build. I purchased it secondhand in 2008 and it was mostly stock, the only aftermarket bits were Norman Hyde peashooters and some ugly mirrors. Immediately, I started pulling fenders and virtually everything I could that wasn't necessary for basic operation, and I mean everything. No mirrors, fenders, blinkers, horn, gauges; I even ran it as straight headers for a year or two! My father, among others, couldn't believe that I was bastardizing a "perfectly good" Bonnie. I didn't care…I knew I wanted it raw. That's why I opted for no paint, allowing the bare metal of the tank to be displayed. The rest was either blacked out or removed."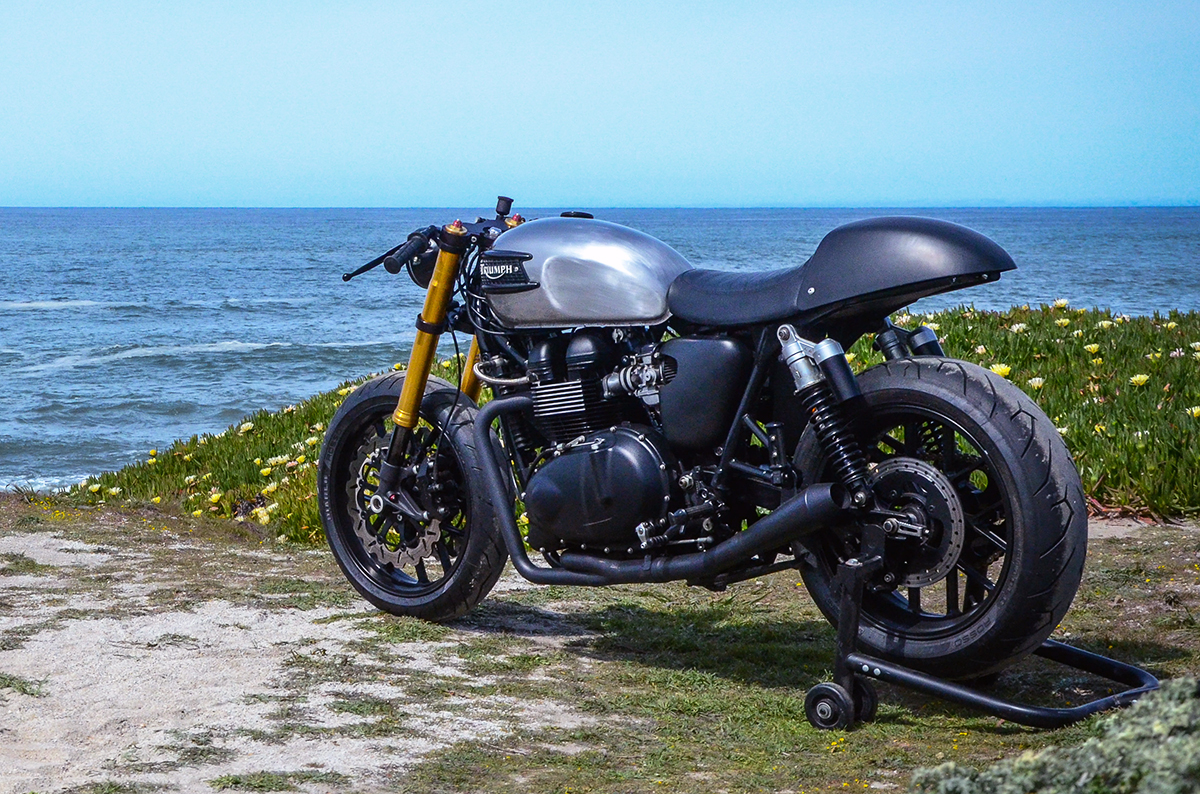 "I tried to do as much work as possible myself but both the BA Moto crew and British Customs team helped me out on tasks that were beyond my capabilities. I started doing some side work for Jason at BC – social media and photography – in return for parts. He was the one who helped me figure out the USD fork conversion. I had bought a GSXR1000 front end with a vague idea of how I was going to accomplish the task. Turned out Jason had a set of triples laying around that he was going to use for another project and said we could use them on my bike! I sourced a steering stem from another Bonnie and we pressed it into the lower tree and we were off and running. He also had a set of 17″ Carrozerria wheels collecting dust in his attic that I thought would be great. I traded him the stock front end from my Bonnie for the wheels and had them blacked out immediately! After a few custom spacers, custom brake lines, and long nights we had a new front end. By the time I had inverted forks on my Triumph, I had only ever seen 1 or 2 done, and they were both in Europe.
I owe a lot to this bike. It's given me some great memories and I've taken the bike further and faster than I thought possible."
Along with the USD conversion and the decluttering of his Bonneville Pat performed a long list of custom tweak and modifications to his bike along the way. Up front, you'll find a 5-3/4 inch Halo headlight (with LED ring) similar to those on the new Ducati Scramblers, the clip on bars are from a Suzuki GSXR1000 and are wearing Oury grips and a pair of Dual Galfer wave rotors provide ample stopping power. The seat hails from a Thruxton, but Pat's blacked out the rear cowl. He's also added a touch of black to the tank badges, filler cap, carb tops, heel guard, the foot and hand controls and the side covers which he's modified to provide the K&N filters with plenty of fresh air. The rear shocks, which he's also blacked out are KYB ZXR1200 piggybacks and he's used a custom sprocket configuration for better freeway performance.
Then, of course, thanks to his relationship with British Customs he added a plethora of their product to his Bonnie including a direct-mount hydraulic brake reservoir, 2-into-1 exhaust, airbox removal kit, license plate relocation kit with cateye rear tail light, front sprocket cover and their rectifier relocation bracket.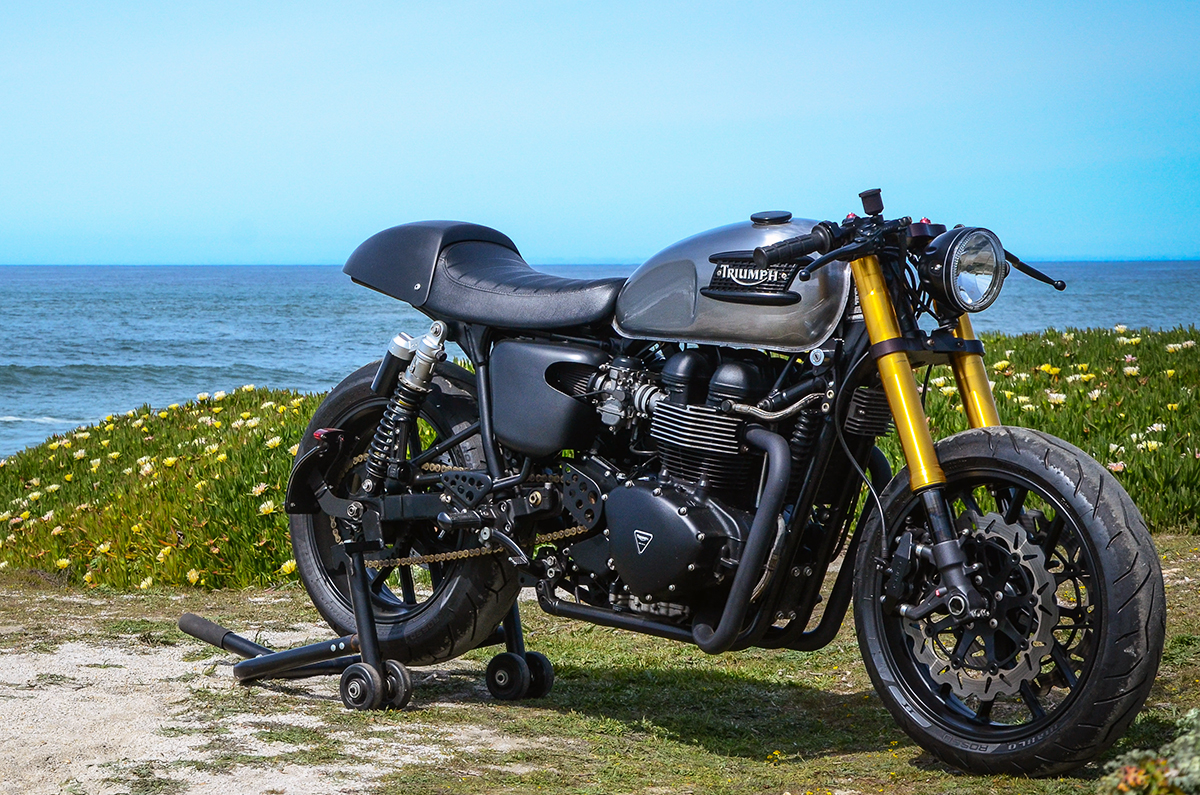 Pat Flynn, founder of 'The Bullitt' blog has been in the bike blogging scene since way back in 2008. Along with being obsessed with writing about everything 2 wheels (and occasionally 4) he's an avid rider and backyard builder. His ongoing Bonneville Cafe Racer project has been a frequent topic on the Bullitt pages over the years and it's now finally finished…just in time for him to sell it and start another project. This is the way of the custom motorcycle builder and while I'm sure he's sad to see it go, there's already a new and exciting project looming on the horizon. I had the pleasure of hearing from Pat recently about his beloved Triumph Cafe Racer so what better way to see it off than with a personal recollection of how the Bullitt Bonneville came to be…