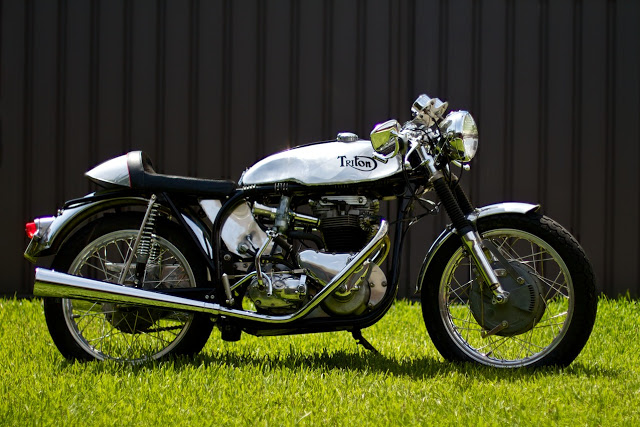 In Cafe Racer terms the Triton was the ride of choice for Rockers of the 60's and 70's. The combination of Triumph's mighty parallel twin and Norton's featherbed frame delivered a potent mix of power and handling more than capable of delivering Ton Up thrills. In 1989 Andrew Wishart's father started work on a Triton build that earned the title of Australia's best. Fast forward 20 years and the bike made it's way in to his son's hands and it was time for the Triton to head back into the garage for a freshen up and a facelift…
"A reporter from Australian Street Bike magazine tested the bike, which subsequently featured in an article as "The Best Triton in Australia…what can I say, it attracted attention wherever it went!"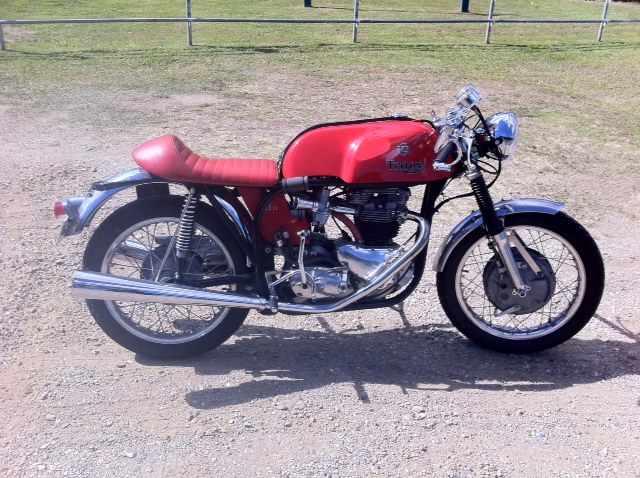 "Australia's best Triton" 1989
Seeing as this is the second time the Triton has been built it only seems right to start with the story of how it first came together, and for that we need to hear from Andrew's Dad.
"Going back through Andrew's Mum's old diaries helped to bring back bits of information I'd forgotten.
The job started on 23rd March 1989, when I purchased the 1957 Norton Wideline frame. On the 18th April, I bought a Triumph for bits – engine, gearbox, rear hub and brake, etc. Most of the "Triton" gear was purchased from Unity Equipe in England, including the Morgo 750cc conversion. The Grimeca front brake assembly came from Road and Race, together with the Magura clip-ons and levers. Five speed gears were cleverly fit into the pre-unit four speed box and alloy rims were added (of course!). Compression ratio was 10 to 1 and I'm not 100% sure, but I think the electrics were upgraded to 12v. Special "one-off" cams were made to our own specifications by an engineering specialist in Brisbane. He had reportedly seen 10,000 rpm whilst stationary and the bike when running showed 8,000rpm. It was originally fitted with alloy push rods, but they were not up to the job and collapsed, to be replaced by steel.
On the 29th of August we took the bike out to Lakeside for testing, but it would only rev out to about 4,500rpm. This fault was traced to the Dunstall replica mufflers – too restrictive! – but some judicious work cleared this up, together with a noticeably improved exhaust note. On 14/15 October, I wasn't well, but Graham took the bike to a major (Harley Davidson!) bike show, where it was awarded first prize in the "Classic" section. On the 16th of October, a reporter from Australian Street Bike magazine tested the bike, which he subsequently featured in an article as "The Best Triton in Australia"; it was later featured in another Australian bike magazine, and I heard that it also made the pages of a Japanese classic bike mag. What else can I say – it has attracted attention wherever it went!"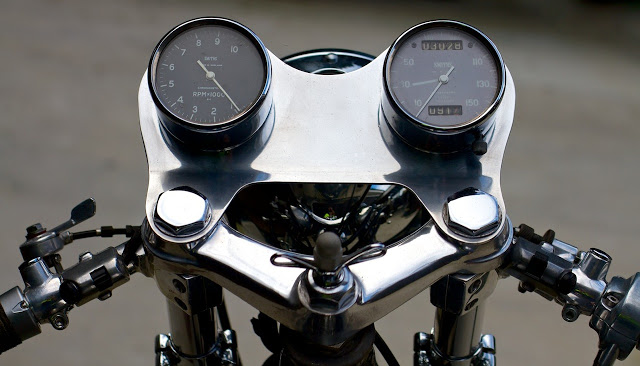 In the early 90's the it was time for the Triton to change hands but Andrew wasn't the first in line. His brother in law, who was "more of a Harley kind of guy" bought the bike and subsequently neglected it in favour for his American V twin obsession. Luckily though Andrew didn't lose track of the Triton and when the opportunity arose he bought the bike, stripped it down and began returning it to its former glory.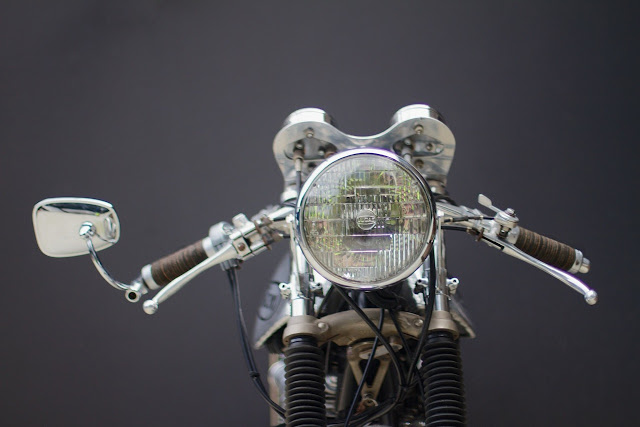 "Like so many projects I stalled in the middle of the Triton's rebuild and sadly the bike sat neglected and stripped down for a few moreyears. Luckily I reignited my passion and got the bike back on the road. As with a lot of Cafe Racers I am not sure if it is really finished. I started changing little bits and pieces to make it more rideable and eventually replaced the red 5 gallon tank with a polished aluminium Sprint tank. Shortly thereafter followed the seat and oil tank."
"Originally Dad had the frame zinc plated but I could not find anywhere to do it at a reasonable cost (under $2000) so I had it painted black. I think it works better with the polished alloy tank, oil tank and seat anyway. I purchased the alloy bodywork from Rich at TAB II Classics in Wales. I could not speak higher of dealing with Rich, a great bloke and a top product! Everything was done via 1 initial phone call and then all email. The petrol tank and seat are standard items, just the seat mounts modified to suit the setup already on the bike. For the oil tank I took measurements, made cardboard cutouts, drew out a plan and emailled it off. Rich modified his standard oil tank to meet my request of having the oil tank house the battery as well. Despite my really bad drawing skills the tank fit remarkably well! The tank logo is hand painted."
"The motor had the top end stripped and checked and found to be in good nick so it was honed and reassembled. Wayne at ProPower put a lot of work into the reassembly and modifications that were done. He must be very patient to achieve what I asked for at times! I didn't like the original aftermarket switchgear so searched until I came across the Clear Hooters switchgear that was original spec on a few British bikes in the 50's and 60's. I managed to track down 2 of these that I rebuilt and polished up and they work a treat and look great. The left hand control is horn and high beam/ low beam and the right hand one is kill switch and lights on/off. As the bike is fitted with a Lucas competition magneto we were able to utilise what normally would be the horn button as a kill switch."
"The grips are from Brooks in England who specialise is push bike saddles and grips. They are alloy collars joined together by three spokes. The grips are formed by leather washers threaded on the spokes and clamped by the collars. As pushbikes don't have throttles we very carefully machined the alloy collars to fit over the twist grip. I made a wooden jig that held the leather washers and was lucky enough to find a hole saw of the correct size to drill the washers to fit.
"The foot pegs are custom stainless steel made for a Commando, modified to work with the Unity Equipe rearset gear and brake levers. I also sourced an original Lucas sealed beam from an early 70's Holden to get the right label on the headlight unit! The headlight shell is original Lucas rechromed and John Tickle headlamp brackets secure the headlight to the bike."
The bike is a genuine 1 kick start (okay, maybe 2 if I haven't ridden it for a few weeks!) and is a very easy bike to ride with great manners, handling, power and stopping ability. It's just as comfortable ducking down to the post office to pick up the mail as spending a Sunday morning on the twisty stuff. It really is a fun bike, rock solid on the road and lots of fun on winding roads. I wouldn't want to do more than a few hundred km's in 1 day though, my old kidneys just couldn't take it!"
For me there's no denying that Andrew's taken what was once regarded as one of the best Cafe Racers in the Australian classic bike scene and made it even better. Do you think it's still worthy of the title of "The best Triton in Australia"?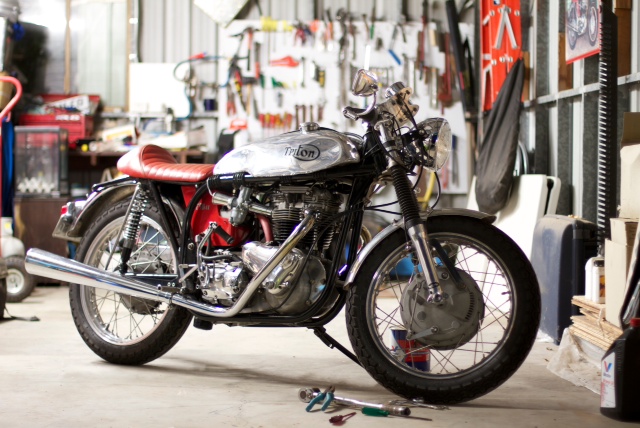 The Triton mid way through the rebuild, still sporting it's red saddle.