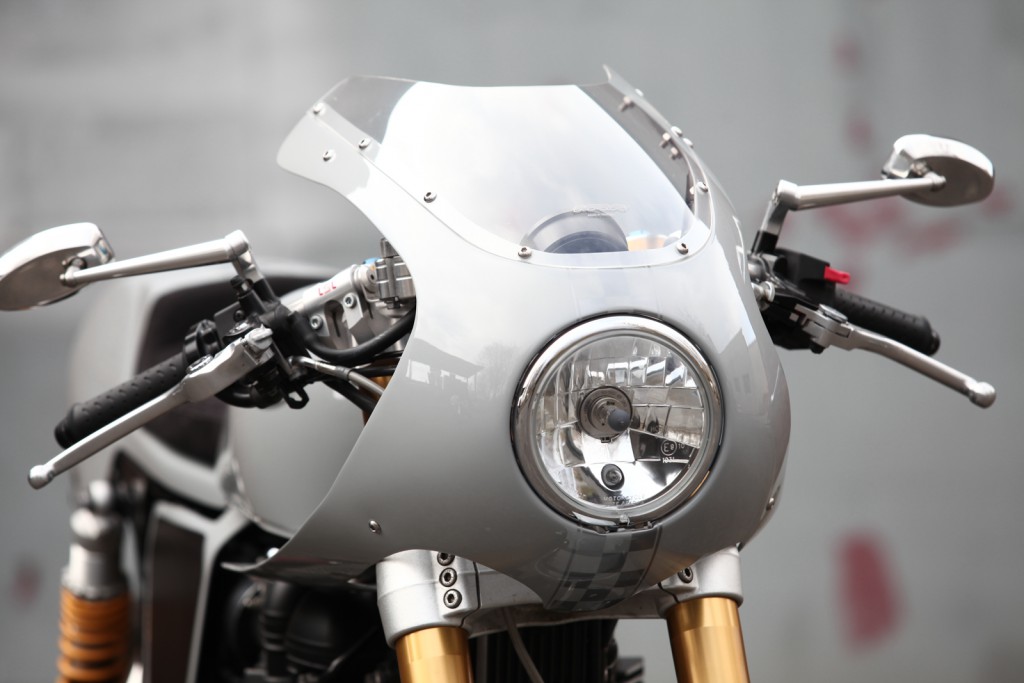 "Triumph has a glorious racing history" explained Matthias Becker of Hanse Qustom in Hamburg, Germany. "The 'Shady Sam' is our tribute to the legendary British racing motorcycle 'Slippery Sam', which the Japanese manufacturers learnt to fear on the track."
Based on a 2013 Bonneville, Shady Sam wears a selection of Hanse Qustom parts designed especially for the Hinkley Triumph. Pieced together as a display piece to show at events around Germany the bike originally featured racing livery similar to that of Slippery Sam (shown below).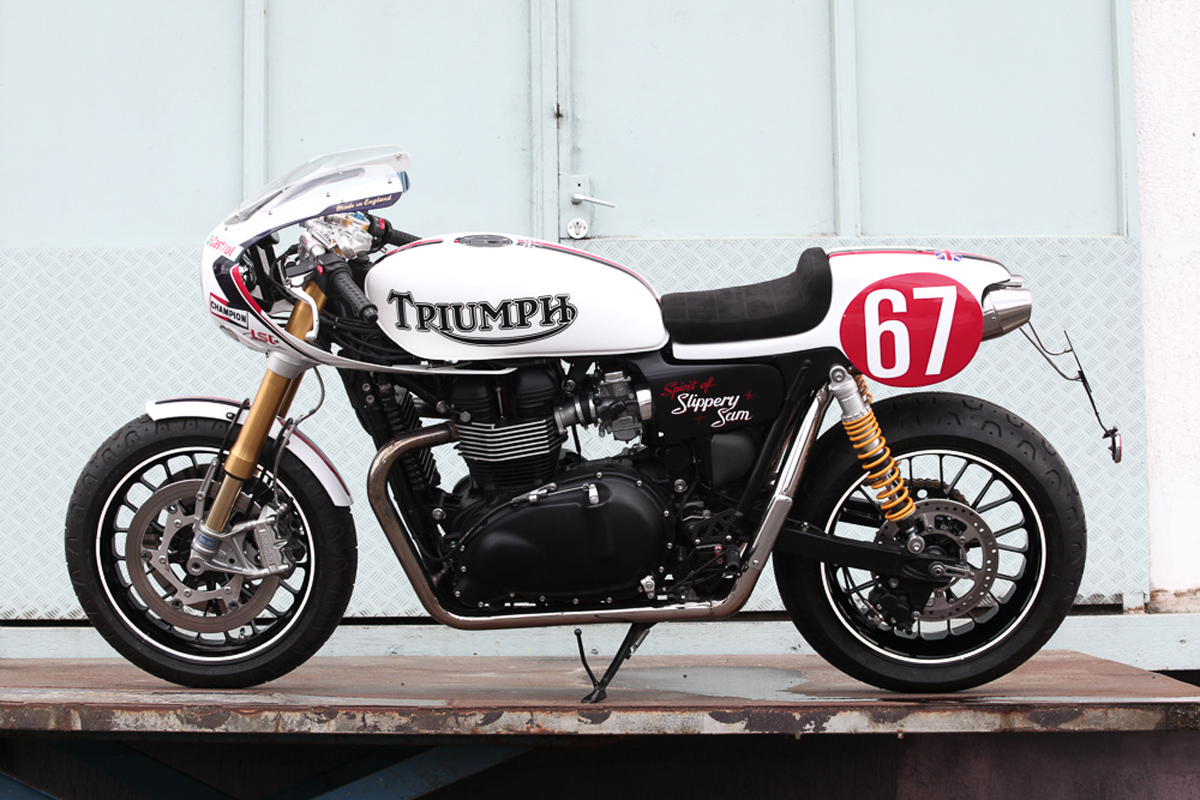 Although Slippery Sam wore a full racing fairing, the Hanse Qustom team opted for a much sleeker half fairing, leaving the handsome air cooled parallel twin exposed. In the rear, they've replaced the chunky, two up Bonneville seat. In its place is a single black suede saddle mounted snugly to a Thruxton style cowl with integrated, racing number plates. Peering out from underneath the tail are a pair of LeoVince mufflers. Connected to the engine via a pair of custom made stainless exhaust headers that mirror the lines of the bikes stock frame they're Mr Becker's favorite part of the build. With the new exhaust in place and fueling remapped the 865cc engine now produces around 72bhp and a much sweeter sound.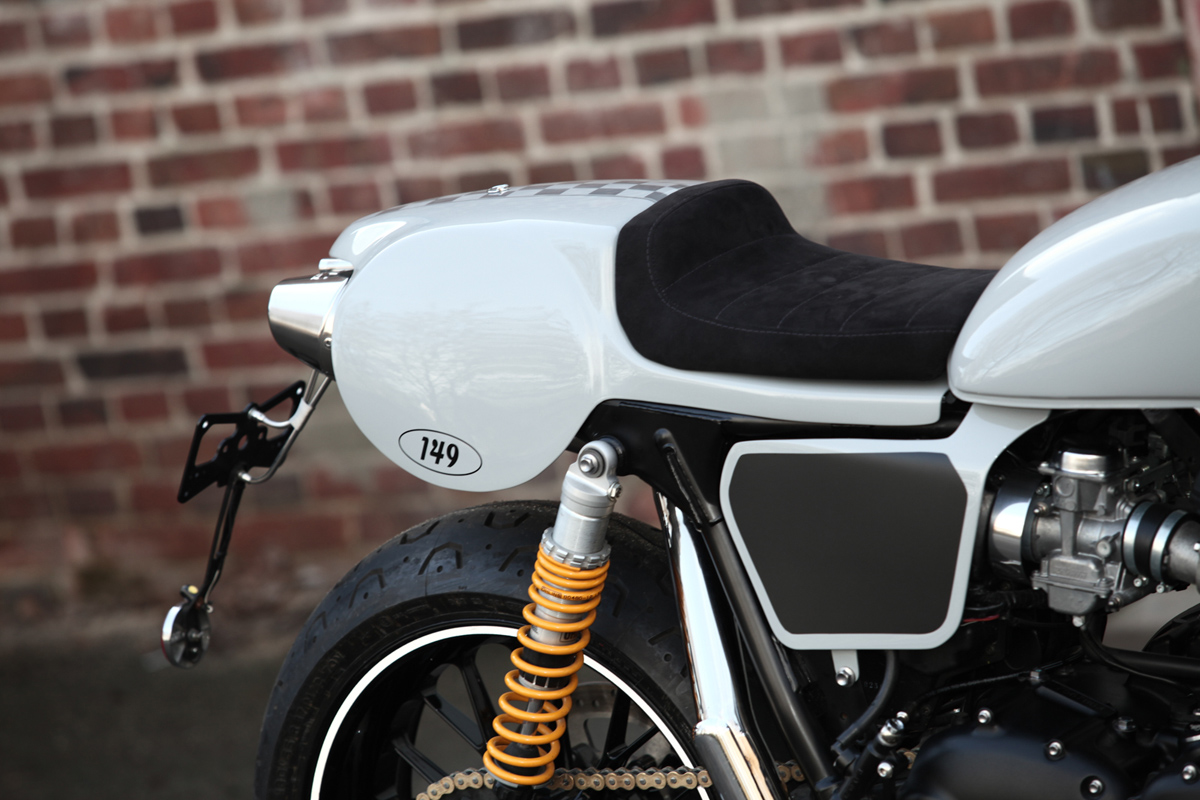 Upgraded handling has been achieved by swapping in a full front and rear Ohlins suspensions system and lightweight, twin 17inch, German made PVM forged rims. Brembo twin discs and calipers have also been added up front for ample stopping power.
For a more aggressive riding position the Hanse Qustom team have mounted LSL clip on bars to the fork tubes and rear set footpegs with custom made linkages. Wanting to trim down the bike's proportions the stock tank has also been replaced by a slimmer unit, necessitating an external fuel pump that sits hidden from sight.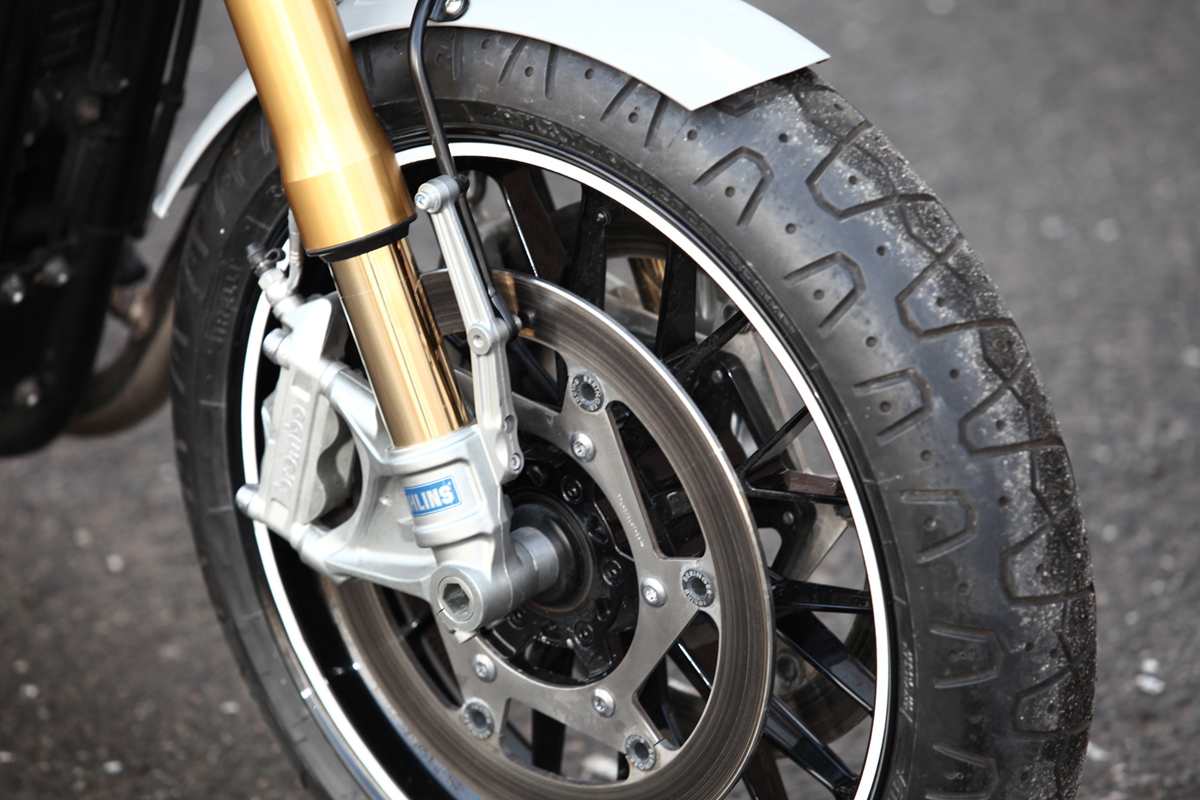 Keeping their bikes street legal is a top priority for Hanse Qustoms and their racing inspired Shady Sam is no exception. Along with the recessed headlight is a "discreet" lighting system that uses concealed LED strips and a superbright LED tail light nestled between the twin mufflers. Fitting the bodywork was achieved without the need for frame modifications and the single Motogadget tacho features integrated warning lights and a digital speed read out.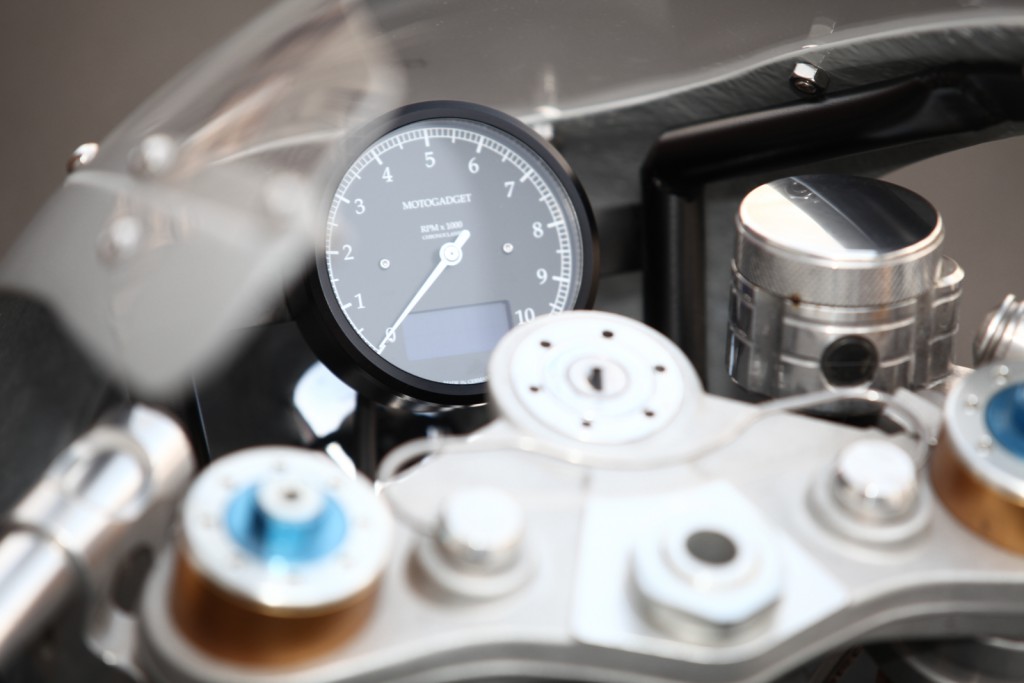 After doing the rounds on the German bike show circuit, Matthias decided that Shady Sam's appearance would need to change for the street. "The bike now wears a much more sedate paint scheme for commuting around Hamburg." Subtle Triumph and Hanse Qustom branding, classic checkered flag pinstripes on an inoffensive light grey paint might sound inconspicuous, but I think it'd take a lot more than that to have this Bonneville go by unnoticed!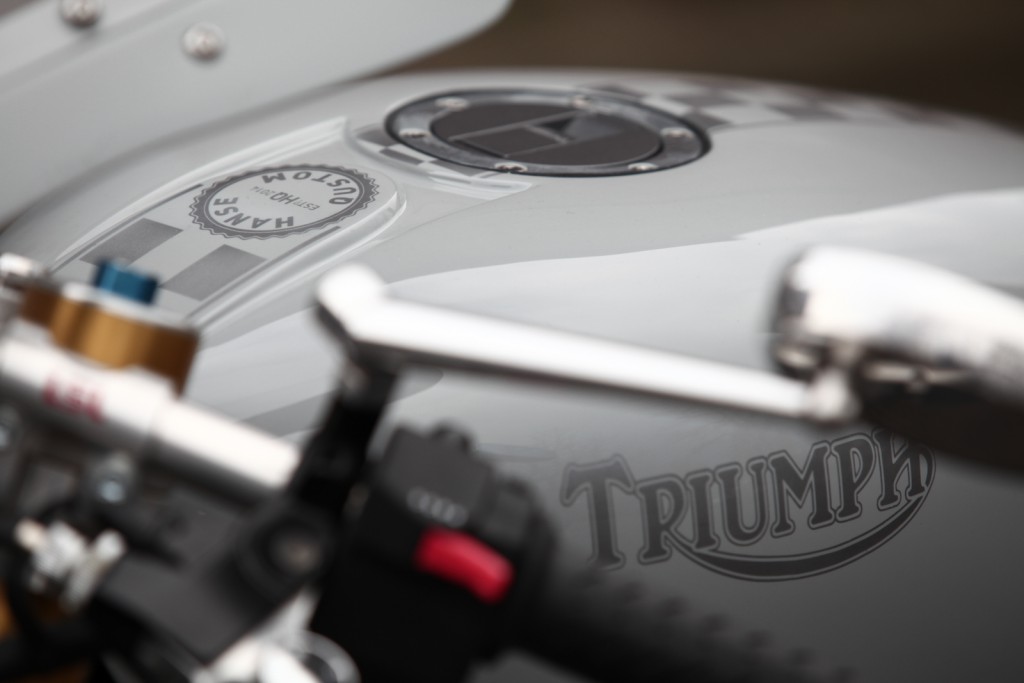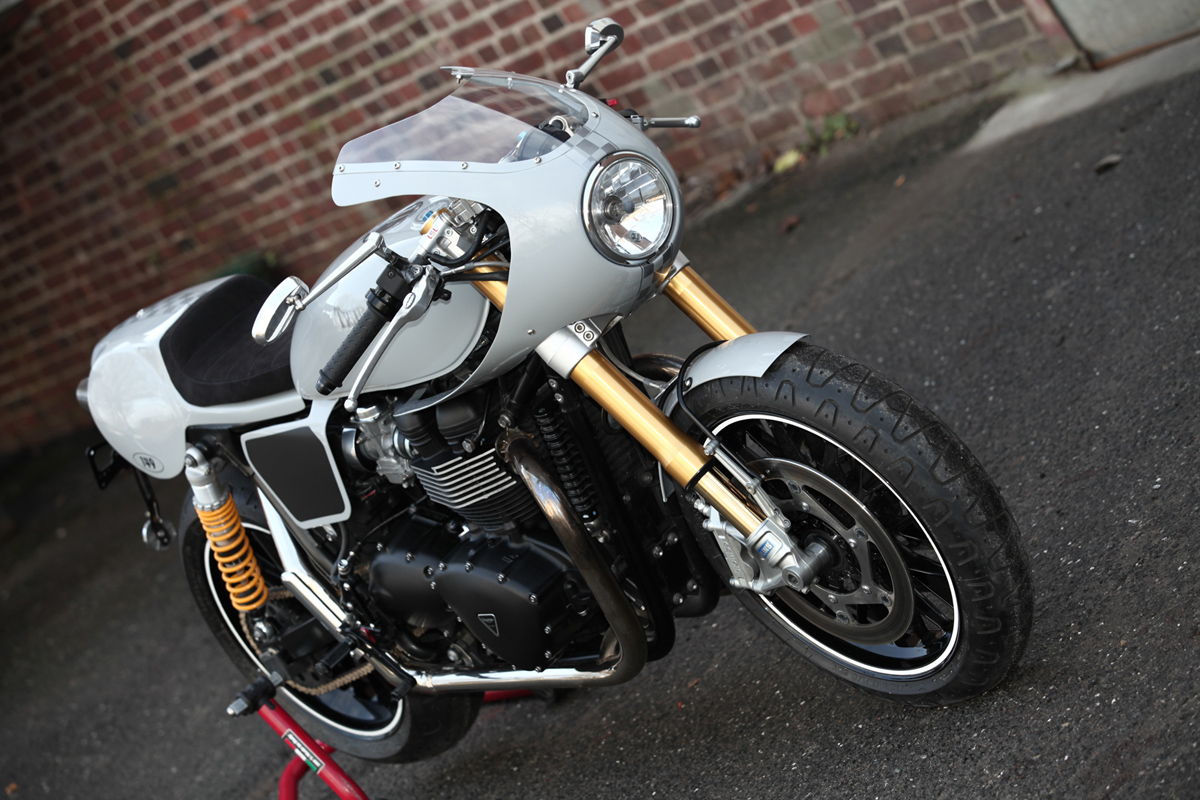 In the early 1970's one British built racebike stood strong against the might of its Japanese competitors. With a highly tuned 3 cylinder engine and a unique custom made frame it bagged an astonishing 5 consecutive wins in the production 750cc class at the Isle of Man and became a thing of legend. The bike was named '
Slippery Sam
'. Sadly, due to a fire at the Birmingham National Motorcycle Museum in 2003, it is no longer with us. Thankfully Sam's story lives on and continues to inspire builds like this one.