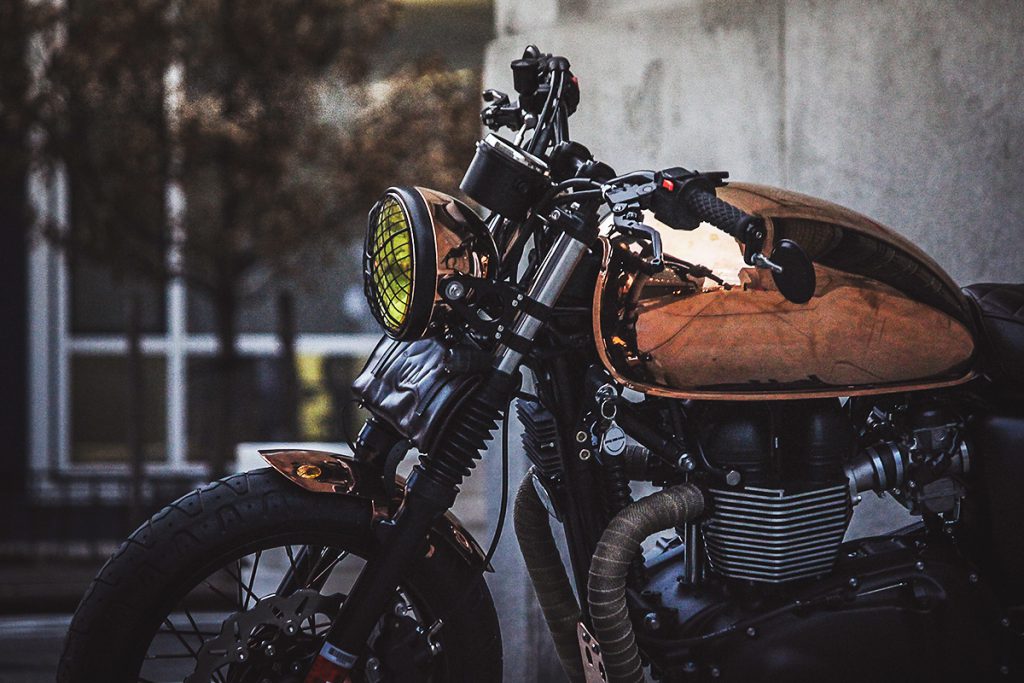 The build started when a client came to Marcos looking for something "out of the norm" that could double as a conversation piece when he parked it in his living room (a sentiment that is close to my own heart). He wanted a bike that would be comfortable yet stylish and have enough "cool factor" to stick out on the bustling streets of New York City.
Once the copper theme was decided upon, it was time for some prep work. The fuel tank, headlight bucket, inner ring, skid plate, and fenders were all removed from the bike. After being stripped they went off to the platers for a slick, shiny coating of copper. At the same time, a custom leather seat was created using a British Customs seat pan, which was modified to include a mounting point for a retro-styled tail light.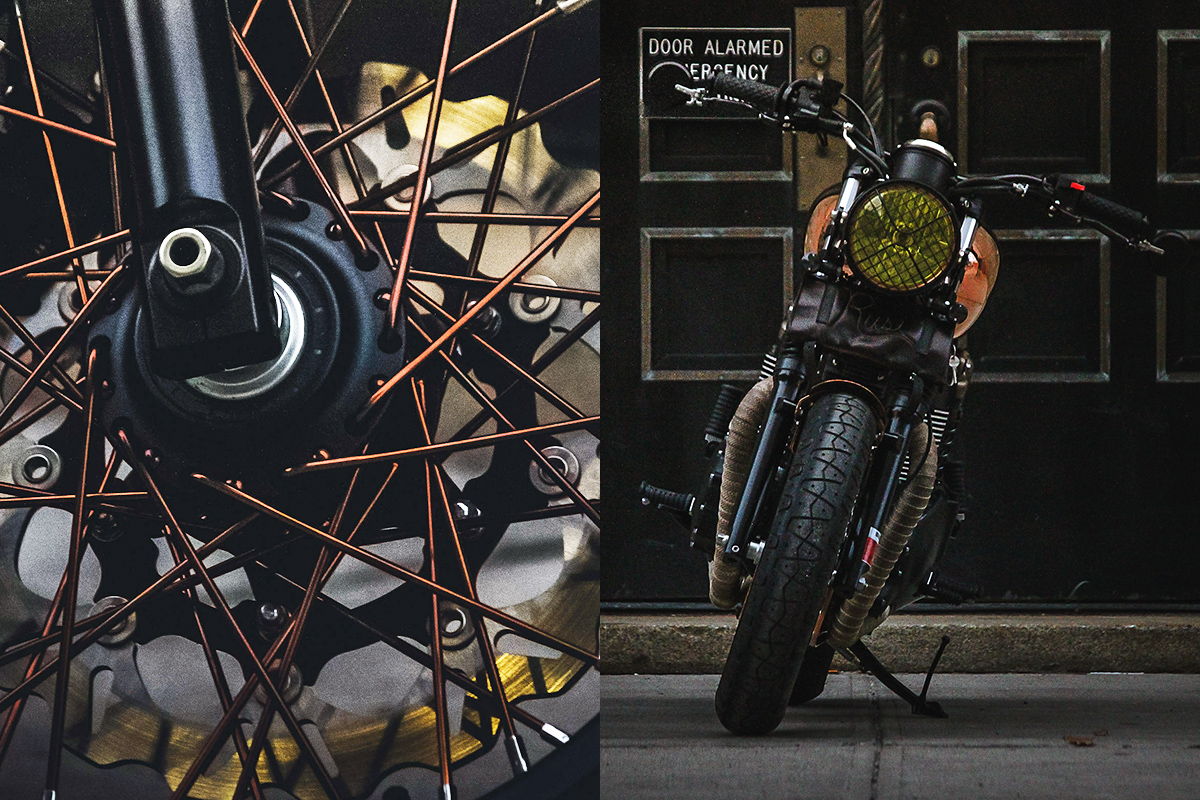 In addition to the seat pan, Marcos also applied a smattering of other British Customs bits on the build. British Customs provided Moneypenny's reverse cone mufflers that finish of the wrapped exhaust headers, a set of shorty turn signals, headlight bracket and a reg/rec relocation kit. Marcos continued to tweak aesthetics further by lowering the gauges, yellowing the headlight lens and adding a stone guard. He also mounted a custom leather tool bag up front, added CRG bar end mirrors, and some classic Triumph fork gaiters.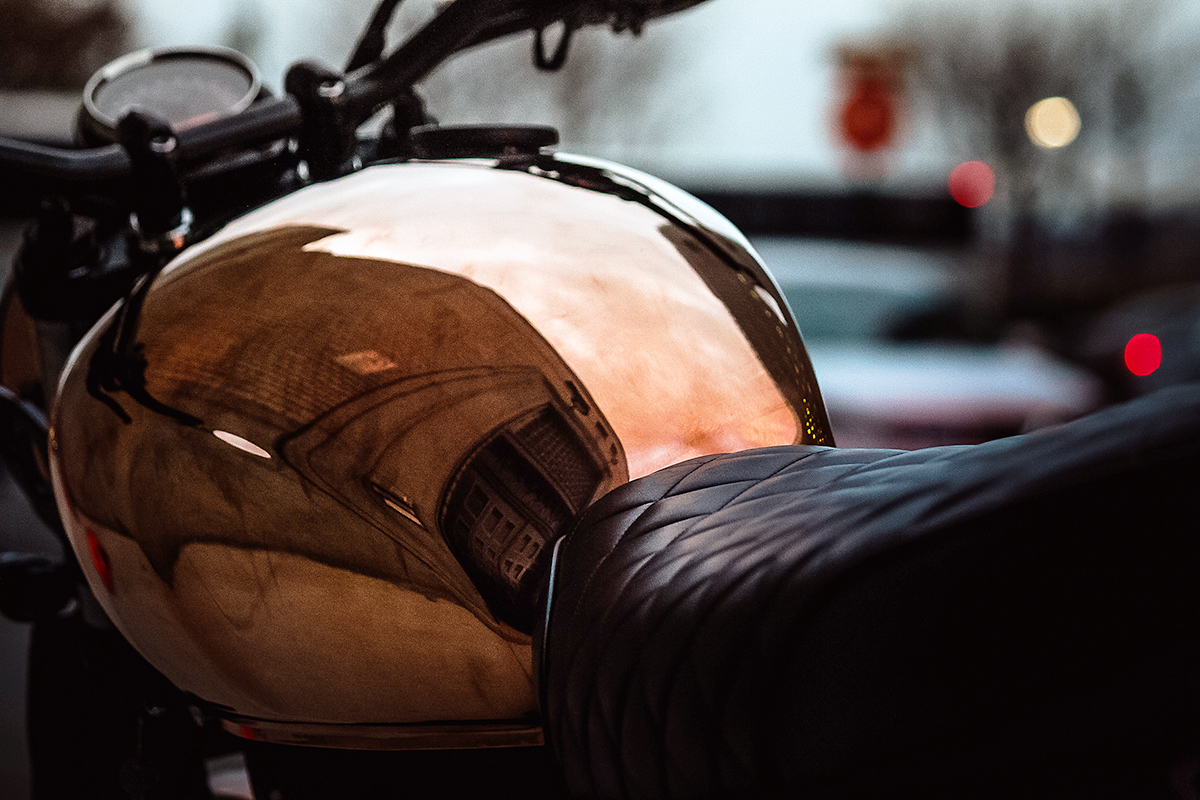 Not content with just looking good on the streets of NYC, the Triumph has been optimized for navigating the city's crowded roadways. Progressive was recruited for suspension modifications, employing adjustable springs up front and piggyback shocks in the rear. And a copper-spoked Canyon Racing wide wheel kit wearing Pirelli Phantom rubber helps to keep the Triumph grounded.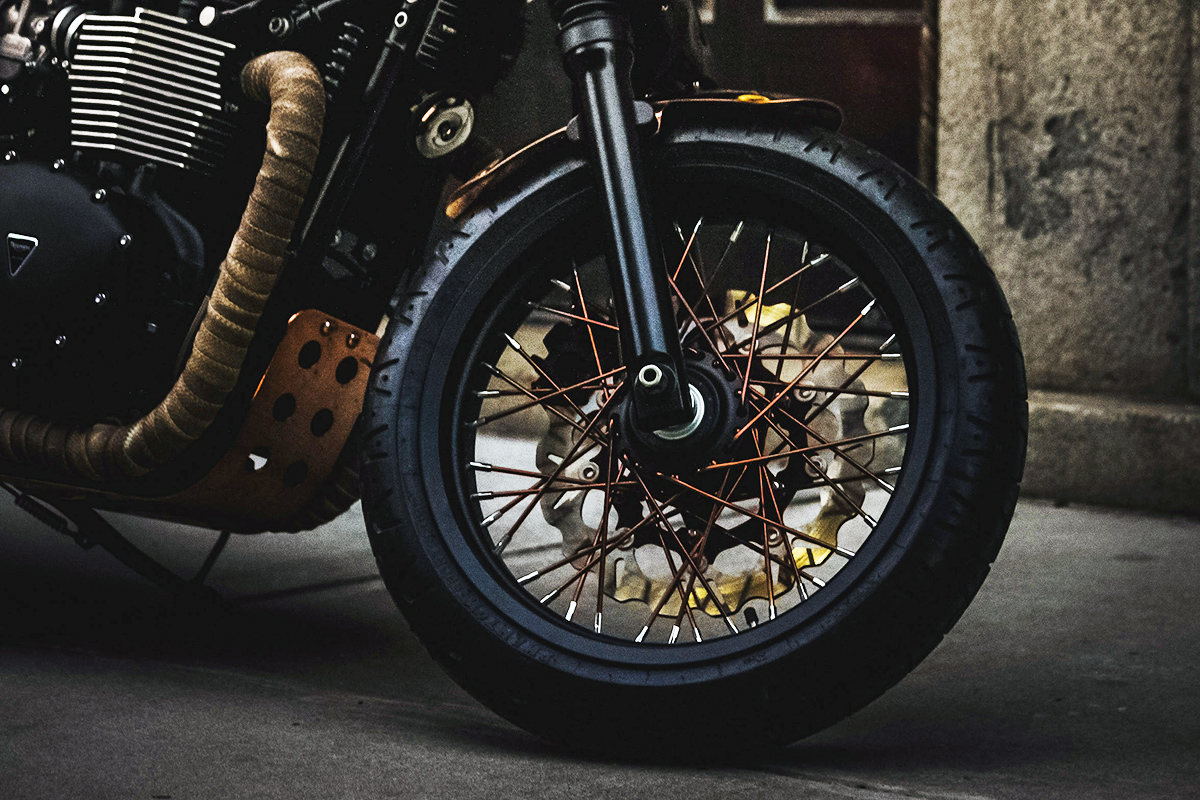 All the details come together to form a finely minted custom. For such a unique approach, the bike still retains its classic feel, and all that copper will only get better with age. What could be better than waking up in the morning and finding Moneypenny in your living room?
Build sheet:
2015 Triumph Bonneville Standard
Custom seat
Low tracker bars
CRG bar end mirrors
Leather tool bag
Copper plated fuel tank, fenders, skid plate, headlight bucket
BC reverse megaphone pipes
BC headlight bracket
BC reg/rec relocation kit
BC shorty turn signals
Canyon Racing wide wheels w/ copper spokes
Galfer wave rotors
Progressive front springs & rear shocks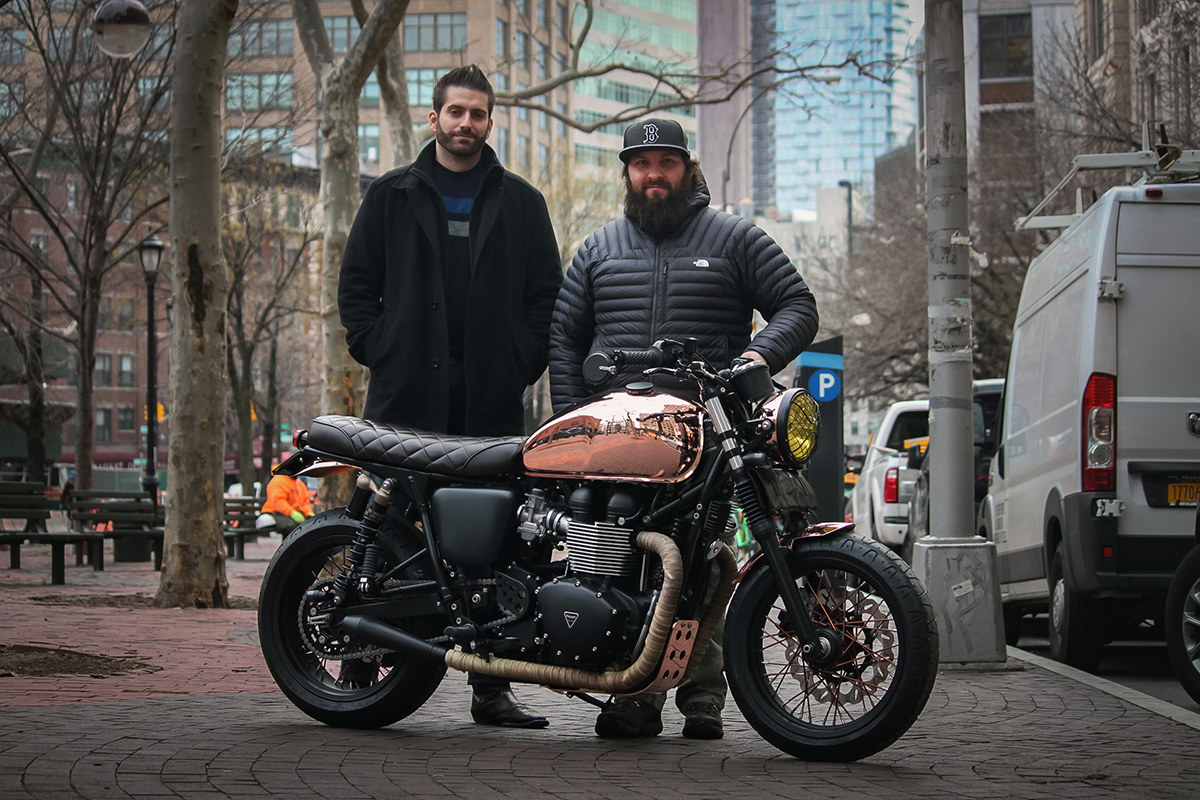 A penny isn't worth much these days. In an age where most people wouldn't bother bending over to pick one up, it's nice to see the metal put to use in a more valuable way, like making a custom motorcycle. Enter project 'Miss Moneypenny', a 2015 <a href="https://www.returnofthecaferacers.com/category/triumph-cafe-racer/">Triumph</a> Bonneville Standard, modified by Marcos "Spaniard" Martinez and Web Staples of Ducati Triumph NYC.