I don't know about you but when I was a kid if I went anywhere near my Dad's car with a paintbrush in hand I'd be risking not being able to sit down for a week! These days however it seems kids have all the fun. This little guy's gone to town on his Dad's Triumph Scrambler and he didn't even get a stern talking to. That is of course because his Dad happens to be Marcello Bree, the man behind Free Spirits Motorcycles in Italy and this Triumph Scrambler come Tracker, which he's aptly named 'Harlequin', was their latest head turning entry into the Verona Motorbike Expo.
To follow suit with Marcello's other custom builds the Harlequin Tracker can be converted back into a stock Triumph Scrambler by simply swapping all the parts back over again (I suspect that the tank might take a bit of extra work to get back to stock though), which is an impressive feat for a bike that looks so far removed from it's original design. The majority of the parts that Marcello used also happen to be from the Free Spirits rapidly expanding range of custom parts and accessories for modern Triumphs.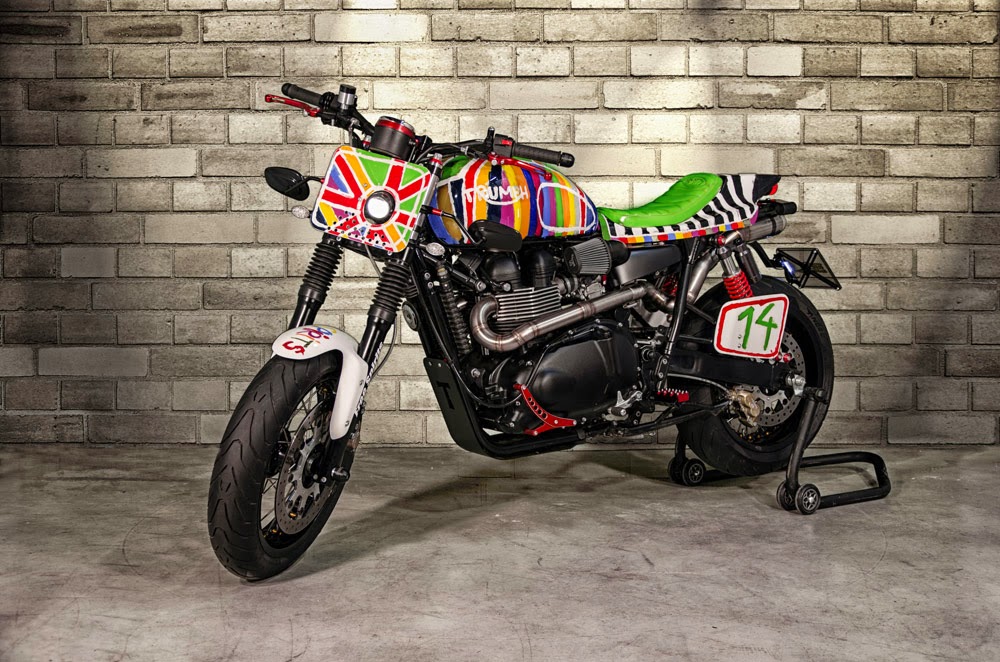 The Harlequin retains the Hinckley parallel twin with a few tweaks made for performance improvements. These include the addition of SF hi-flowing filters and a TFI unit which allows the rider to set 3 predefined mapping options that can be switched to suit the riders current desired riding style. Power is now transferred via a belt drive to eliminate power loss and the need for regular servicing. The 130 tooth belt uses a Free Spirits dynamic belt tensioner to extend the belt life and reduce stress from wheel and gearbox output bearings. A custom 2 into 2, 1mm thick gauge, stainless steel exhaust snakes its way around the engine and out under the tail for improved looks and performance.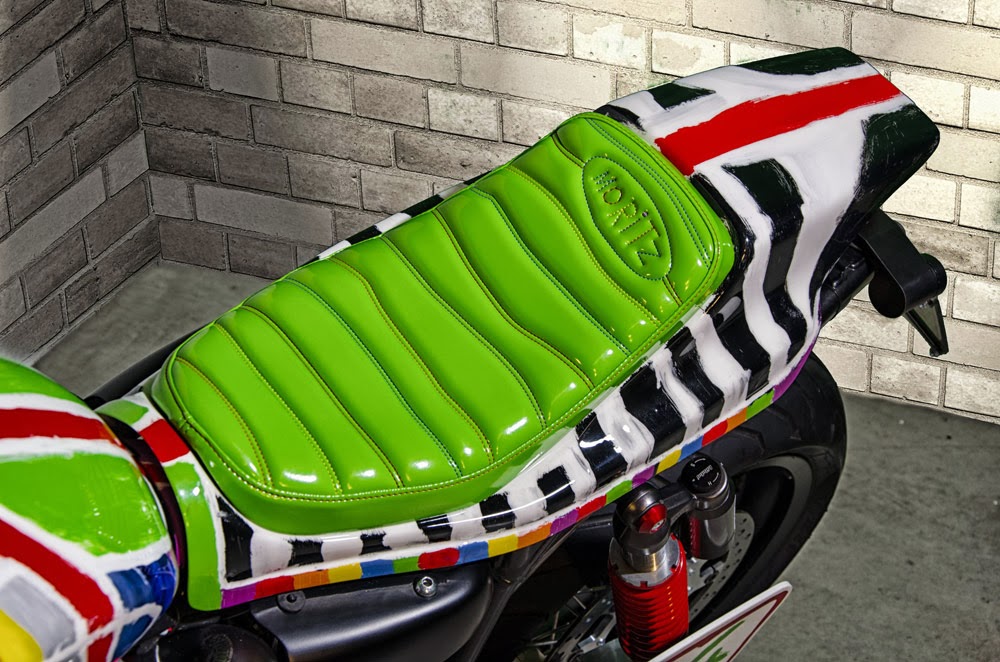 The Scramblers suspension system has undergone a complete overhaul. Up front there's an extra 45mm creating a 165mm travel and inside the forks you'll find a valve kit for improved stability on rough surfaces. Race suspension experts Bitubo, contributed a newly developed adjustable hydraulic suspension system for the front fork that takes inspiration from old style superbikes as well as a set of 400 mm Bitubo absorbers (40 mm longer than original) in the rear.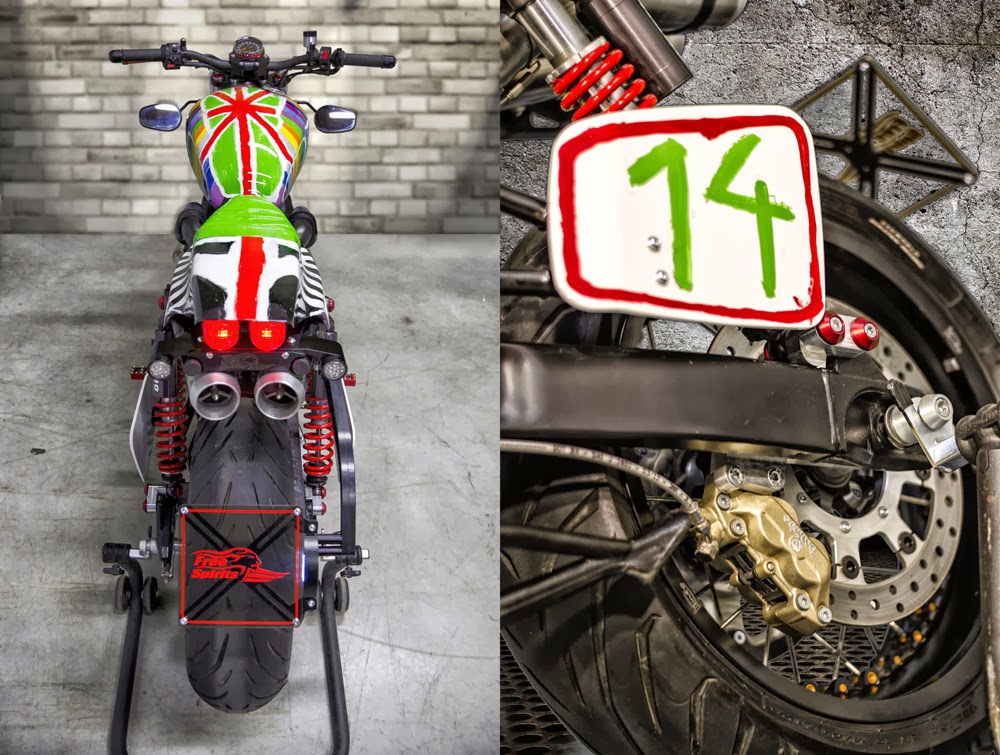 The Harlequins tail has been replaced with a custom flat track style cowl and seat finished in lairy green. All the lights on the bike have been swapped for LED units mounted using custom brackets that attach to exiting points on the frame. The exhaust was also mounted in this way to ensure that no cutting was necessary at any point during the entire build. Marcello then affixed a vast array of anodised billet parts from the Free Spirits catalogue to dress the engine and offer increased protection to vulnerable areas of the bike that are typically damaged when these bikes are laid down. While the finished result may not be to everyone's taste I'm sure that Marcello's son (Moritz) is proud as punch and can't wait for the day when he can sit on the bike and actually reach the ground.