Building a short series of custom motorcycles is a great way for a workshop to be financially viable. In most cases, this means taking a specific make and model of motorcycle and creating a group of identical machines to be sold as a limited edition. But for Italian builder Nicola Martini, aka Mr Martini, this approach is way too repetitive for his untamed imagination. Instead, he's created a few series that are based on a handful of defining features rather than matching donors. This Triumph Street Triple R is the latest addition to Nicola's Jerolamo series. The aptly named Jerolamo SR follows suit with its brethren featuring all the Jerolamo distinguishing features while still managing to a one of a kind Mr Martini creation.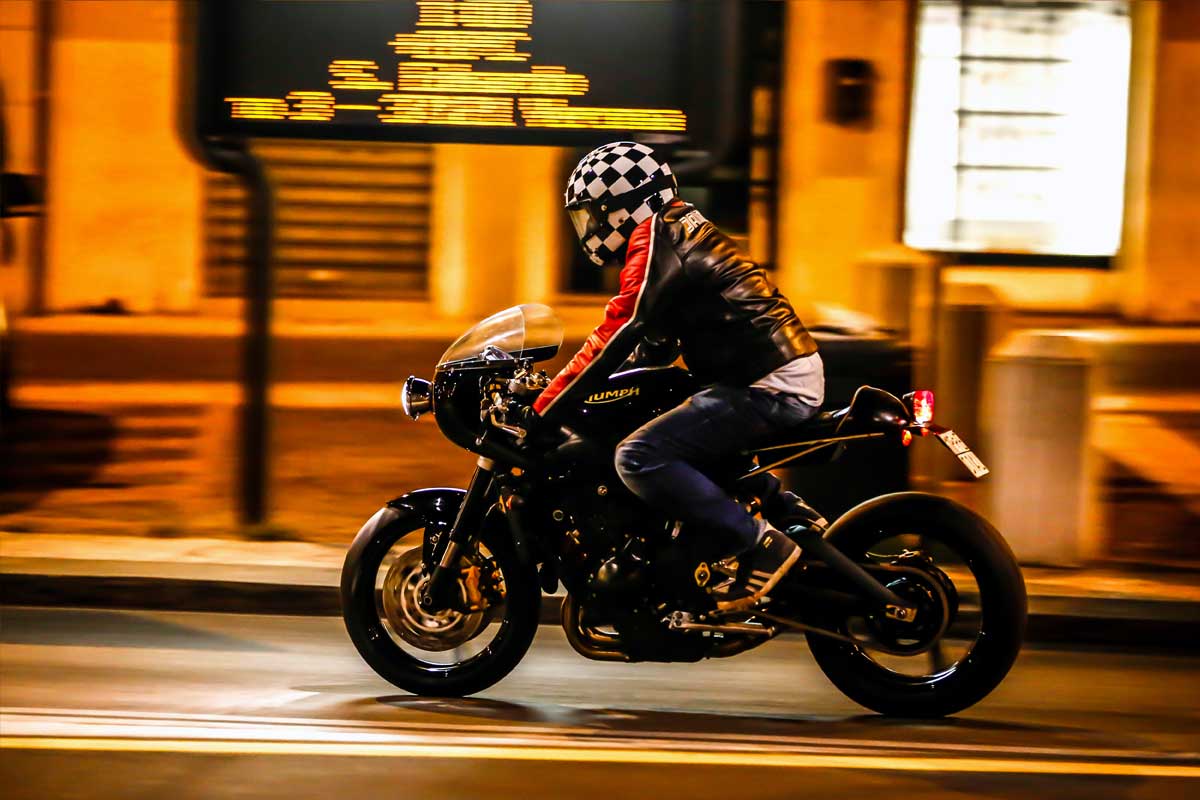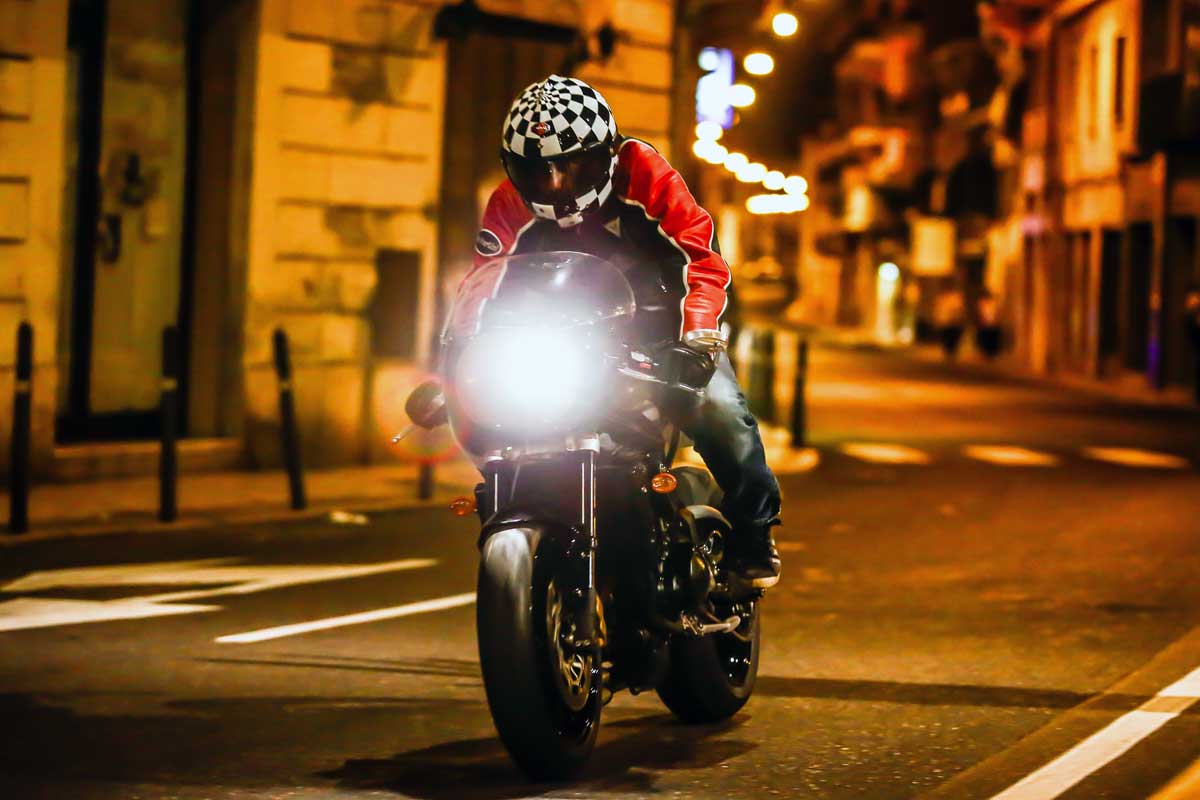 "The Jerolamo family was born a few years ago, on the base of a Triumph Legend," says Nicola "It started a new series of bikes characterized by a chrome steel rear frame, on which rests a leather Mr Martini saddle". These modifications are designed to 'suspend' the rear end of the motorcycle over the wheel adding visual lightness and an aggressive race-bred stance. The series now includes 10 variations on the Jerolamo style all based on various Triumph triples.
The Jerolamo SR started out as a stock Triumph Street Triple R powered by a 106bhp 675cc three-cylinder engine. Adding to the bike's appeal as a platform on which to build was its superior 'R' suspension. The Street Triple R wore fully adjustable Kayaba forks derived from  Triumph's sports bred Daytona. Being so impressed with the bike's performance in its standard trim Nicola left the chassis, dimensions, rims and suspension untouched, choosing instead to focus his efforts on a visual upgrade.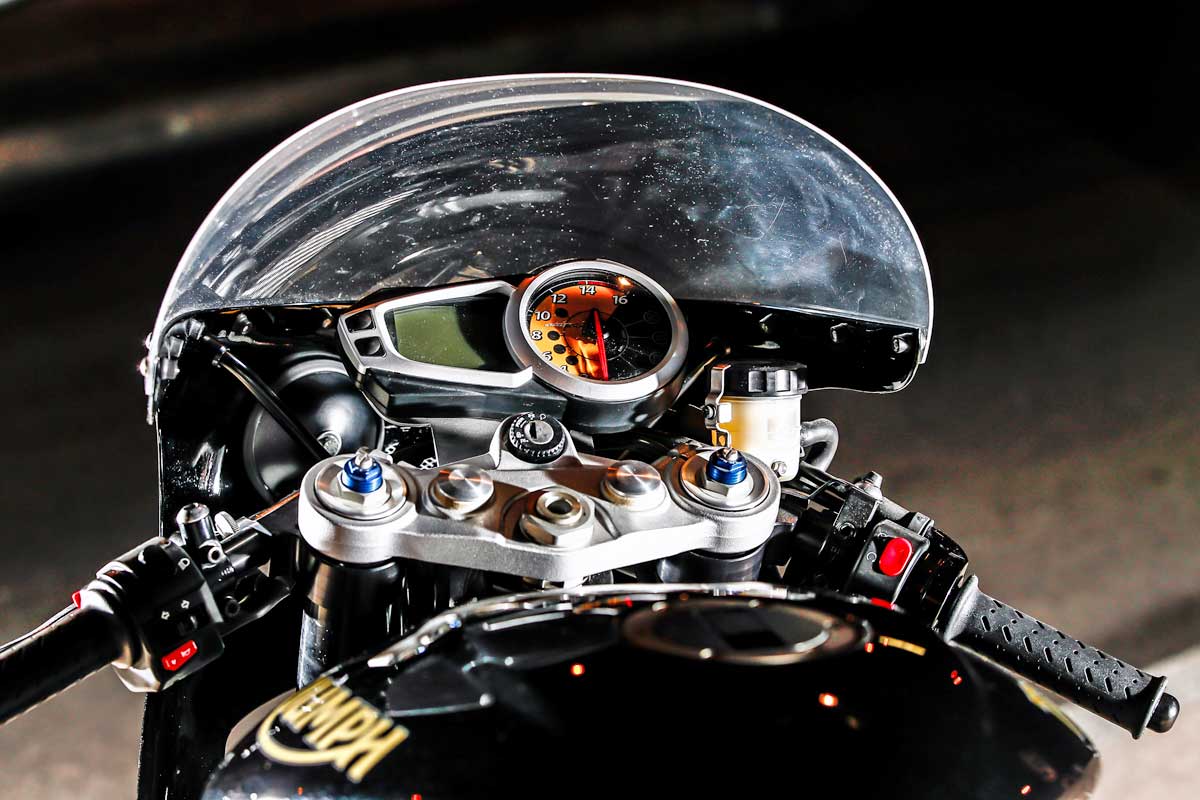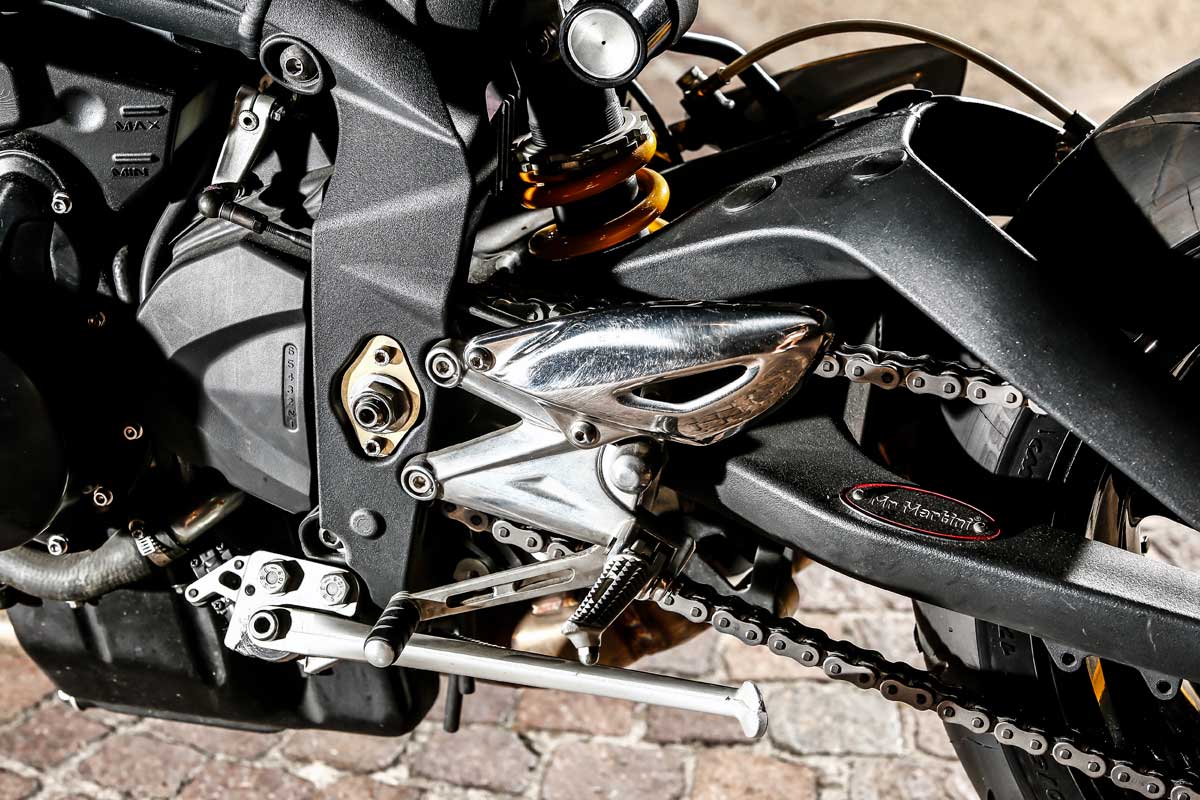 Nicola kicked things off with the fitment of a Jerolamo style chromed tubular subframe. Thanks to Triumph's design of the Street Triple the custom subframe is a bolt-on affair. The minimalist subframe and seat pan form a single unit which is set up to accept a signature Jerolamo saddle. To hold all of the electrics evicted from the original setup and a tiny lithium battery a stealthy underslung electrics box hangs between the frame rails.
At the opposite end of the bike, are a few of the 'optional' components Nicola offers his Jerolamo customers. The front fairing is one of Nicola's personal favourites. After stumbling across the original fairing at a market some years ago he has recreated it several times using his own moulds. As a hat tip to the Brits, each new fairing features a mesh-covered triangle reminiscent of Triumph's iconic emblem. For lighting duties on this example, he's installed an offset headlight mounted in a similar way to classic endurance race bikes. Sitting behind the screen is the standard Street Triple R gauge and the stock handlebars have been swapped for clip-on alternatives.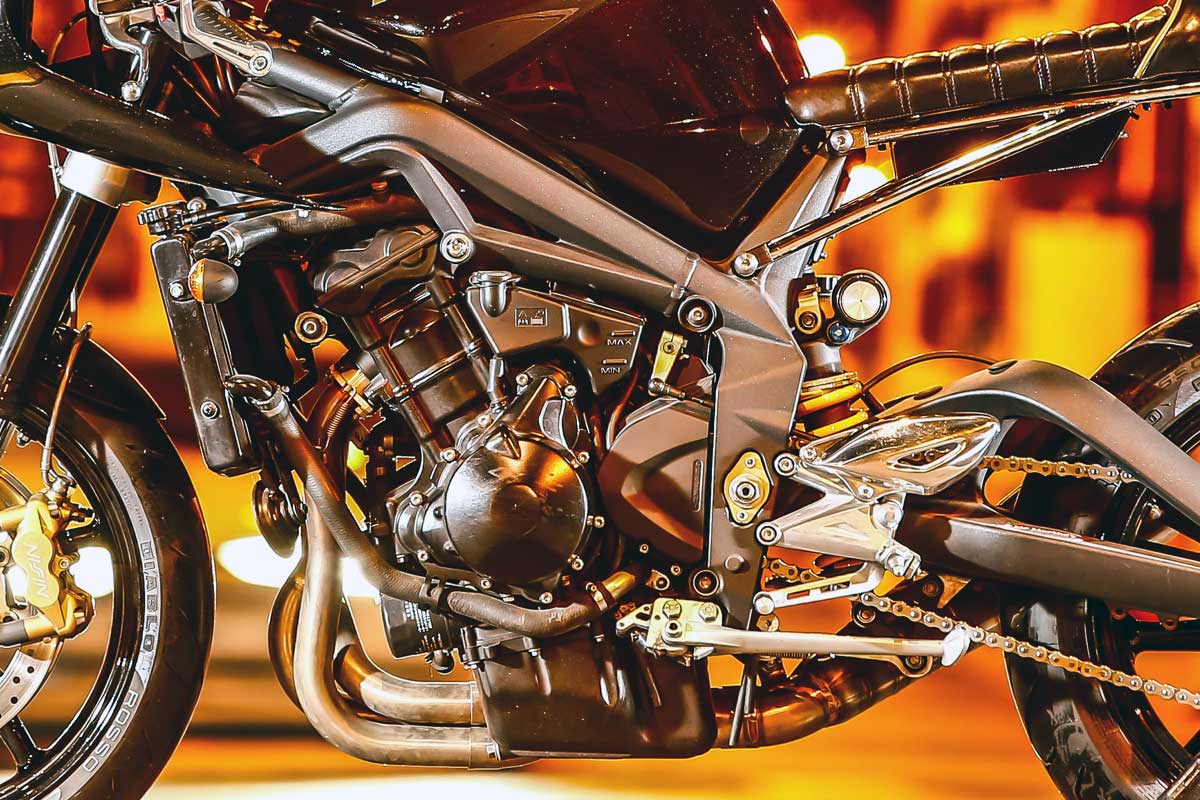 As for performance, on paper, not a lot has changed. The only engine performance improvements can be attributed to the stunning Zard 3-into-1 exhaust made especially for this Street Triple R. Although the actual engine mods are minimal the power gains from the exhaust and a massive 22kg drop in overall weight have transformed the Triumphs performance.
With no end in sight for Mr Martini's Jerolamo series, we're excited to see what he has in store for us next, but for now, this stunning example is easily our pick of the bunch.