With over a million Instagram followers 'Cafe Racers of Instagram' (aka CROIG) have one of the world's biggest social motorcycle followings. It's a huge achievement and one that comes with a few rewards. Back in 2018, they teamed up with Triumph Motorcycles for the build of CROIG 003, a tightly customised Street Cup. Now through another special collaboration, 003 is back and it's taken a rather unexpected new direction. While most local riders were getting their bikes prepped for winter storage CROIG had other ideas. Rather than letting a few measly feet of snow prevent them from doing what they love, they found a way to keep 003 in action.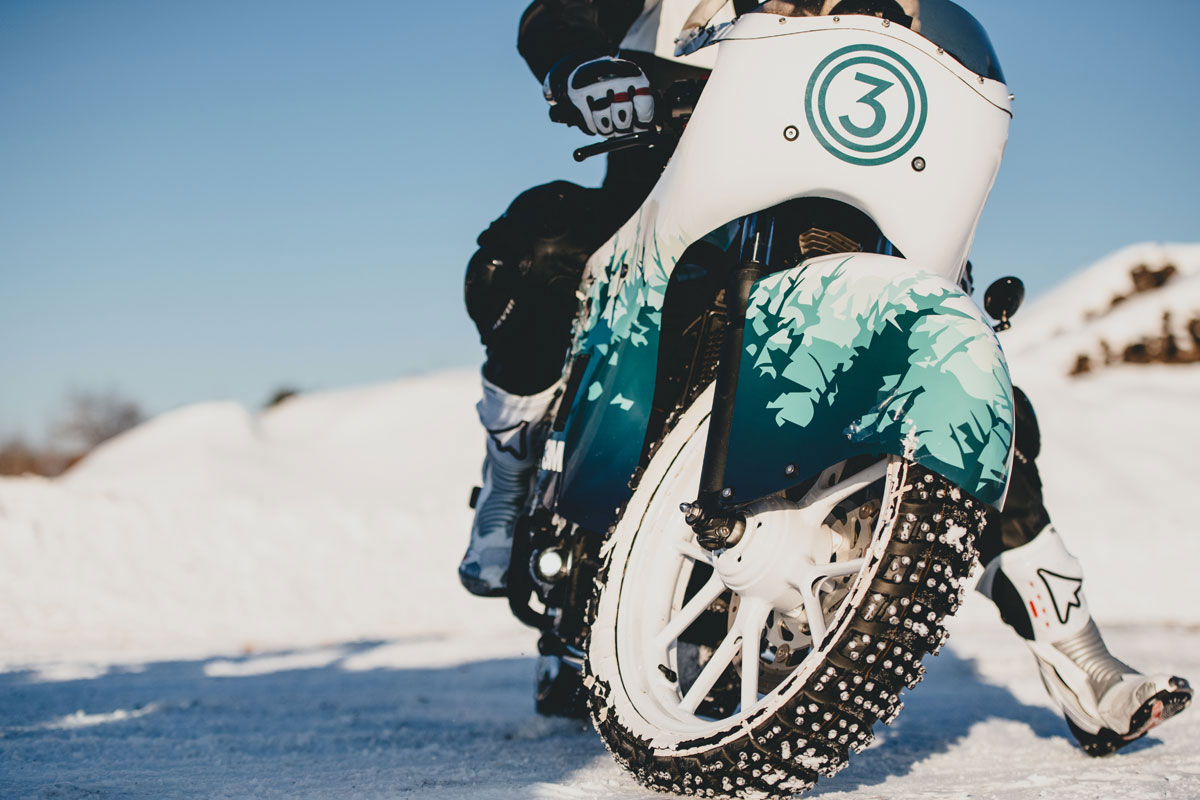 "We were inspired by some local ice racers and wanted to see how our Street Cup would fair."
"Because of our long winters, a lot of motorcyclists store their bikes during the colder months. So we tend to cram as much riding in as possible during the warmer months" says CROIG's David Chang. But even with winter in full effect, David wasn't ready to hang his up helmet. Rather than following suit, he decided to do something a bit different by preparing 003 for some winter racing. "We were inspired by some local ice racers and wanted to see how our Street Cup would fair."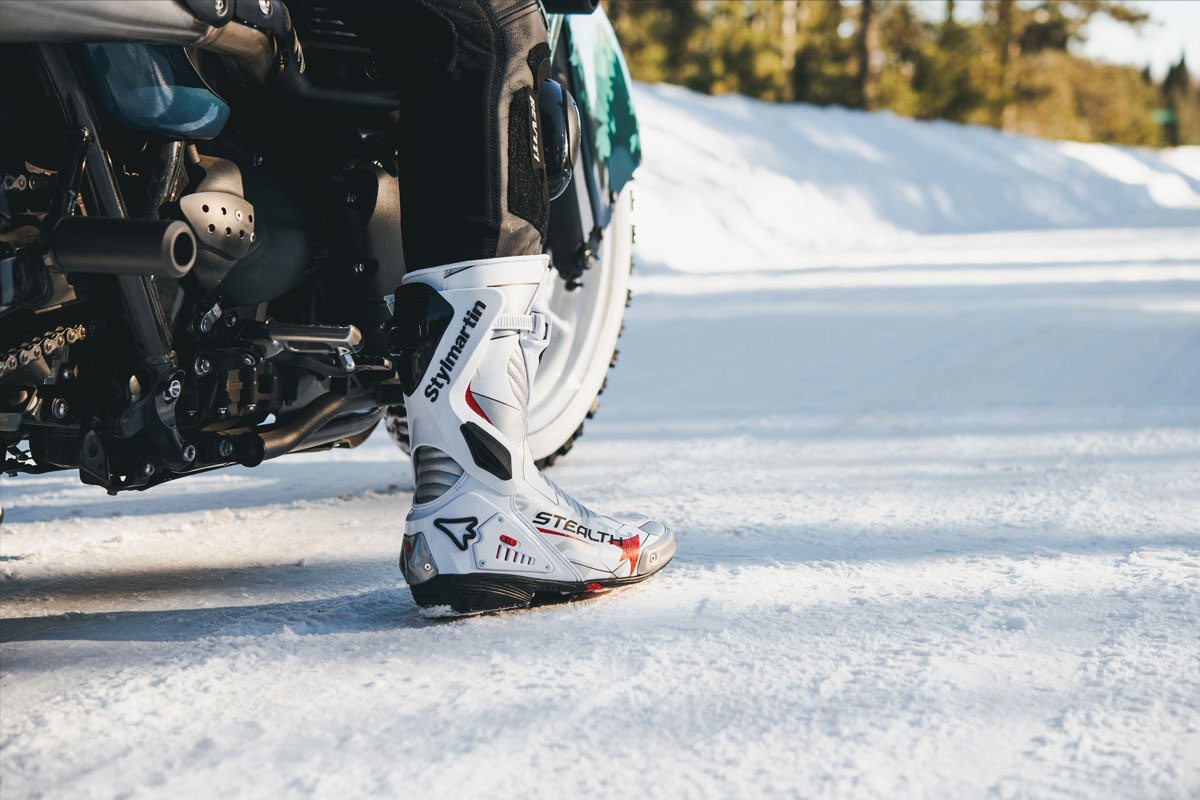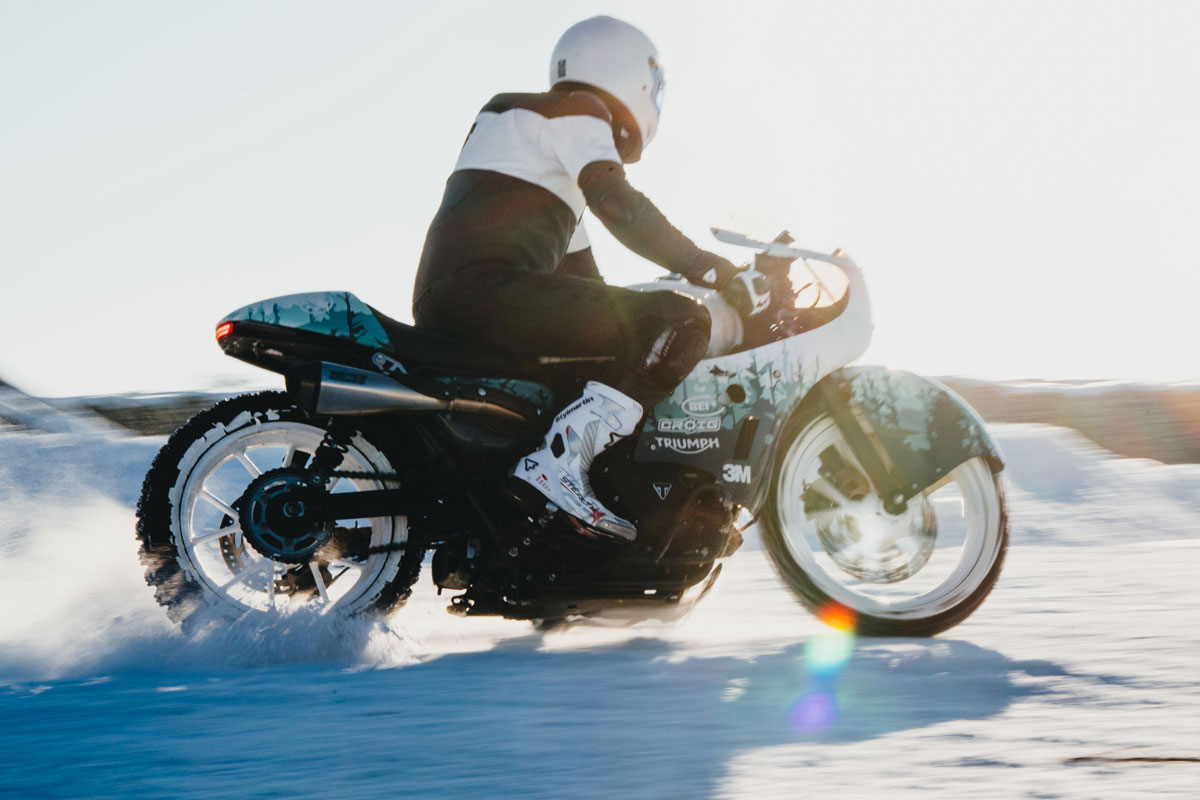 Ice racing is a unique motorsport confined to environments where temperatures drop low enough to freeze water. Similar to flat track racing it usually takes place on oval shaped 1/4 mile tracks. The big difference here though is that ice racing tracks tend to be built on frozen lakes. As you'd expect ice racing requires unique modifications which CROIG have applied to their Triumph Street Cup.
The single most important change to the Streep Cup was the addition of studded tyres. Purchasing ready made ice racing rubber isn't possible so David enlisted the help of an expert. Using a set of Dual Sport tires a local racer grafted hundreds of screws onto them. Each screw head is left exposed to act as ice grip. The tyres were then fitted to the Street Cup's original cast rims and swapped out with the spoked, street trim alternatives. Due to the increased diameter, and the threat of rogue studs being flung back at the rider, an ice racer front guard was added and the rear license bracket removed.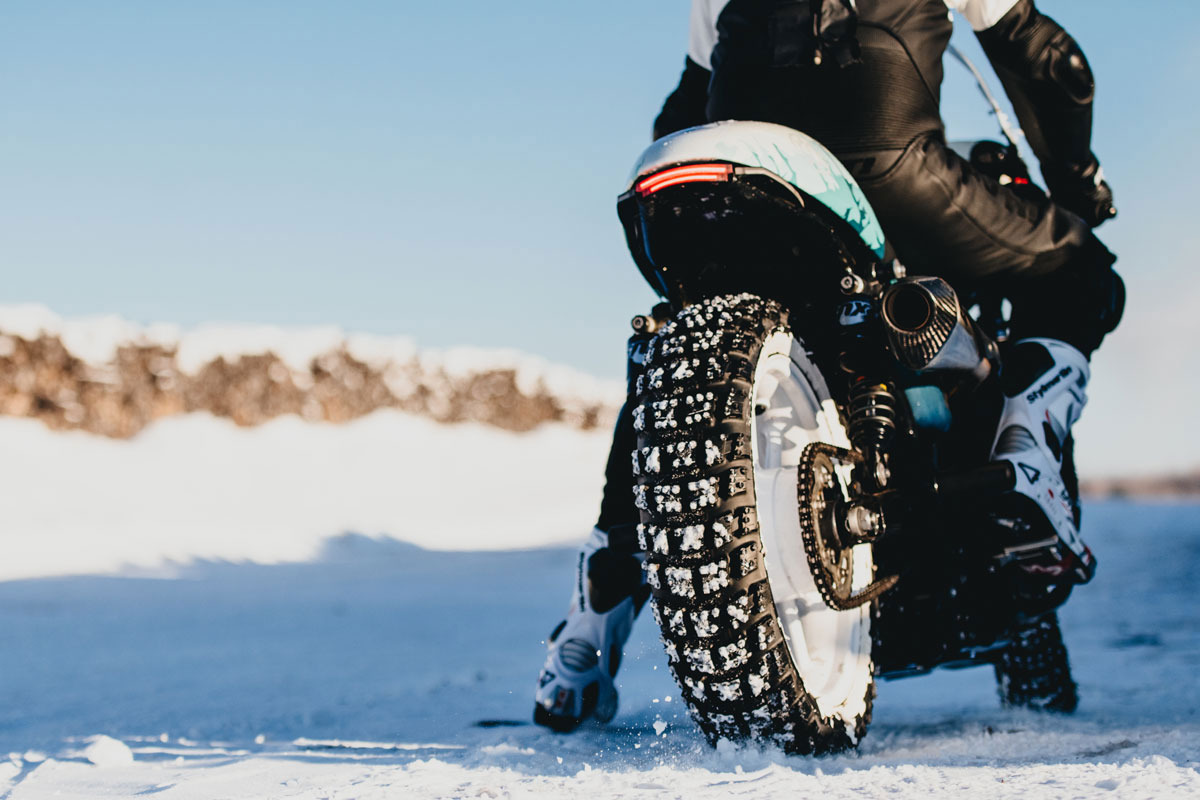 As with any race bike David wanted 003 to feature livery befitting of its purpose. He tasked designer Hello Cousteau with the job. Taking inspiration from Wisconsin's frozen pine forests, Cousteau created a winter landscape theme, complete with the projects partner logos. When it came to applying the graphics David wanted something that could be reversed come Spring. A vinyl wrap seemed like the perfect solution so he contacted local adhesive experts 3M and Brand Ink. After measuring up the bodywork they printed and installed the wrap and it that looks right at home against the frozen landscape that inspired it.
Since this was the Street Cups maiden attempt at ice racing CROIG opted to leave the engine as is. This would allow them to get a good feel for how the bike ran before increasing power. So with 003 ready to go Triumph sent one of their sponsored riders out to break it in. Unfortunately, Wisconsin's weather had other plans. "We shot the bike at a lumberyard in Hayward, Wisconsin after the Midwest was hit with the most snow in a long while," says David. "This caused the lakes to be unrideable due to the weight of the snow on the ice. Luckily we came across the lumberyard which proved to be a great track for us to rip CROIG 003 around on."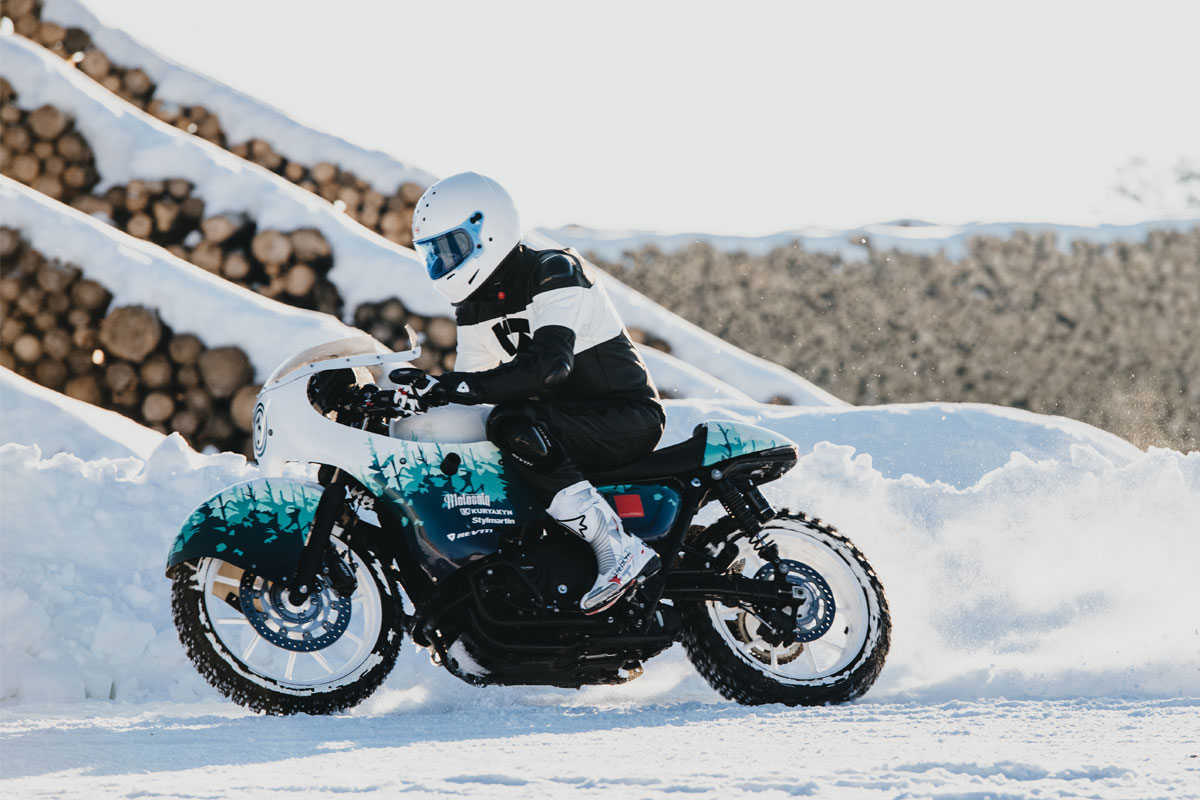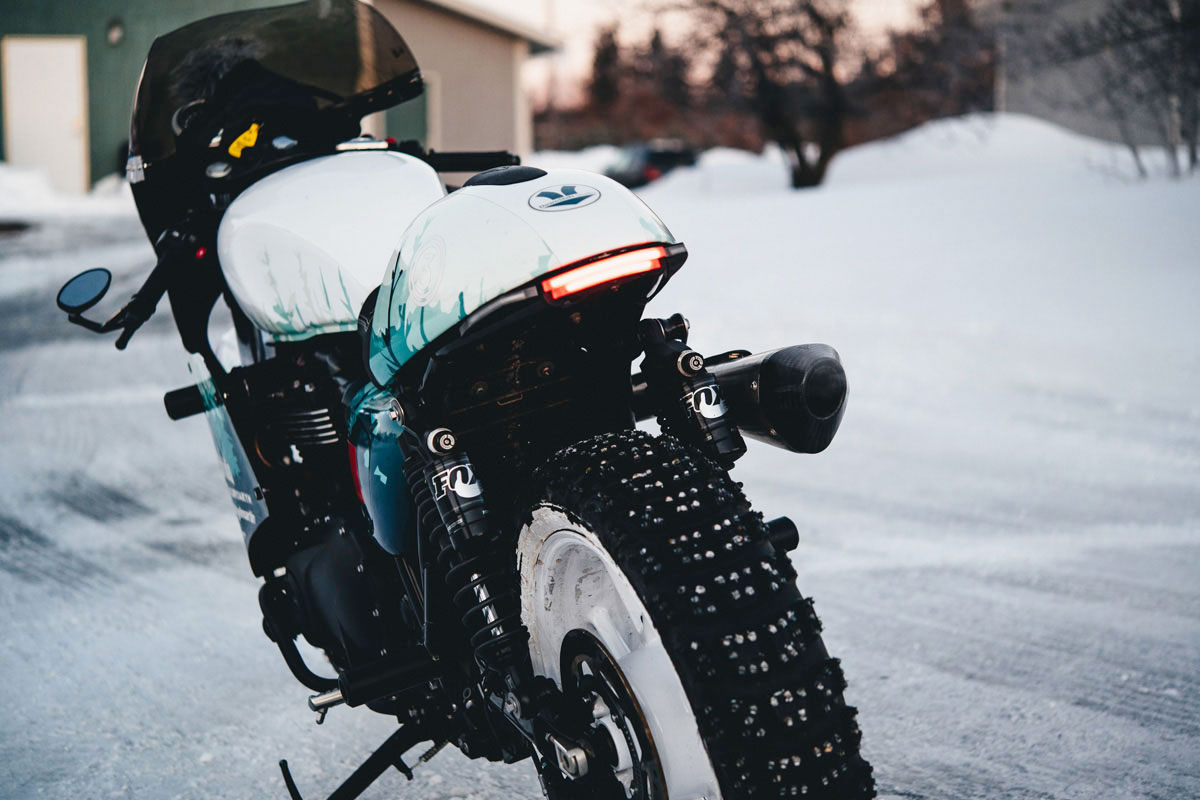 After its shakedown in the lumberyard, a sneaky nighttime blast around town and a minor spill, 003 was retired for the 2019 season. Now that they've been bitten by the ice racing bug CROIG plan to race the Streep Cup again in 2020. The concept is to add more grip, more power and improve the suspension. They're also producing a limited run of their Triumph Street Cup fairings. This way they'll have spares handy for the next race season and a few to sell to 003 fans. Be sure to follow CROIG for more updates on this project and an endless supply of cafe racer inspiration.
Photography by Roy Son