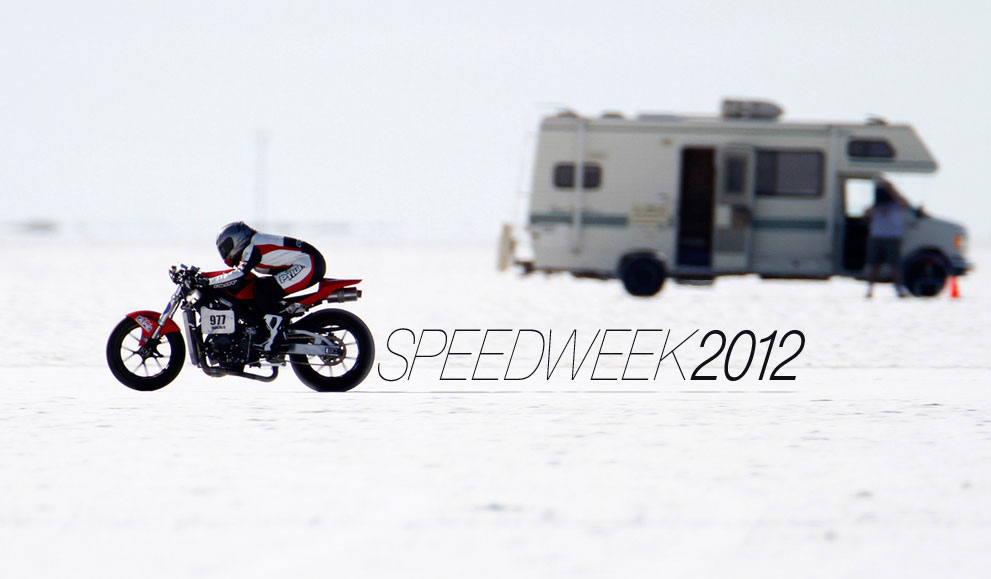 Next week the Salt Flats of Bonneville, Utah will play host to the 2012 Bonneville Speed Week, "the world's fastest speed trials". From August 11th to the 17th over 170 motorcycles will rocket down the salt in an attempt to break records and claim their spot in land speed history. The latest condition report from Bonneville states that the salt is in great condition with temperatures set to be around the mid 30's (95 degree fahrenheit) which could work in favour of this years competitors.
These shots were taken at the 2011 Speed Trials by photographer Jim Urquhart. Salt, speed and sunshine is what it's all about which Jim has captured beautifully in his Bonneville series. Fingers crossed this year we will see a lot more top notch photos and video content online after the trials.
Amongst the hundreds of competitors this year will be Tyler and Kyle from Low Brow Customs. On their first visit to Speed Week in 2011 the Low Brow brothers each set new records on their 650cc and 750cc Triumphs. This year the brothers return to the salt with their Milwaukee Murderer, a dual engine Triumph LSR running two 650cc motors (placing them in the 1350 displacement class) which was recently unveiled at Born Free 4. If this excites you as much as it does me, you can check out the build thread here on Chopcult.
Good luck to all those competing and may the gods of speed all smile down upon you.