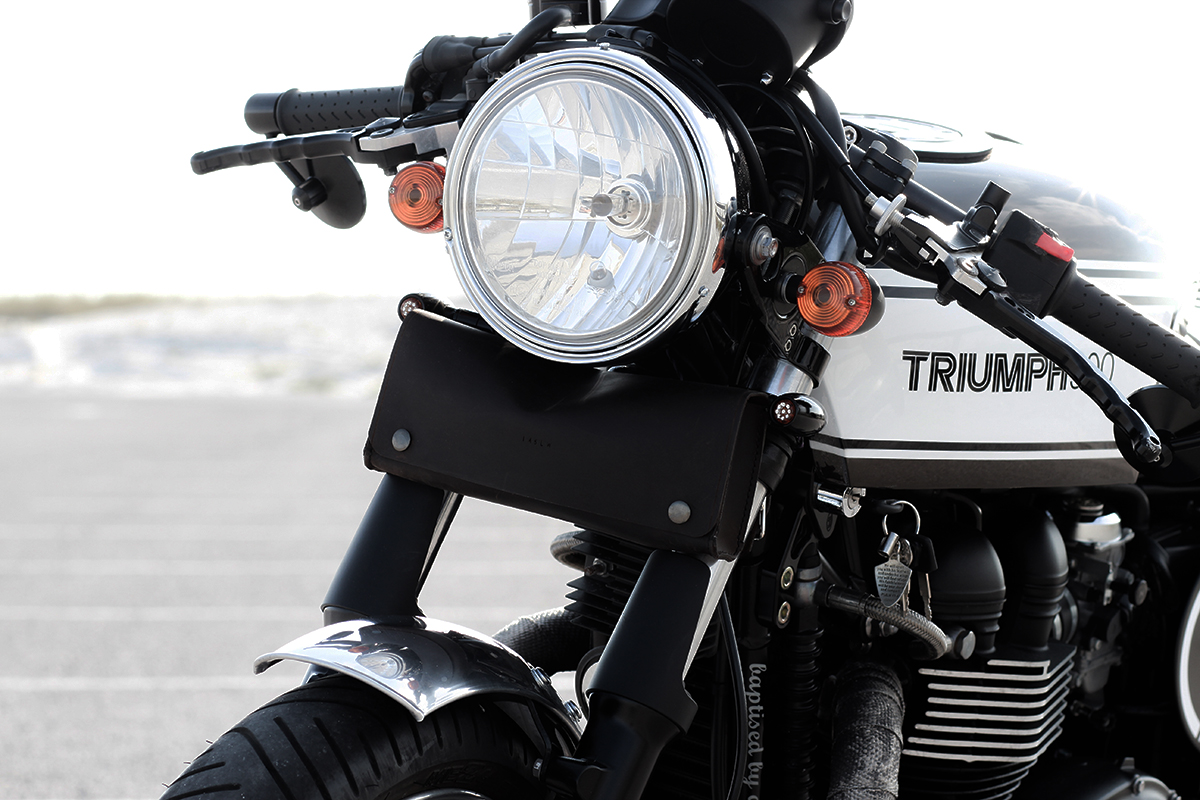 My motorcycle is a 2011 Triumph Bonneville. The build is still ongoing on as I continue to make upgrades and adjustments, but right now it's very close to completion so I would say it's taken me around 6 years to get to this point. I saved for a long time to buy this bike brand new. As soon as I had the money (it took about 2 years of saving) I walked into the dealership and pointed to it. A newer bike made sense because I didn't know enough at the time to be able to maintain one, plus my wife thought it was a wiser choice due to my level of experience.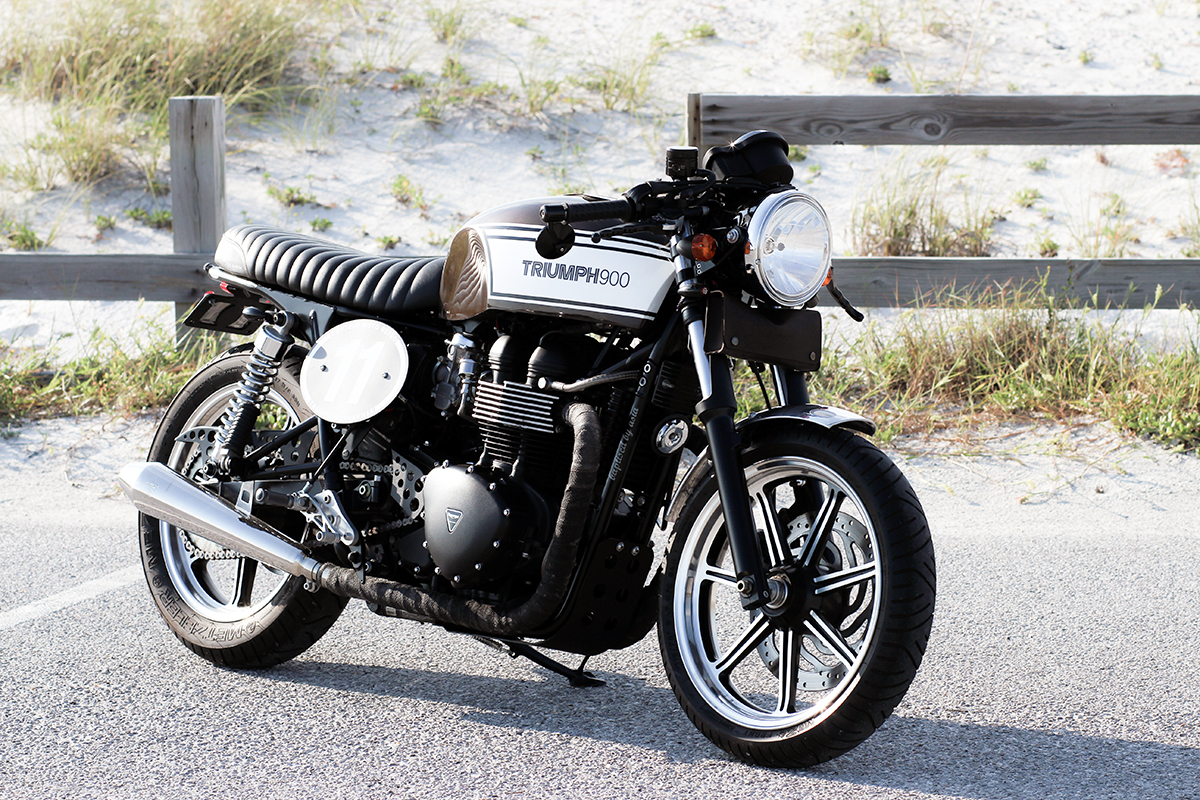 This bike has had a few different iterations in the past. I had the cafe seat with a cowl, pedestrian slicers, etc., but It just looked too busy for me. I wanted to streamline the look and simplify everything. My inspiration and design concept was the design of early 80's superbikes. You can see that in the fonts I used for the graphics, the brown coloured tank, the striping. I mixed that look with some classic cafe touches such as the aluminium front fender, big round headlight and orange markers. I also decided that I wanted a smooth silhouette that had a front-heavy appearance. From the side, it's the tank that really stands out as large and the seat is straight and flat to keep it clean towards the back. While there is a fender and huge light on the front, the back is simple with no fenders and just a brake light. To me, that creates an aggressive stance, something looking much more robust in the front and tapers to simplicity in the back.
Every step of this build was challenging for me because it was my first. I had to learn a lot about the bike as I went and how to remove/replace parts on my own. I enjoyed every bit of it though. My favourite part was learning how to replace the original fuel tank with this one. I feel like my real strength is not so much on the mechanical side of things, but in the aesthetics. I noticed better performance after the exhaust was upgraded and the clip-on bars installed. I was able to turn better and as well as some extra power it sounded much more aggressive with the new exhaust. My next plan for the build is to upgrade the suspension with new shocks and larger wheels and tires.
Specification list:
Custom "Pinas" fuel tank by Benjie's Cafe Racer
Brown metallic paint job by Mitch McCormick of Kandy Kustoms in Pensacola
Dime City Cycles headlight assembly, marker lights & rearview mirrors
British Customs "Slammer" seat, headlight brackets, rectifier locator and sprocket cover
Joker Machine clutch and brake levers, key relocator, shock bolt dress up caps and turn signals
Bella Corse LED brake light & quick-release seat screws
MAS Engineering chain guard
Analog side number plates
British Customs "Predator" exhaust, short brake line and oil pressure gauge
Cool It exhaust wraps
Vortex clip-on handlebars
LSL rear sets and foot pegs
I haven't seen a Cafe Racer scene in Pensacola. If there's any of you out there is reading this don't hesitate to contact me on Instagram! I would like to start a local group if I can get enough cafe racer enthusiasts together.
With my Triumph completed and with a bit more experience under my belt, I would like to build/restore an older CB350. That might be my next project.
Photography and story by Asia Samson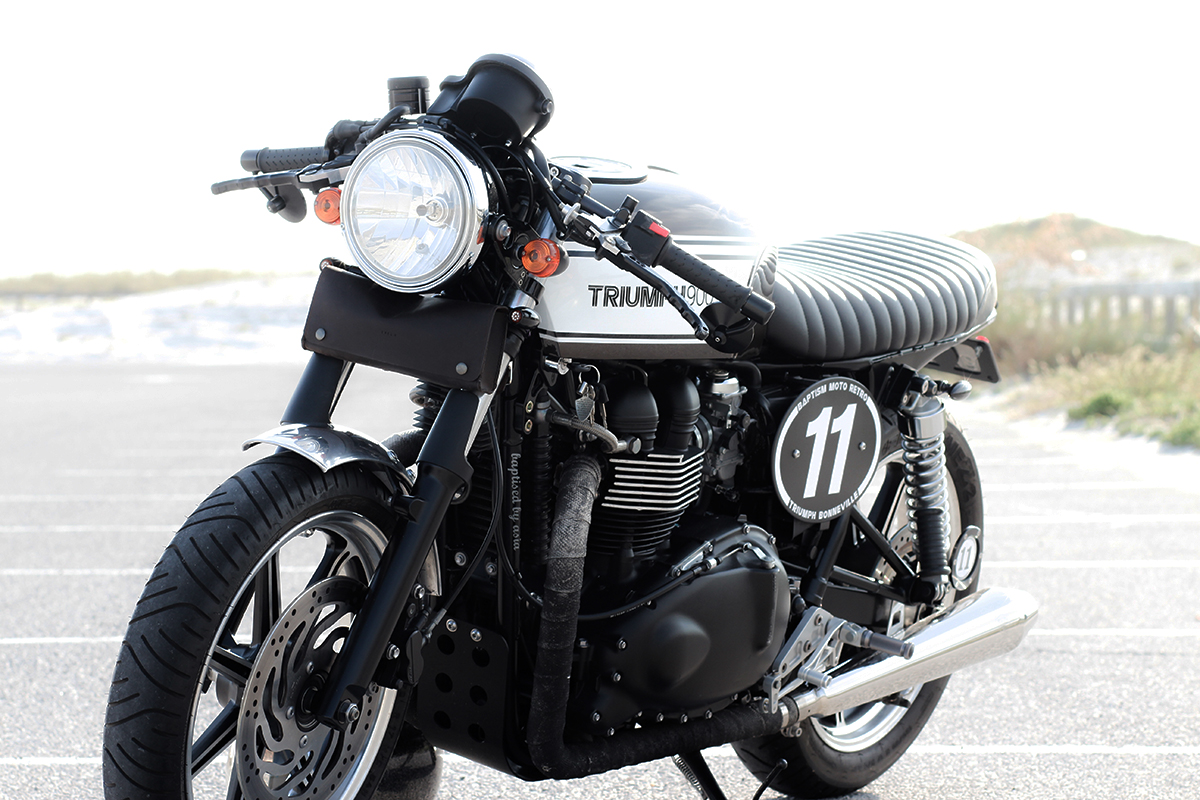 In 2011, I moved to Pensacola Beach from Miami. I also decided that I wanted to learn how to ride motorcycles since it's a great and somewhat safe area to ride around. It wasn't long before I got my license and started riding with my father-in-law using his Honda CBR250 until I got my own bike. I knew I didn't want a sports bike and definitely didn't want a cruiser, but wasn't quite sure what it was I wanted. I began hearing about Cafe Racer culture and immediately fell in love. The bikes had classic retro looks but were still fast and fun to ride. Immediately I knew that was the style of bike I wanted to build for myself.