By day Ralph is a project engineer working in the defense sector but he devotes his spare time to his love of Suzuki two strokes. Back in 2003, Ralph decided to take the leap from regular road rider to track racer, prompting the purchase of basket case T500 for a measly $300. After tearing the bike down all that could be salvaged was the frame, swingarm, throttle, and engine, minus its cases which disintegrated during the disassembly. Not one to be beaten easily Ralph soldiered on for six more months until the T500 was ready to race, and race it did! Together Ralph and his T500 competed in the AHRMA national racing circuit for no less than 8 long years, clocking up countless miles on the track.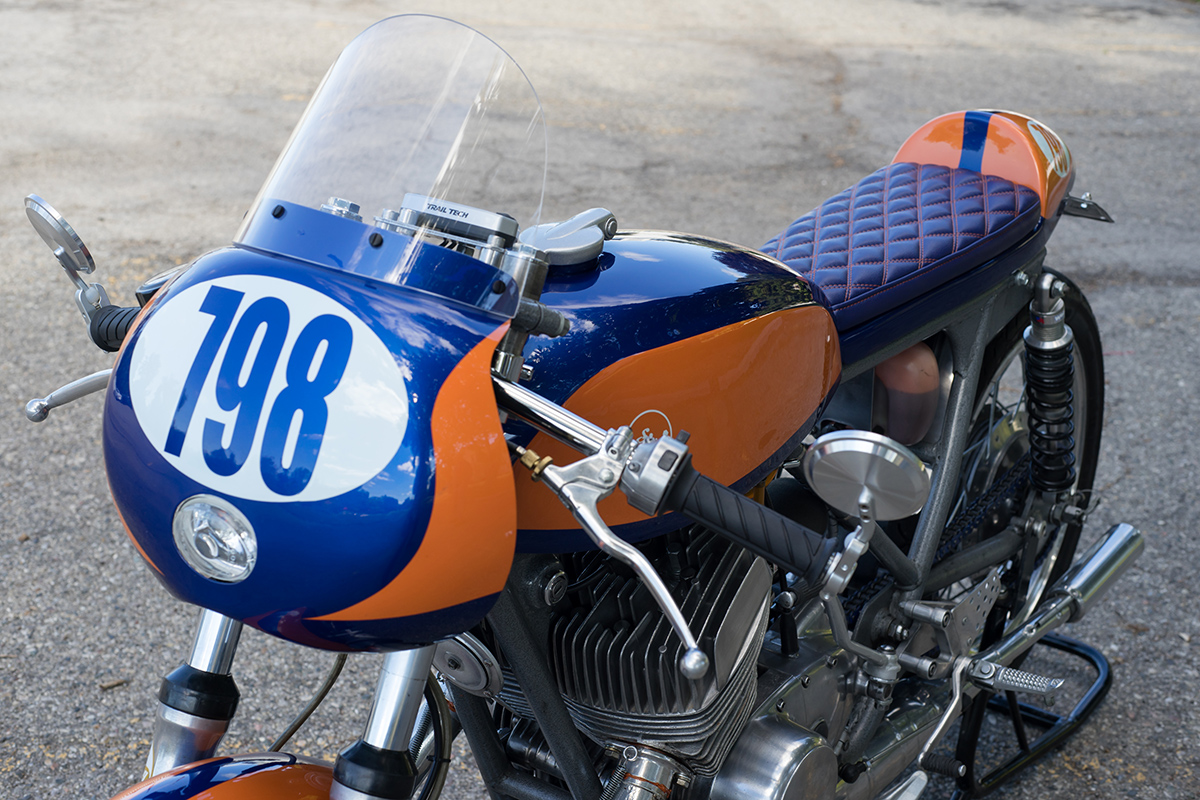 When it was time to retire the T500 Ralph had no intention of letting his beloved bike go. With its departure from the track, things went full circle and he set about getting the bike back on public roads again. "Because I originally built the bike to be as much an art project as a road racer making it a street going café racer was a natural progression," says Frank. "My design philosophy is based on performance and functionality. The bikes I build are real-world road going or racing machines that function. I ride and race the bikes I build."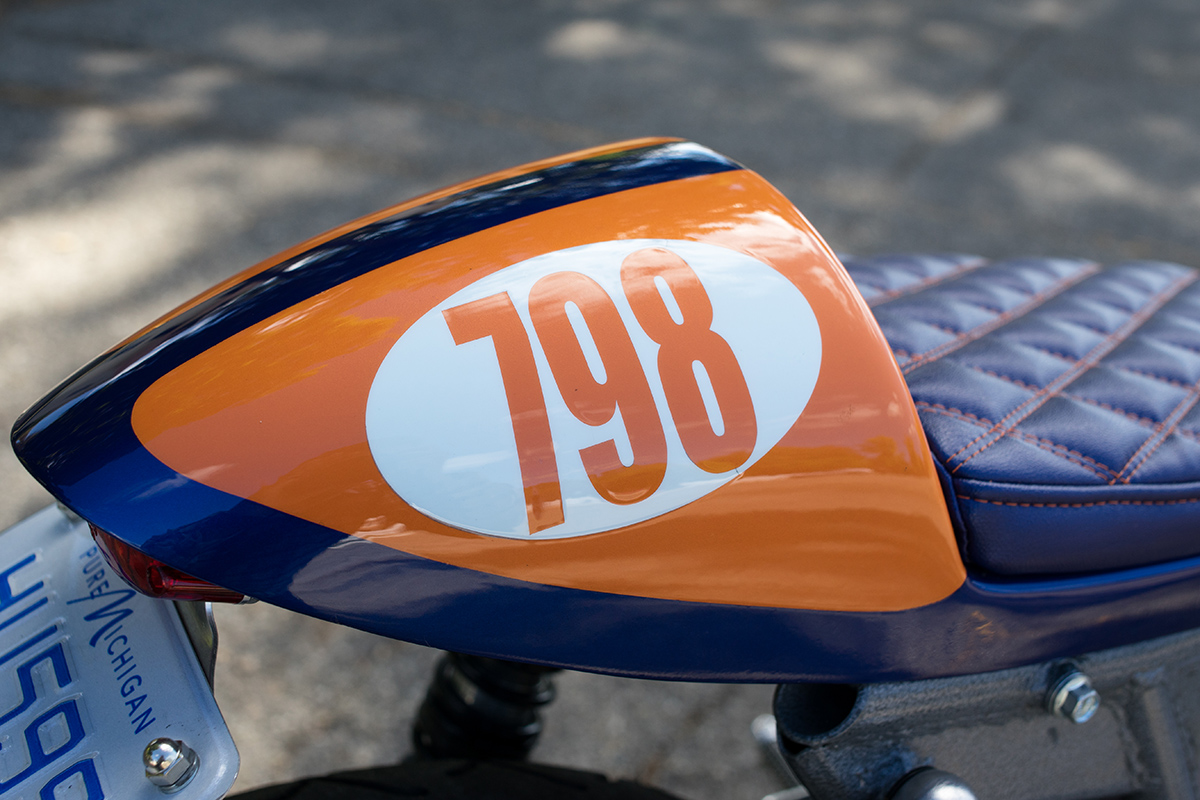 To ready the T500 for the street it underwent yet another teardown. Ralph started the rebuild by adding diagonal bracing to the frame and removing any redundant tabs. He constructed a rear inner guard that doubles as a support for the bikes battery and made refills out in the wild easier by mounting a GoPed oil tank beneath the seat. GSXR rear sets and clip-on handlebars were added to retain the bikes racing spirit and it was wired for legal road use. Up front, Ralph has mounted a set of Suzuki GT750 forks wearing their original brakes and drilled discs and there's a steering damper to keep the front end in check. At the rear, there are Works Performance shocks and the wheels were put together using Borrani shouldered rims wrapped in Heidenau racing rubber.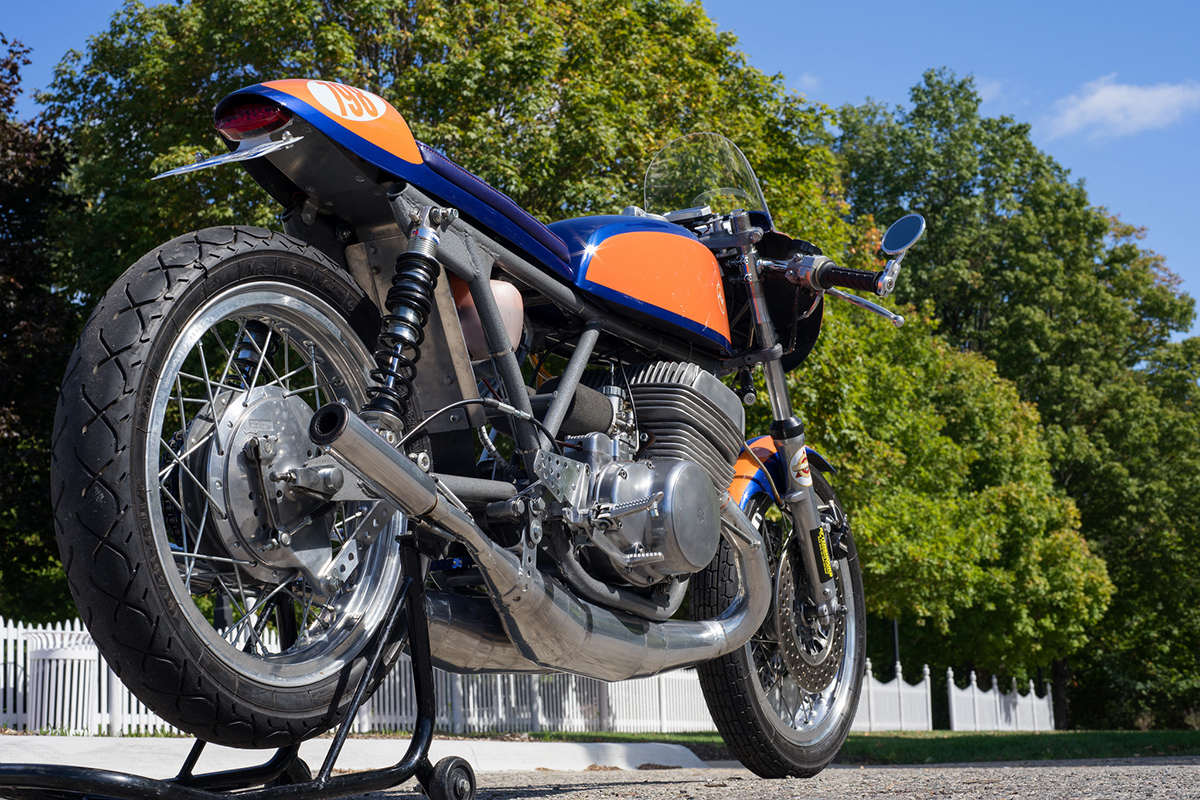 "Being a builder/racer means that I'm not afraid to tear down an engine or transmission for a complete rebuild. Something I've had to do many times at the race track."
After 8 years of racing his Suzuki Ralph knows the T500 engine intimately so he made modifications that would make it more manageable out on the street. A reed conversion kit from Aylor Engineering reclaimed some of the ported 2-strokes low-end power and broadened its potent power band. Mikuni VM34 carbs and an electronic ignition add modern reliability and a custom set of exhaust pipes give it a slightly more sedate street sound.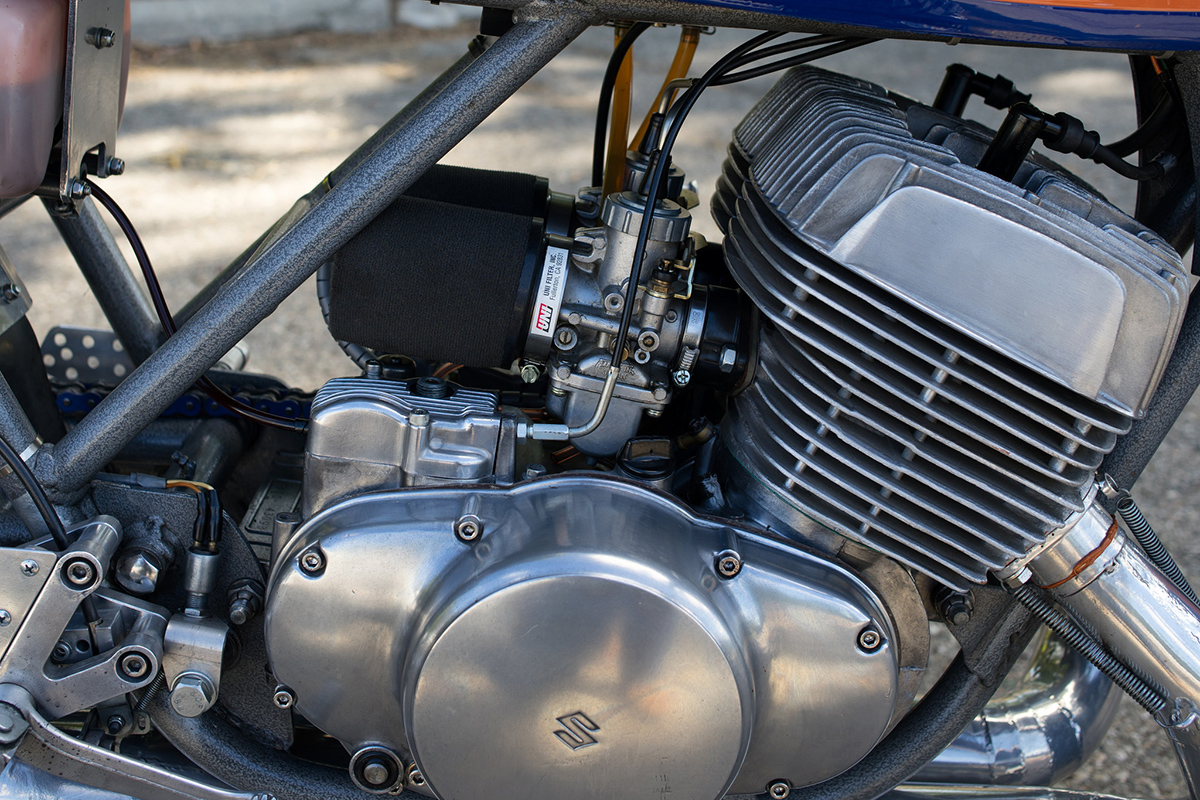 "I've always loved the classic British café racer look, proportions and lines," Frank explains. "Being a 2-stroke I had to incorporate components such as the expansion chambers which added to the mass of the bike. I wanted every element to flow together for a seamless look." Achieving this meant tucking things in nice and tight, so the bikes twin pipes run under its belly. For bodywork, Ralph ordered a front fender and cafe style seat pan from bodywork experts Airtech Streamlining. The front cow is a TGA G50 racing item that was modified to run a small headlight and a custom seat was upholstered by Motor City Seating.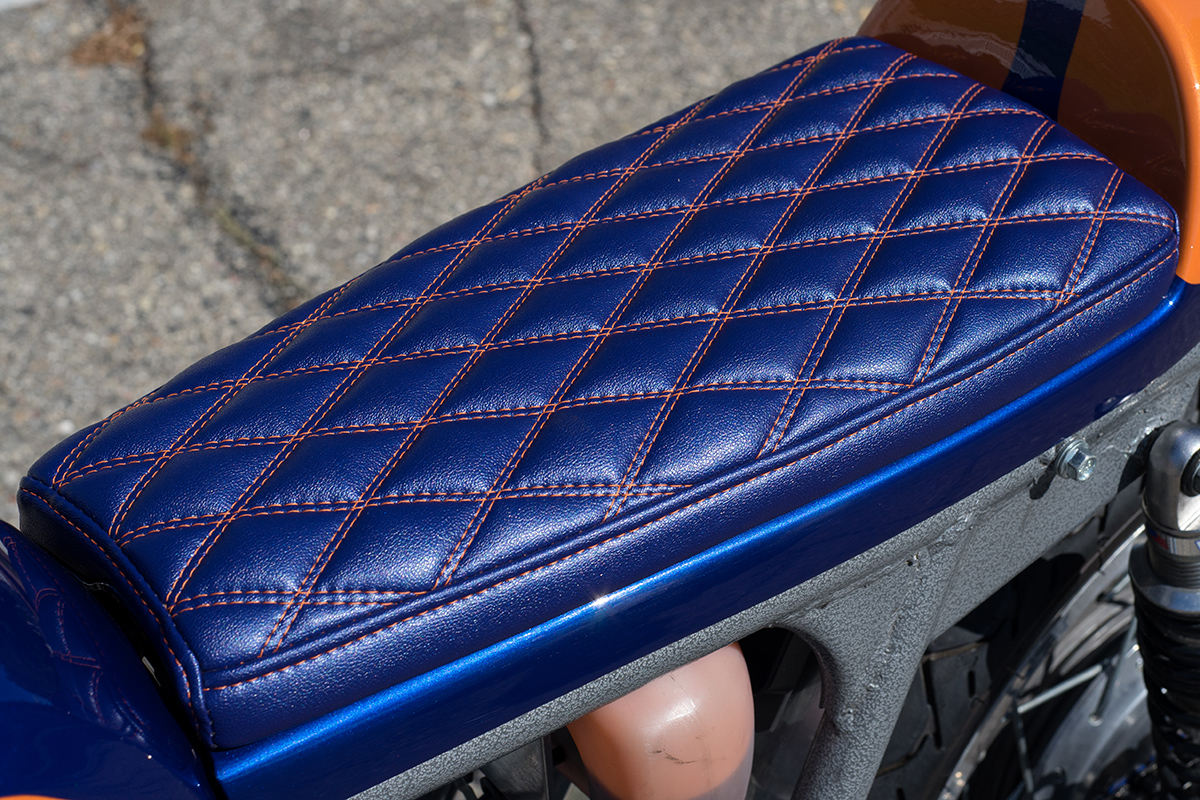 After years of racing motorcycles, it's only natural Ralph would opt for a race-inspired paint scheme. His friends at Grand Sport Auto custom paint laid the bold orange and blue livery complete with Ralph's 798 race number. It's a paint scheme that hints at just how much history this bike and its owner have. Something that very few builders can claim.
Photography by David Jenkins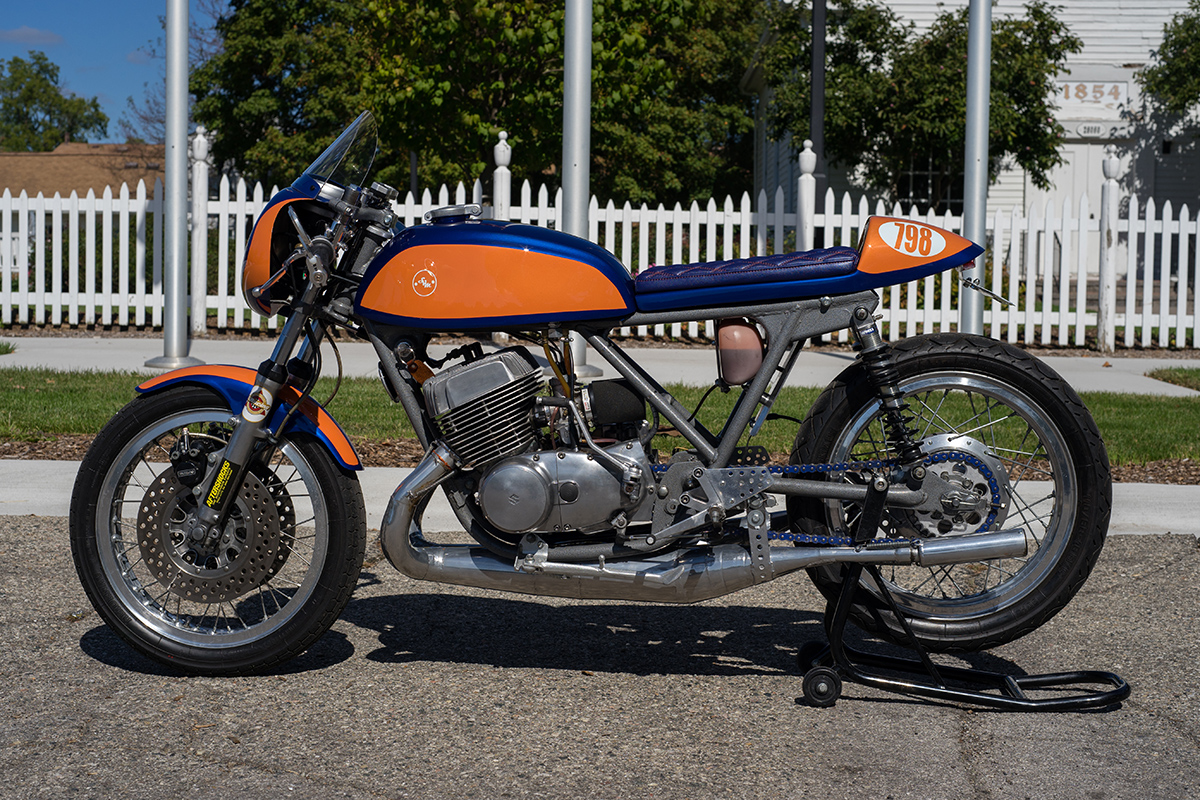 If Ralph Spencer's Suzuki T500 could talk it would have some epic tales to tell. From its life before Ralph when it was run into the ground and left for dead in an old barn, to its days as an AHRMA Formula 500 racer and finally how it returned to the road as a bonified cafe racer. It's the kind of life story you'd expect to see on the silver screen, but instead, you'll have to settle for reading about it here.