Recently I published our first custom motorcycle build by Mellow Motorcycles in Germany. While I was putting the story about their GS550 cafe racer together I happened across another great looking bike in their stable. It was built using an icon of 1970's racing, a Suzuki made famous by Wes Cooley when he won the AMA Superbike Championship over two consecutive years, a 1979 GS1000. Not wanting to let it slip by I questioned workshop co-founder Flo Hubert about the bike. As it turned out the custom Suzuki GS1000 was built in close succession to the first bike, but their end goal with this build was less about show and more about go.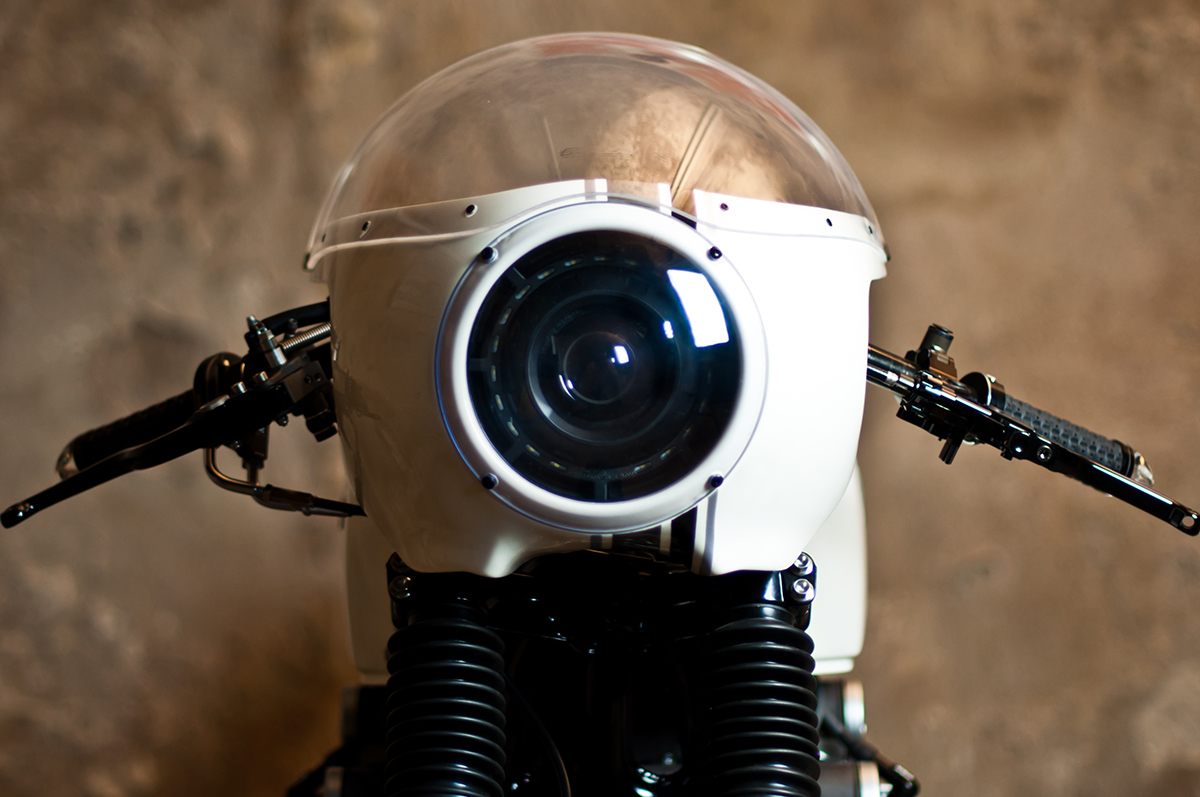 "It's a personal build we completed to showcase to our customers the possibilities of what we can do at Mellow Motorcycles." Flo explained. "We built the GS1000 alongside of the 'Tintin' GS550 project, but focused more on developing a classically inspired 'race bike' with a tuned engine."
The GS1000, which has been named 'Babo45' was a concept drawn up by Flo's business partner Amir, who has a racing background that is evident with the direction he took with this build. "He's more the classic racing guy and I come from a more aesthetic design discipline. He goes racing at the weekend, I make short trips around the world, to explore cities and different cultures. That's what I call a mind cleansing weekend. Amir needs to burn some rubber to settle his thoughts." jokes Flo.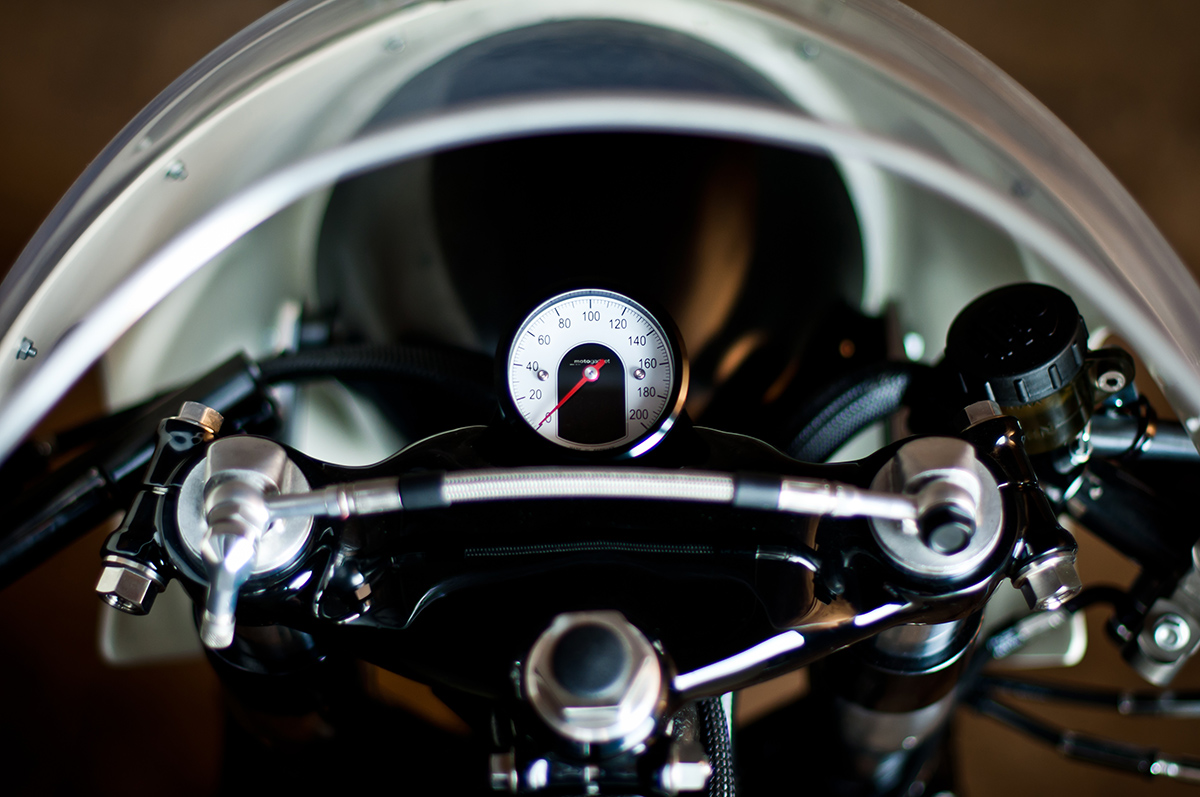 When I quizzed Flo about the most difficult part of this build he revealed that 500 hours had been poured into the immaculate GS1000. It was however the unique, wavy 4-into-1 exhaust system that really put their abilities to the test.
"The construction of the titanium manifolds and the muffler was certainly a challenge, but we also had to invest a lot of time into the planning and technical calculations before construction began. Each section of the manifold, all 4 of them, had to be the exact same length to achieve the best flow and engine power" says Flo. "It was all made from grade 1 titanium, except the muffler which is a modified stainless steel GP III unit from Yoshimura."
The engine itself was also overhauled to Amir's strict race specifications. Internally there's new racing pistons and the heads have been tweaked for improved flow along with a complete refresh of internal bearings, gaskets and worn components. The ignition system is now powered by a Dyna 2000 unit and carburettion is handled by a quartet of Mikuni racing flatslides that suck in the surrounding atmosphere through milled alloy velocity stacks. Thanks to what Flo describes as "classic mechanical tuning" Babo45 now boasts around 17 extra horsepower at the rear wheel and fistfuls of additional torque.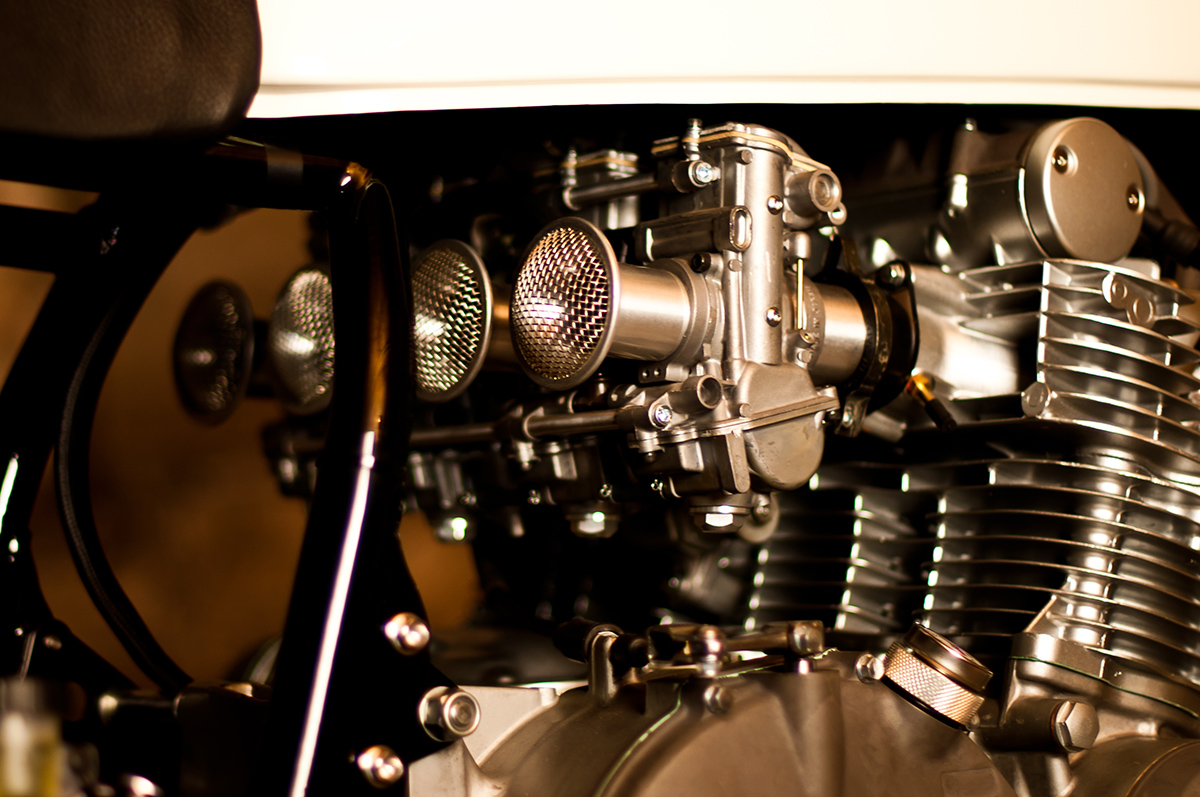 When it came to choosing wheels Amir wasn't about to retain the 35+-year-old Suzuki rims. Instead, he opted for wider Excel Supermoto spoked rims (3.5 front and 5.0 rear) wearing Phantom Pirelli rubber for classic looks without sacrificing performance. For improved cooling, the front and rear brake discs were drilled and the callipers from a Kawasaki ZZR600 were mounted using custom-made fixtures for improved stopping power. Front end suspension remains stock while in the rear are a pair of adjustable shocks from YSS that hold the modified Krüger & Junginger swing arm in place.
This is of course more than just a performance upgrade. When it came to styling the pair decided the GS1000 would be another cafe racer styled build, adding modern components to improve its appearance and basic function. For this, a long list of Motogadget parts were added including a speedometer, bar end indicators and switch blocks. The stock fuel tank was modified to level out its position on the frame and a whole new tail section (including the subframe) was put together. The aluminium rear hump houses the bike's battery and features a pair of flush-mounted LED brake and running lights. Upfront sits a modified fiberglass half fairing with an LED headlight and the riding position has been made more aggressive thanks to Tarozzi clip-on handlebars and a modified set of BMW S1000RR rear set footpegs.
Additional details worth mentioning are the flush mounted alloy filler cap and fuel level sight on the tank, the titanium, laser cut 'Mellow' emblems and the seat, which happens to be covered in vegetable tanned Tibetan Yak leather, which I'd like to point out is definitely a first for this website!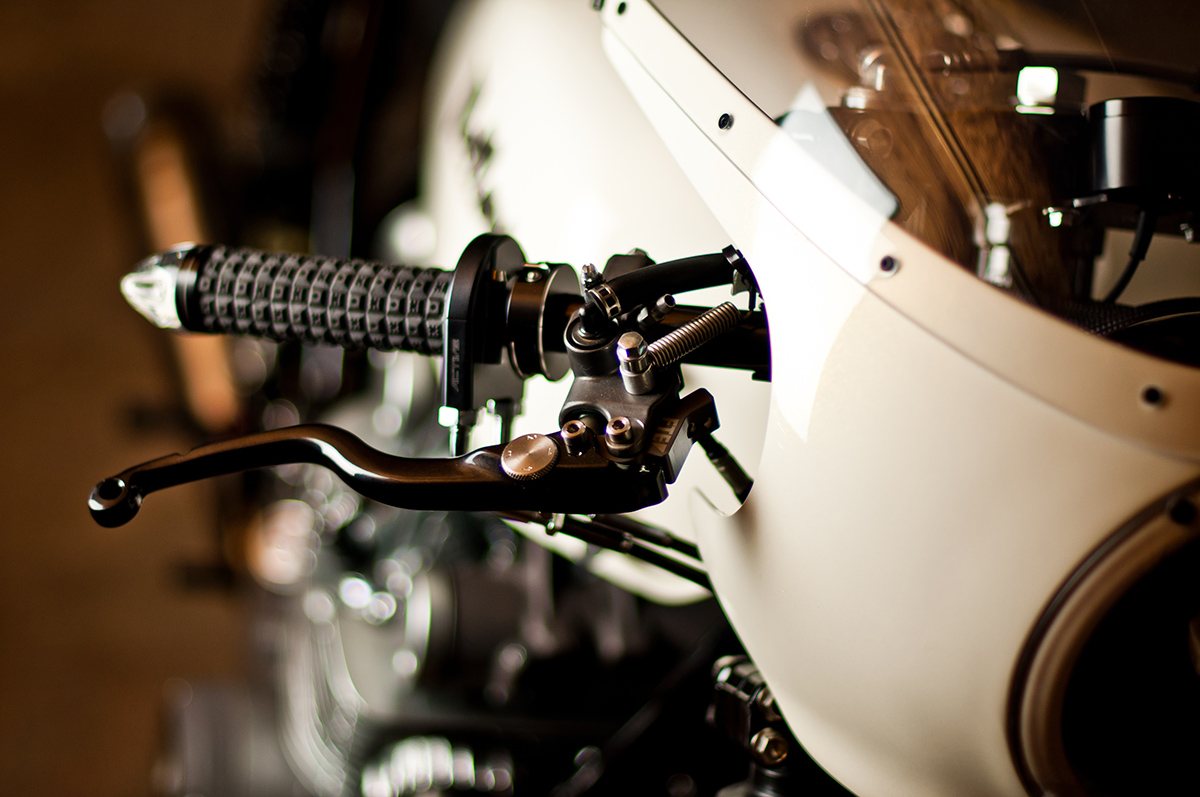 According to Flo what they like most about the finished bike is its stance, followed closely by the noise it generates. "The sound of whole engine and exhaust working together with the racing carbs reminds me of an old 1979 Porsche RSR a friend of mine owned. People would always turn their heads to look at it, not because it was overly loud like a Ferrari with race exhaust, but because of the raw mechanical sound it created. That's what makes GS1000 even more like an old school racebike and, best of all, it passed the strict German TÜV so it can be driven legally on the street!"
Sadly during the build of this bike Amir's father passed away. In his country of origin, Bosnia, 'Babo' stands for father and Amir's was born in 1945, hence the bikes name 'Babo45'. It's a memorial in honor of his father and one that he would surely have been proud of.