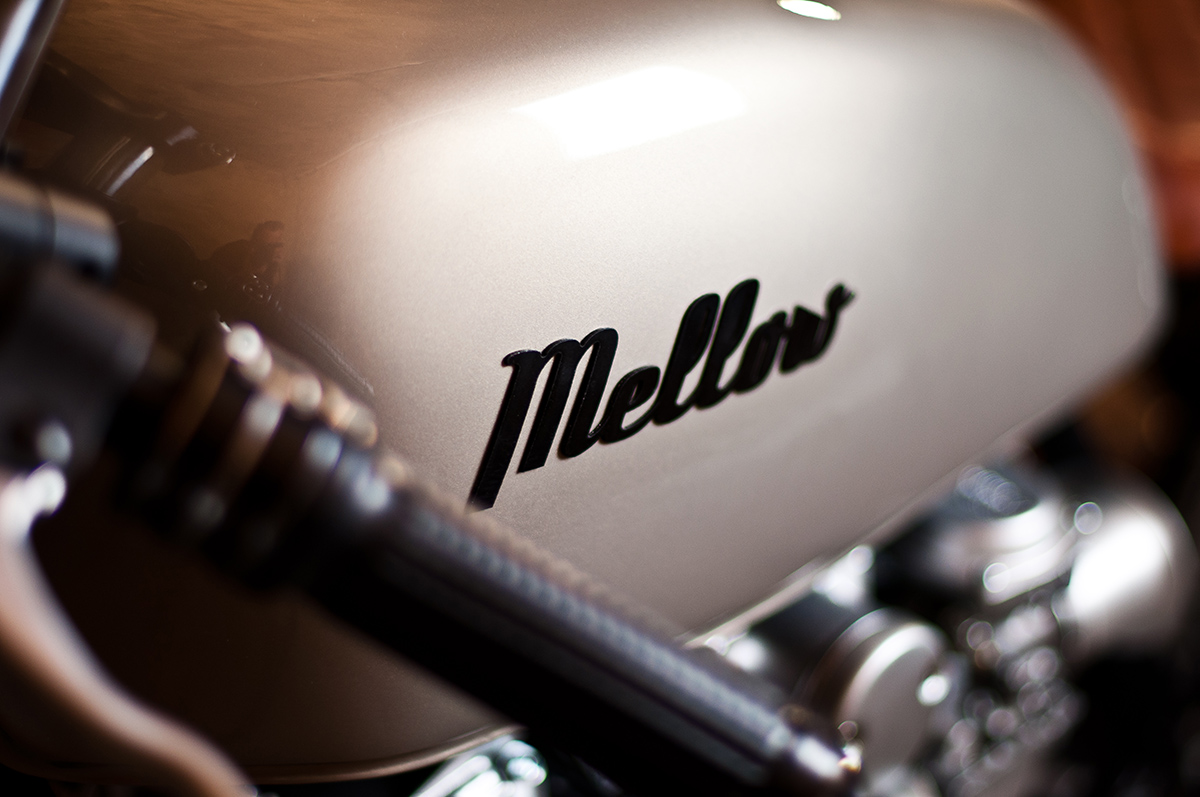 Flo's experience in the custom scene began in the 4 wheeled world building custom cars that adorned the covers of custom mags around Europe. His next venture saw his producing aftermarket wheels for luxury vehicles and race cars. Meanwhile, Amir is a seasoned motorcycle mechanic with advanced skills in fabrication. He's also a seasoned racer, running his own race team and building his own race bikes that won him some prestigious trophies from the European race circuit.
Their first build together, which has been coined 'Tintin' was one of two projects they undertook as part of the launch of their new company. Using a standard Suzuki GS550 as the platform they've upgraded it in every aspect from design, to technology and of course performance. Together with their modest team they completed all of the following work in house aside from the final powdercoat, paint and polish, which they left up to talented and trusted associates.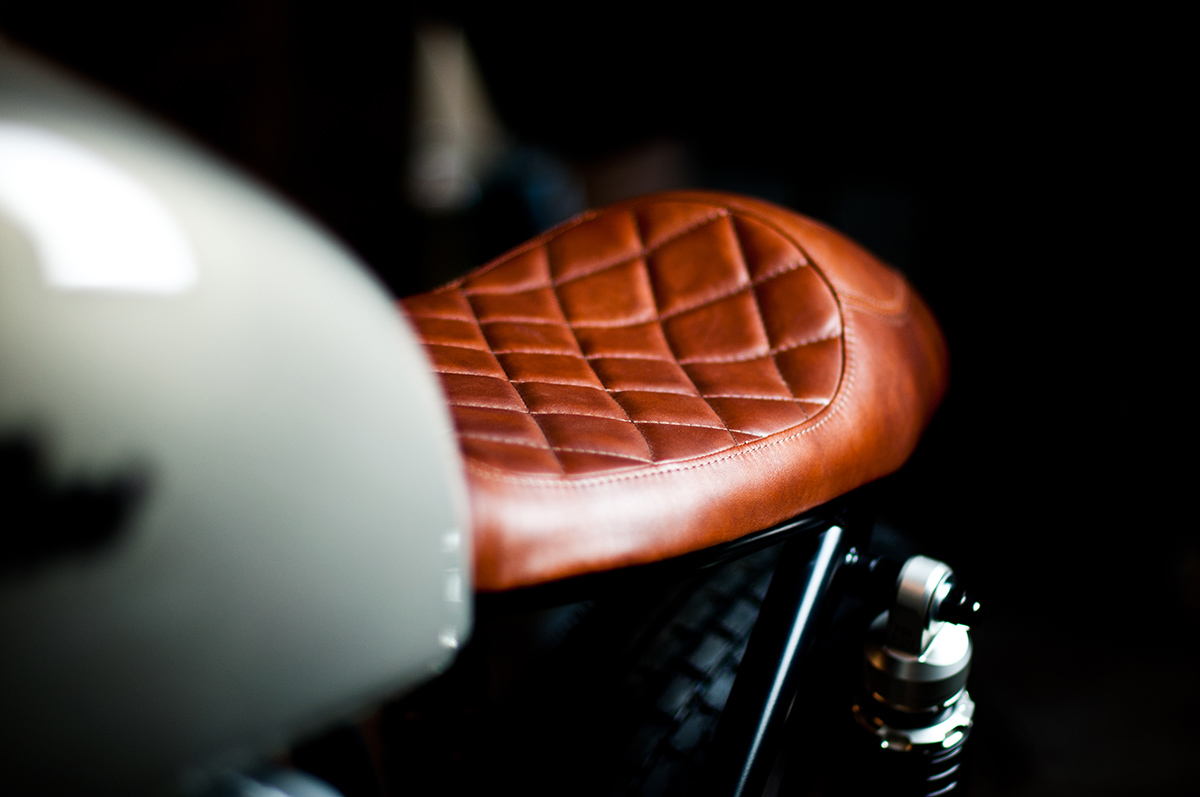 Starting with the frame there's a handcrafted rear loop and the whole things been de-tabbed and smoothed prior to the satin black powder coat being applied. For suspension, the front end remains original but has been lowered by 12cm. In the rear, there's a set of Honda 750 and the longer swingarm from a GS1000 to give the bike its sportier stance. In '79 the GS550 rolled on cast wheels, which weren't going to cut it on this build, so the guys laced up a set of new rims and hubs, wrapped them in retro Heidenau K34 rubber and fit EBC floating discs up front for plenty of stopping power.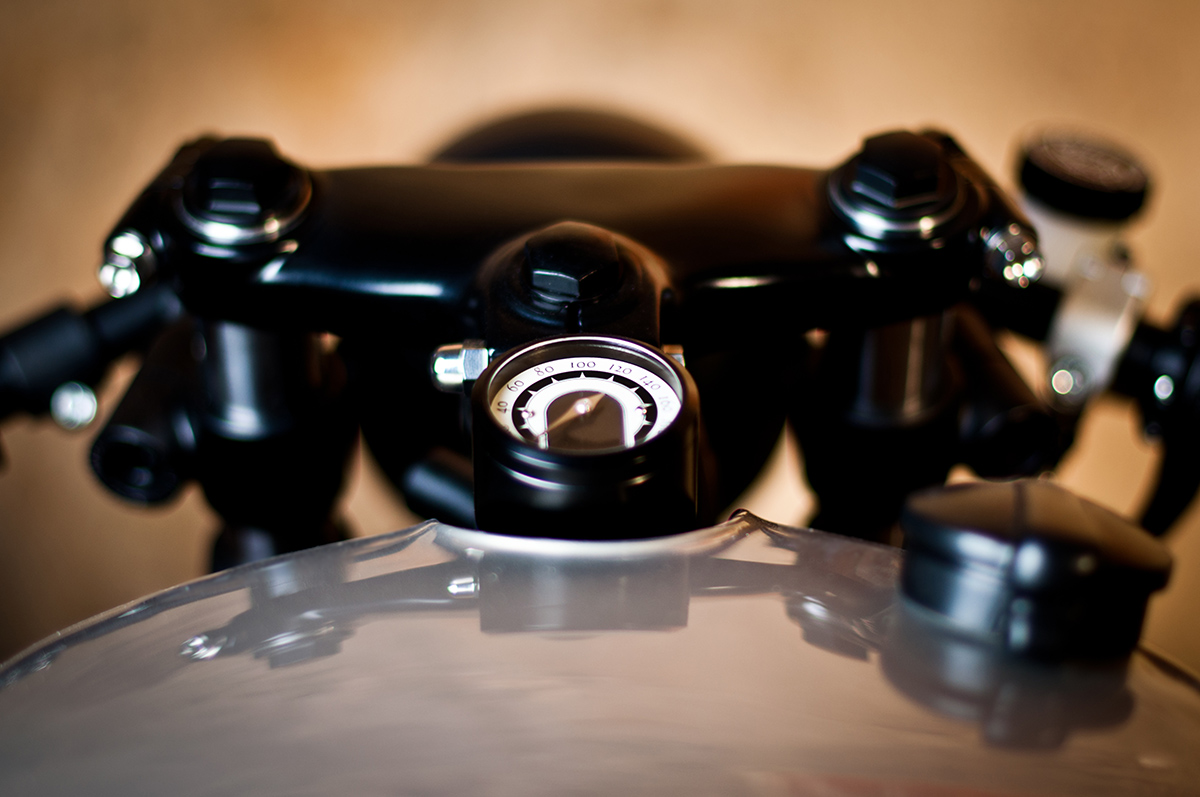 When it came to electrics there was no time wasted on the bikes retro wiring loom. Instead Mellow started with a fresh custom wiring harness and a comprehensive collection of Motogadget gear. The list of Motogadget gear on Tintin includes the tiny speedo that's been tucked into the tunnel at the front of the fuel tank, the switch blocks, an M-unit control box, RFID keyless ignition and M-blaze bar end indicators. Then to ensure the engine was getting the best supply of power there's a Dyna 2000 ignition system.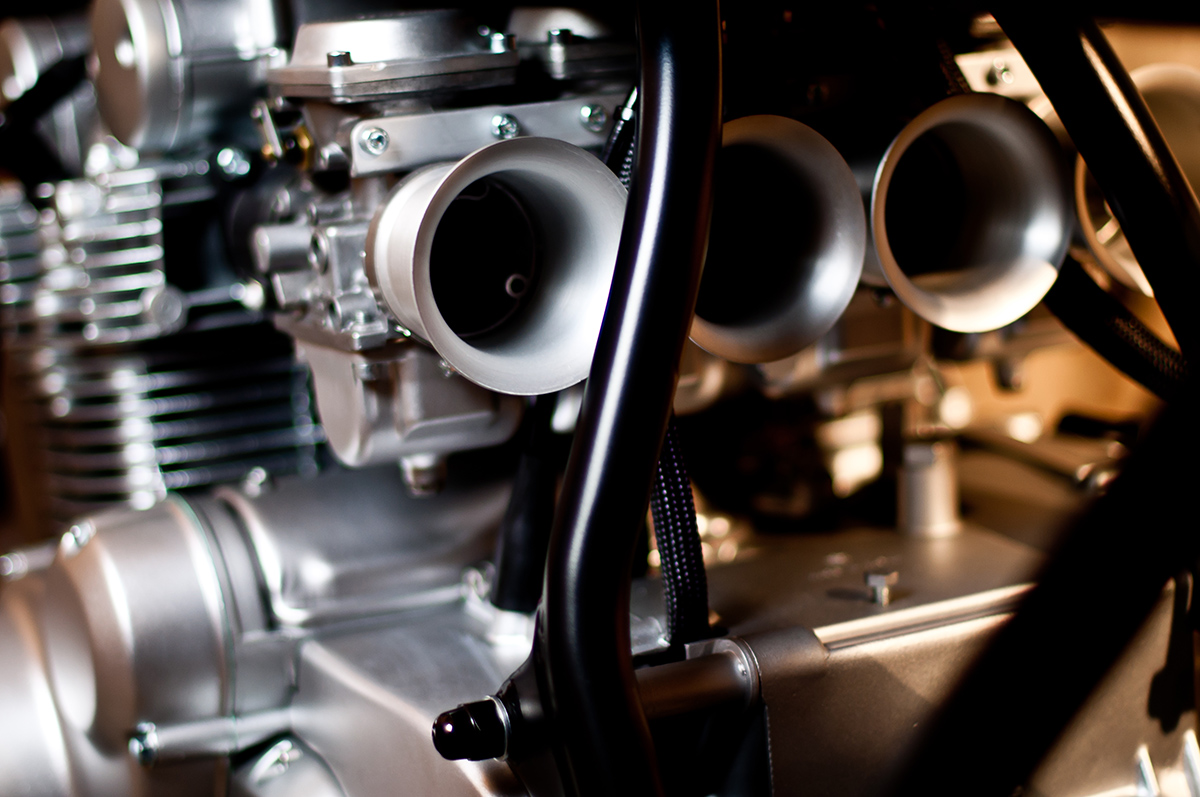 For power improvements, the engine's had a complete overhaul leveraging Amir's race tuning background to optimize its output. Four specially tuned Mikuni carbs feed the beast and a custom built set of 4-into-1 titanium headers that merge with a blacked out muffler manage the exhaust gases. Although not pictured in these images, we're positive that a rear fender will be installed to keep road debris from entering that freshly built mill.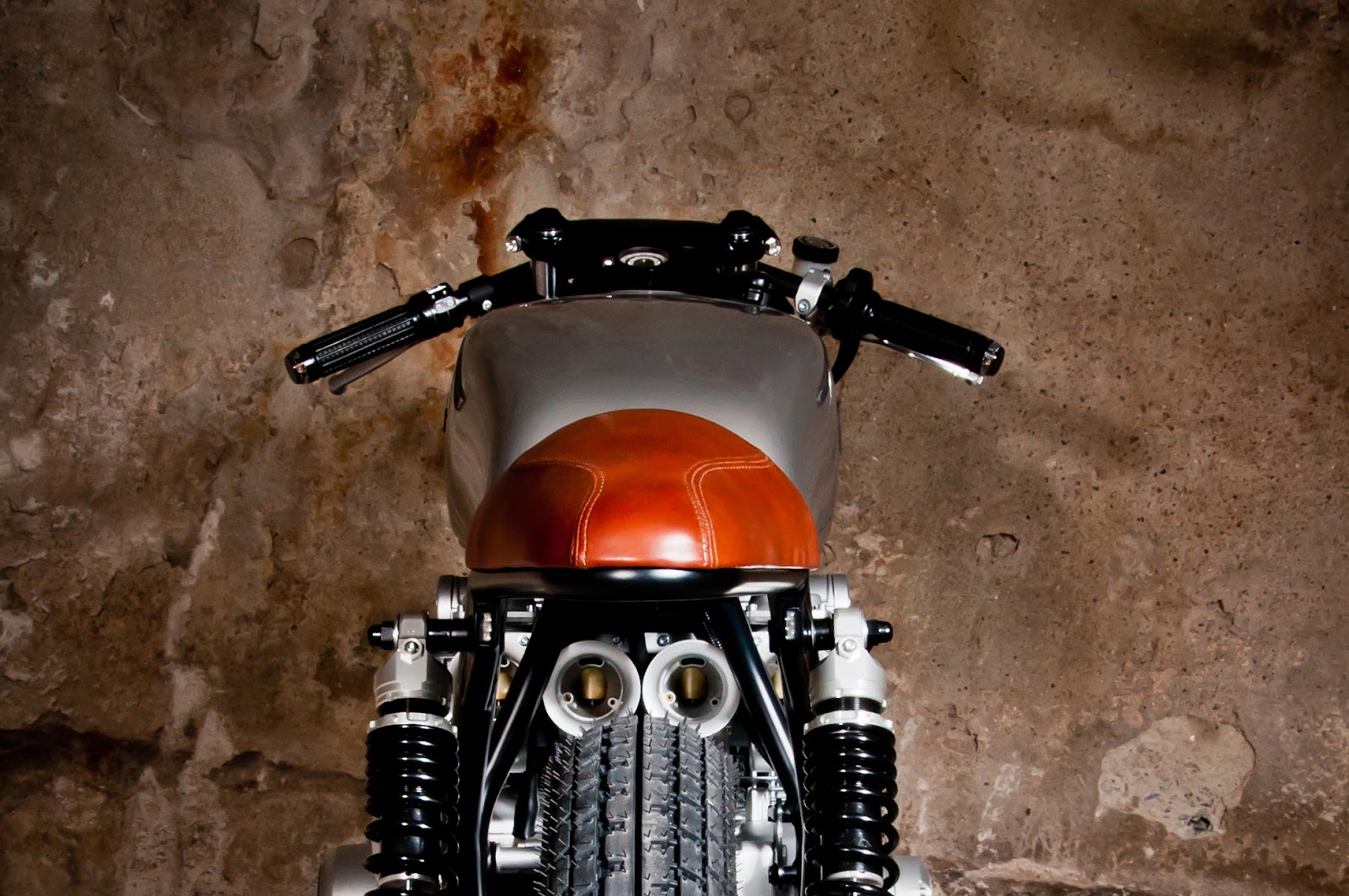 As for aesthetics, the classic cafe racer riding position has been set up using Tarozzi clip on bars and a matching set of Tarozzi CNC milled rearsets. To complement the rest of the Motogadget gear there's a set of M-grips and rear end lighting is taken care of by a pair of brake lights sitting behind each shock mount. Designed to match the bikes new rear loop is a custom seat that's been upholstered in vegetable tanned Italian vintage leather and the original fuel tank was modified to have better posture on the frame. Sprayed in classic silver and wearing a laser cut, alloy 'Mellow' badge Tintin is, as I said, an indicator of good things to come from this talented German duo.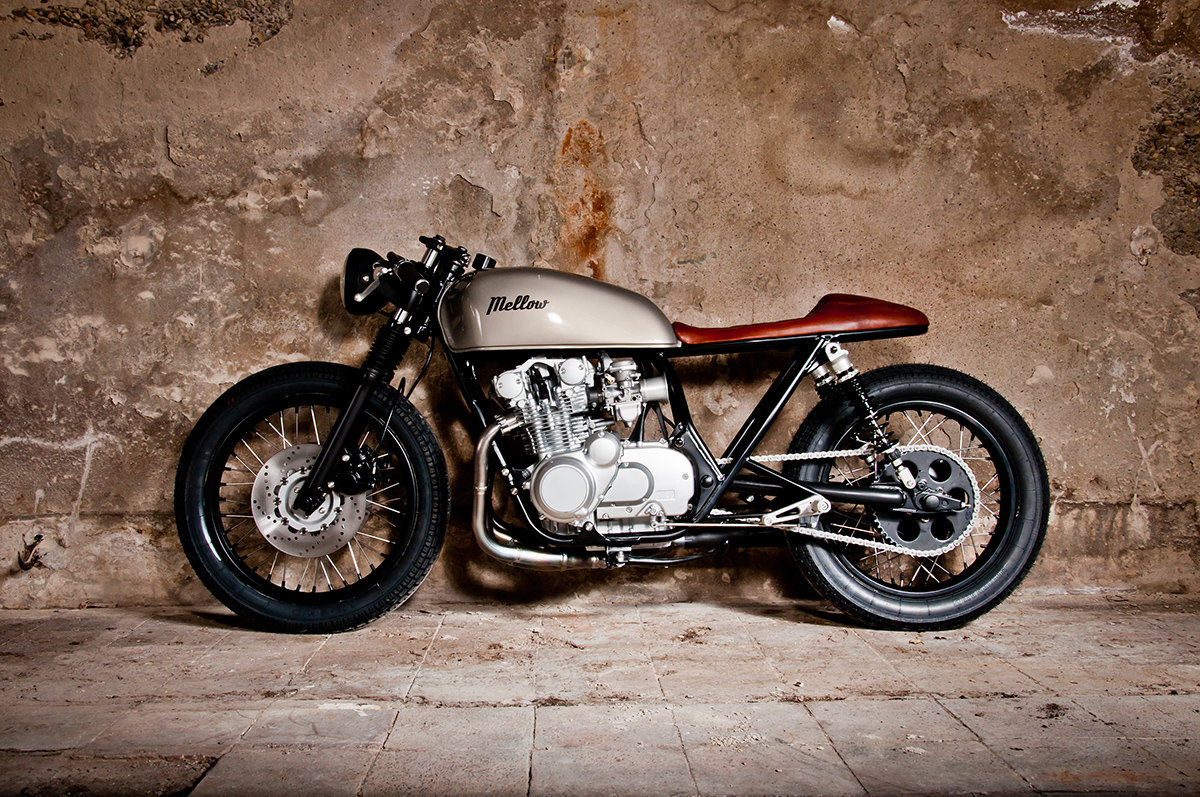 Roaring machines to escape from the madness. This is the mantra of newly formed 'Mellow Motorcycles' in the south of Germany. After running their own separate companies for several years workshop co-founders Flo Hubert and Amir Brajan combined their skills to form Mellow, taking a more relaxed approach to business than in their previous pursuits. Mellow aims to focus on the production of cafe racer styled custom motorcycles and their first build, a '79 Suzuki GS550 paints a good picture of what the pairs capabilities are.