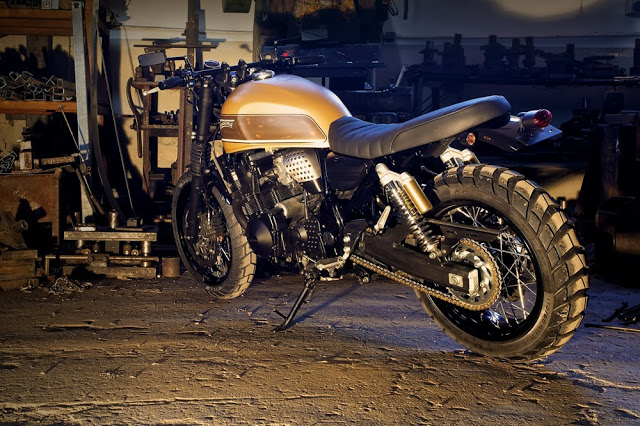 Cosimo and the team at Rock Motorcycles (formerly Gia Mi Racing) in Italy were given the task of customising the bike by a local enthusiast. With a brief that only specified enduro rubber and spoked rims, they set about creating this extreme Scrambler. The Suzuki underwent a complete teardown prior to the bolt up rebuild and recalibration.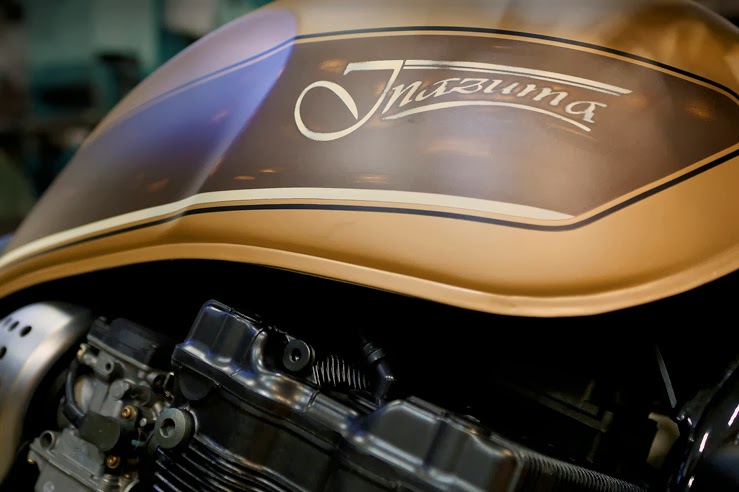 "To distant lands. Takes both my hands. Never a frown with golden brown"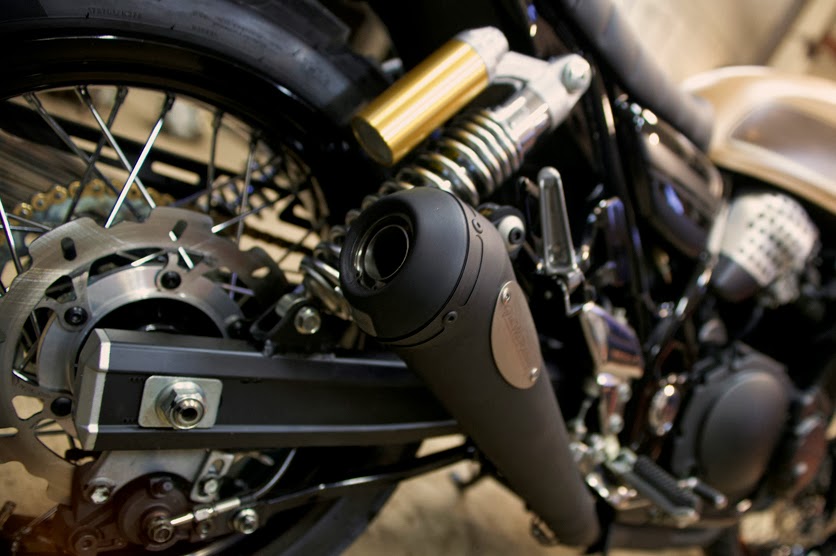 Rock Motorcycles have chopped and reshaped the Suzuki's rear loop to accept a classic, scrambler style saddle. The forks tubes were concealed with 54mm covers and tiny rubber gators keep the dust out of the seals. Custom fenders sit on the front and rear above the chunky enduro tyres and have all been finished is lovely satin black.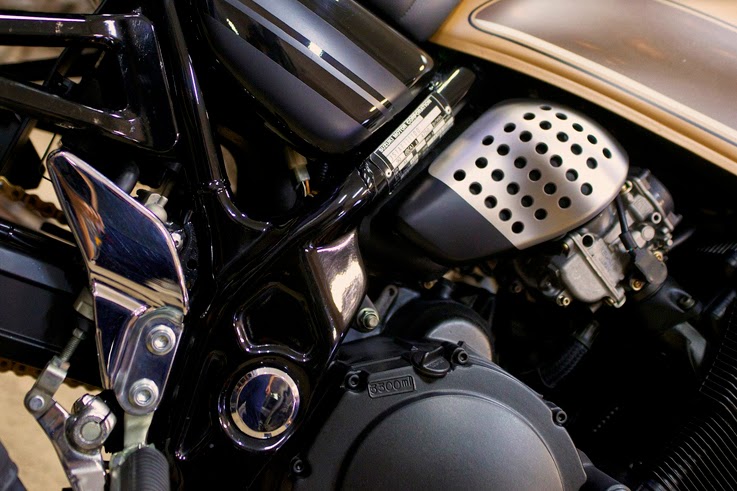 On the trees, you'll find a set of trimmed and rotated drag bars and an aftermarket, blue-lit speedo. Low profile, billet mirrors provide peripheral vision and a small bates style headlight sits snug between the fork tubes. The indicators and stop light are LED units finished in black with tinted lenses to blend into the body of the bike. To fit the spoked rims Rock Motorcycles used custom mounting gear to sit them in the stock 750 forks and swingarm and floating, wave discs were added for superior braking performance.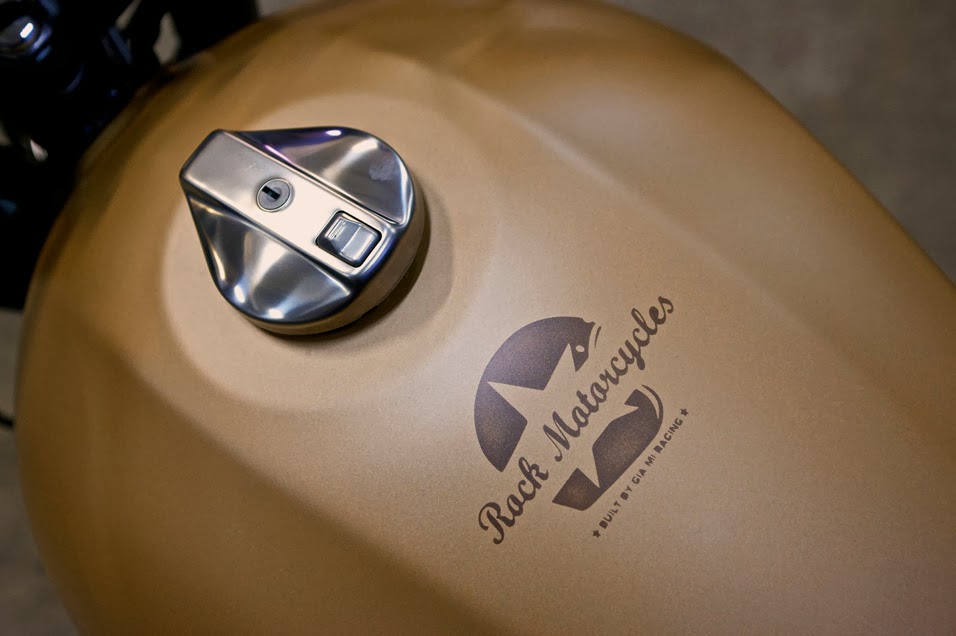 The Inazuma Scrambler's primarily gloss/satin black paint scheme is broken up with highlights of bare metal and stainless fittings while the tank was treated to its own custom paint job. The satin finish, gold and brown scheme was completed in house using clever painting techniques to create an aged, vintage look. The bike is now almost unrecognisable as a Suzuki 750 and thanks to the hard work of Cosimo and his team,  has the look of a bike built 20 years earlier.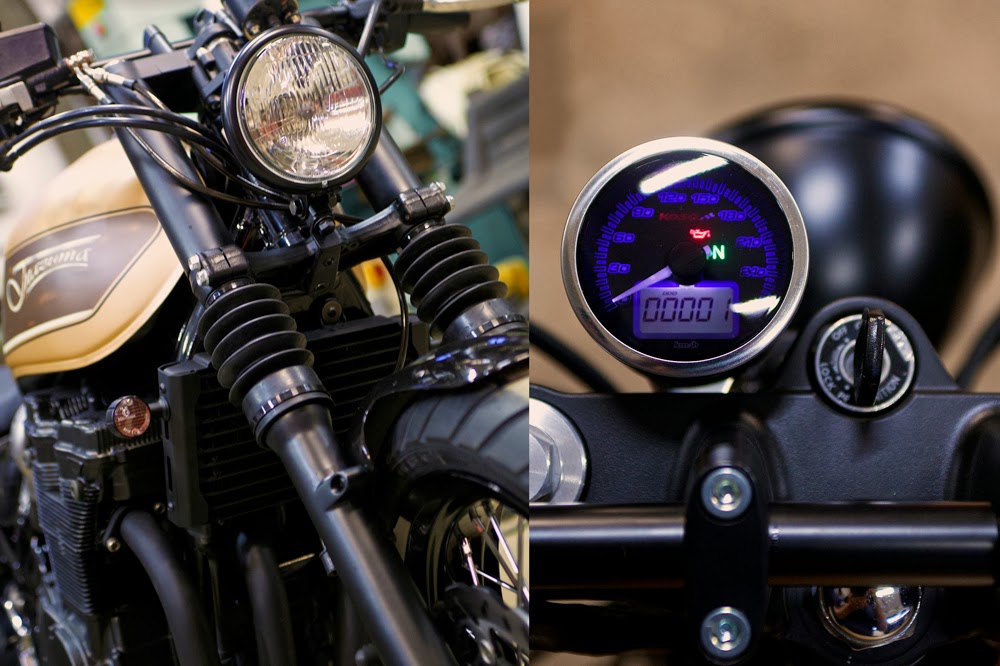 Those chunky tyres certainly look the part, but whether you'd actually take this beautiful brute out in the mud or not would be a tough decision to make.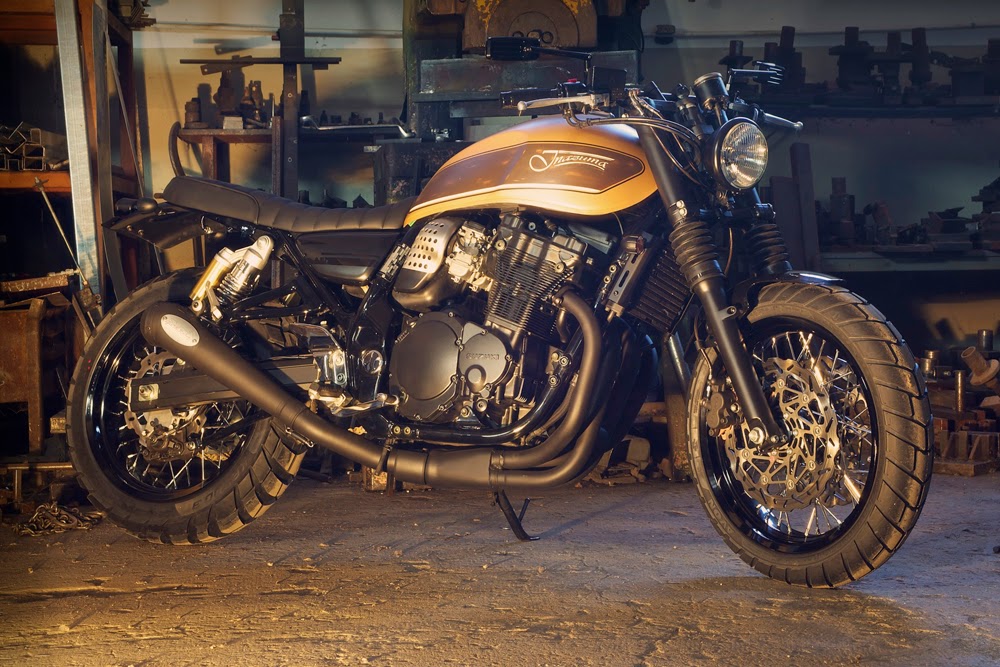 "Golden brown texture like sun. Lays me down with my mind she runs. Throughout the night. No need to fight. Never a frown with golden brown". 
It may have originally been about a girl (or heroin), but if The Stranglers had seen the latest build from Rock Motorcycles back in '82 'Golden Brown' may have had an entirely different meaning. The Rock Motorcycles Suzuki 750 Inazuma Scrambler is a potent mix of superbike power and enduro gear that would leave any rider with a permanent smile on their face.