The CS-1 was designed by ex-NASA engineer and now owner of RYCA motors, Casey Stevenson who chose the Suzuki S40 as a base for his design due to its availability and its 650cc, air-cooled, single-cylinder engine that is both reliable and fuel-efficient. Casey first designed the bike because of his own desire to own a lightweight 'thumper' for burning around the streets of L.A. a realized the potential that was hidden under the S40's not so appealing exterior.
The major advantage of the CS-1 kit is that it requires very little modification to the engine or frame which makes it a very attractive prospect for those people with the desire to build a Cafe Racer but without the technical know-how. In fact, almost anyone with a modest set of tools could put a CS-1 together in no time.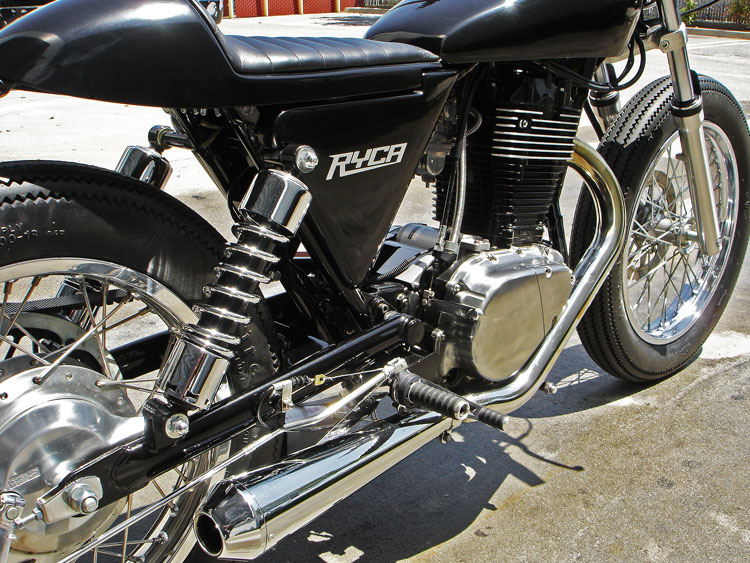 If you want to build your own CS-1 RYCA Cafe Racer the company offers a couple of options. The complete kit sells for $2995USD and includes everything you see below while the partial kit which retails for $1795USD only includes the parts that are manufactured by hand at RYCA which allows builders to choose their own aftermarket items to create their own take on the CS-1:

Custom Parts made by RYCA
Low Profile Fuel Tank
Tank Indicator Panel
Tank Mount
Seat Assembly (with tail light and license plate mount)
Side Panels
Rearset Bracket Assembly
Battery Box
Belt Guard
Speedometer / Tachometer Mounting Brackets
Side Stand Relocation Mount
Decompression Lever Linkage
Aftermarket parts
Rear-wheel assembly and tire, laced and balanced
Rearsets and hardware
Shocks
Clip-ons
Reverse cone muffler
Tachometer
Speedometer
Extended speedometer cable
Grips
Cone filter
Mirrors
RYCA also give customers who would prefer not to get their hands dirty the option of sending their own S40 to get the CS-1 RYCA cafe racer treatment for $3500USD or to purchase a brand new Suzuki S40 CS-1 Cafe Racer completed and ready to rock for only $7995USD, which considering the starting price for a new S40 is just over $5000USD is a bad deal at all.
These days finding spare time to do anything, let alone build a custom motorcycle is near impossible for most working professionals which is something the crew at RYCA motors are clearly very aware of.
RYCA motors is a Los Angeles based custom workshop that are producing ready-made Cafe Racer kits for budding, time-poor bike builders. Currently, they are only producing the one kit which is designed to transform any sleepy old Suzuki S40 (below) into a RYCA CS-1 Cafe Racer but in the future, we may see them releasing universal style kits or whole kits for other standard models.