The budget was set at 3500 Euros ($4670 USD) and a nice condition Savage purchased for 1700, with 1800 Euros left in the kitty the HUSZ Suzuki Savage Bobber project was underway. To keep the build on budget the HUSZ team started out with a series of modifications they performed in house. The forks were trimmed to lower the front end of the bike and tighten the space between the front wheel and the frame. New bars and custom risers were fabricated and the guards removed. A custom seat with a tyre hugging cowl were also hand built to position the rider nice and low for classic Bobber styling.
HUSZ also replaced the standard headlight with a repurposed fog lamp, blocked out the rear hub with custom made/mounted discs and swapped the stock tank for a smaller tank they had on hand. The remaining cash left in the budget then went towards aftermarket parts including Biltwell grips, an Avon MK2 tyre for the front wheel, pod filters and a RYCA jet set to balance the fuel supply and add a bit more kick to the bikes performance.
After stripping off all the clutter the Savage's big 650 thumper sits unobscured in the stock frame with plenty of room to breathe. Although it's not as pretty as the British or American made engines we're used to seeing in Bobbers, the Suzuki made motor certainly looks the part in this Bobber build. I see plenty of "low cost" custom bike builds on my travels but this beauty is a cut above the rest.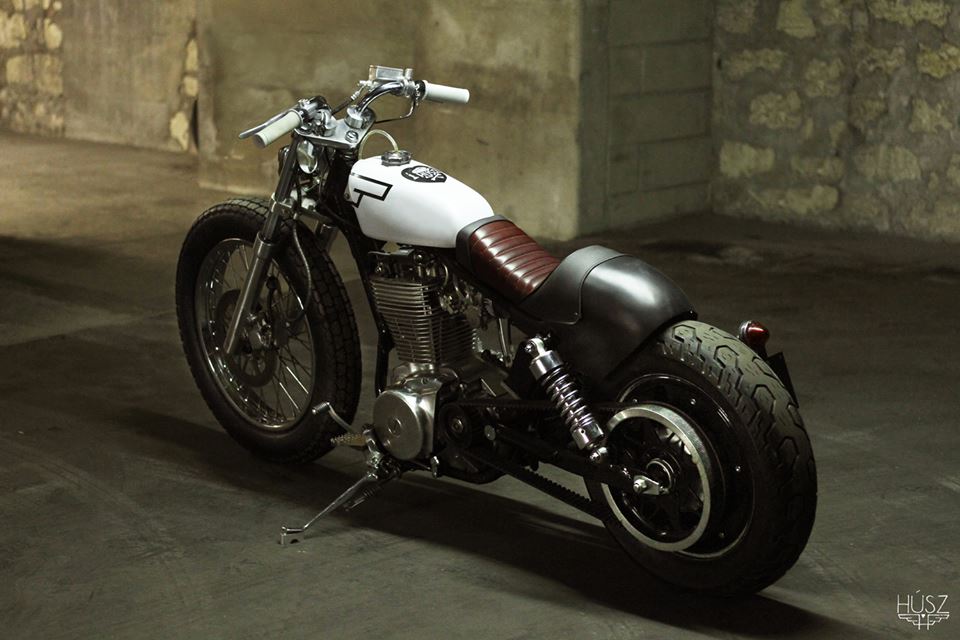 There's no denying that RYCA's customisation kits have gained Suzuki's Savage a hell of a lot of attention. As "Japan's first Chopper" the Savage was designed as a lightweight cruiser so the conversion to Cafe Racer, Tracker, Scrambler or Chopper is a dramatic one. Recently French custom workshop HUSZ turned their attention to the Savage to show what could be achieved with a limited budget and some creative thinking.