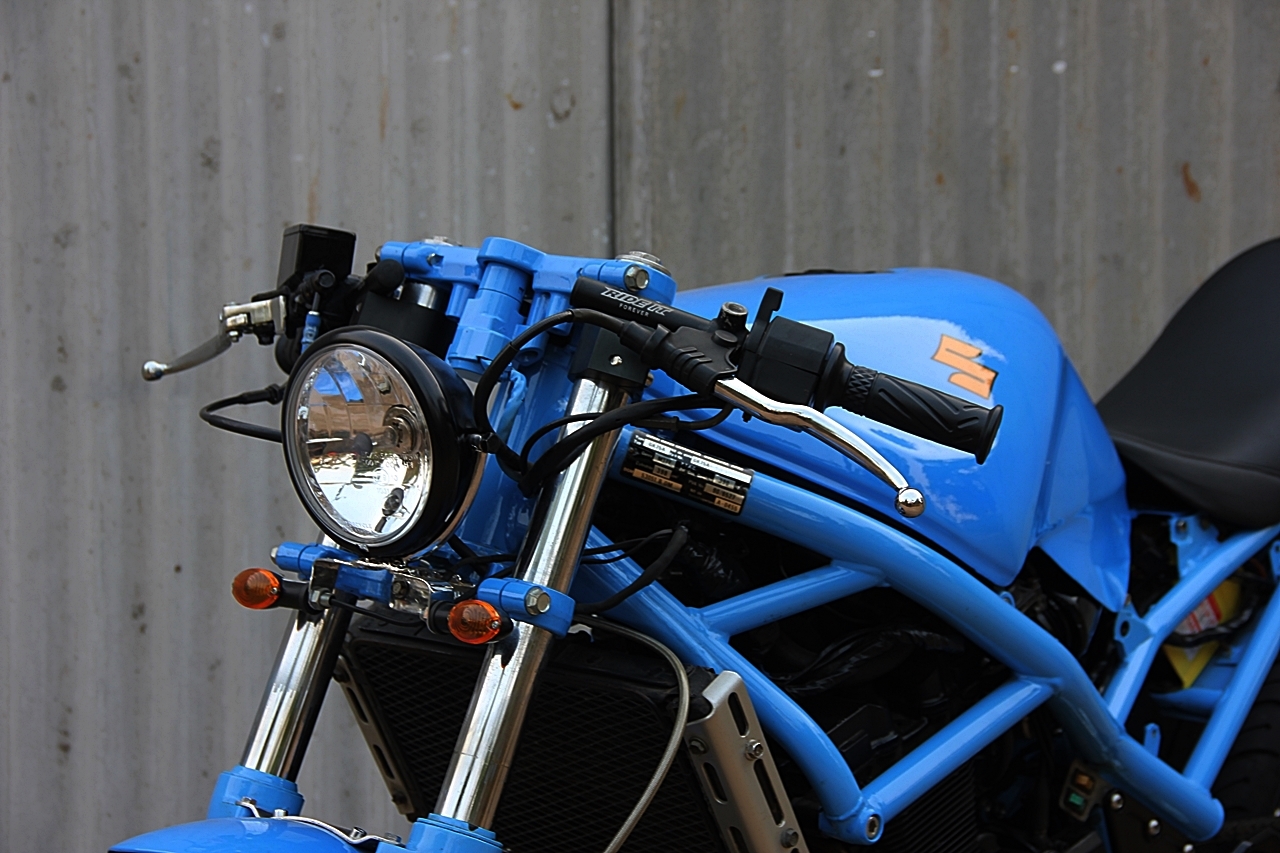 Named 'D' Bandido this Suzuki is perhaps what the Bandit should have always been, merging modern engineering with classic styling. It's the epitome of a modern Cafe Racer and although it's only a 400cc "Baby Bandit" it's got more than enough grunt to dominate the busy streets of Jakarta.
The Suzuki marque isn't one that's appeared often in the Studio Motor portfolio, but Donny and his team embraced the opportunity to undertake the task when the bikes owner turned up to the workshop with his '95 model Bandit.
With the bike torn down the build started with an engine refresh. After some basic internal cleaning, a carb rejet and tune the engine was treated to a fresh coat of classic black. With the original airbox and its plastic side covers gone Donny's team modified the stock fuel tank by welding in custom metal panels that protect the pod filters from the elements and follow the lines of the trellis frame. A custom 4-into-1 exhaust system was also fabricated and finished with a classic reverse megaphone style muffler.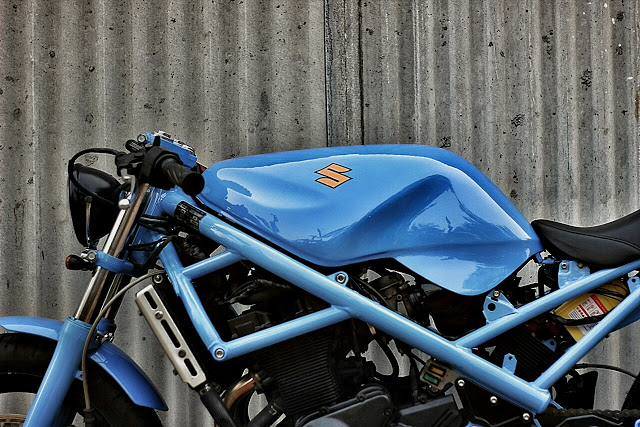 To do away with the Bandit's outdated, plastic, "naked sportsbike" rear end the subframe was cut down and a new rear loop constructed. Using the new subframe as a template a seat pan was fabricated and finished in black leather with an upswept wasp tail rear end. Electrics were then relocated to live beneath the seat away from the rain and mud it'll often encounter in its home town.
A set of blacked out clip on bars were the next addition paired with a retro style headlight also finished in black. The standard rims were then treated to a coat of fresh black paint and a set of Michelin Pilot Road tyres. Happy with the bikes new stance Donny took the Bandit to local paintshop 'Komet Studio' where they applied the bold blue paint to the frame, tank and swingarm along with the hand laid gold Suzuki tank emblem.
Maybe it was bad marketing, the water cooled inline 4 engine or perhaps just people's perception of the Suzuki brand back in '89 that stopped the Bandit from receiving the same reception as the Monster, but I can't help but think if they'd looked like Studio Motors creation straight out of the factory things could have been very different. Donny's now got his sights set on completing a Hayabusa Cafe Racer…any takers?
Although Ducati lays claim to popularizing the naked bike genre with their Monster, Suzuki was 4 years ahead of them with the uncannily similar Bandit. Released in 1989 the Bandit features the same unmistakable trellis frame, monoshock rear and stressed member engine design that made the Monster so popular, but it never enjoyed the same popularity as the Italian. This custom Cafe Racer styled Bandit has been built in Jakarta, Indonesia by Donny and his team at the Studio Motor workshop.