Suzuki's SV650 offers riders a cheap entry point into the mid-sized sportbike category. That doesn't make the twin-cylinder UJM sound all that exciting, and to be honest, it isn't. That comment is probably going to get me in a bit of strife with SV650 fans, but it's the truth – deal with it. Despite being one of the highest spec bikes in its class back in '99, a standard SV650 lacks the grunt to compete with 4 cylinder motorcycles in its class. Unfortunately, the SV's styling is also showing its age. Older models feature uninspiring nineties naked bike aesthetics and the latest model looks like an early edition Ducati Monster. So what does the Suzuki SV650 have going for it? Stellar handling characteristics, a bulletproof engine and huge potential for customisation.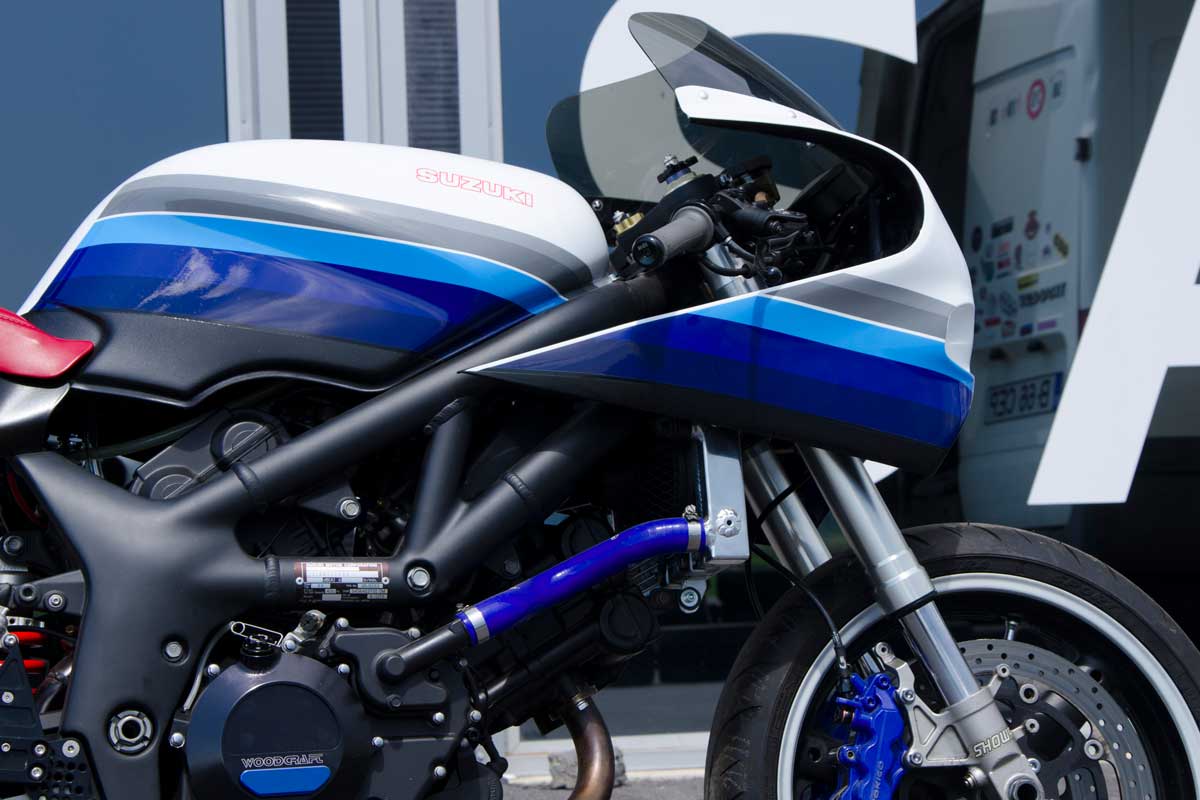 Thanks to its affordability and the bike's global following many SV's have ended up on the race track. This has resulted in riders and performance shops eking significantly improved performance out of the humble SV650 platform. According to some owners, it's possible to bump the stock 72bhp power figure up to a very decent 100bhp without having to increase capacity. Add some better suspension, shed some weight, and you have a potent little track bike on your hands. Best of all a secondhand donor could cost you as little as a couple of grand. Secondhand SV650's are easy to come by and people haven't yet begun recognising their potential as a donor for customisation. But my guess is that will all soon change.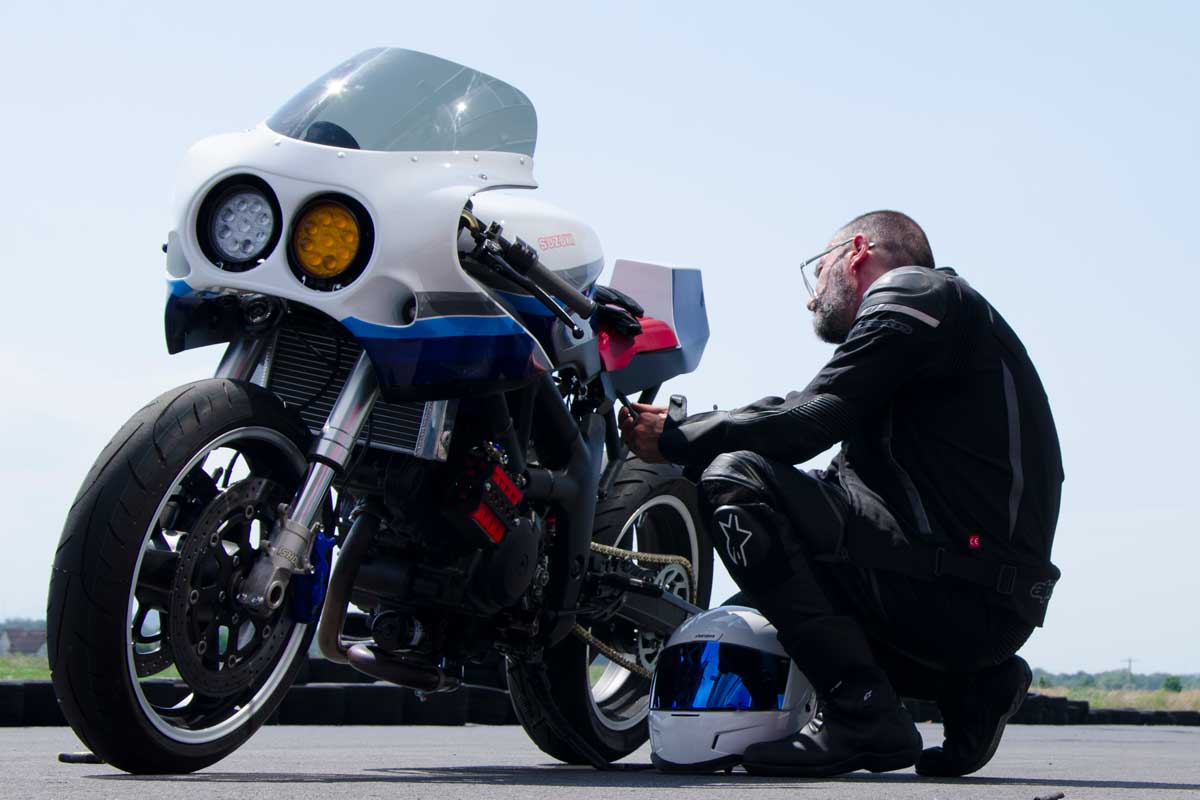 This stunning Suzuki GSX-R750 Endurance Racer homage is the work of Romanian workshop Bandisca Motorcycles. Believe it or not, hiding beneath its retro facade is a humble Suzuki SV650. Of course, any machine that looks as sporty as this needs the power to back it up and Bandisca husband and wife team, Alf and Mihaela have made sure of that.
The donor for their project was an '01 Suzuki SV650 K1. At first, Alf wasn't convinced it was the right choice for Bandisca's next build. Mihaela, on the other hand, was sold on the SV platform. To get Alf across the line she put pen to paper and sketched out a concept that pulled on Alf's heartstrings. Her design added early nineties styled GSX-R750 bodywork to the SV frame, a bike that Alf has had a life long love affair with, and he quickly changed his tune.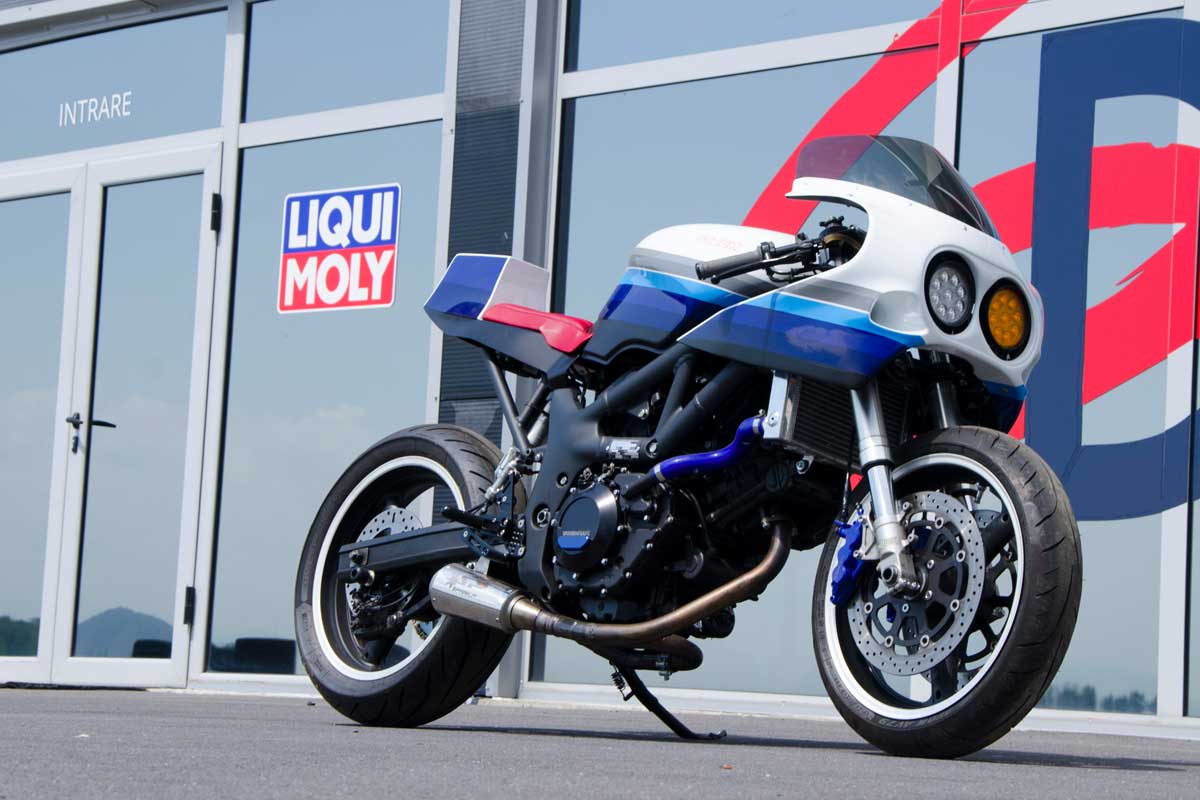 To kick things off Bandisca secured a set of replica GSX-R body panels from fibreglass experts Airtech Streamlining. "We needed to make a lot of complicated mods to fit it to the SV frame," says Alf. "To recreate Mihaela's designed I also built some aluminium parts that complement the fibreglass items." Alf's handmade alloy additions include the tail unit and the subframe it is perched on. With the replica front fairing and Alf's one-off tail in place, it was evident the SV tank needed to go too. Surprisingly Bandisca found a fuel cell solution on a Honda. The Honda NTV tank was contributed by a fellow cafe racer enthusiast in Greece so all that was left to do was fit it to the SV650 frame. According to Alf, "The process of matching everything was long and required a lot of creative fabricating." but in the end, the Honda tank looks right at home amongst the Suzuki gear.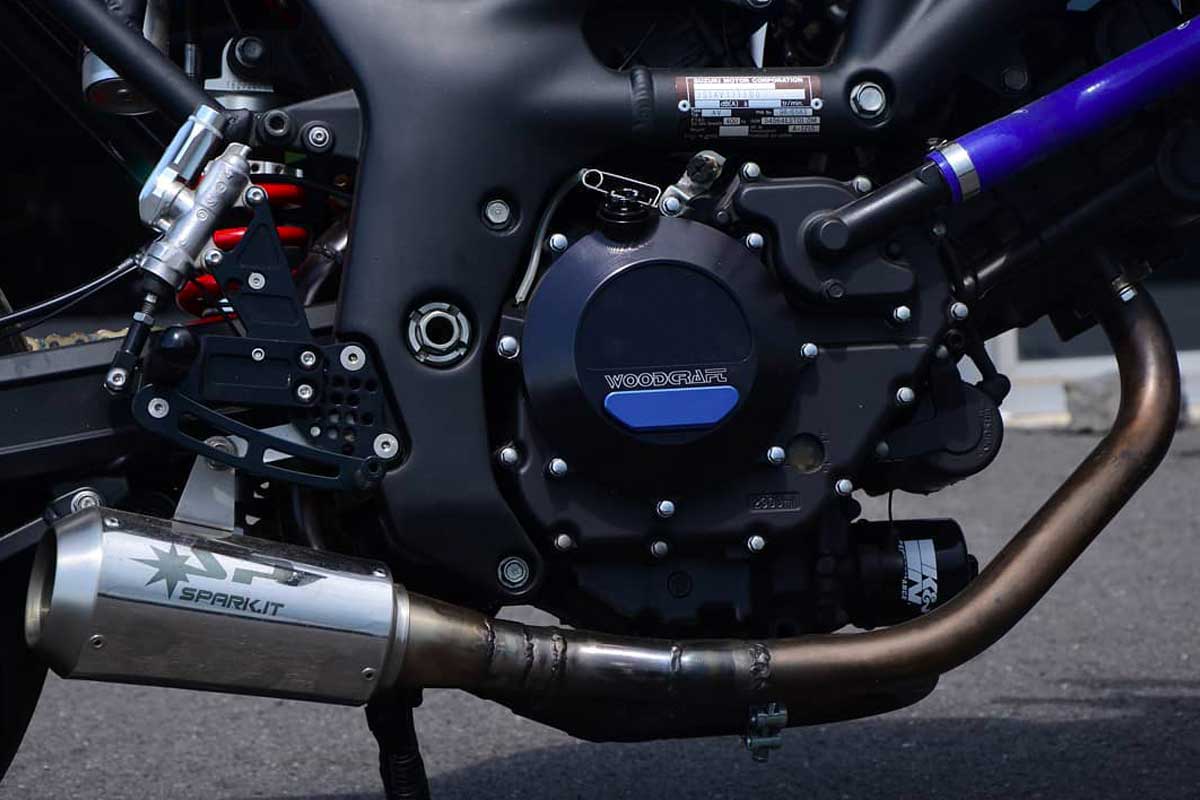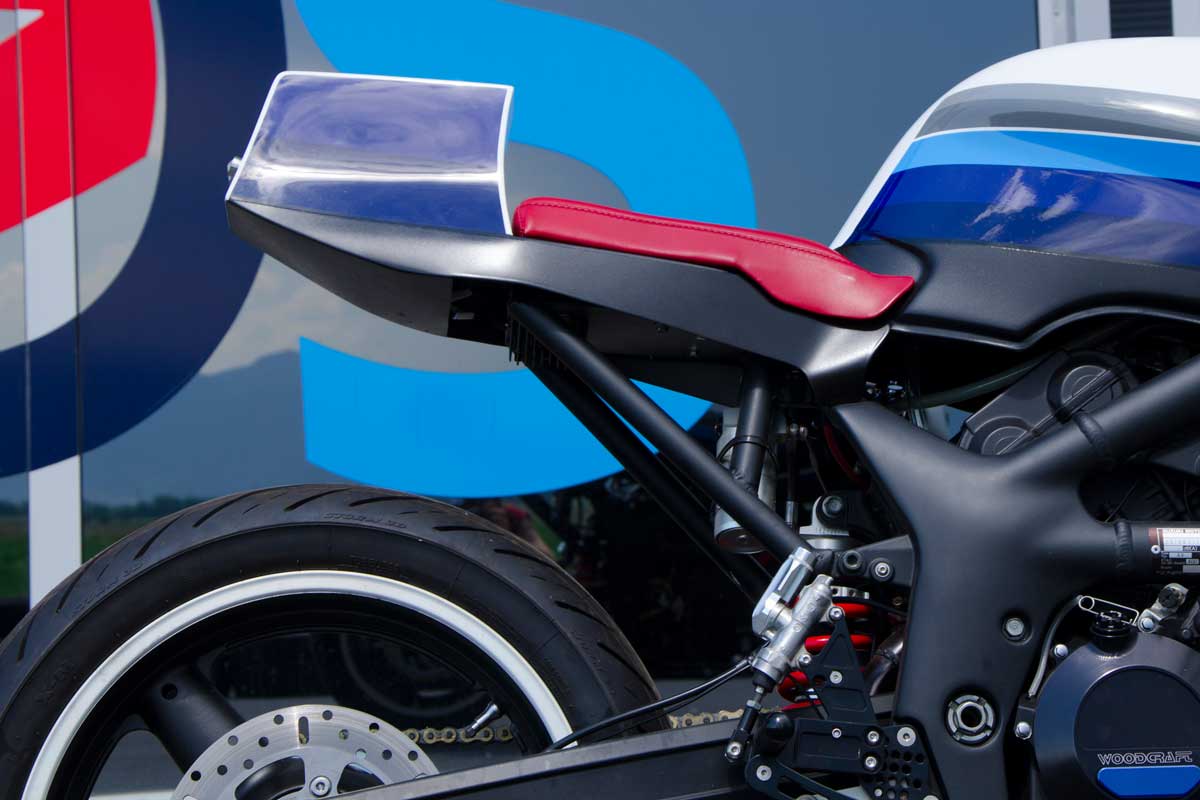 At some point during the build, Alf decided they would enter their Suzuki SV650 into the Café Racer Sprint races at Glemseck 101. This meant it was going to need significant performance upgrades. "I worked hundreds of hours on the engine!" Alf says. "I was obsessed about making not only a good looking bike but also a very high-performance machine". To achieve his goal the 645cc v-twin received performance camshafts, a performance clutch with a hydraulic actuator, a high flow water pump, Woodcraft cases, specially tuned carbs and a handmade exhaust fitted with a Spark GP Muffler. "The result is this freaky beast," says Alf. "It's a very powerful and light machine."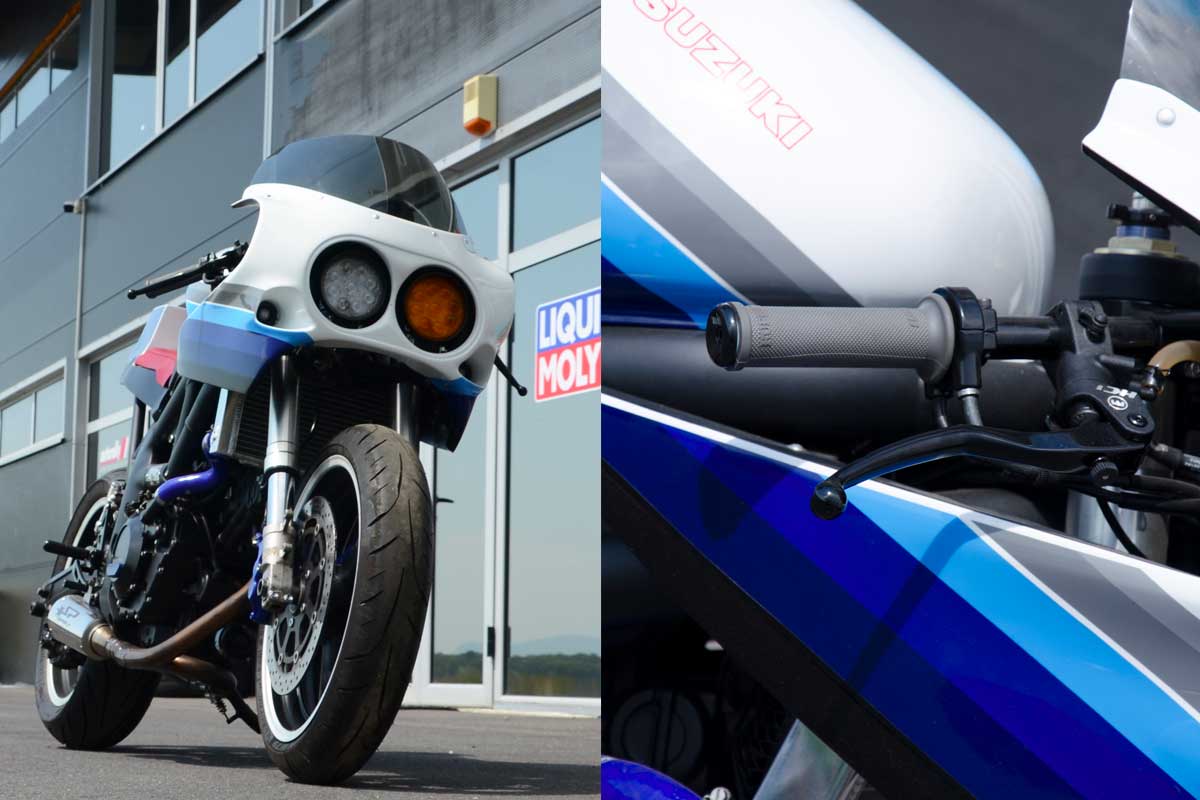 The SV650 is sporting plenty of other custom tweaks too. Improvements in handling come from a set of Showa USD forks and a one-off YSS rear shock. A Motogadget M.unit manages electrical duties via a custom, simplified loom. Clip-on handlebars and rearsets revise the riding position and the LED lighting is all new too. To top it all off Bandisca the bike finished in GSX-R750 inspired livery. "People find it very hard to identify the donor model," Alf says and to be honest they had us second-guessing ourselves too!