Hugo Eccles and the Untitled Motorcycles team are capable of building pretty much whatever they can dream up. Their custom Zero SR/F XP electric motorcycle is a testament to that. Unfortunately, requests for such unique builds don't come all that often. As with any custom motorcycle workshop, their bread and butter is building custom street bikes for regular customers. While the concepts and methods used to realise them may vary, you'll find the same exacting attention to detail and quality in every project they undertake. Take for instance the Untitled Motorcycles 'Kalifornia' BMW R100. Designed to be a mix of Californian attitude and impeccable German style it's everything you'd want for cruising the SoCal coastline.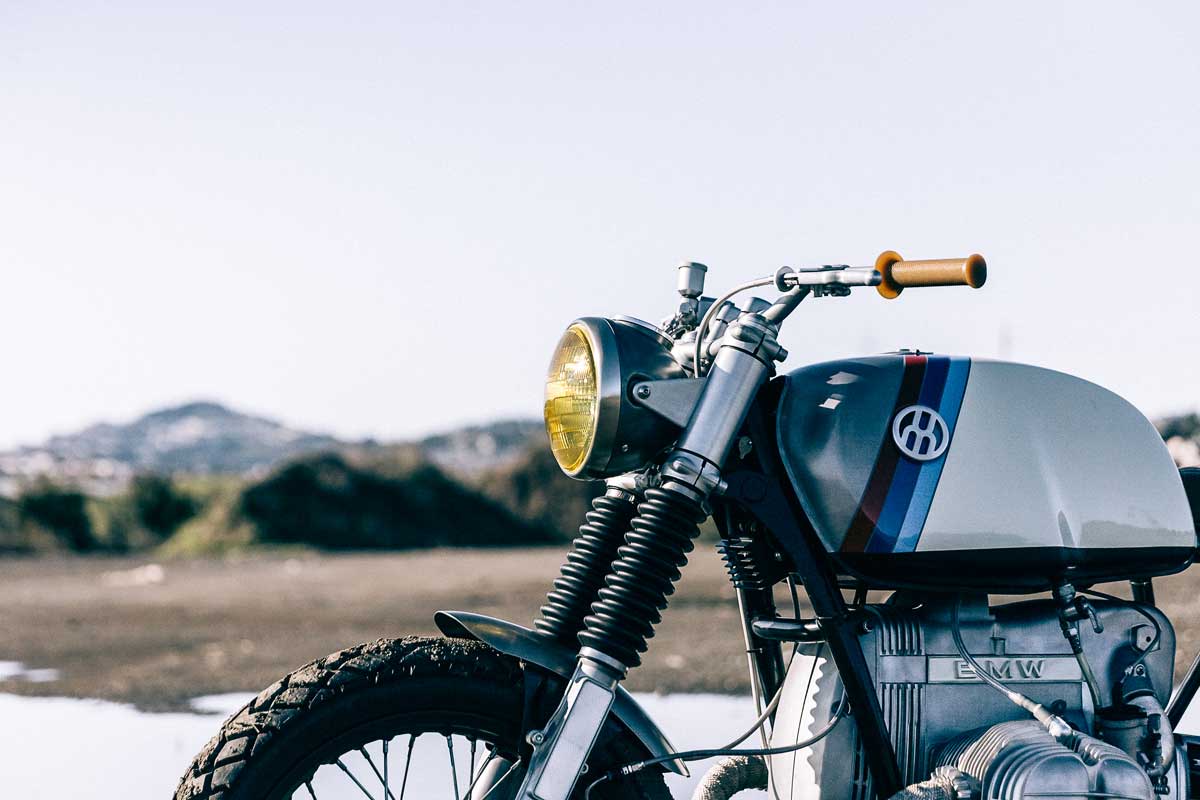 The Kalifornia's utilitarian appearance comes from some carefully considered modifications by Hugo and his team. After installing their own subframe, reshaping the saddle and dispensing of the side panels they've opened up the frame and removed a bucketload of visual weight. Stripping paint away in favour of raw finishes also adds to this airheads purposeful appearance. The engine has been vapour blasted back to bare metal. The plastic airbox and starter cover swapped with metal alternatives and braided lines replace standard rubber items. Those familiar with the BMW R100 will probably be wondering where the battery is housed. That's because it's hidden away in a stainless steel box located beneath the gearbox – a special UMC part they offer in their store.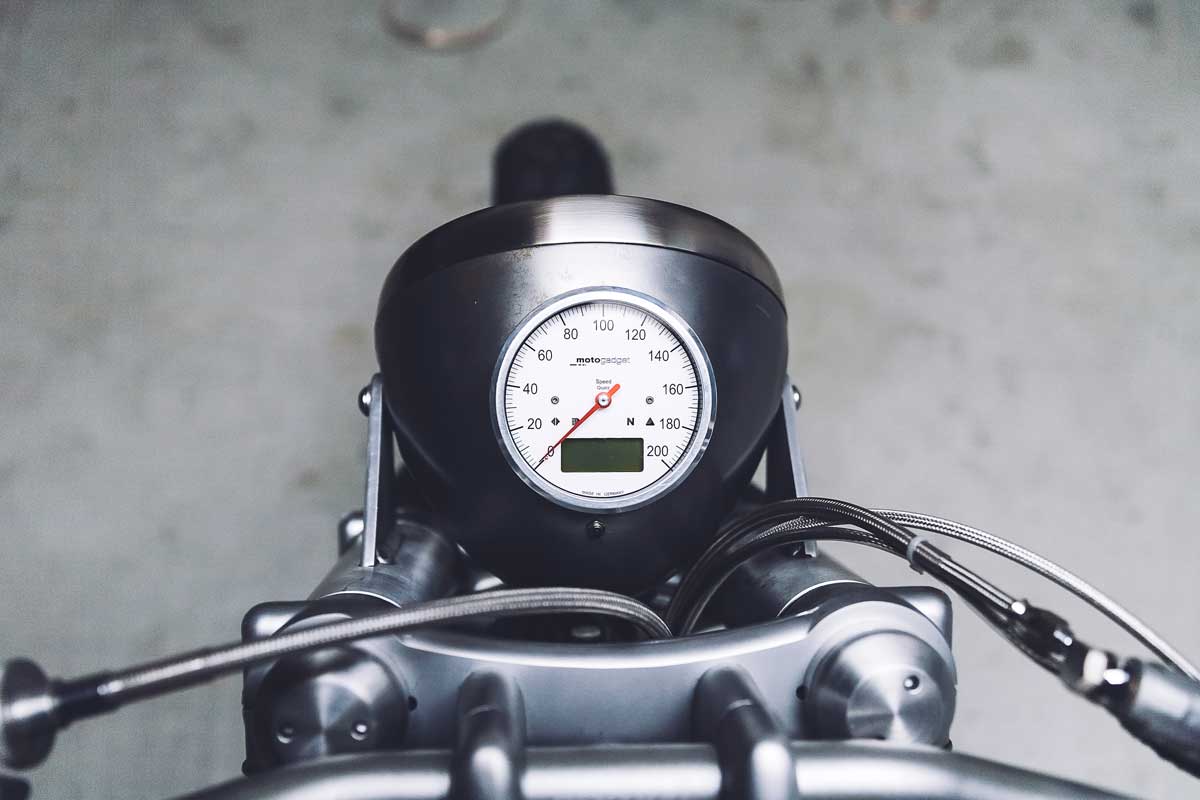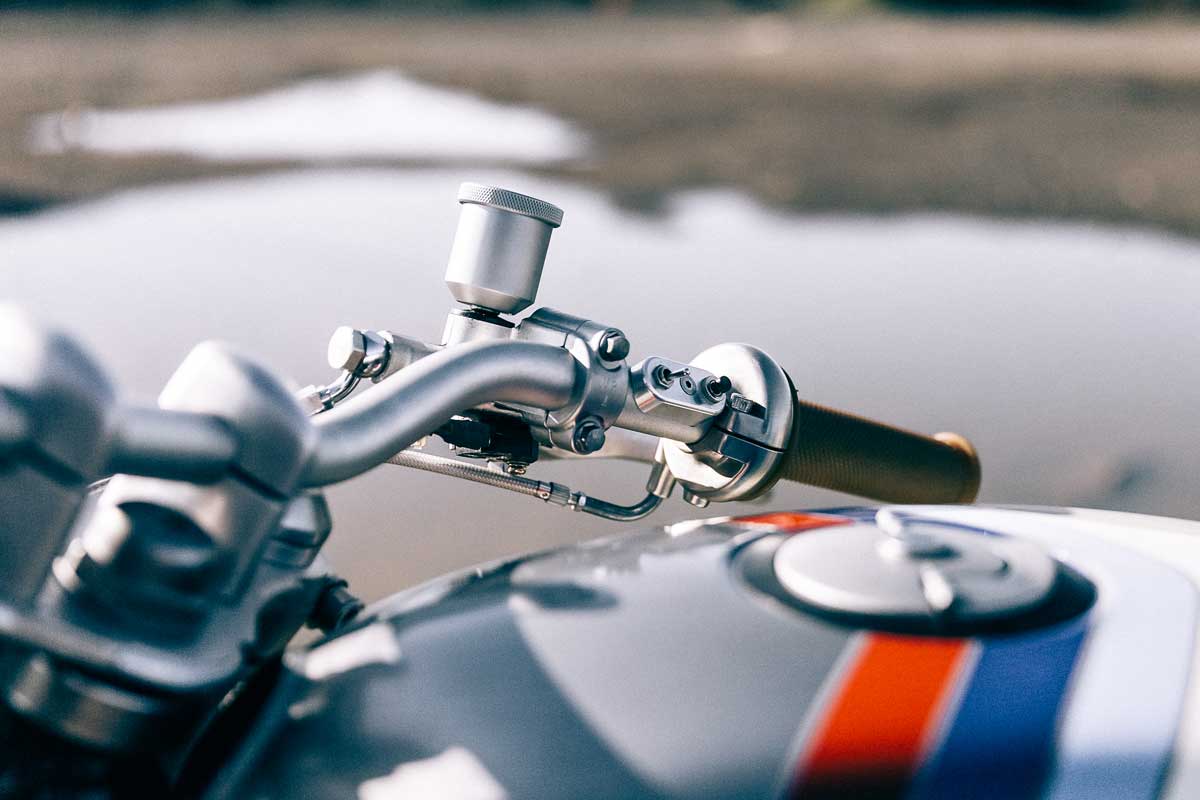 The controls all follow suit with silver Renthal handlebars, Posh switchgear and a Nissin master cylinder wearing a machined alloy reservoir. The fork legs, triple trees, levers and headlight ears are all raw too with the only hint of colour coming from natural rubber Tomaselli grips that complement the tan leather of the saddle. For a clean finish, all wiring runs within the bars and a Motogadget Motoscope Classic gauge sits recessed into the headlight bucket.
UMC has also taken the approach of simplifying things when reimagining the BMW's electrical components. A new wiring harness eliminates everything but the essentials and is powered by a Motogadget m-Unit. The ignition has been replaced by a keyless m-Lock unit and the front and rear m-Blaze indicators are almost impossible to spot when they're not lit. In the rear, a Custom Dynamics tail light sits frenched into the rear fender.
"I've always liked the tension of having a cast wheel paired with a spoked wheel," says Eccles. It's a style often seen in the cycling world and one he wanted to try out with this project. So he cobbled together a set from different donors. The front-wheel was made using an 18-inch rear rim and 2-rib BMW hub laced together with stainless spokes. The rear is a BMW R65 LS Y cast unit and both are wrapped in Michelin rubber. Handling improvements are attributed to rebuilt Koni shocks, upgraded fork internals and rebuilt Brembos that bite down on EBC 'deep dish' rotors. As for performance modifications, there's no shortage of them.
A complete engine rebuild included the installation of an EnDuroLast charging system and upgraded pistons and pushrods. The Bing carbs are gone in favour of 38mm Dellorto PHMs which are mounted via custom made inlet manifolds. The alloy airbox has been drilled for maximum airflow and a set of Cone mufflers round things off.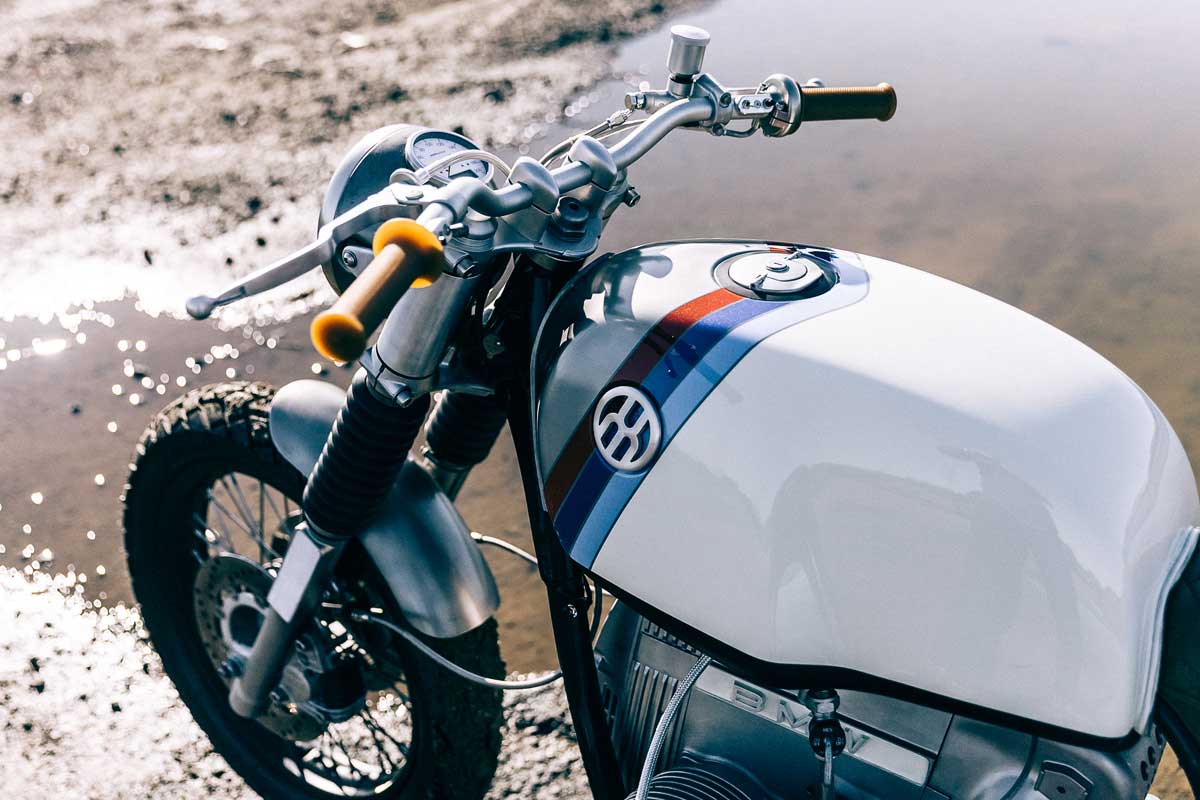 The standout feature of the Kalifornia BMW R100 is its M-spired paint scheme. "I wanted to retain a connection to the original motorcycle so decided to use the BMW Motorsport stripes, but with a twist," says Eccles. The twist he's referring to is the use of deep metallic flake paint which he jokes is "BMW meets Evel Knievel!" Running parallel to the angle of the front end the stripes work as a divider between the BMW's front and rear end. Eccles opted to leave the section of tank in front of the stripes raw, adding a clear coat to stave off the elements.
"My client produced a photograph of a beautiful Porsche 356 in 'Ivory' with a tan interior," Eccles says. The 356 inspired colour scheme has been applied to the rear section of the tank. Not settling for just any old Ivory Eccles hunted for the original Porsche paint code. As it turned out the Porsche back-catalogue features several variations of the colour. So to get around the issue, he resorted to tracking down a local Porsche finished in the same colour so he could match it by eye. That's perfectionism personified.
As for how Eccles feels about the finished bike he says "Airheads have become somewhat ubiquitous so it's increasingly difficult to do something interesting. I think this build strikes a good balance. It's a daily rider so it can't have crazily low clip-ons, cardboard-thin seat, and impractical zero rake. It's about subtle details that work together rather than a single one-liner statement." We couldn't agree more.
Shop This Look
| | | |
| --- | --- | --- |
| Image | Product | Buy Now |
| | Motogadget m-Blaze indicators | |
| | Classic round headlights | |
| | Motogadget Gauges | |
| | Slip-on Classic mufflers | |
| | Vintage style grips | |
| | Motogadget M-Unit | |
| | Motogadget m-Lock ignition | |
| | Michelin tires | |