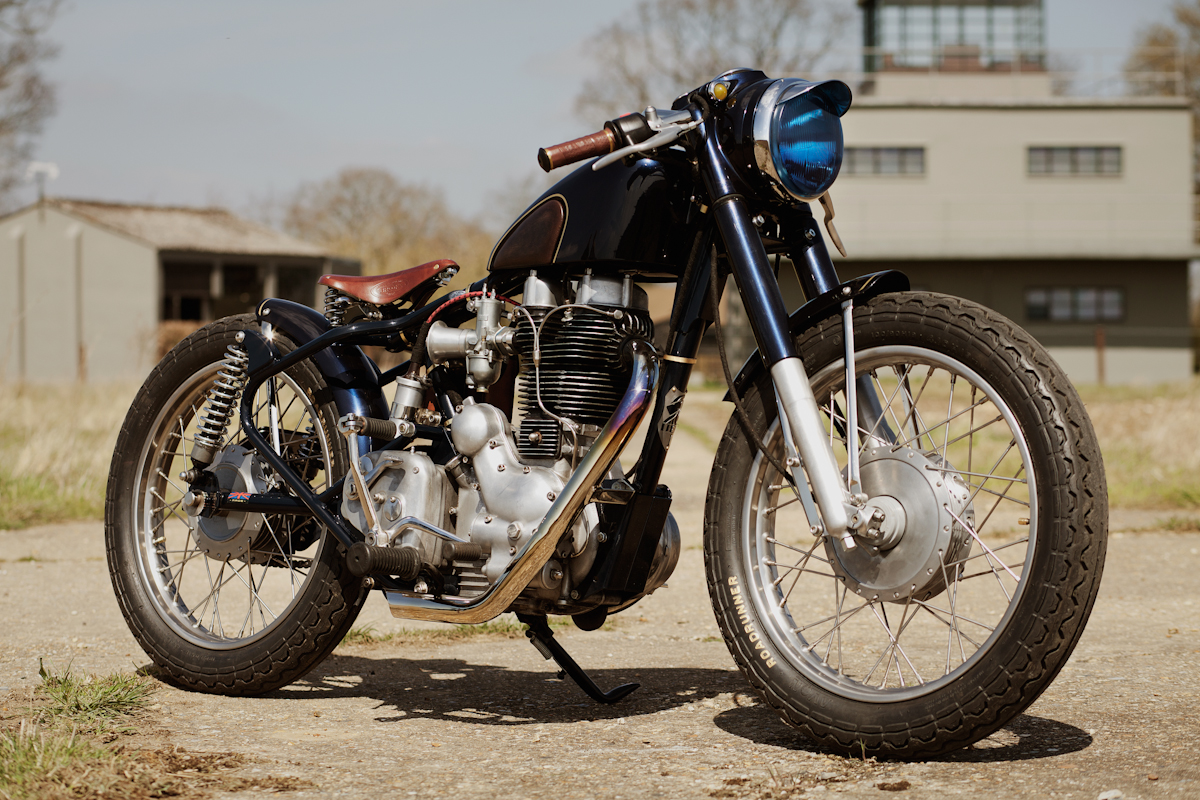 The 'Genus V' is a series of 5 custom built motorcycles designed  as "affordable and attainable" builds by Norfolk based workshop, Old Empire Motorcycles. The Fox is the first Genus V build to roll out of the OEM workshop and was built in the image of their
Royal Enfield Electra 'Pup'
from 2012. Powered by a 2012 500cc thumper the Fox is a fresh take on Enfield's half a century old Bullet design.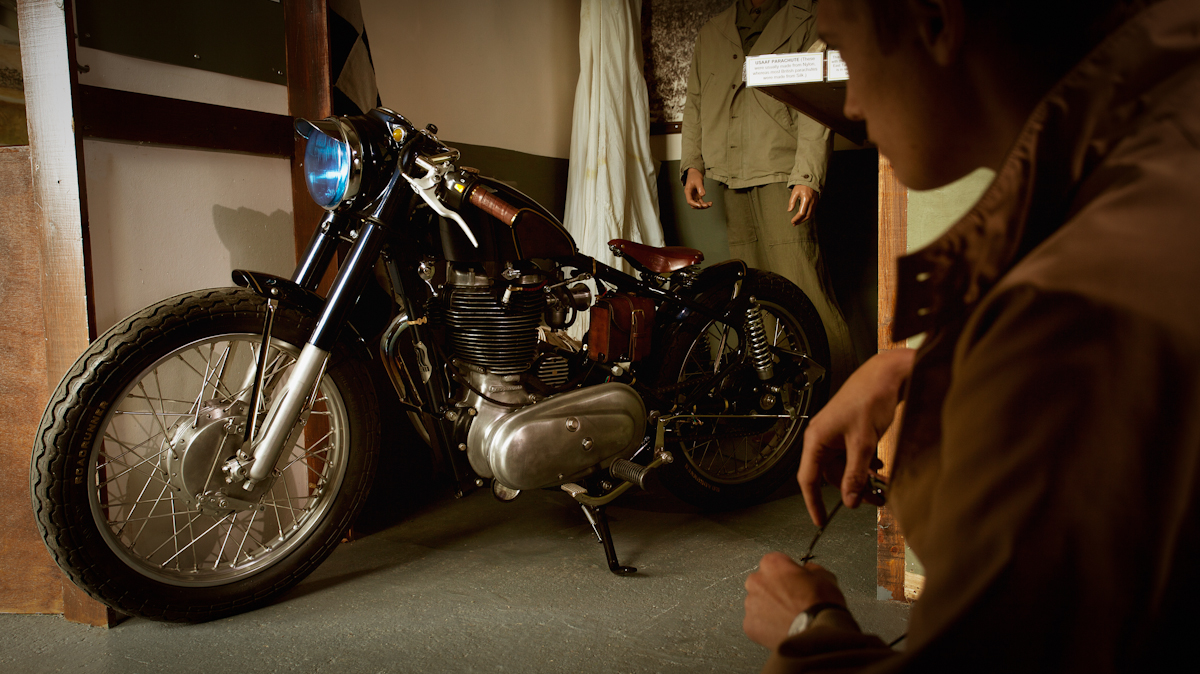 "The Fox has been lowered by around 2/3 inches requiring significant machining on the front end to achieve the correct stance, the original rear shocks have been replaced with a set of shorter Hagons. The classic nacelle has been kept but the pilot lights turned into indicators and the headlight tinted and peaked. The bars may look like your usual ace bars but these are handmade nickel plated 'Sturney' bars made to fit the Royal Enfield with a slight drop in height for a more racier and comfortable riding position. The Brooks saddle used on our Pup build has been retained to keep the lines of the bike slim and uncluttered, it's complimented perfectly by the leather kneepads and brooks wrapped leather grips. Well hidden led indictors shade themselves under the seat perched above our handmade battery satchel and leather covered electrics box."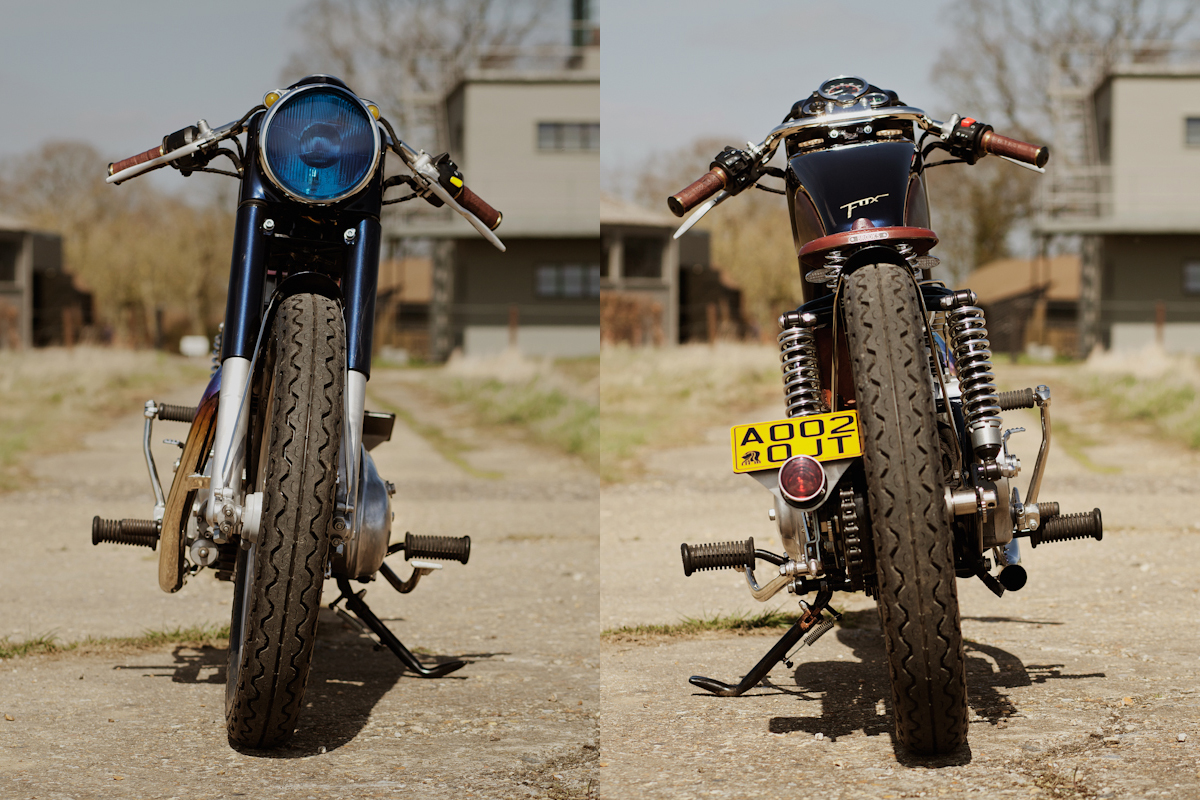 "The classic bullet 500 design has changed little through the many decades past from its conception. And for good reason, such a simple design looks great, sounds great and is the perfect platform to create something special."



"Minimal tinware was key in keeping the Fox looking clean. We added trimmed down guards with nickel plated stays and a highly modified sportster tank with indented leather panels and our own weld in brass filler caps. We also machined our own finned dissy cover to match the fins on the blacked then polished barrel. The finish over the entire bike was specified by the customer as he wanted a dark blue colour scheme, we managed to find a midnight blue metallic paint and powdercoat and went to work blending in the brown leather, brass and gold highlights."
"The Fox handles surprisingly well now we have got the centre of gravity further down and stiffened things up. The Fox sounds glorious and performs well now that she breathes through a new Amal carb and custom exhaust."
Old Empire Motorcycles are now developing staged kits for customers who want to modify their own Enfield's. With a new line of custom parts on the way I'm sure we will be seeing more of this style of build popping up around the custom scene soon. In my opinion that's not a bad thing at all.