Since its first appearance at the International Auto Expo in Delhi, the Royal Enfield Continental GT Cafe Racer has been touring the international expo circuit. Originally sporting some fairly high-end components the latest iteration has had some changes that will lower production costs. This suggests that it is much closer to the bike that will be offered to the public next year. The movements of the bike around the globe also suggest that Enfield's primary market for the machine will be on foreign shores. This particular version of the GT was snapped at the Long Beach Motorcycle Show in Los Angeles.
The 535cc motor is an upgraded version of the one found in the Royal Enfield Lightning. It produces around 30bhp in this setup. Although you're not going to be smashing the Ton (100mph) in record time, the Continental GT will be the most powerful motorcycle in their lineup. This will undoubtedly have Enfield fans scrambling for their wallets. Enfield is also hoping that the GT's style will earn the company a lot more interest from US and European buyers.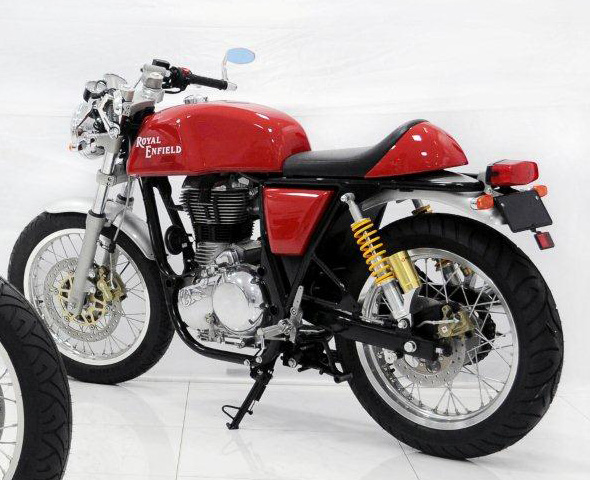 With only a handful of factory-built Cafe Racers on the market, the Continental GT may is the closest alternative to buying a vintage bike. Enfield is famous for having used the same technology and design for decades, but the GT breaks that mould. The GT features an all-new double cradle frame which has been combined with a revised Thunderbird swingarm and larger forks. A design that is promised to produce handling characteristics that are in keeping with it's Cafe Racer appearance. Enfield has also used high performance, gas-filled shocks on the Continental GT. They were originally Ohlins but now look to have been swapped for a cheaper alternative to keep production costs down.