If you're anything like me, you'll regularly find yourself daydreaming about moto-related projects. That track-day bike you'll make out of an old BMW S1000RR. Or maybe it's a custom scrambler you're going to create out of an old Bonneville? And what's really stopping you from prepping that flat tracker out of an old Honda Dominator? Real life is what. There are too many bills to pay and too few hours in the day for anyone of sound mind, body, and wallet to ever consider something as loony as hand-building a motorcycle.
The reality is 99% of us have a whole bunch of stuff that's definitely a better, more sensible purchase than a project bike. But thank god for the 1% who don't. They're the dreamers, do-ers, and – dare I say it – the crazies who take something that seems nuts to us and actually make it happen. Meet two of my favourite lunatics – Santina and Will from Sydney's Revelry Cycles.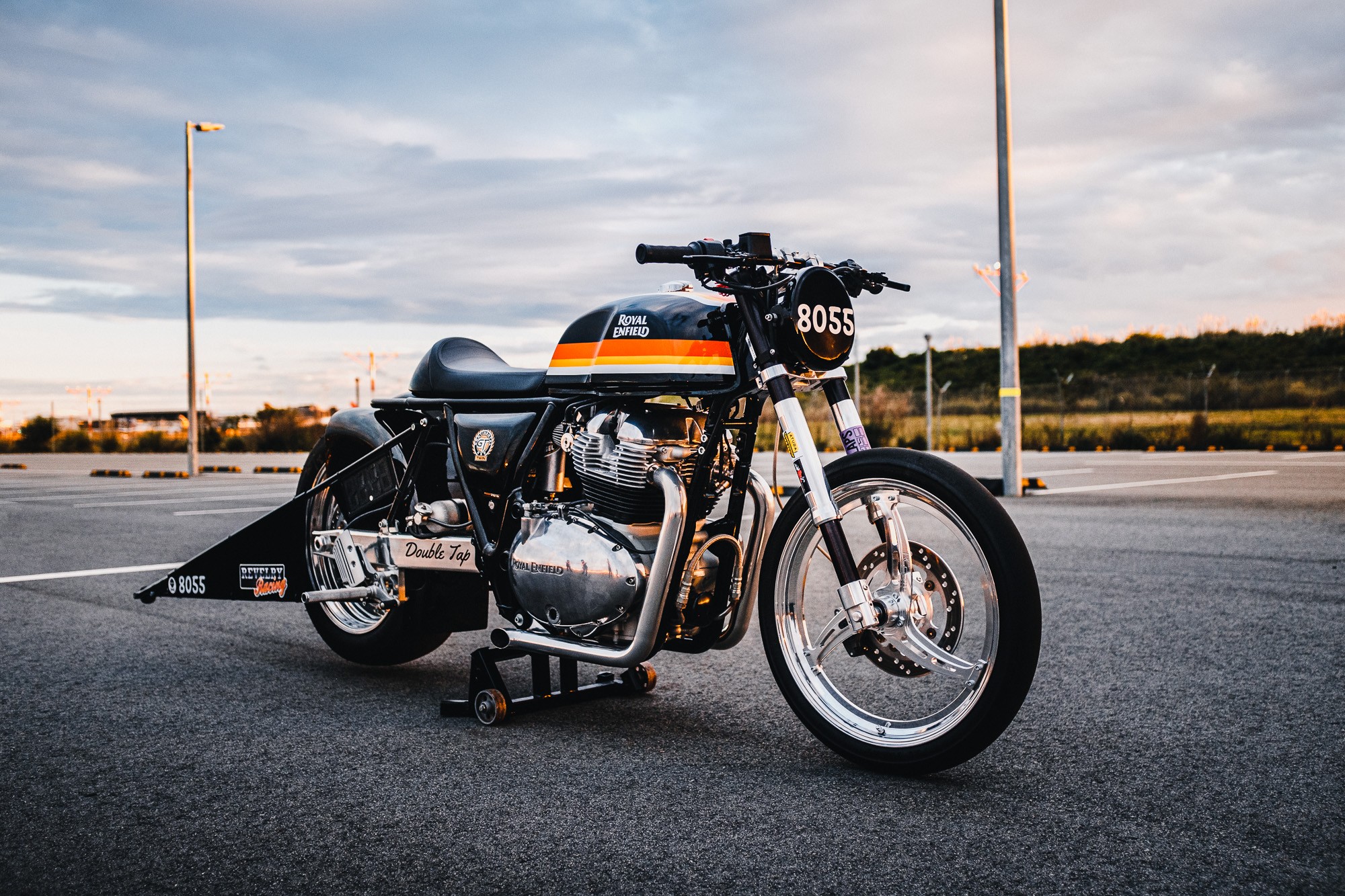 Master Wizard
It's another lockdown in Sydney, yet Santina has managed to spare the time in between building bikes and avoiding the plague to chat to us. "Revelry Cycles started in 2013," she smiles, as an opener. "It's a Royal Enfield dealership in the city's inner west. We have all the usual mod cons, but our passion is around high-performance upgrades and so we also have a full race shop in the back."
Add this to the fact that her husband and business partner, Will, is a master mechanic and a wizard with motorcycles and you can see how things might have, erm, escalated. "He was motivated by the quality and potential of the new Royal Enfield Twin models and was keen to see what they were capable of," says Santina.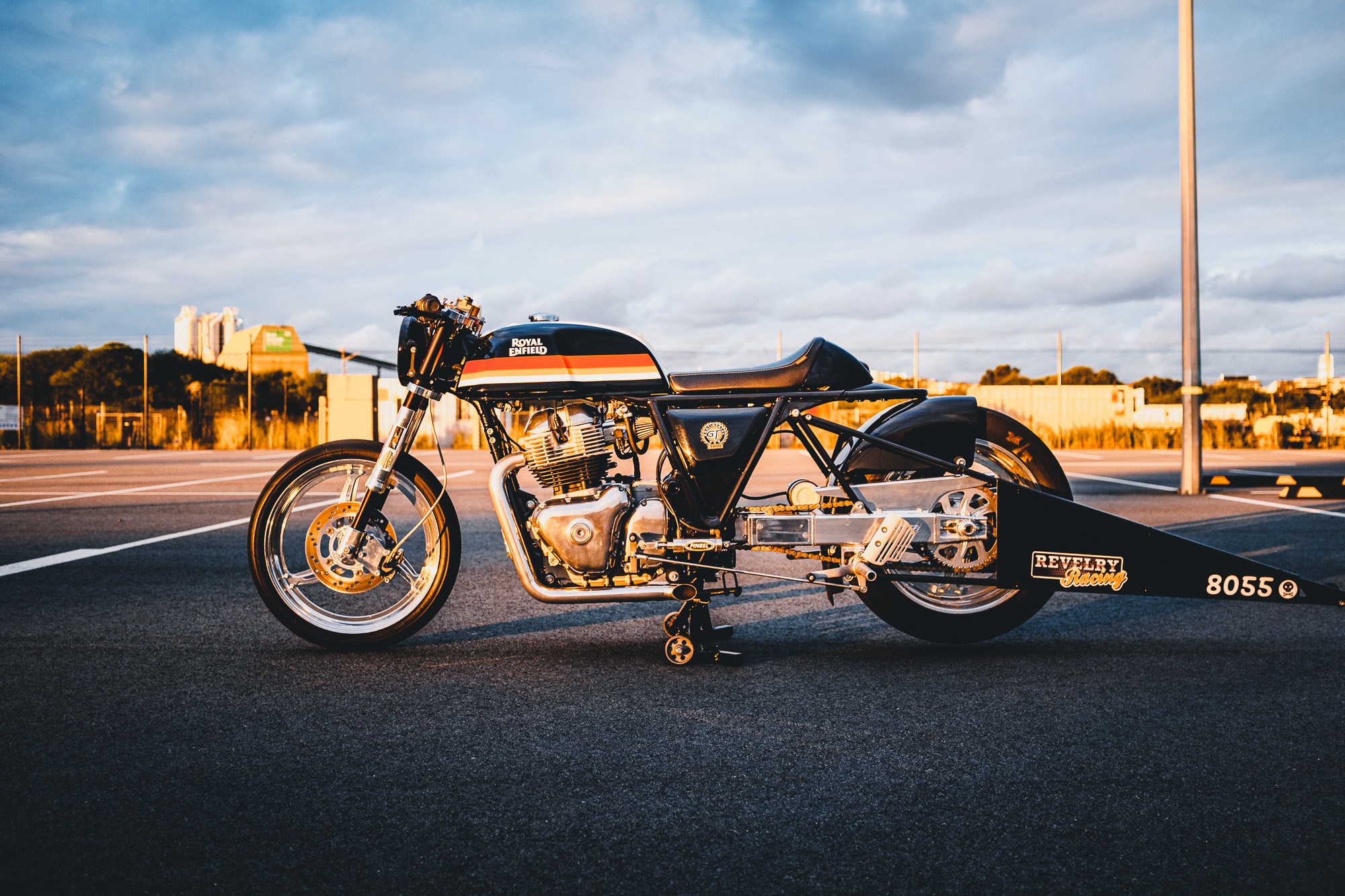 I'm pretty sure that Santina and Will should not be allowed to watch motorcycle movies. "They make us do things," notes Santina, with a child-like smile on her face. "It was March 2019. Royal Enfield had just launched this new platform and 'On Any Sunday' was playing on our big screen. Every time we watch this stuff, it gives us crazy ideas. It's dangerous.'
No strangers to racing, the couple had a successful Harley-Davidson drag race team at their previous shop. "I was always the marketer, promoter, and supporter,' continues Santina, "But on that night I was inspired to finally take the handlebars and face 'the tree' myself. So there, on our orange couch, under the dim light of scrolling movie credits, Revelry Racing was formed."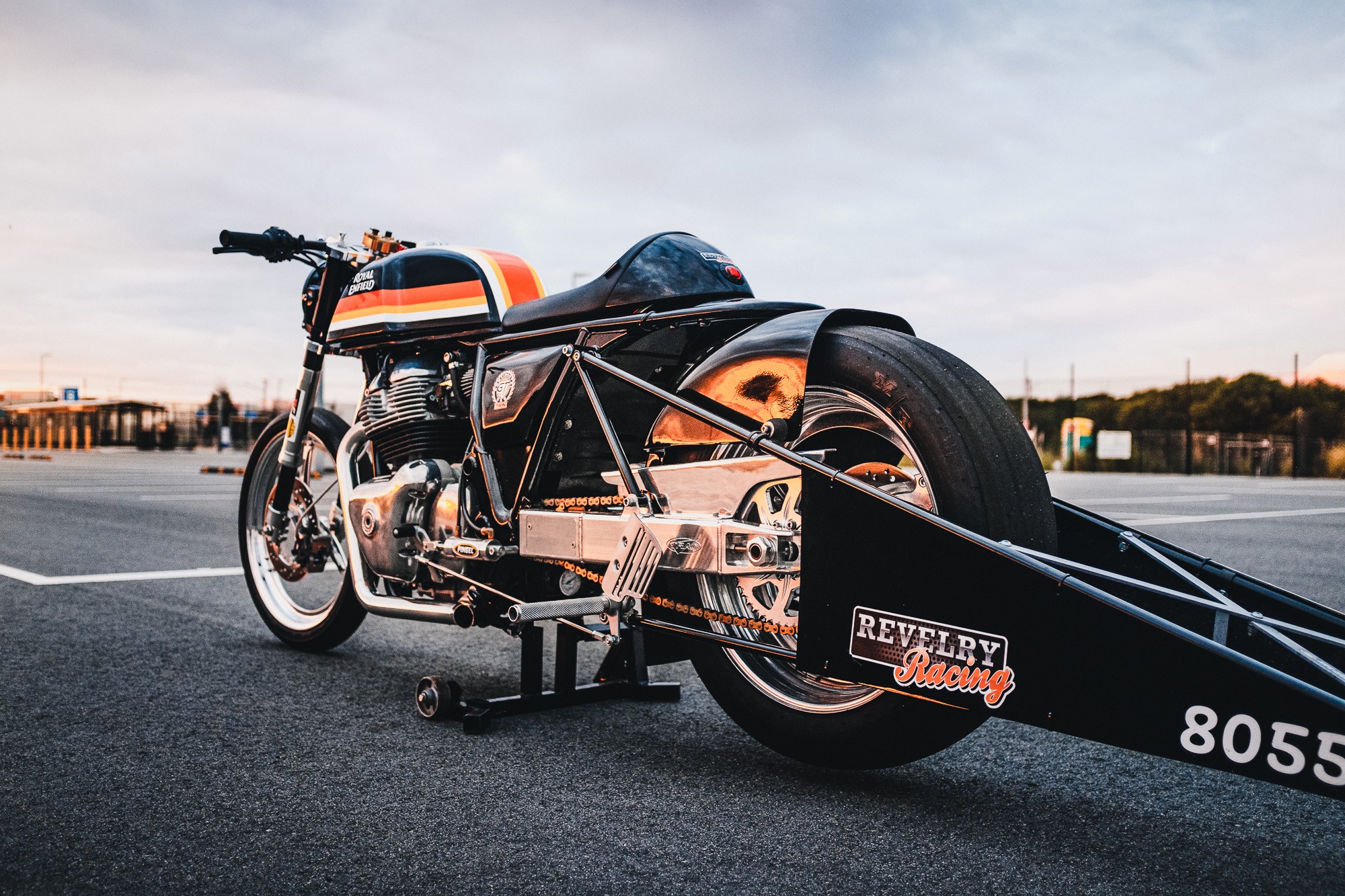 In what must have been a rather alarming change in job descriptions for a former 2019 Royal Enfield Continental GT demonstrator, Santina and Will pulled the unsuspecting bike out of the shop's front lot and decided it would be a much better idea to make it a fire-breathing, drag-racing missile.
"Will relied on his decades of experience building and racing motorcycles. I had never raced before, so I started with a stock motorcycle and we slowly made changes as I became more capable and confident."
Taking the Mickey
"The stock frame is unmodified. To accommodate the Mickey Thompson seven-inch drag slick, we looked to Trac Dynamics in California who constructed a one-of-a-kind, dual-adjustable, twin-drive swingarm for us. When it arrived from the other side of the world it slid right in, the pivot bolt landing with a satisfying 'tink' as it easily slipped into place. A perfect fit," Santina remembers.
"The Mickey Thompsons are mounted on lightweight, forged, RC Components wheels. The front is free of a mudguard and the rear is enveloped by a Beasley Composites Custom Wheel Tub. It runs Pingel struts and ICS Raceforx topped with a Scotts Pro steering dampener. Ultralight Wildwood brakes bring enough stopping power to pull up after the finish."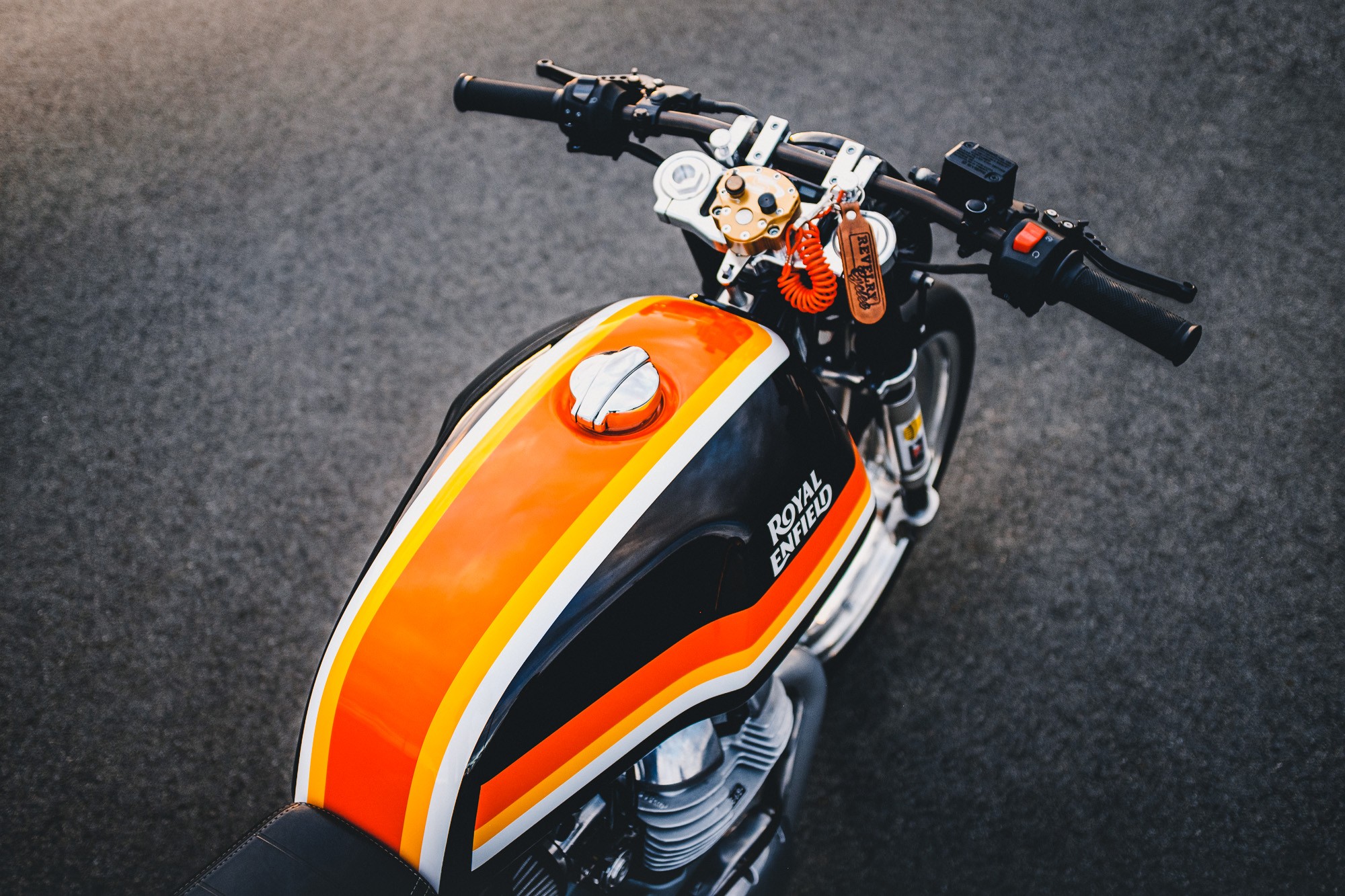 The most common questions the two get are about the air bottle, as it is often confused for NOS. "It's actually the reservoir for the Pingle air shifter," explains Santina. "There is an onboard compressor for top-ups between runs. And the new paint was sprayed by the uber-talented Marc Houssenloge at Sydney Custom Spraypainting."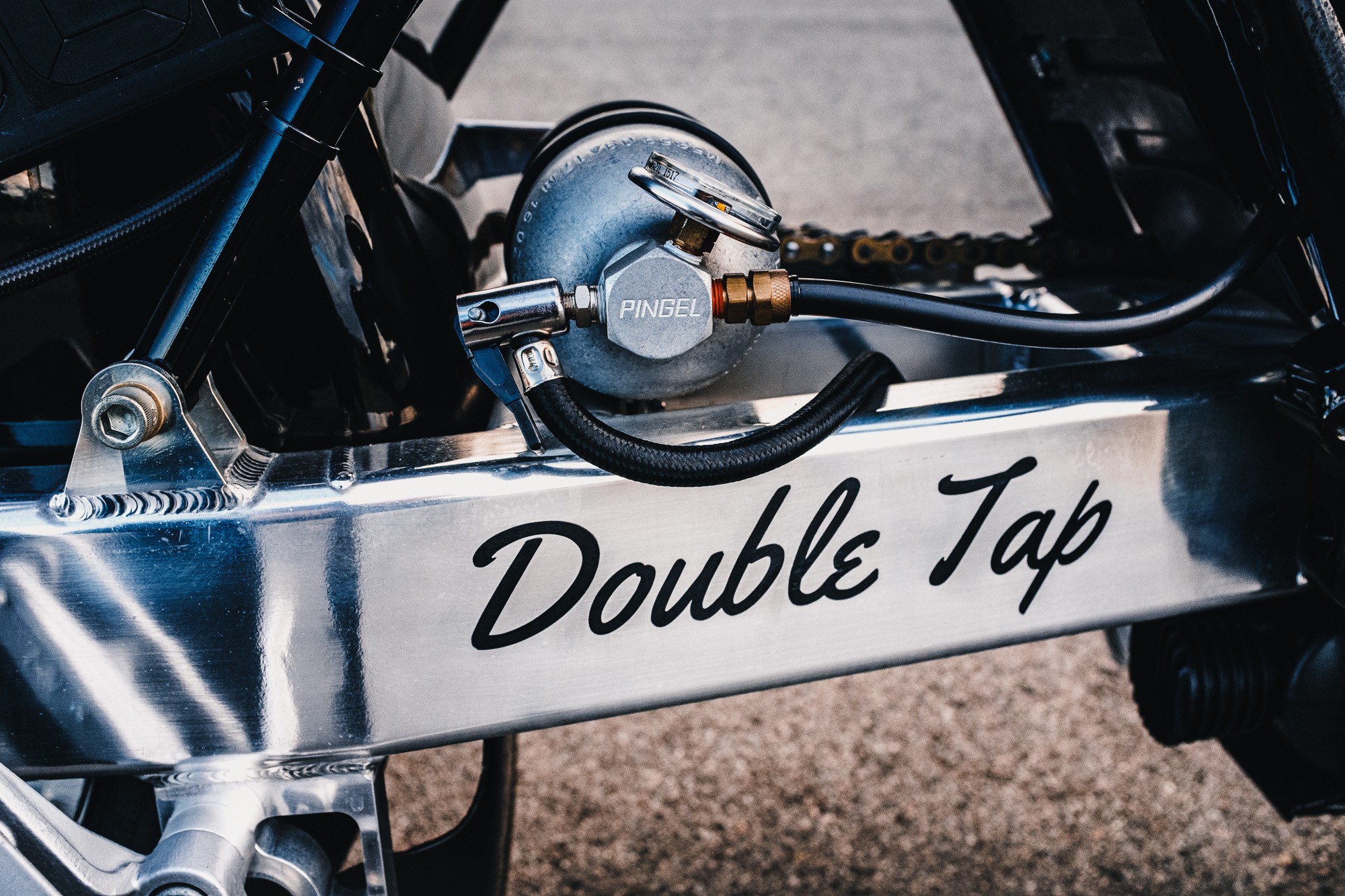 Cleaning the prodigious amounts of fresh air the bike gulps at full tilt is handled by some high flow K&Ns, while the exhaust passes through locally fabricated, ceramic coated open headers. The stock engine has been upgraded with the S&S Cycle 865cc big bore kit which includes new cam, pistons, and cylinder liners. S&S also CNC ported the heads and the cylinders were machined by Serco Pty Ltd.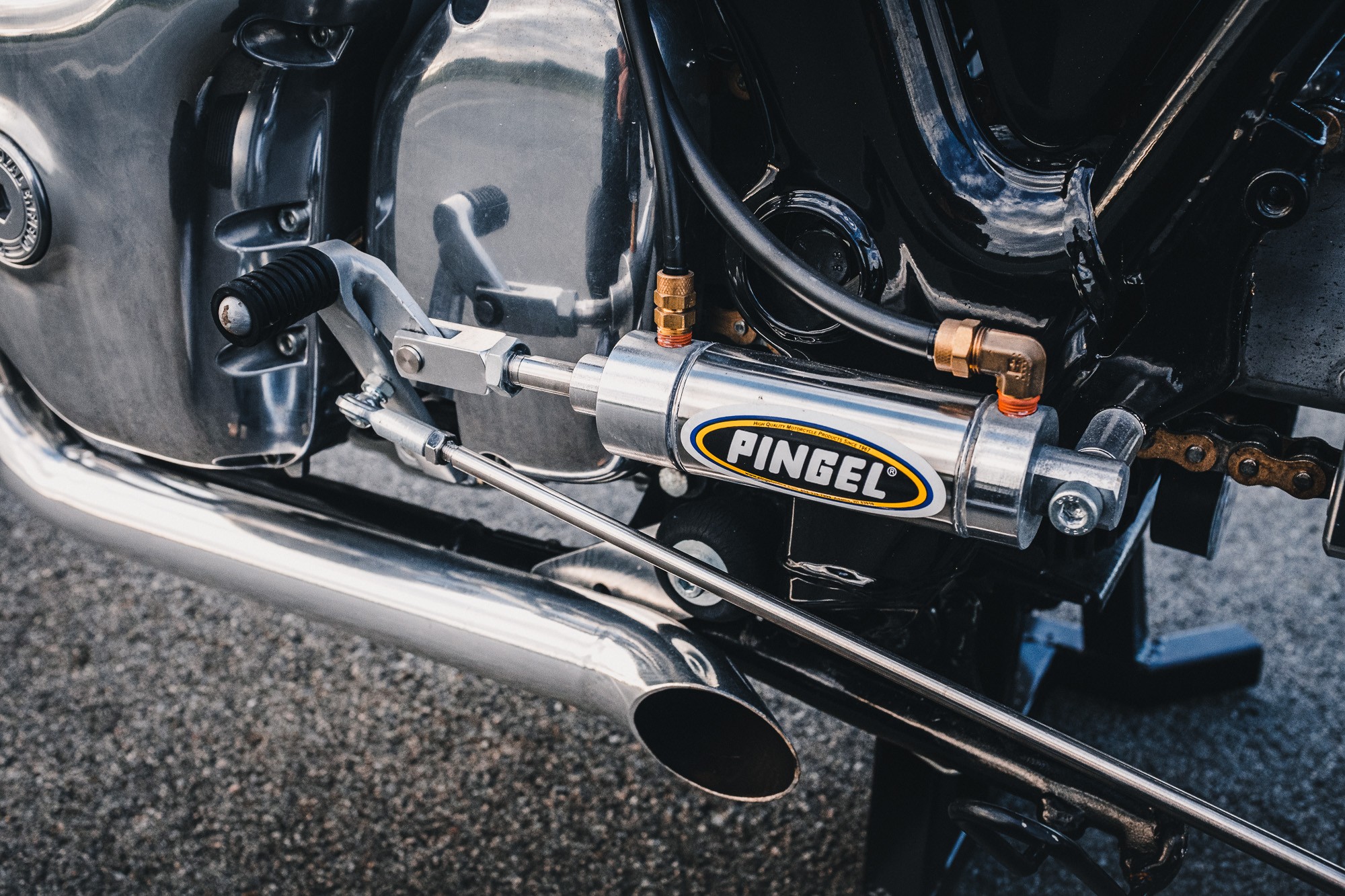 "A PowerTRONIC piggyback ECU with a specially constructed harness to allow a true rev extender is used for the fuel and ignition tuning," says Santina, testing the limits of my technical knowledge. "Will has modified a Dyna Shift Minder to work as an auto shifter and a Dyna DRL 300 to function as a two-step rev limiter. The addition of a Rekluse Torq-Drive clutch was necessary to handle the increase in power, eliminate slipping and extend the life of the basket."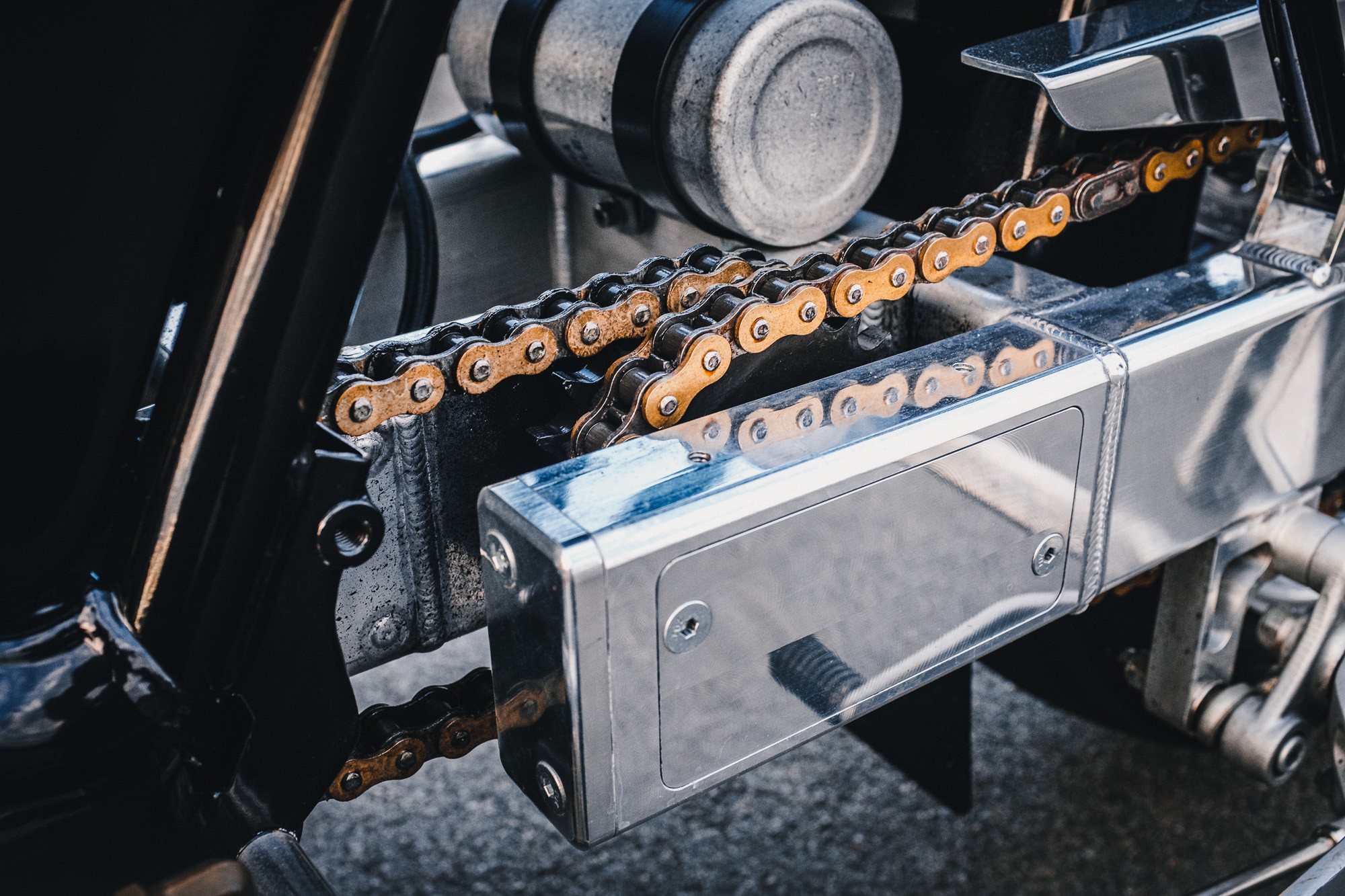 All Shook Up
"I've been riding motorcycles for over 25 years but I had never raced before. The Wednesday night 'Race for Real' at Sydney Dragway offered me an opportunity to get started. We rocked up with two totally-stock demo bikes. Frightened of embarrassing myself and with my knees shaking, I rolled up to the start. Leaving well after the green, I made my first ¼ mile pass."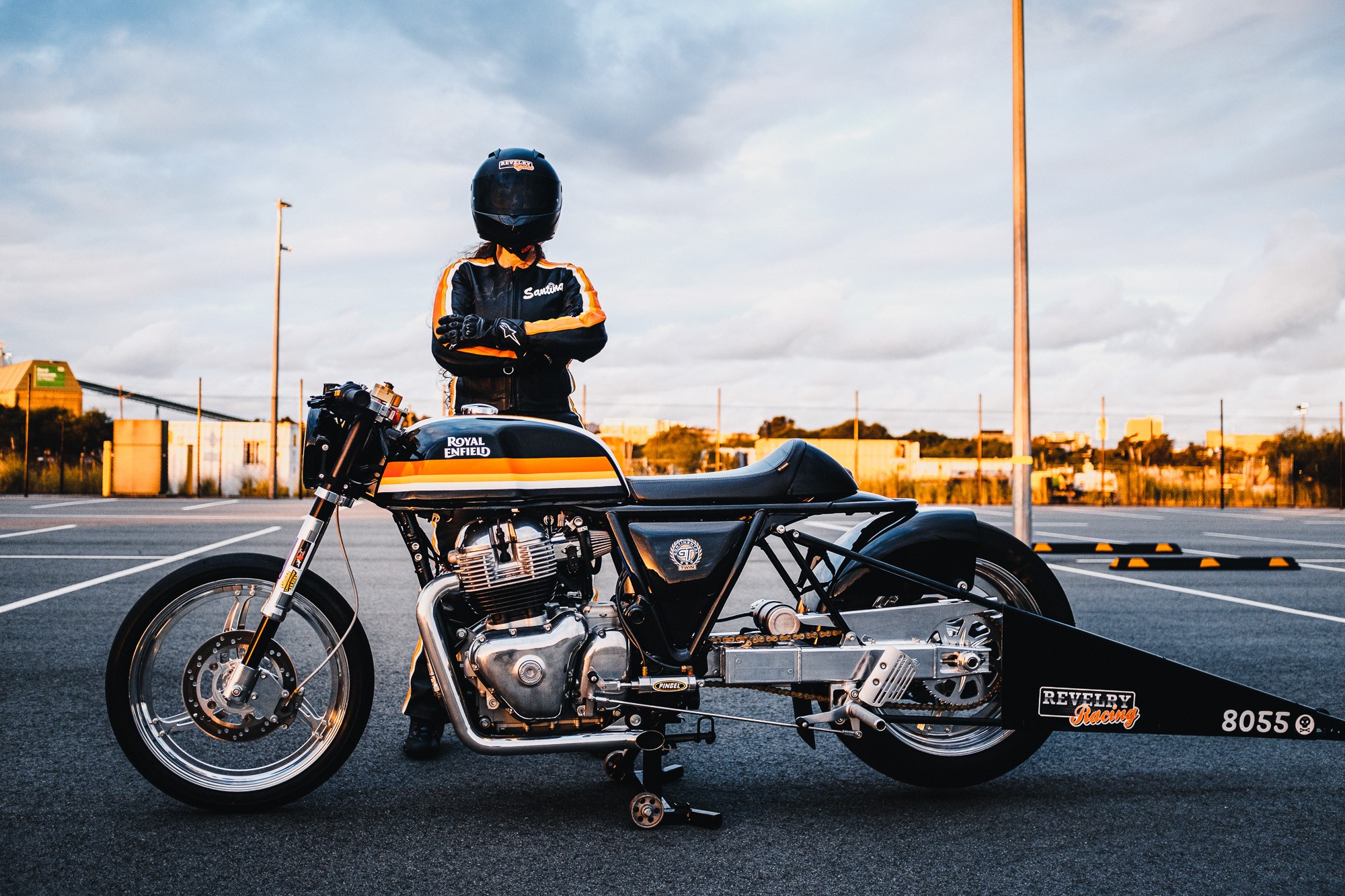 "I was slow; that first pass took 15.67 seconds. But also, I was hooked. I'd never felt what I felt after crossing that finish line. It's hard to describe the rush; it's a thrill but it also feels Zen-like and peaceful. A moment of perfect clarity that made my heart warm and my brain crave more. In the staging lanes for my next run I told Will, "It's too long to wait between runs. We need our own track!"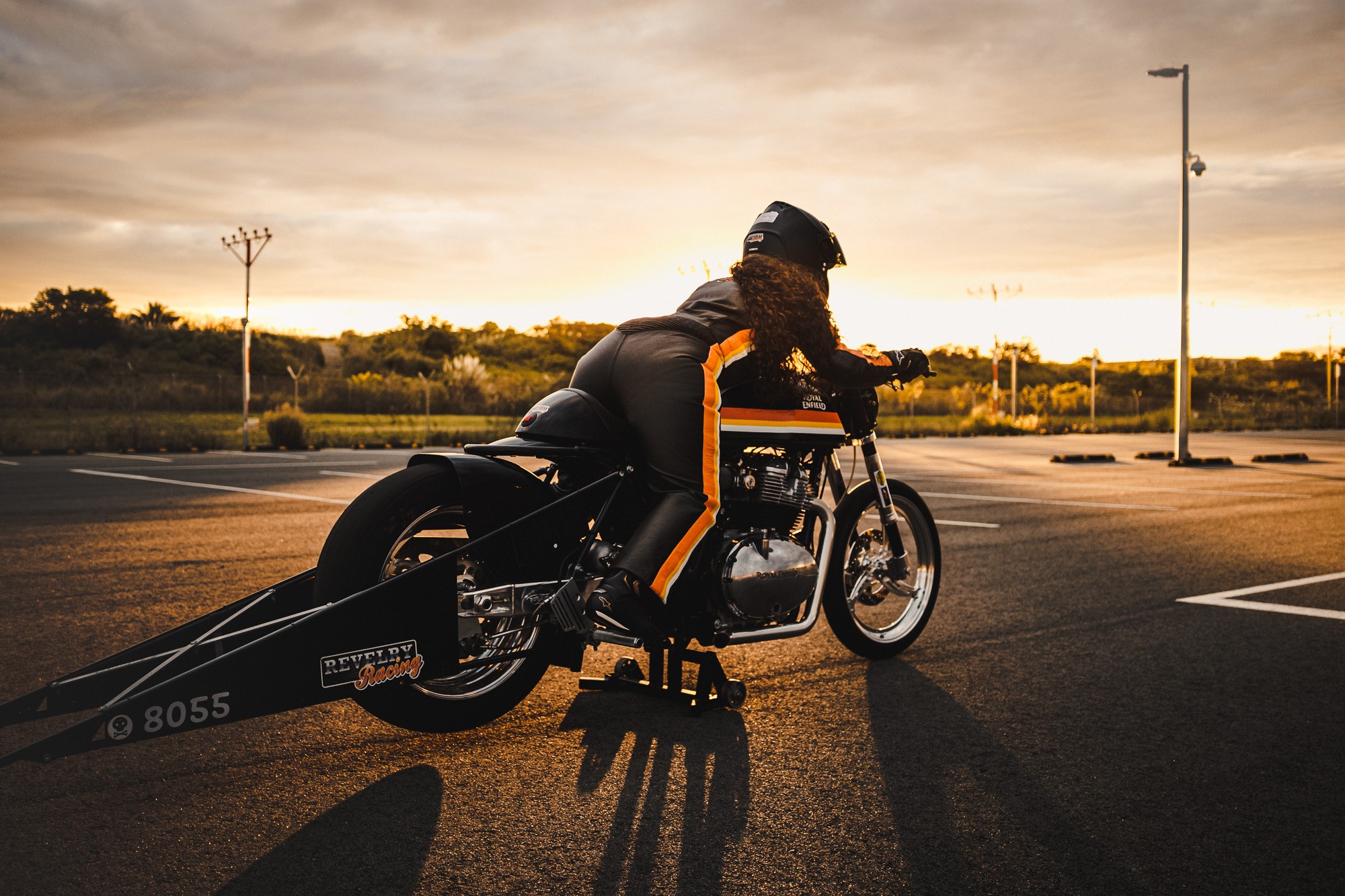 "One pass," Will said as he shook his head. "You've made one pass and you already have us building a track? I think I've created a monster."
"Fast forward to now and our fastest pass to date is 113.7 mph (183 kph). The quickest time so far is an 11.213 seconds. We are sure that in this current configuration, there is a 10-second pass in this bike. It's just going to take a little more time and the right conditions for us to get there."
Photos by Machines That Dream