Europe's first all-female motorcycle festival, the 'Petrolettes' has teamed up with Royal Enfield to create the 'Petrolettes Wrench Off'. The Wrench Off is a freestyle custom build-off created by Petrolettes founder Irene Kotnik. Created as a way to connect female and inspire riders the Wrench Off challenges 4 all-female teams from 4 different nations to build 4 custom bikes based on the Royal Enfield 650 Twin platform. The project kicked off earlier this year with each team taking delivery of a 4 new 650 Twins. The bikes were then unveiled last month during Petrolettes 2019 at the Ferropolis "City of Iron" in Gräfenhainichen, Germany. After the unveiling of the bikes, we contacted motorcycle builder, writer and racer Bella Litinetski, to learn more about each of the teams and the bikes they created.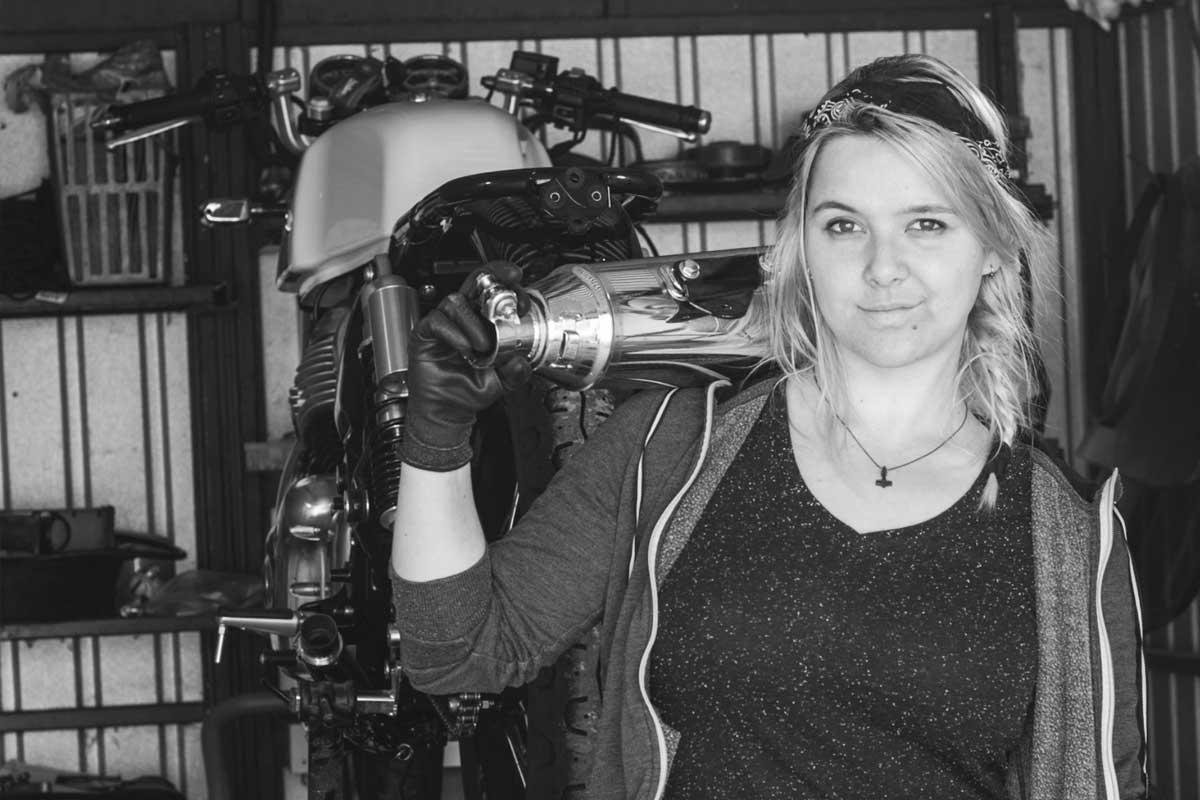 Team Italy – Bella & 'Gungnir'
Bella Litinetski moved from Israel to Italy in 2011 to pursue a career that was immersed in motorcycle culture. She currently works as an automotive, product and graphic designer and has completed projects with the Ducati Design Centre, Energica Motorcycles, Italjet and Suzuki. Bella is also a frequent contributor to moto blogs and magazines in Europe, Israel and the United States. Bella is also becoming more involved in racing and can often be found riding around Italy's many racetracks, competing in the Italian Hill Climbing Championship or trying her hand at flat track racing.
"From riding to writing, designing, sketching painting, racing and building, I dedicate my life to all things motorcycling, with an endless curiosity and a whole lot of creative sparks flying around!"
For the Pertolettes Wrench-Off project, Bella chose the new Royal Enfield Continental GT 650 as her starting point. Her 'Gungnir' project took inspiration from classic racing motorcycles which is evident in the bike's bodywork and race-focused configuration. As for styling, Bella has applied Norse inspired symbols and decorations to the 650 twins engine and bodywork. Engraved into the engine cases are historically accurate Viking symbols and the bodywork is divided by a runic racing stripe by Lucky 7 Verniciatura of Bologna. The name 'Gungnir' is a reference to the spear carried by the Norse mythological god Odin.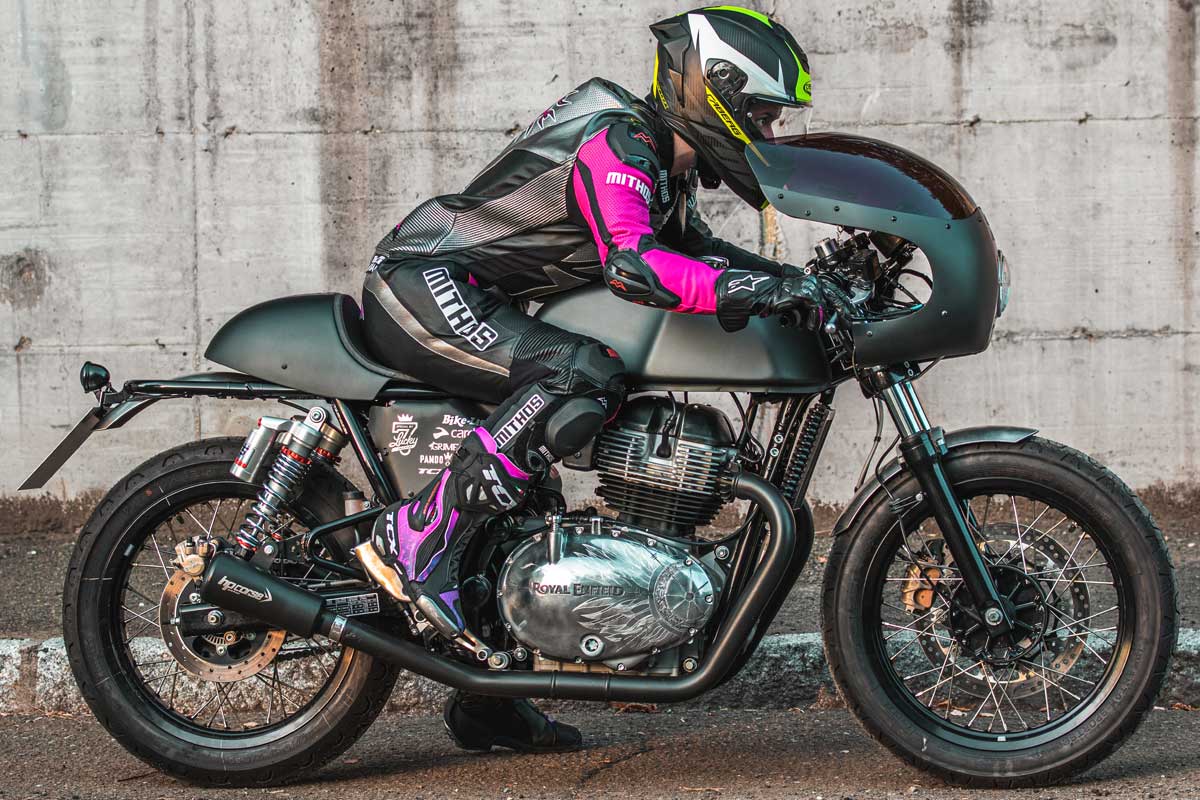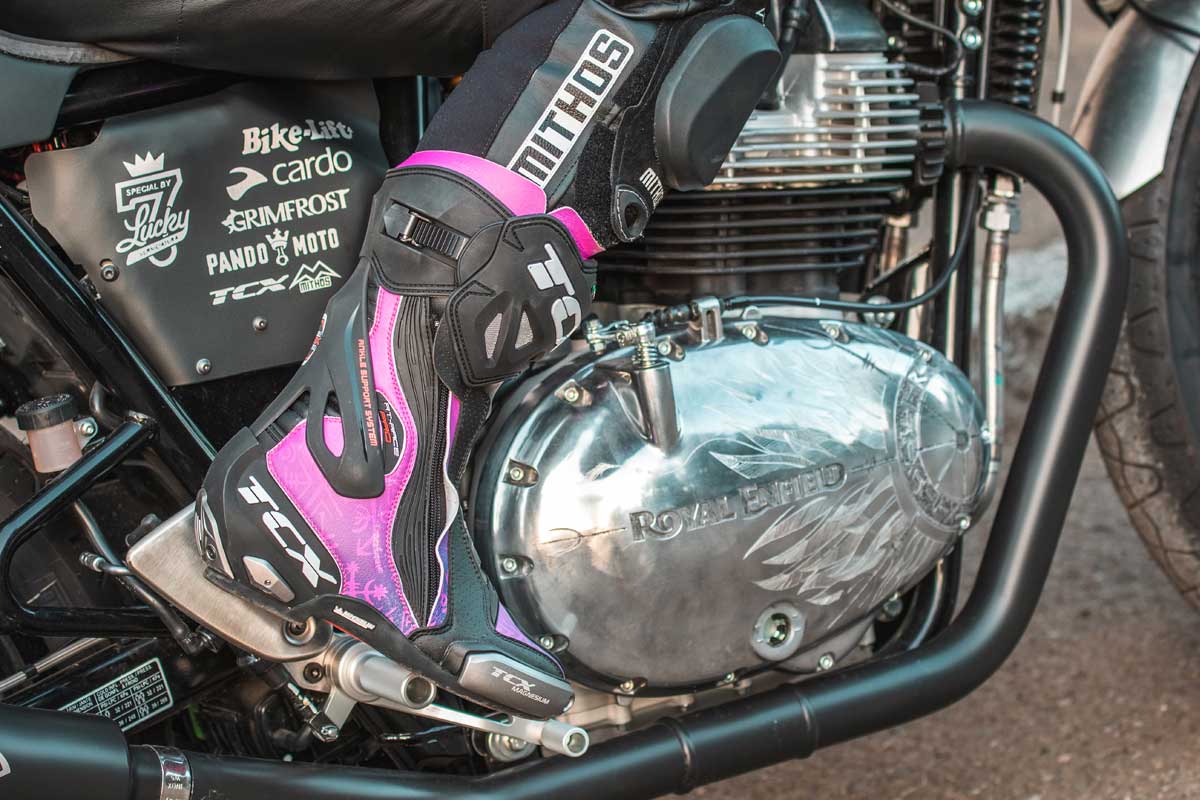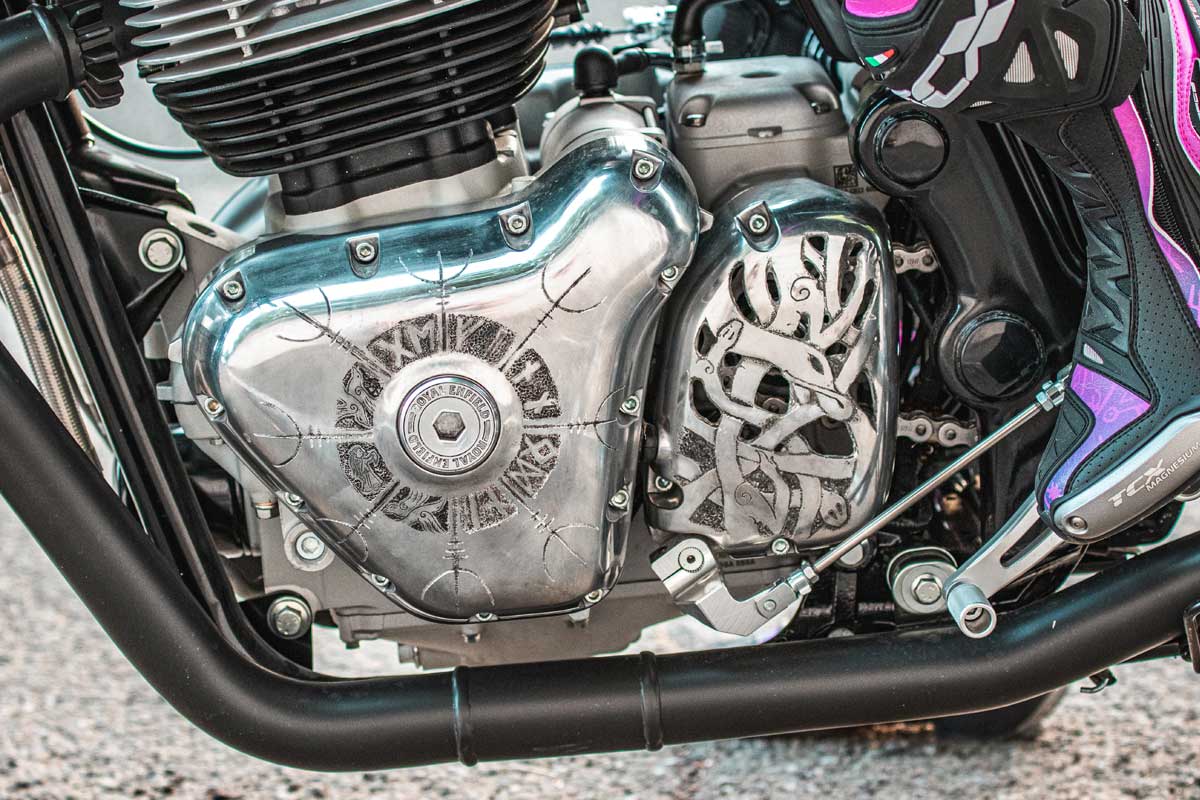 The builder says, "The bike was fitted with old-timer fibreglass fairings. I adapted them to fit the Royal Enfield 650 twin proportions and mounted them using self-fabricated brackets. The rear suspension has been switched out for one-off, custom race-spec units from YSS. The rear set footpegs are prototypes by Pivant while HPcorse GP07 silencers have been fitted to ceramic-coated black headers. On the front of the bike, black billet clipons host a quick action throttle and Messner Moto switches (mirrors coming soon).
The front and rear mudguards are made by Jadus Motorcycle Parts from raw aluminium. I fabricated the side panels entirely by myself and they carry the names and logos of the partners who provided their invaluable support for this project. Furthermore, a custom racing suit and boots that match the colour scheme have been created by Mithos Sport and TCX boots. My custom Royal Enfield 650 twin will also feature a Power Tronic ECU unit, Healtech quick shifter and custom 3D printed air filters for its racing debut at Glemseck 101."
Follow team Italy at @thebella.lit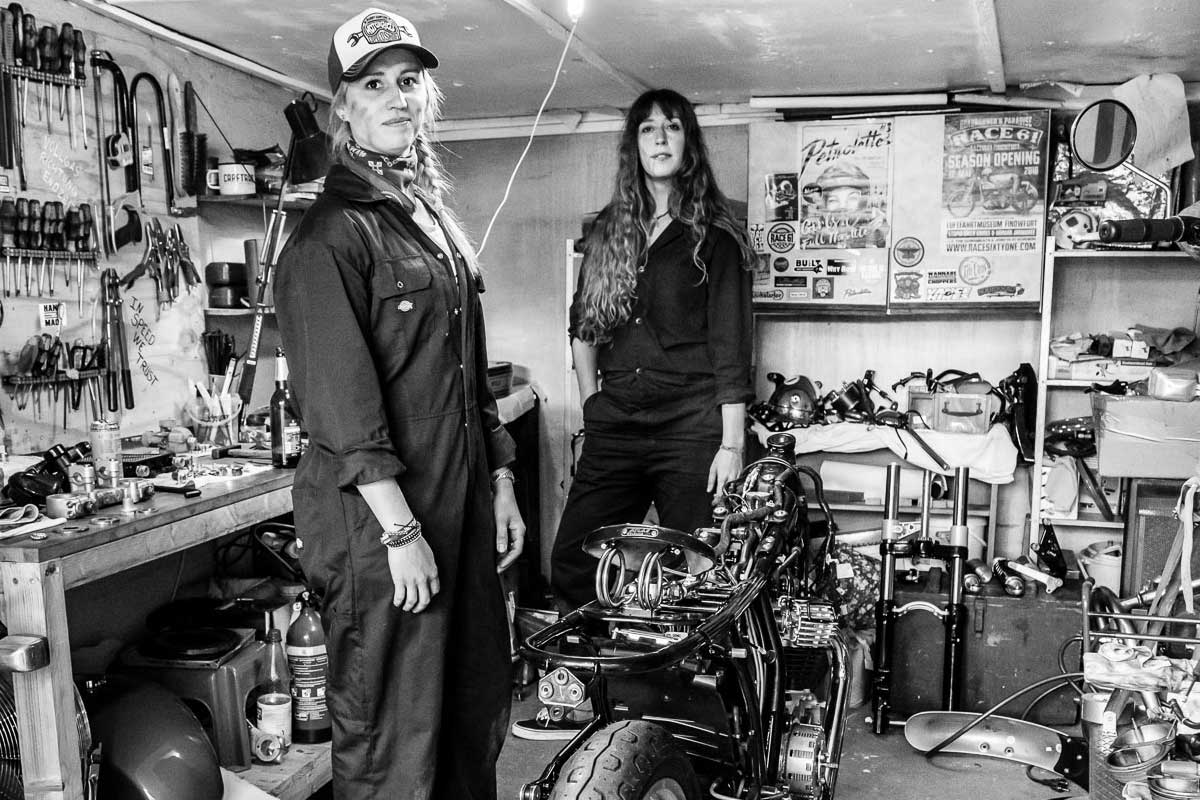 Team Germany – Christie & Melanie's 650 Twin
Team Germany is made up of the talented mechanic Melanie Weier and traveller/philosopher Christie Anne Cecelia. The pair met at Petrolettes motorcycle festival in 2017 and since then have played a big part of Petrolettes team. Born and raised in Berlin Mel s a state-certified technical engineer and since 2014 works as a quality specialist in mechanical production for BMW in Berlin. Her knowledge and skills form the technical aspect of their team. Christie is a New Yorker who settled in Berlin after completing a degree in philosophy. She is a free spirit who lives for riding her vintage enduro and immersing herself in the great outdoors. Her experience as a rider of countless different bikes through all kinds of terrain makes her the perfect pilot for their Petrolettes Wrench-Off project.
"Two rebel hearts who thrive on freedom and the open road, we want to share our passion and do what we love; to be forever inspired and ready for the next adventure. Life is about enjoying the ride."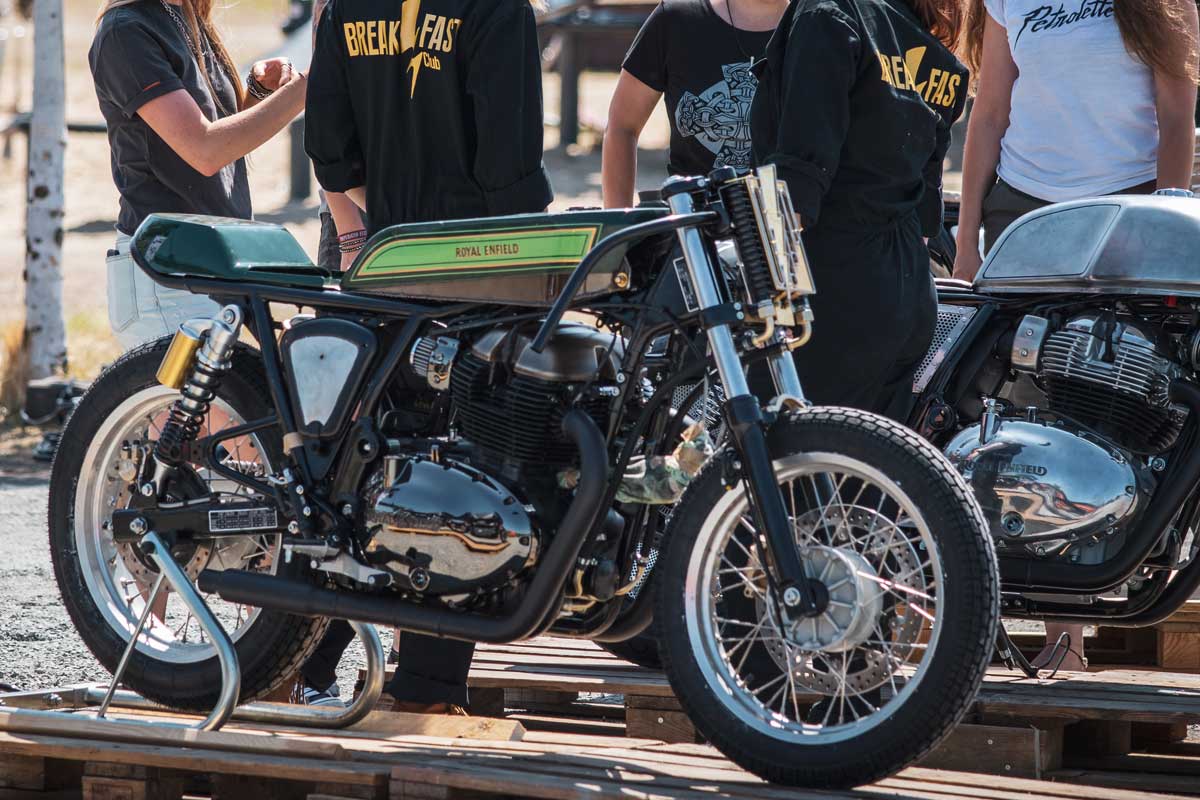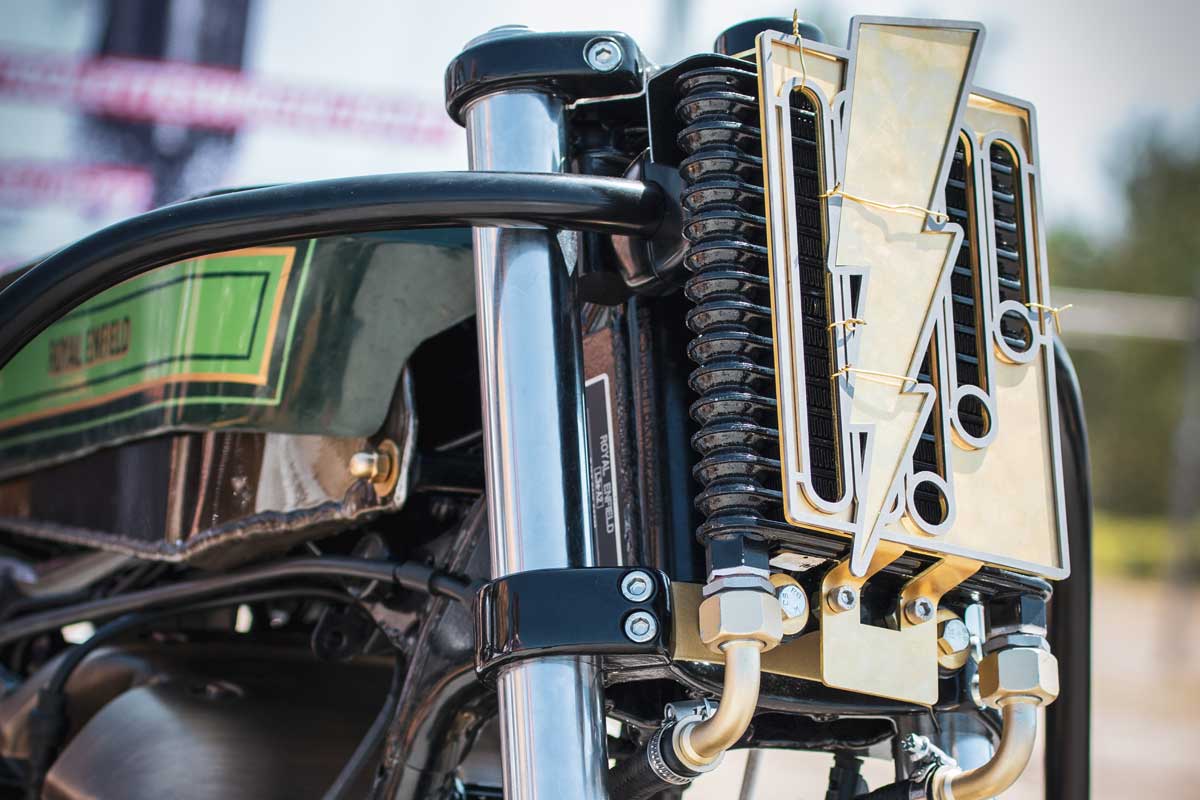 The builders say, "Our custom Royal Enfield 650 Twin Interceptor centres around technical strength and utility, with simple elegance. Form follows function. i.e. no shiny stuff! Its old meets modern design.
It all started with a long, slim vintage Royal Enfield tank we found online – the colour and style of this tank swayed the rest of our design decisions. To make this bike fast and furious we decided to place the footpegs towards the rear and placed the steering down and fitted racing tires. This gives it the look and riding style of a land speed racer. We then moved the oil cooler in front of the forks. A lot of work was put into the smaller details and modifications to achieve this result."
Follow team Germany at @deliteindisorder / @mel.o_dramatisch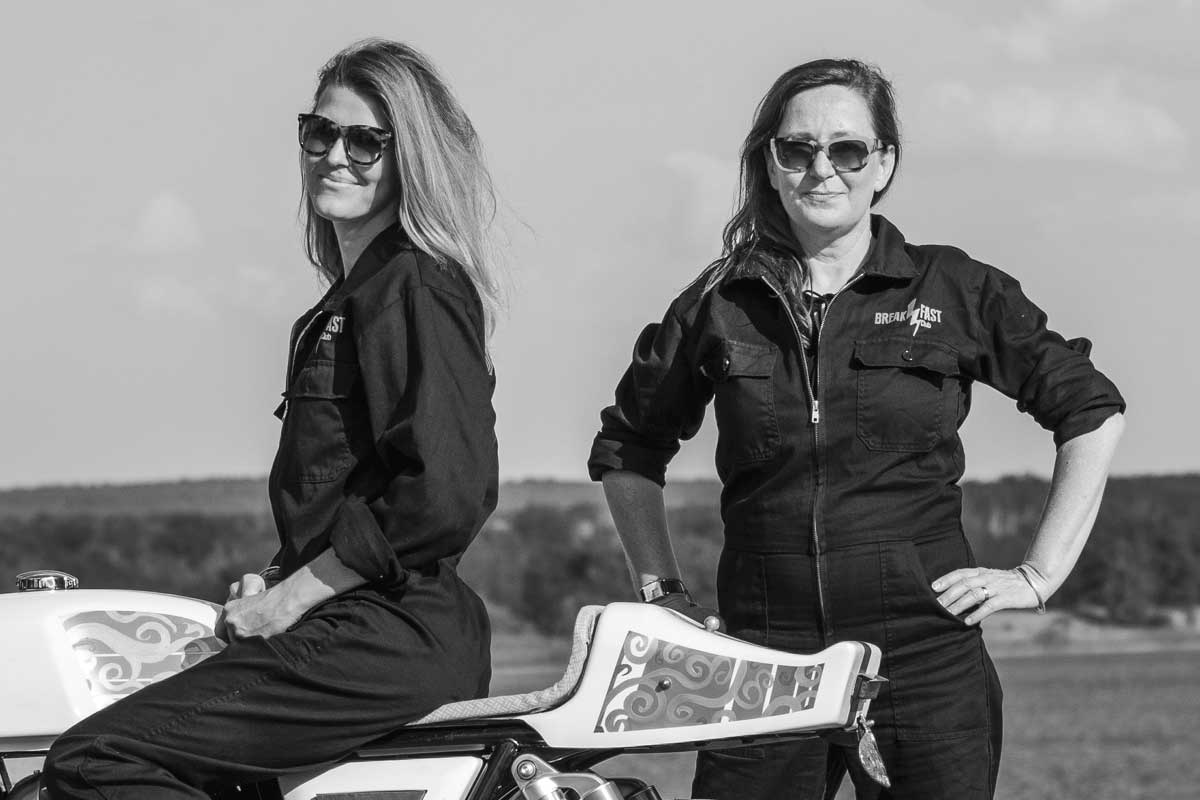 Team Austria – Patricia & Lill 'The Breakfast Club Twin'
Patricia Kafka and Lill Bonne de Ville met on a ride-out through the Alps. It was the beginning of a beautiful friendship and the beginning of 'The Break Fast Club' – a collective of thirteen female riders from Vienna. Patricia is a motorcycle enthusiast, dirt bike lover, and sports equipment technology teacher, along with being a new mom. She started riding young has always been active in the motorcycle community.
Lill has been riding for 10 years and has solo-travelled several continents on two wheels. Her most recent journey brought her to Australia, where she rode a Royal Enfield down the countries eastern coast. For her, meeting other female riders from all over the world is an important aspect of her riding life.
"We seize any opportunity to ride. We respect the diversity of the different kinds of motorcycles and how they challenge us, just like people. But it's easier if you have a thing in common: like the passion for bikes!"
Lil and Patricia's custom Royal Enfield 650 Twin project was heavily influenced by their home town of Vienna. The city is abound with historical architecture and artwork and is surrounded by postcard-perfect mountainscapes. In particular, it was the Jugendstil styles found throughout Vienna that guided their build.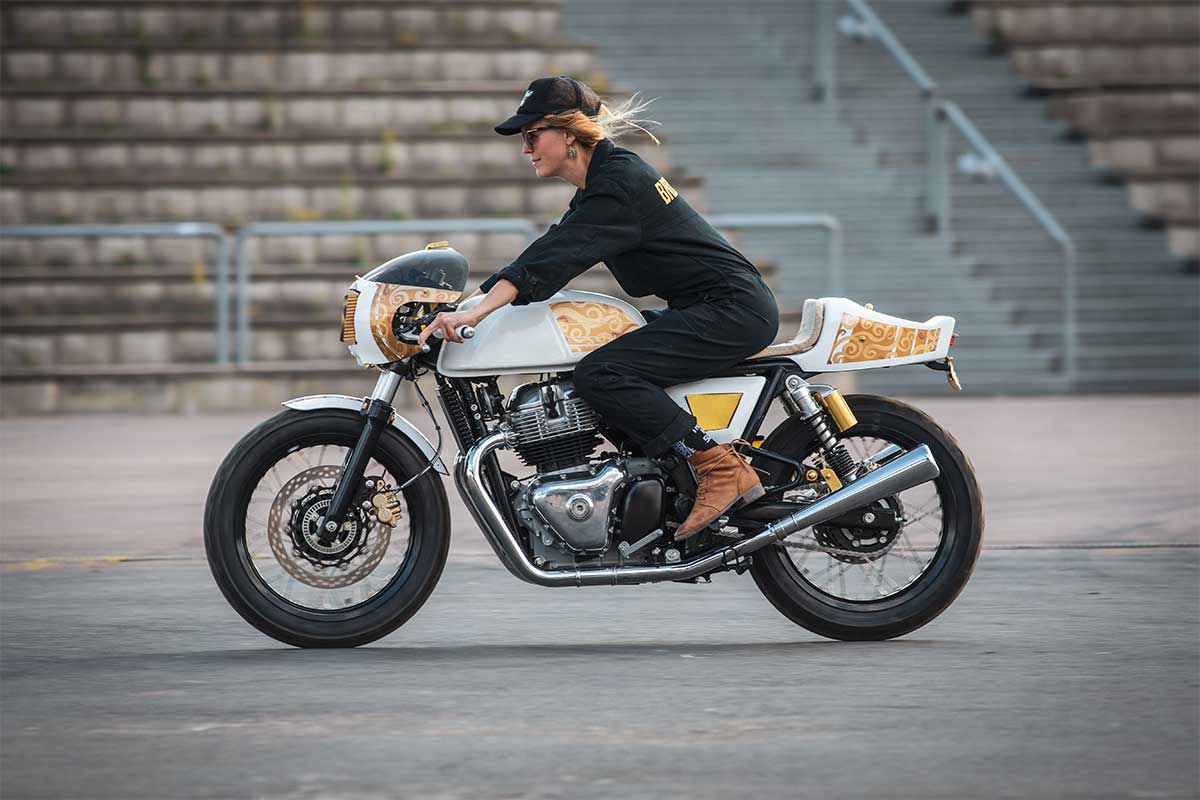 The builders say, "We brought things into our Royal Enfield 650 Twin design that we like without going too mainstream or using clichéd custom trends. We used our own interpretation of a fairing and a very different rear unit to enhance and slim the Enfield's lines. The bike was also lowered and the air intake opened to match the racing cans from AJS. We like to be square, that's why we decided to mount a rectangular light sticking out the small round fairing."
Follow team Austria at @breakfastclub_moto / @patricia.kafka / @lillbonnedeville
Team Sweden – Ida & 'The Dot'
Ida Olsson was bitten by the motorcycle bug at a young age. She would explore the Swedish countryside on her Puch Dakot and build dirt tracks in the forest with her brother. The garage of their family home was filled with both 4 and 2 wheeled vehicles. For her 16th birthday, Ida was given a scooter and her passion for two-wheeled travel has continued to grow ever since.
"I have always loved to create things. I like playing around with ideas and seeing how I can adapt things I've seen. That's the cool thing about customizing – you can build a motorcycle just the way you really want it."
Four years ago after the purchase of a Harley Davidson Nightster Ida started customising and hasn't stopped since. Along with tinkering with bikes, she lays her moto-inspired artwork on helmets, collects vintage bike gear and writes about her adventures on her website.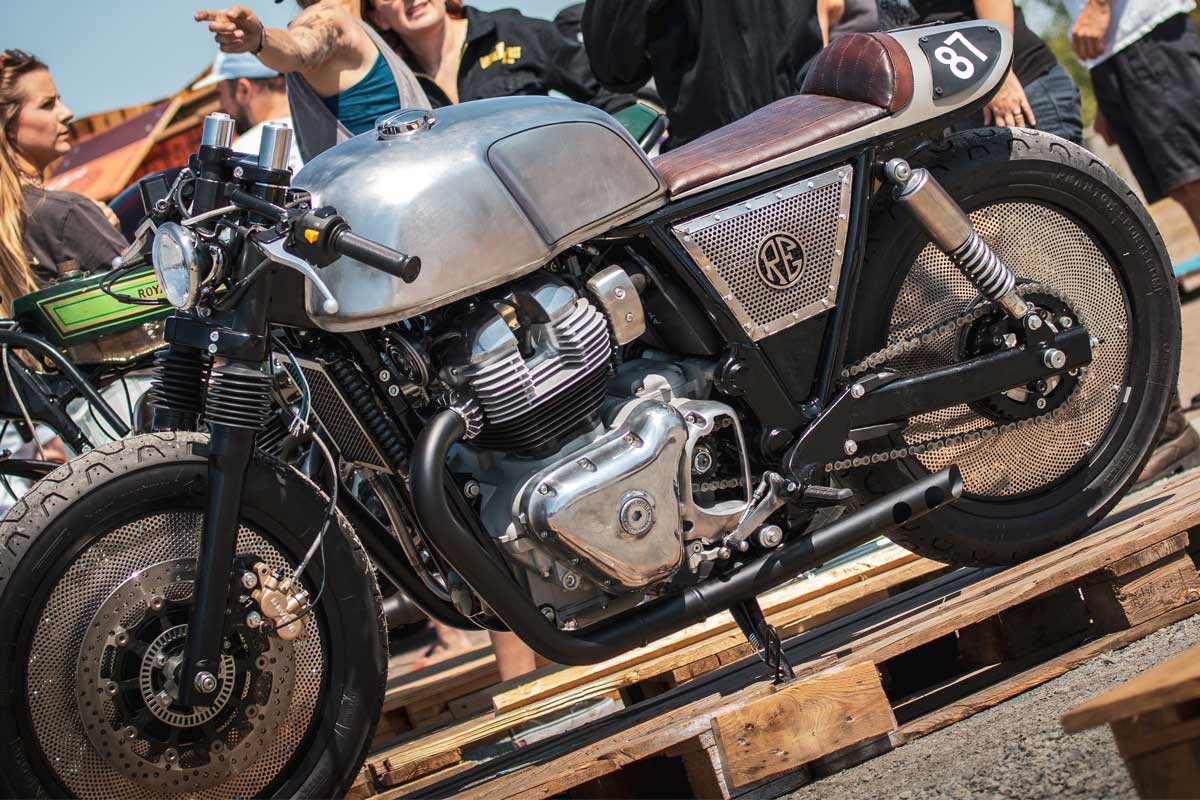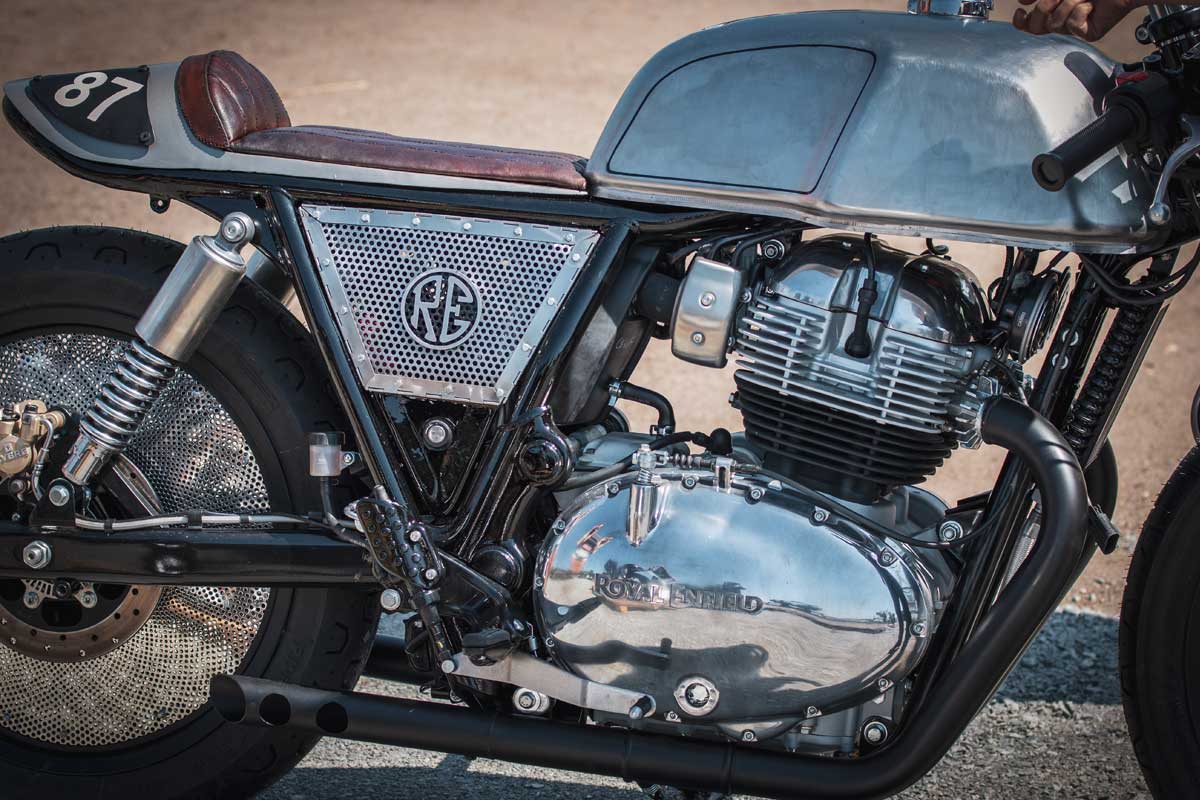 The builder says, "My custom Royal Enfield 650 Twin is retro-looking, rough and ready cafe racer. I wanted to create a bike that looked like an old motorcycle that was a bit rough around the edges. Brushed steel is one of my favourite things, the unfinished surface makes it intriguing to look at. I have lowered the bike to streamline its stance and customised the wheel covers, side covers and changed the rear end. My Enfield wears the number "87" which is the year I was born. I also made the seat by hand without a sewing machine."
Follow team Sweden at @idaliol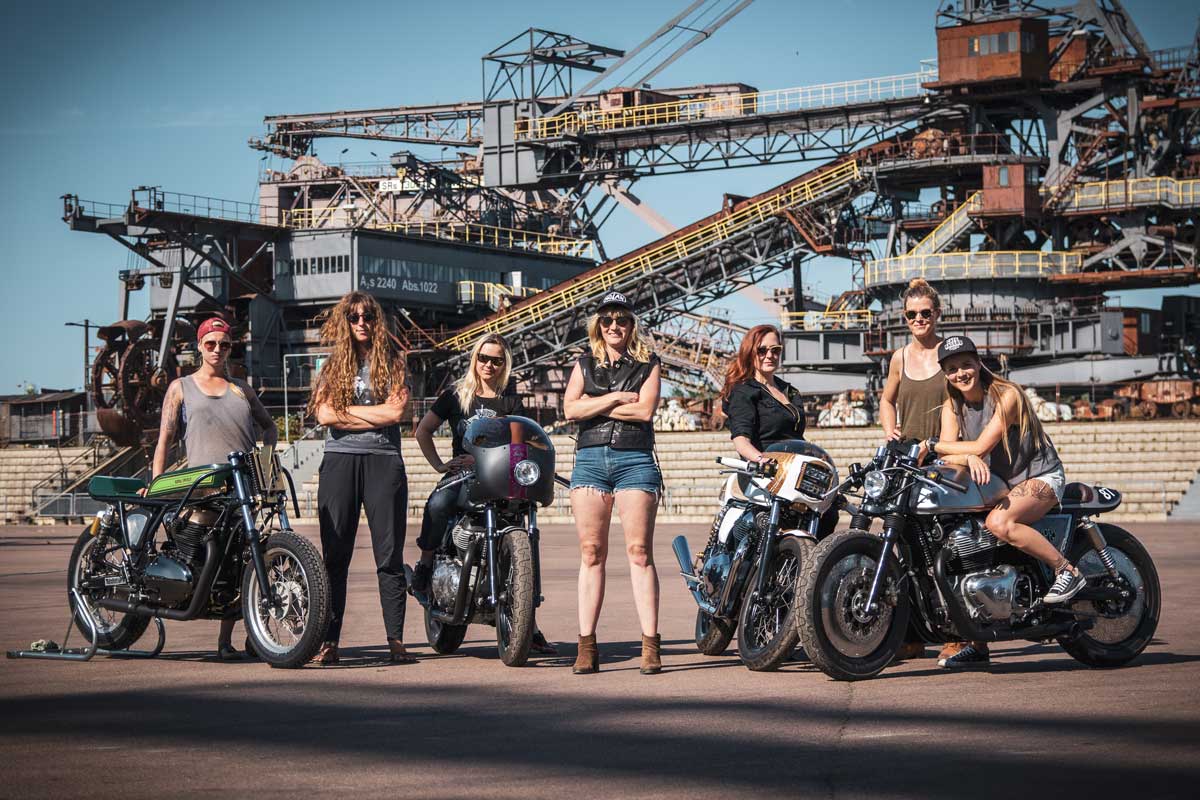 Glemseck 101 Royal Enfield 650 Twin Wrench Off
All 4 of the Wrench Off Royal Enfield 650 twin builds are now being finalised for Germany's Glemseck 101 festival. On September 1st they will compete in the renowned 1/8 miles sprint races to decide a performance champion. The public will then vote to choose which bike will take home the Petrolettes Wrench Off people's choice award. I know which bike I'd choose, but we'll just have to wait and see which of these talented women will go home the Wrench Off champion.
Special thanks to Bella Lit   /   Photography by Idan Greenberg