…oh, you're still here? Well, I guess I should elaborate.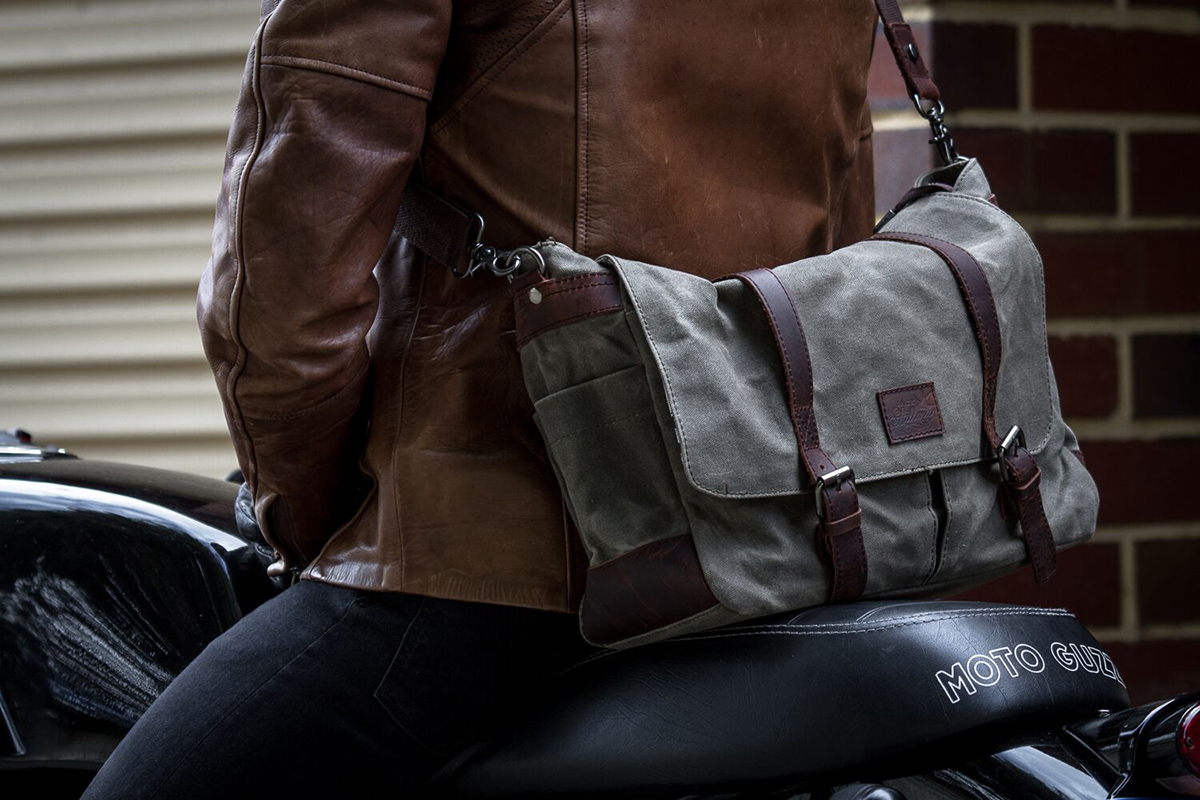 Jarrod Stillman is a man on a mission. His brand, Jack Stillman, is named after his grandfather, who sadly passed away in 2004. Abrupt life changes saw Jarrod fall back on to his creative skills and in 2013 the brand was formed on the principles personified by his much-loved grandad. "My Grandfather and father taught me what it means to be a man in Australia; to take responsibility, to be honest, to work until the job's done." So, when I was given the opportunity to test out his Commodore waxed canvas messenger bag I decided to start my research at the source by interviewing the man himself.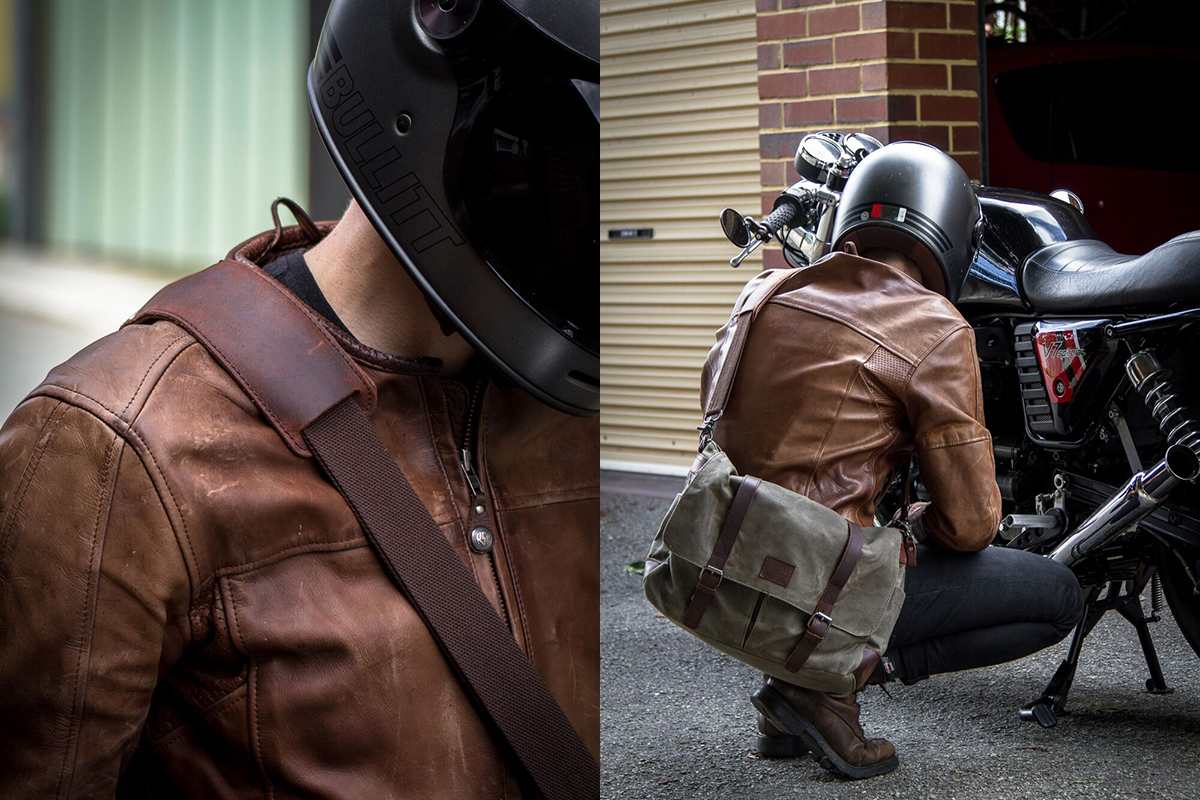 "I think my love of bags comes from my experience as a soldier," Jarrod says. "When you've carried your house on your back for a while you learn to appreciate practical, well-designed bags. I was in the Australian army in the late 80's so I remember using the old Vietnam-era green backpacks that were as small as they were uncomfortable. The Jack Stillman collection was inspired by my search for wearable storage gear that is practical and comfortable, but still stylish. I wanted mod cons with pre-WW2 nostalgia. The design was borrowed from a few bags I've owned and sold. It's a basic shape, but has some handy features included to make it a tad more exciting such as the leather belts, discreet side pockets and a removable and reversible strap."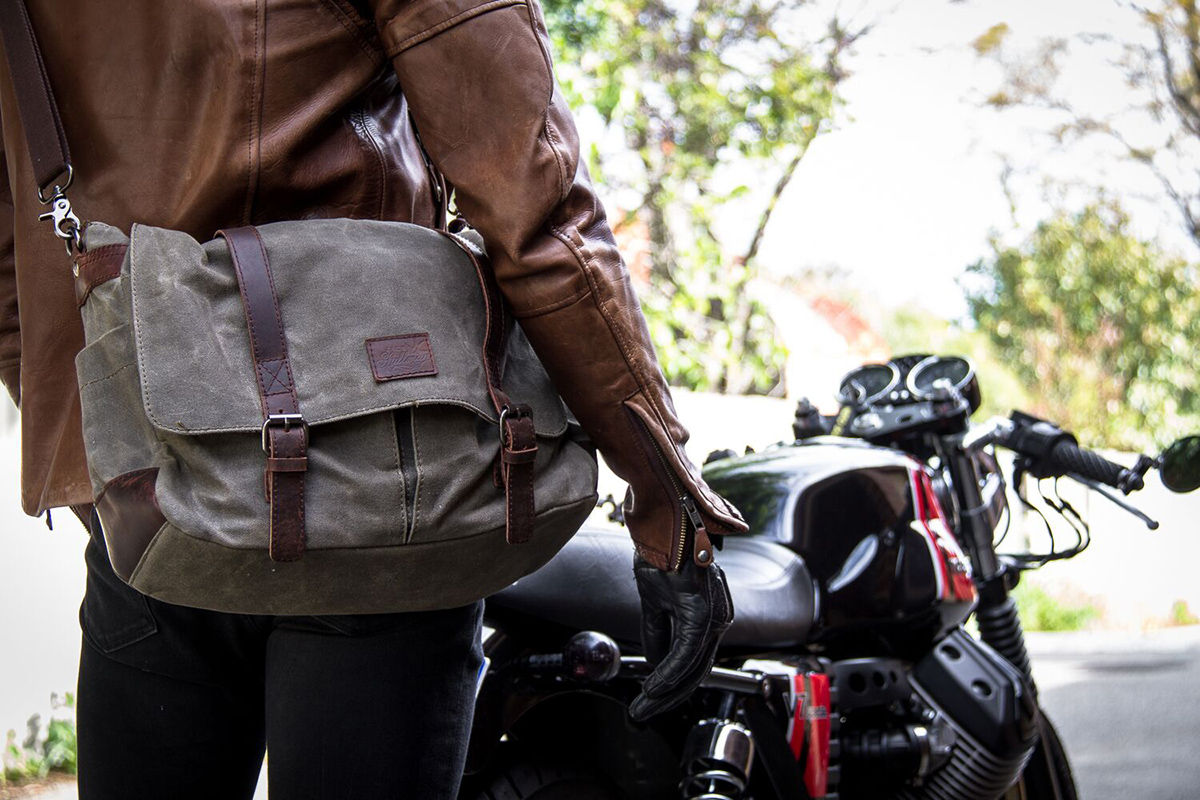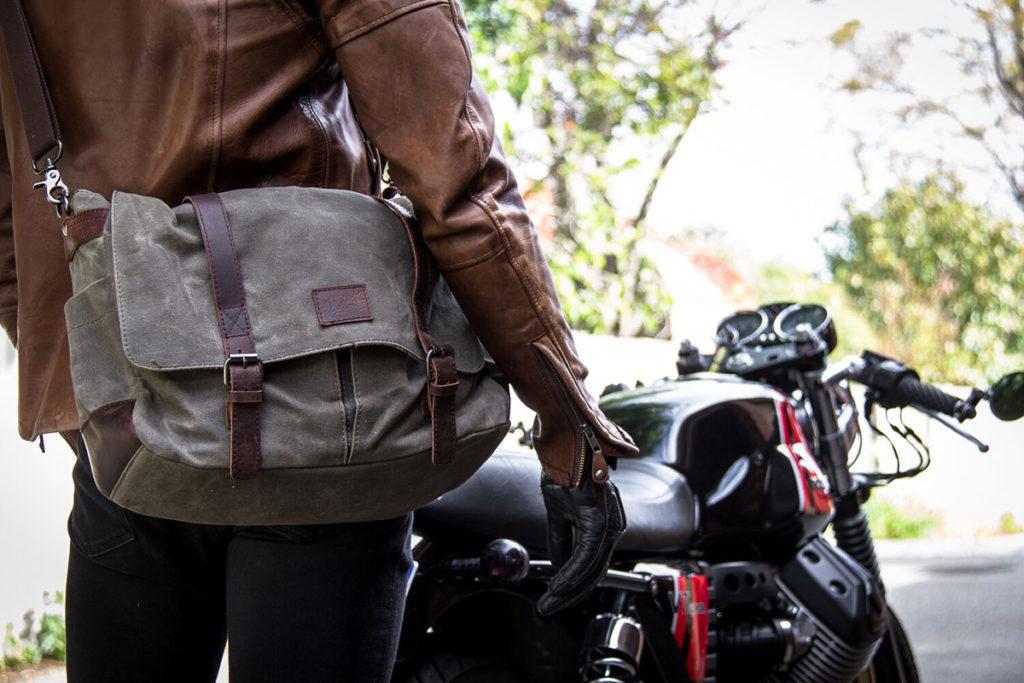 The exterior of the Commodore is one of the features of the bag that I like most of all. It's durable and full of character. It welcomes scuffs and scratches in the name of personalization. Every mark and nick on the canvas adds gritty character and tells a story of where you've been and the things you've done. The leather accents, strap and quality fasteners add a little more durability to an already solid bit of kit.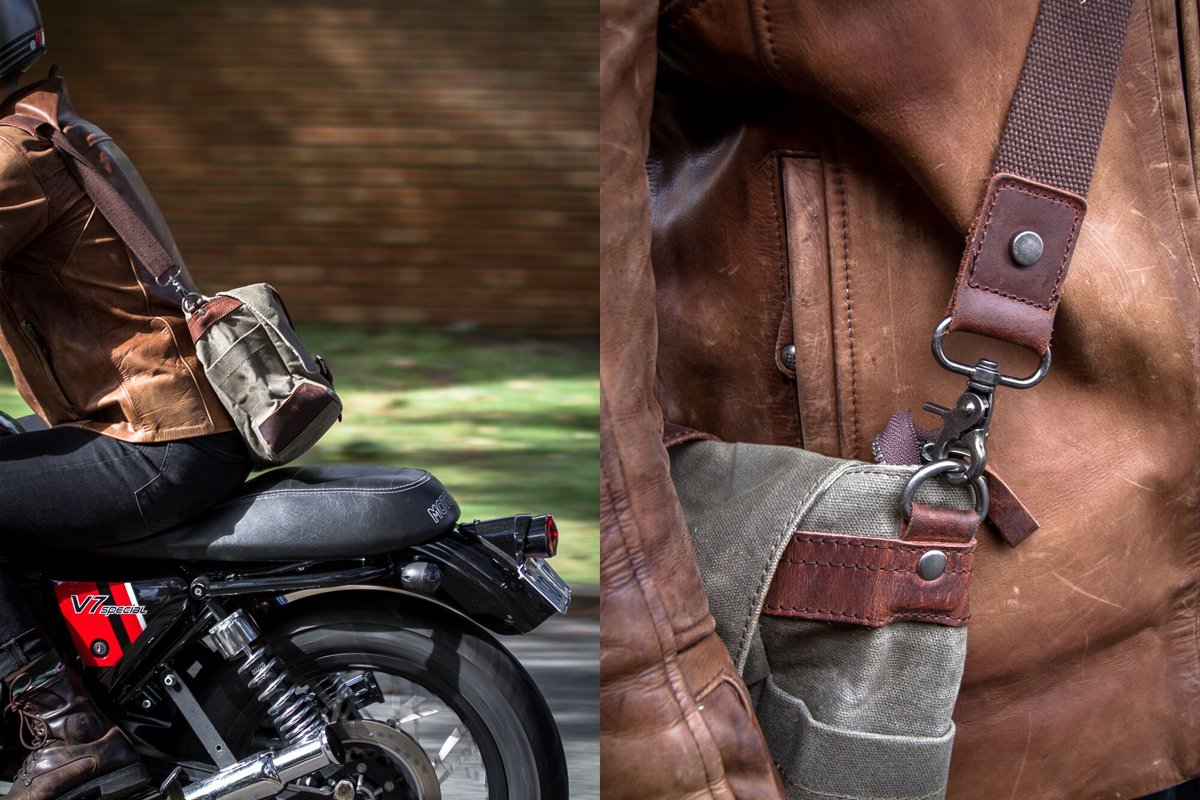 Another thing I like about the Commodore is that it can fit a lot more inside than you might think. Every day I carry what seems like half a kitchen's worth of appliances and Tupperware, but I still manage to squeeze everything in. The bag's flap is secured with two magnetic snaps on adjustable leather belts and there's a sturdy zip for the main compartment, to keep things extra secure. Inside you'll find two pockets stitched into the liner, perfect for pens, chargers, thumb drives etc and there's also a large padded pocket at the back that's big enough to hold a 16" laptop. Then, if that wasn't enough, there's an additional zippered valuables pocket. There are also two handy pockets on the outside of the bag which sit under the flap and are perfect for sunglasses, wallets, gloves, etc. If you need a place to store your keys there's a tiny brass loop to attach a key ring or chain – it's so small it literally took me two months to even notice it was there. The bag strap is removable, fully adjustable and comes with a very fancy leather shoulder pad. Thrown over a motorcycle jacket or just over a t-shirt, it's very comfortable.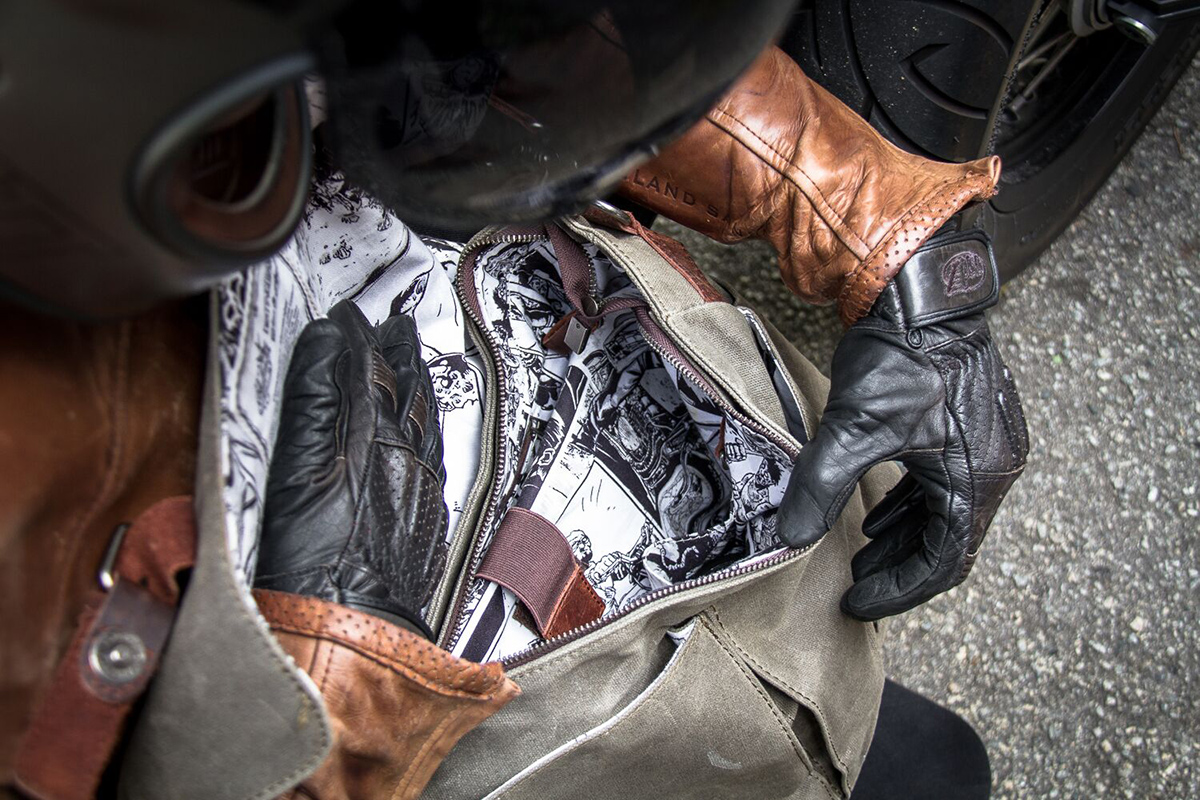 And what's that on the inside I hear you asking? Well…
"The Comic book liner is pure indulgence on my part. It comes from a short story comic book I wrote for fun called Dead Gauntlet. I am a creative at heart and love illustrations. Dead Gauntlet would get an R rating for violence so combining the stark black and white drawings of Juan P Massa into the liner of this bag is exactly the kind of disruptive rat baggery I want to be known for. Some people may be offended, but those that get it love it. Ultimately it adds an element of cool to the finished bag…" Personally, the liner is one of the things that I love about the Commodore. Every time I flip it open I seem to find another little detail that I didn't notice before.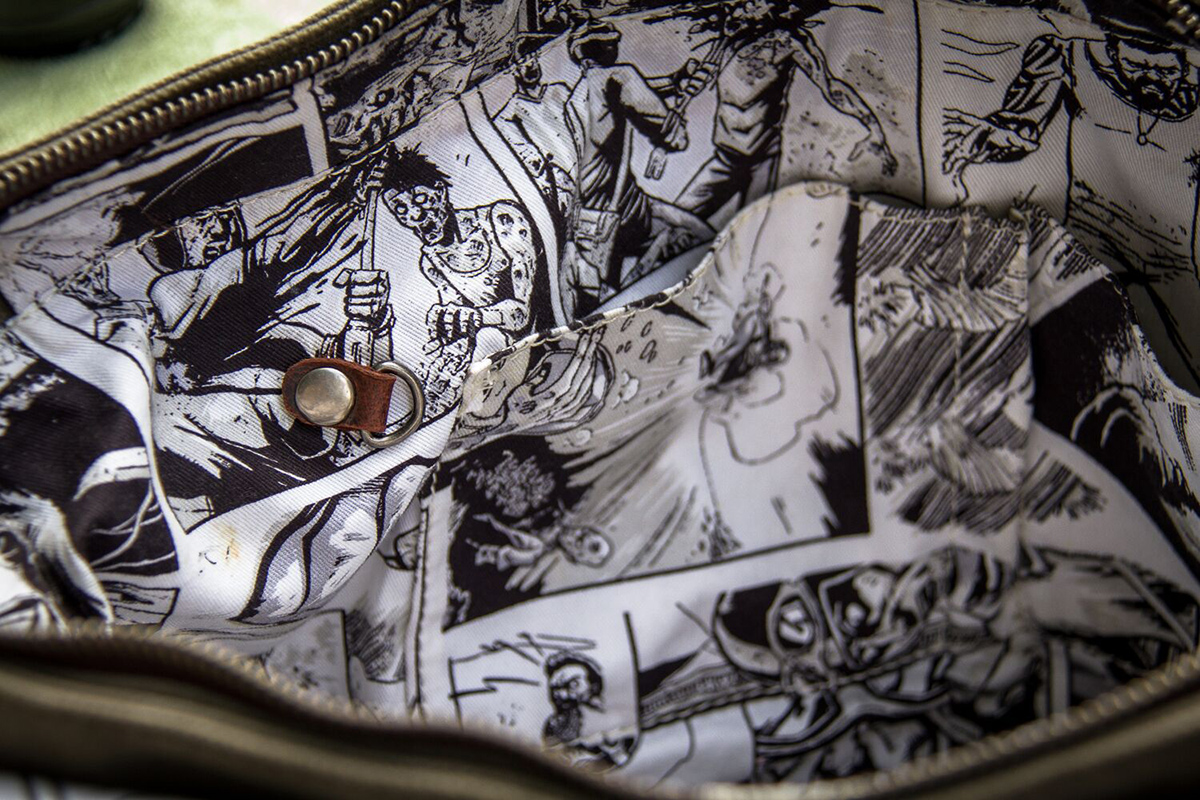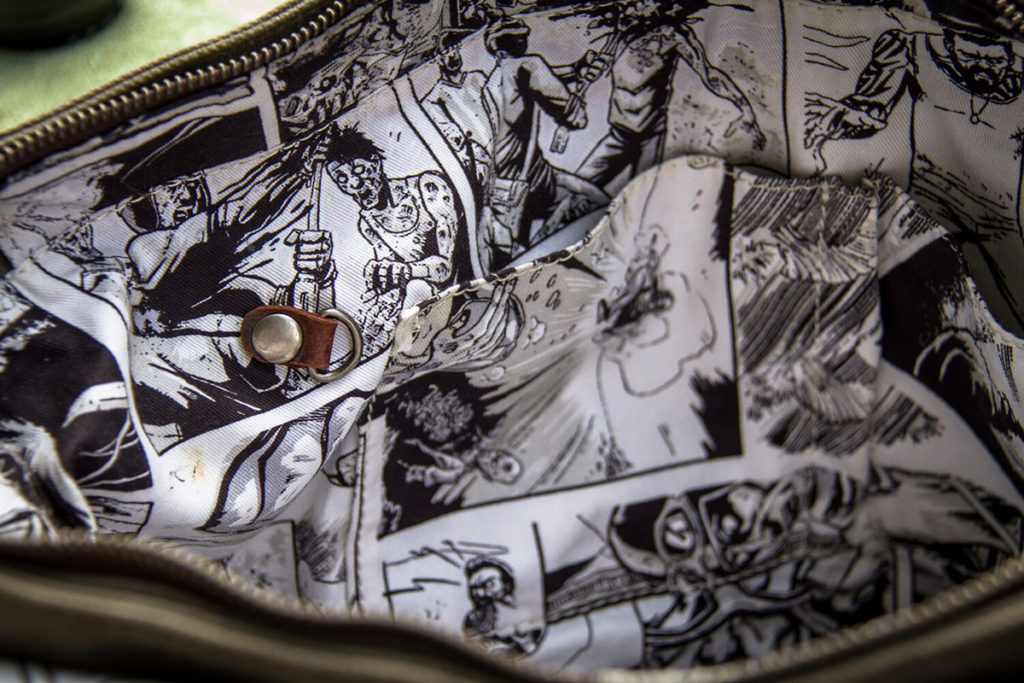 Now I know you're all thinking that there must be bad points and yes, I have a few, very minor nitpicks. First thing is that the liner isn't wholly secured to the exterior. This makes the inside appear a little saggy/baggy and if you tend to carry tiny, itsy bitsy things then they might get lost in the liner from time to time. Secondly, I know that magnetic snaps aren't to everyone's liking and there's the argument that if the magnets aren't strong enough the bag could fly open, especially if you're traveling at speed on a motorcycle. The magnets on my Commodore bag don't require Arnie strength to open them, but they're a lot more sturdy feeling compared to other bags I've owned, so I'm not sure if that's actually even a complaint!
Priced at $179 AUD with three color choices and a new liner option it is, in my opinion, damn good value, especially considering that it has the potential to last a lifetime. If a messenger style bag isn't what you're after make sure you check out the other bags in the Jack Stillman range as they appear to be just as well executed as the Commodore.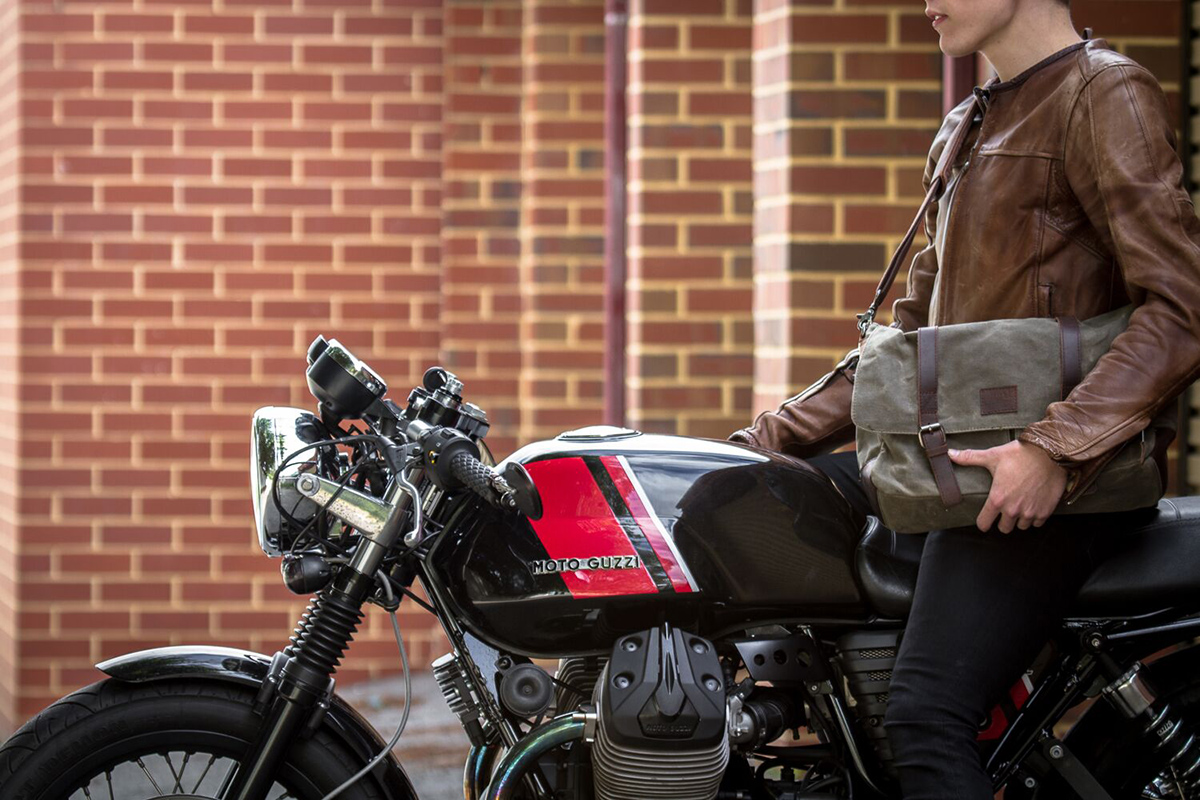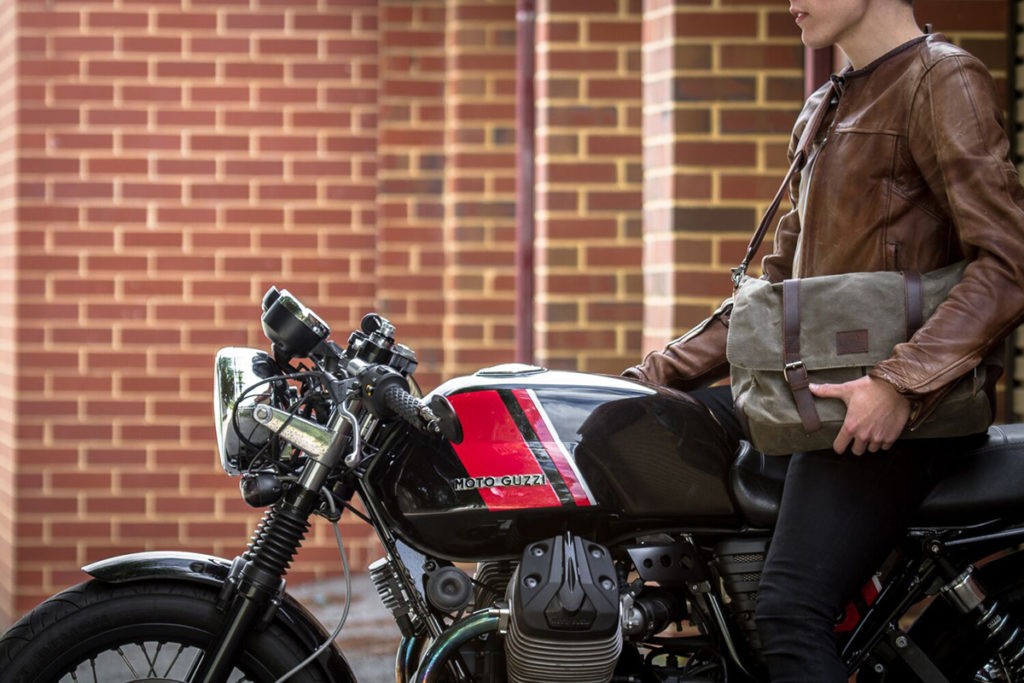 I think of bags kind of like jeans – once you're on to a good brand and fit you're set, at least until you inevitably wear them to death. But, trying to find a new one in this consumer world can turn what should be a pleasant experience into one riddled with trial and error, disappointment and regret.
Therefore it brings me great joy in being able to say that this Jack Stillman Commodore waxed cotton messenger is hands down one of THE best bags I have ever had the pleasure of owning. There you have it. You can stop reading now. Just go out and buy one, you can thank me later.