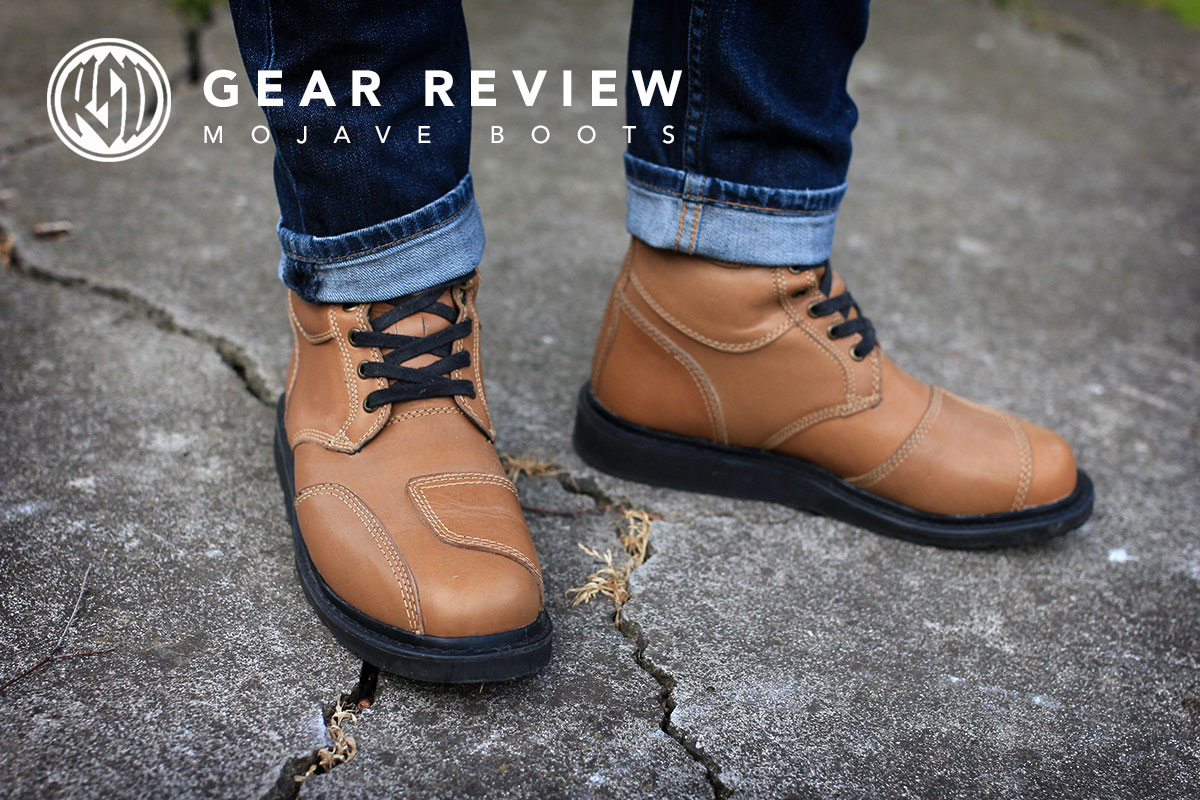 As I said the Mojave boot is Roland Sands Designs first foray into footwear and they've done a commendable job of it. Their line of riding gear has enjoyed great success, especially amongst the custom scene, and with the addition of footwear, you can now pretty much dress from head to toe in RSD apparel. Roland's a clever guy and his experience as a professional racer and regular rider means he has a great understanding of the safety aspects of gear along with the fashion and practicality side of things. The RSD Mojave boots are a perfect example of how he's blended form and function to produce this great looking footwear.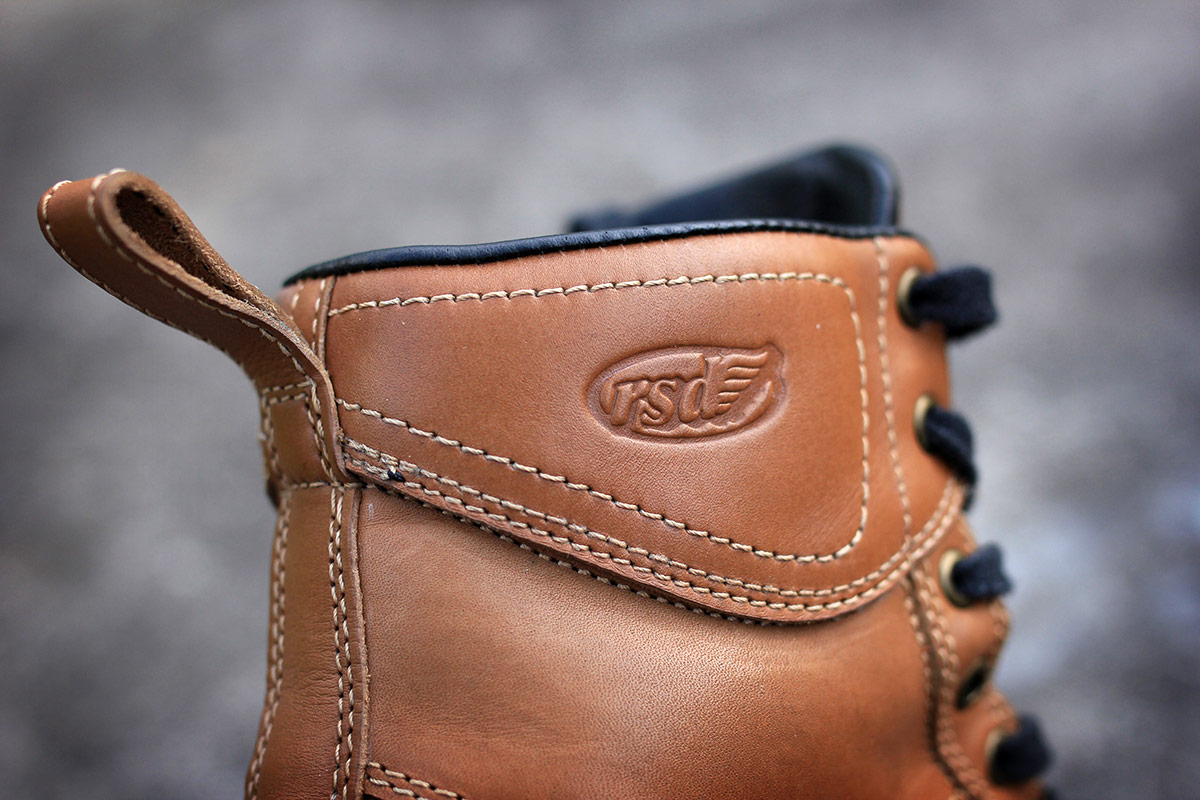 First impressions when the Mojave boots arrived were good. I pulled them from the box and they felt much sturdier than I was expecting. I had arranged for a set of the Whiskey Mojaves and the colour on the website was accurate. I gave the boots a quick once over and didn't find any imperfections or loose threads. I pulled the insole out of one of the boots to take a closer look at it after reading it was a special feature. RSD developed an innersole for the Mojave boot that uses a triple density foam for comfort and support and it's a rather cool looking, hidden feature.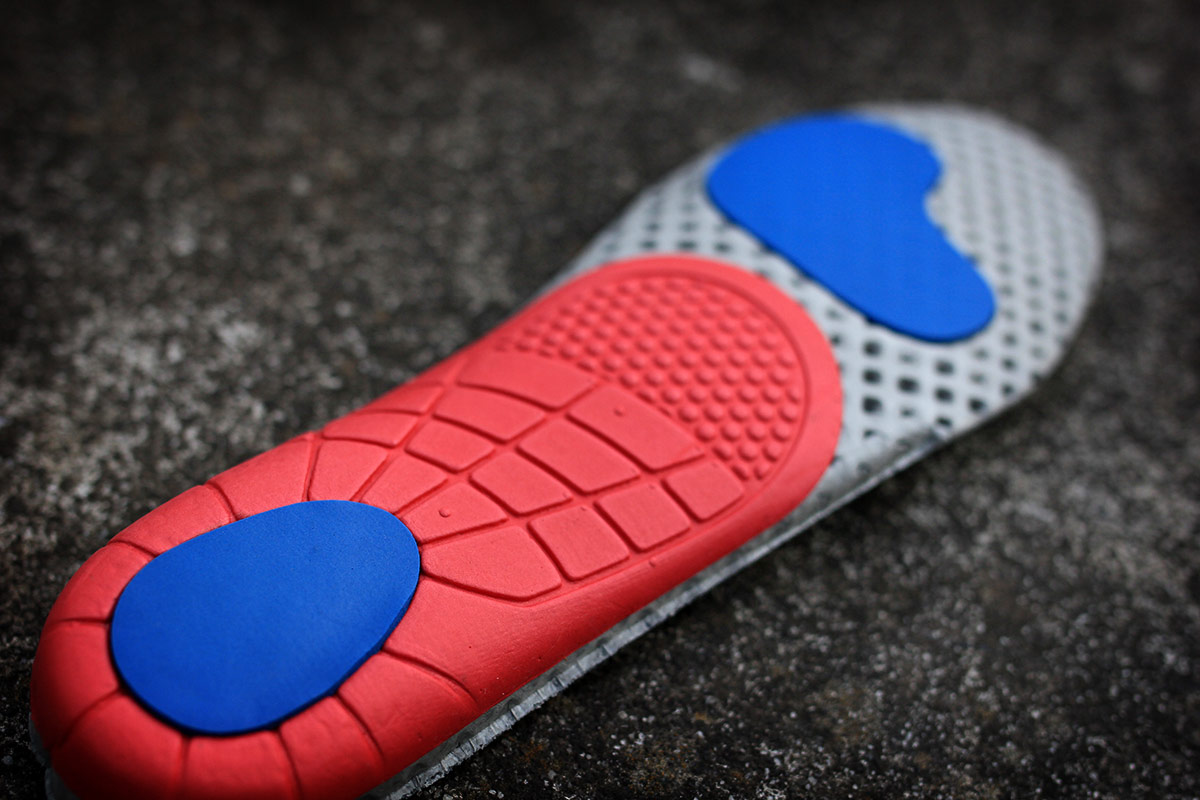 The exterior of the Mojave is constructed from 100% cowhide leather. To give the boots a symmetrical look they've sewn shift pads on to the left and right toes which also adds another layer of durability to help extend the boots lifespan. Built into the boot is an extensive use of armour to help keep your feet safe during a spill. There's a toe box, heel guard and ankle protectors on both the inside and outside of each foot along with an outer midfoot panel. In between the insole and the outsole RSD have also included a protective shank to protect the sole of your foot.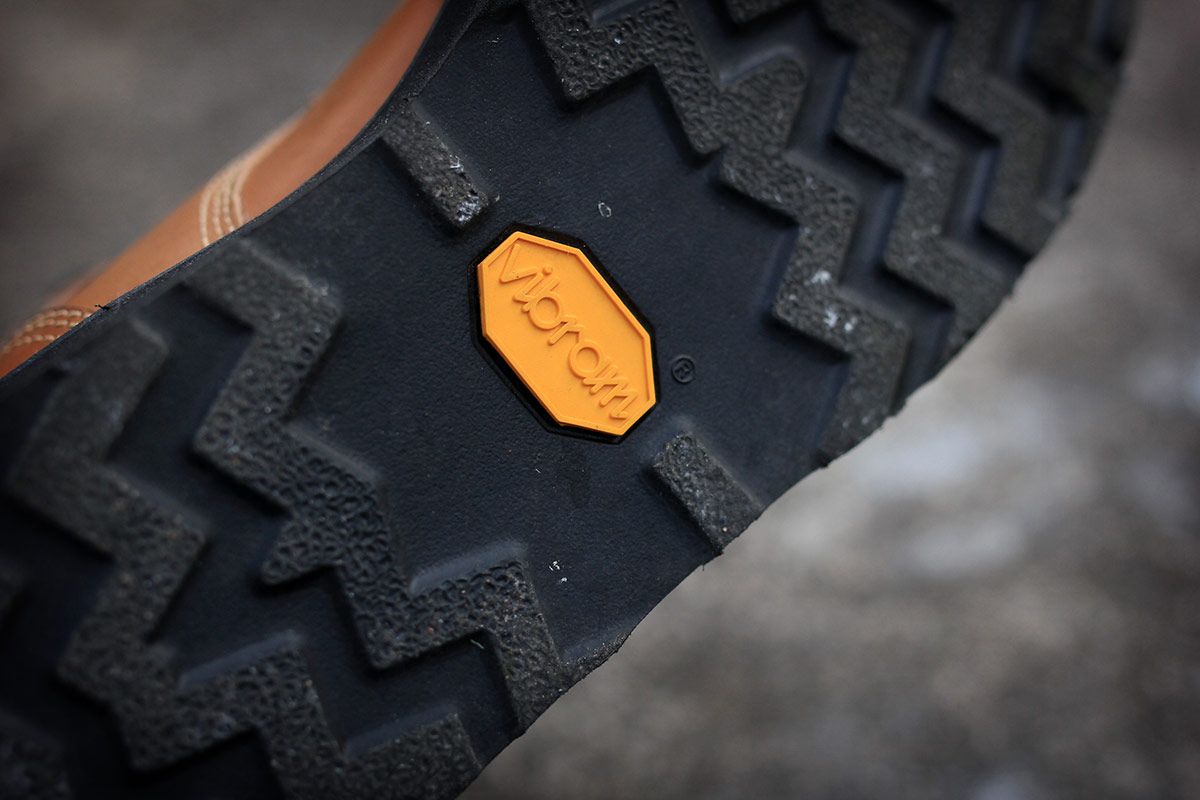 The sole itself is a collaboration with Italian manufacturer Vibram who specialise in rubber soles. The "hi-grip, oil and chemical resistant" sole is made from a spongy rubber that I found to be an interesting choice for a riding boot. Although it is stiffer than I expected I have already noted some wear from road scuffs. The grip is also rather shallow which leads me to think they could wear down fairly quickly, but there was no denying the companies hi-grip claim.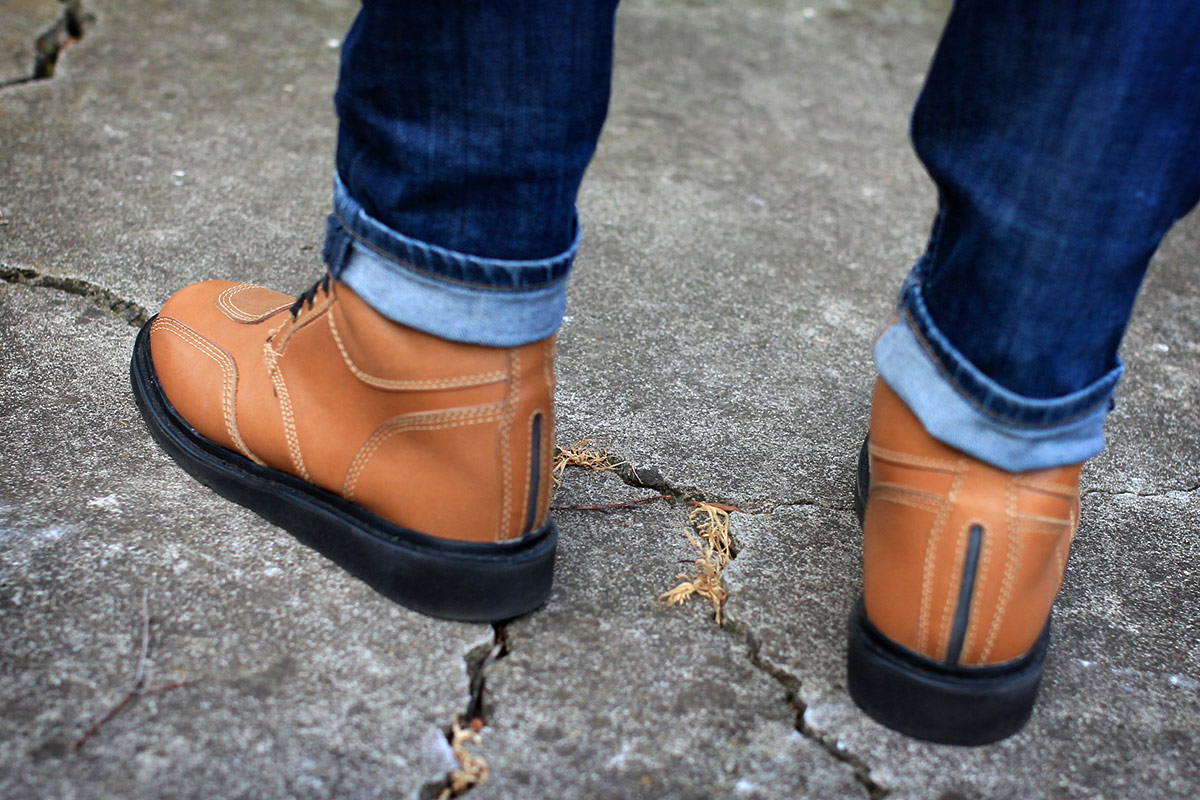 To keep your feet dry the boots have a 100% polyester moisture wicking lining and a Hipora waterproof lining to keep out the rain. The tongue of the boot is also gusseted for additional waterproofing. During my test I didn't have the chance to test out their waterproof claim, but judging by the construction I'd like to think they'd hold up well. The boots also come with a set of waxed laces that were unfortunately way too long. I tried several lacing styles to take up the slack, but was always left with enough excess lace to wrap around the boot and still be left with a huge bow. To me this rang a few safety alarm bells so I swapped them out for more appropriate pair I had lying around.
Getting the boots on and off has been my biggest gripe with the Mojaves. Due to the tongue being sewn in, the stiff leather and all the armour there's not a lot of give so you have to loosen the laces all the way down and be seated to get your feet in and out. I'd expect over time this will get a bit easier. The leather and sole are also rather stiff so movement is a bit clumsy at first and I found on some bikes I really needed to get my foot down low to hook it under the shifter. After the initial wear in period I've found the boots to be very comfortable and have happily worn them all day several times. They look great with denim and I'm expecting them to develop a great patina as I continue to wear them in.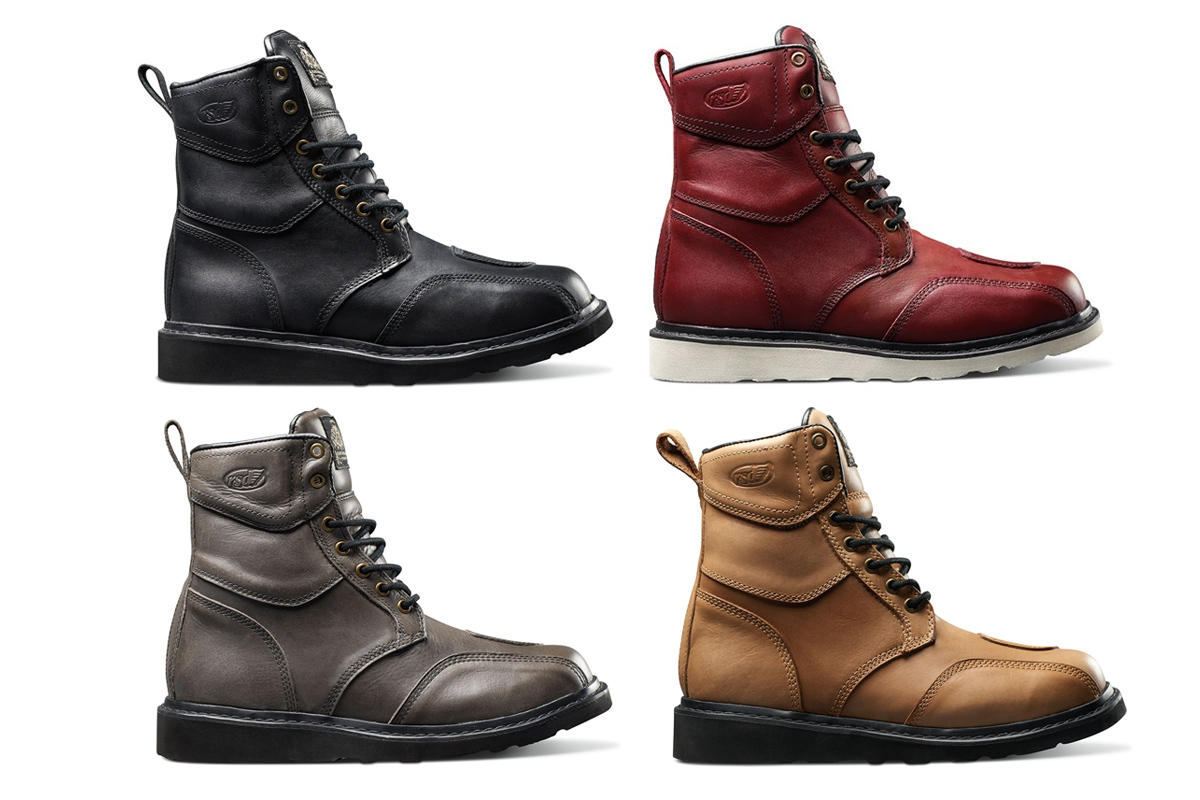 The Roland Sands Designs Mojave boots are available in black, grey, oxblood & whiskey colorways and retail for $300.00USD. The price tag may be a bit high for some, but if you get a chance to hold a pair it's easy to see where the value lies. With a first release as solid as these I'm looking forward to seeing what RSD have in store for us next.

THE BAD:
Excessively long laces
Sole wearing after limited use
Difficult to pull on and off
THE GOOD:
Quality construction
Loads of protection
Look great on and off the bike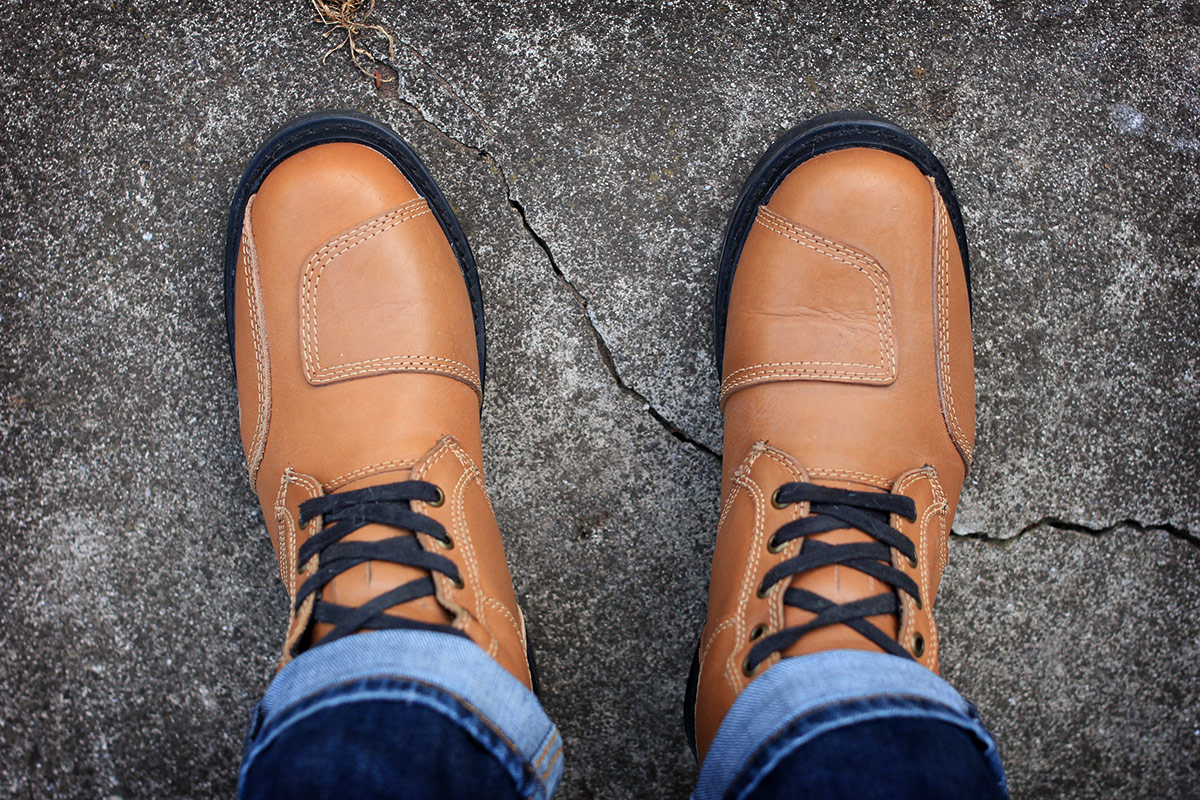 I'm a daily motorcycle commuter, so when it comes to
riding gear
I always look for items that are suitable for wearing on and off the bike. That means no obnoxious branding and nothing that makes me look as though I've just rolled off a race track. Thankfully over the past few years finding gear that fits this brief has become a much simpler task. Take for instance the range of gear from Roland Sands Designs. Under Roland's guidance the company has excelled in creating gear that looks great and offers all the protection you want. Recently RSD announced they had expanded their offering to include footwear so I thought I'd take a closer look at their new Mojave
motorcycle boots
.