This year EICMA celebrated the 70th instalment of the International Motorcycle Exhibition and as always it attracted some of Europe's best builders showing off their latest custom motorcycle creations. One bike which generated a huge amount of interest at the show was from Italian workshop Officine GP Designs. Using an MV Agusta Brutale as a base GP have created a Cafe Racer styled custom that they like to call "PATHOS".
Officine GP Design owners and brothers Luca and Fabio Pozzato, have built their business around producing unique, high quality, hand fabricated parts for a range of modern Italian and European performance motorcycles. The Pathos which is based on the 140bhp, naked sports, MV Agusta Brutale was built using a range of custom components from the GP product range which can be purchased for around 5000 Euros, but the Pathos is actually estimated at costing around 35,000 Euros to build being the first of its kind (this includes the cost of the bike itself at approx 12,000 Euro and a sh*t load of labour!).


All of the Brutales factory bodywork and lighting was stripped away and replaced with GP Design components to create the Pathos. Inspired by vintage Cafe Racers the Pozzato brothers aimed to create an original design that combined vintage styling with modern materials and technology. Parts featured on the Pathos that can be purchased from GP Design in kit form include the tank, front fairing, tail and cowl which are hand formed brushed aluminium, the "Cannelloni" leather seat with optional bum stop, handlebar setup, integrated LED stop light and the stunning "Angel Eyes" headlight with aluminium surround.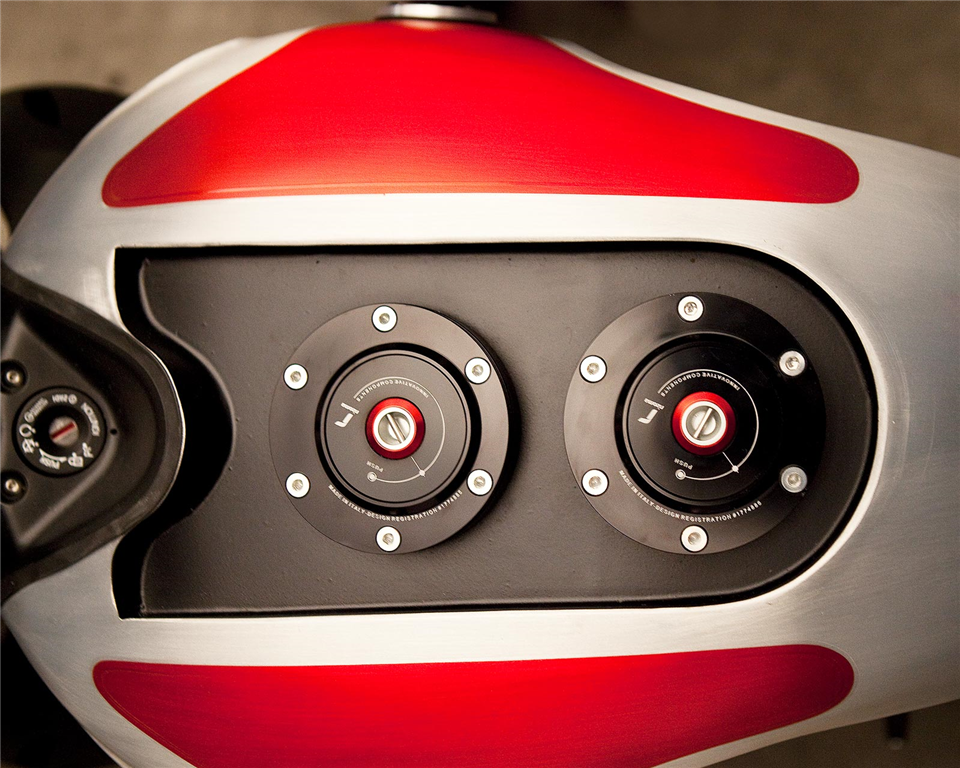 The dual Rizoma gas caps mounted in the GP tank offer access for filling and to a specially made connection for charging smart phones (maybe there's a Pathos app coming out?). Other Rizoma components include the adjustable rearsets, indicators, number plate holder and levers while the stunning black and red wheels come from Kineo. Performance has been given a boost with a stealth looking 2-into-1 exhaust from HP Corse, also been finished in black.


The bodywork has been finished in a mix of matte and gloss red with sections of the panels left raw to showcase the hand brushed aluminium. On the tank the emblems are LED backlit using the same ice blue light of the headlight, a detail that only adds to the spectacle of this awesome build. If you were a custom builder looking to make an impact I'd say this is 35,000 Euros well spent. I just hope that it gets out on the open road now and then to make sure that money is put to good use.