Anyone that follows the custom motorcycle scene will have heard the name 'Rough Crafts'. What many are likely to be surprised to discover though is that the Rough Crafts workshop is based in Taiwan, a country that is rarely looked to for custom motorcycles. Despite this Rough Crafts founder and lead designer Winston Yeah has reached rock star status due to his incredible portfolio of custom builds.
Winston's work has also captured the attention of manufacturers and he's been invited by the likes of BMW and Yamaha to turn his hand to customising some of their most recent releases. The motorcycle you see here is another of Winston's commissioned builds. This time Italian manufacturer MV Agusta approached him with the idea of adding a Rough Crafts edge to their 2015 Brutale 800RR. What he came back with turned the custom world on its head.
Tank Moto recently touched base with Winston to talk about the Taiwanese motorcycle scene and to learn a bit more about his approach to custom building…
Tank Moto: As an outsider, it's hard to find a lot of information about the Taiwanese custom scene, can you tell us a bit about it?
Winston Yeh: It's very sad here, that's all I can say. Our government set a very high import tax to protect local manufacturers which makes certain bikes super expensive. For example, a brand new Harley here is more than double the price than in the USA. This allows the local motorcycle manufacturers to get by with out-of-date technology. Plus a custom motorcycle is theoretically illegal here with annual inspections. The inspectors don't really care or know about customisation so they just compare it with photos of the stock bikes, find whatever looks different and give you a hard time about it. This stops a lot of people who want to do customs from even starting. Only a few shops are trying to push the scene by creating good quality builds, but they are barely surviving.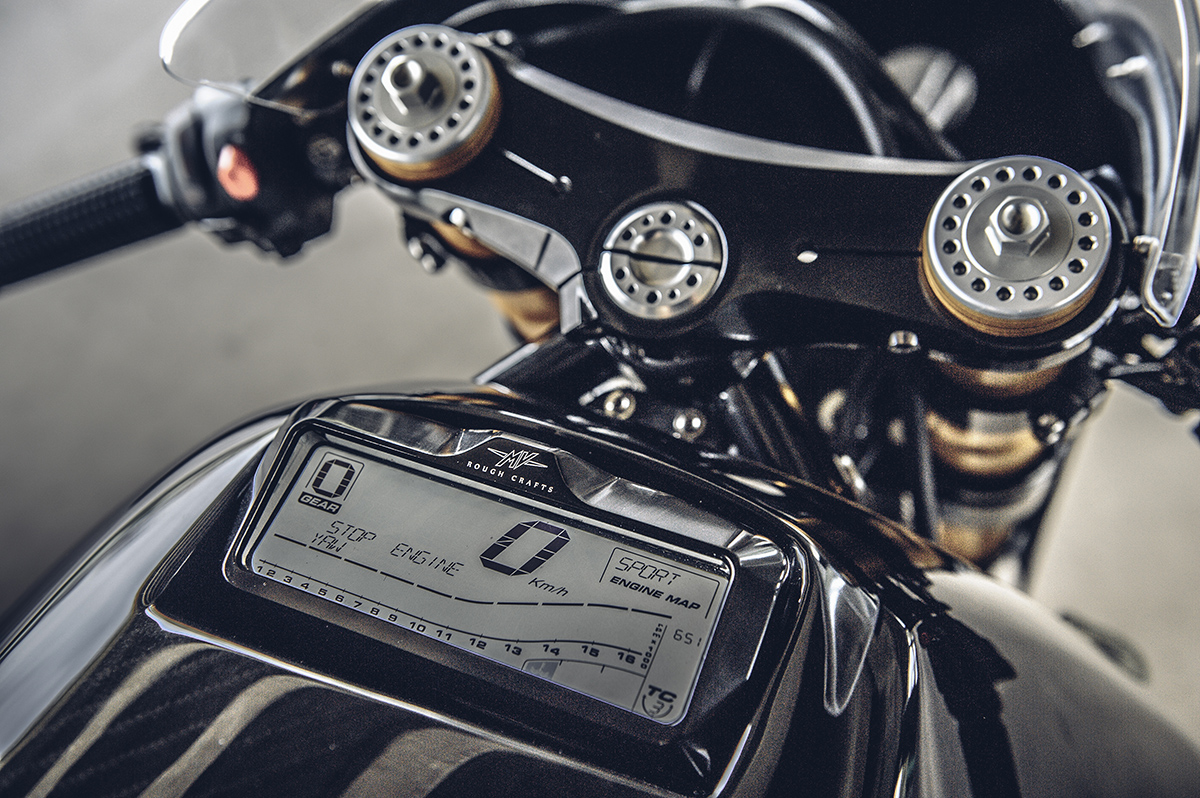 How is it that you became interested in motorcycle customisation?
A classmate bought a 150cc Yamaha and he looked cool on it, so I got one myself. When I studied in California at the Art Centre College of Design in Pasadena, USA, I started playing more with bikes. Back in 2005, I figured I would take some parts home with me. I won an eBay auction and when I went to collect them found out it was from the Performance Machine workshop. I met their R&D manager and he introduced me to Roland Sands. I showed Roland my design portfolio, including some photos of my graffiti designs. Roland said, 'Our wall is empty, why don't you come over and paint it?' So I did. I ended up working at RSD for nine months. I observed how they worked designing bikes and parts. When I finished my studies and had to return to Taiwan, Roland allowed me to choose a set of Performance Machine wheels. Those wheels started my professional bike building career when I put them on my AMD Championship bike.
Where does the Rough Crafts name come from?
Rough means the ambition and the drive of mind. Crafts means the precision and craftsmanship.
What was it like when you realised you'd become an internationally recognised builder?
There was a time when I was reading a custom bike magazine with a feature that listed different styles of customs like Bobber Style, Chopper Style, Digger Style, Cafe Style, etc. When I reached the bottom of the list, boom! There was " Rough Crafts Style". Realising that you had created an internationally recognised "style" was a very special feeling.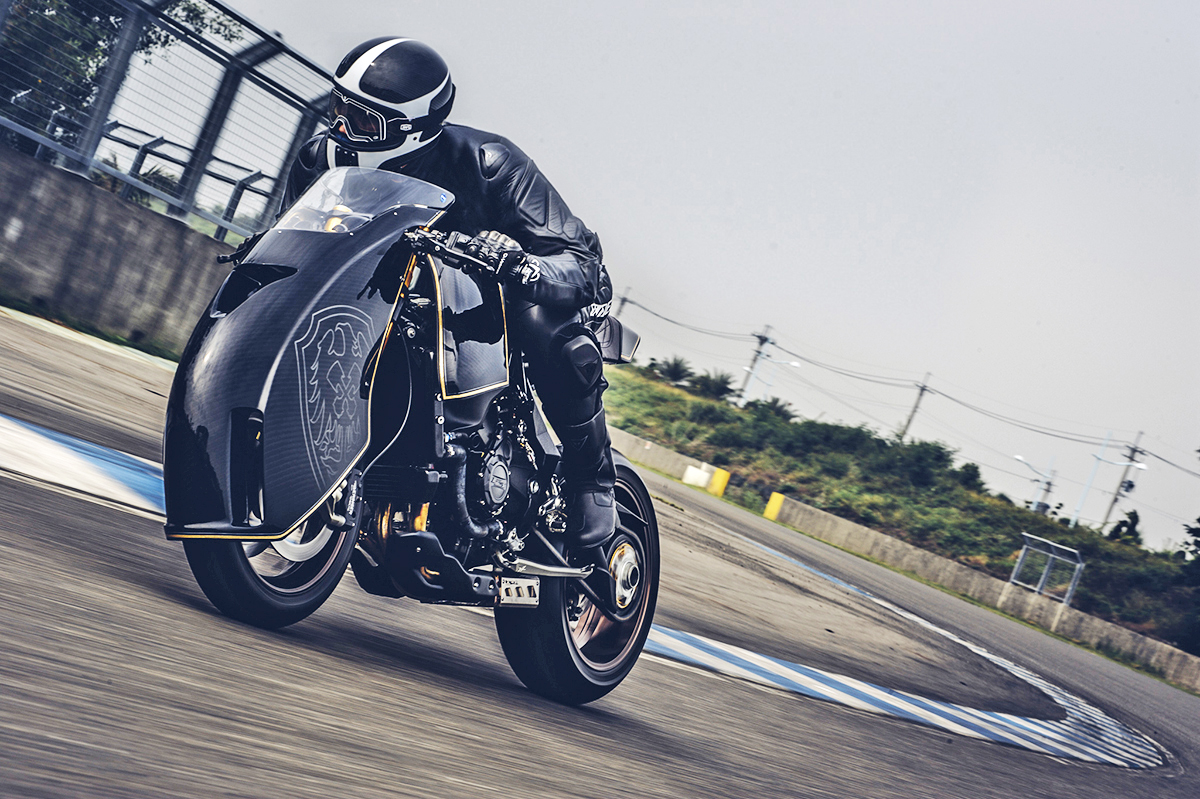 What do you think defines a Rough Crafts build?
It's about the proportions, the quality, the cut of the tank and a factory fit and finish. I like my bikes to have everything working together in harmony. Nothing should stick out too much. You should like the bike as a whole first, then begin looking at the details, instead of simply thinking "wow that's a cool exhaust" or "look at that paint!". That's a sign of failure to me.
You've also launched your own range of parts. Will you continue to expand on the Rough Crafts range in the future?
Yes, of course, I have just launched the Rough Crafts Revolator helmet line. It is a full carbon fibre shell helmet that weighs around 1100g, is ECE approved and available now!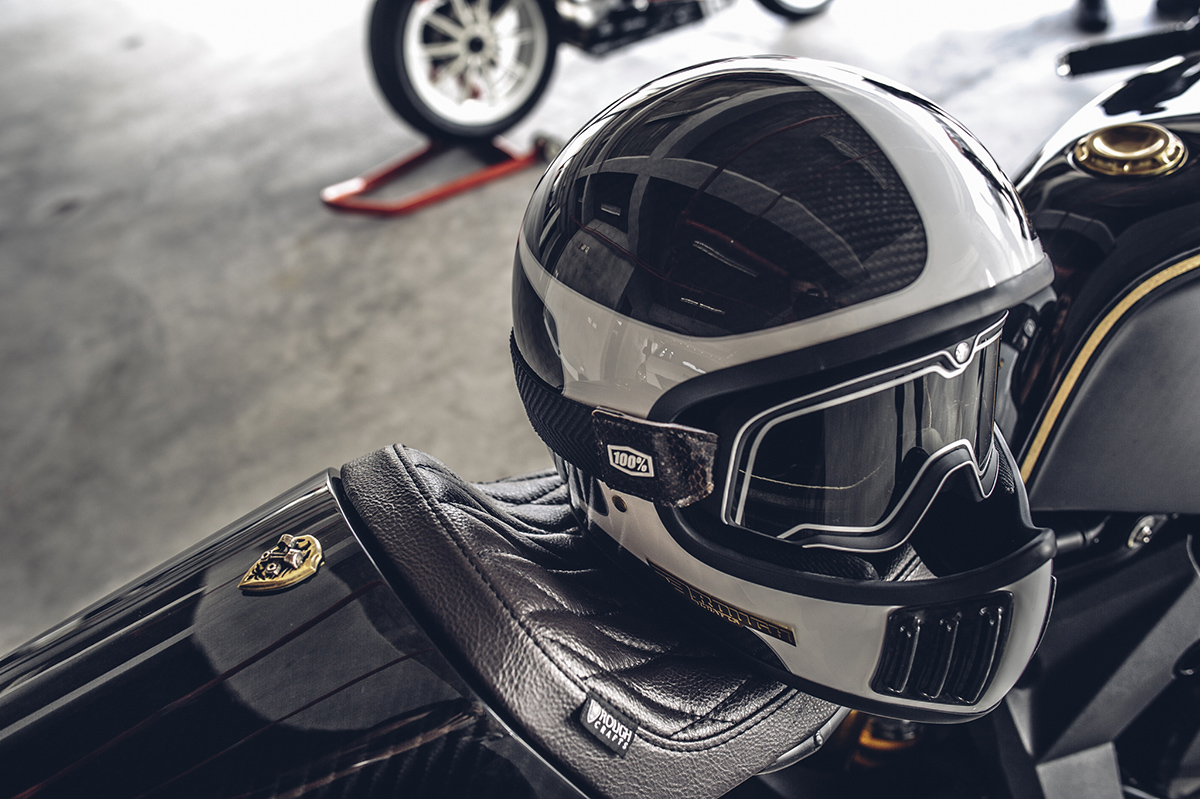 In your opinion how do you think the custom motorcycle scene is likely to evolve in the next few years?
I think the difference between factory bikes and custom bikes will blur even more. Now all manufacturers are trying to create stock bikes that already have a custom feel. There are less and less radical crazy art-like customs. All customs are getting more approachable to regular people, more rideable and more complete. I think stock bike and custom bike styles will being to merge.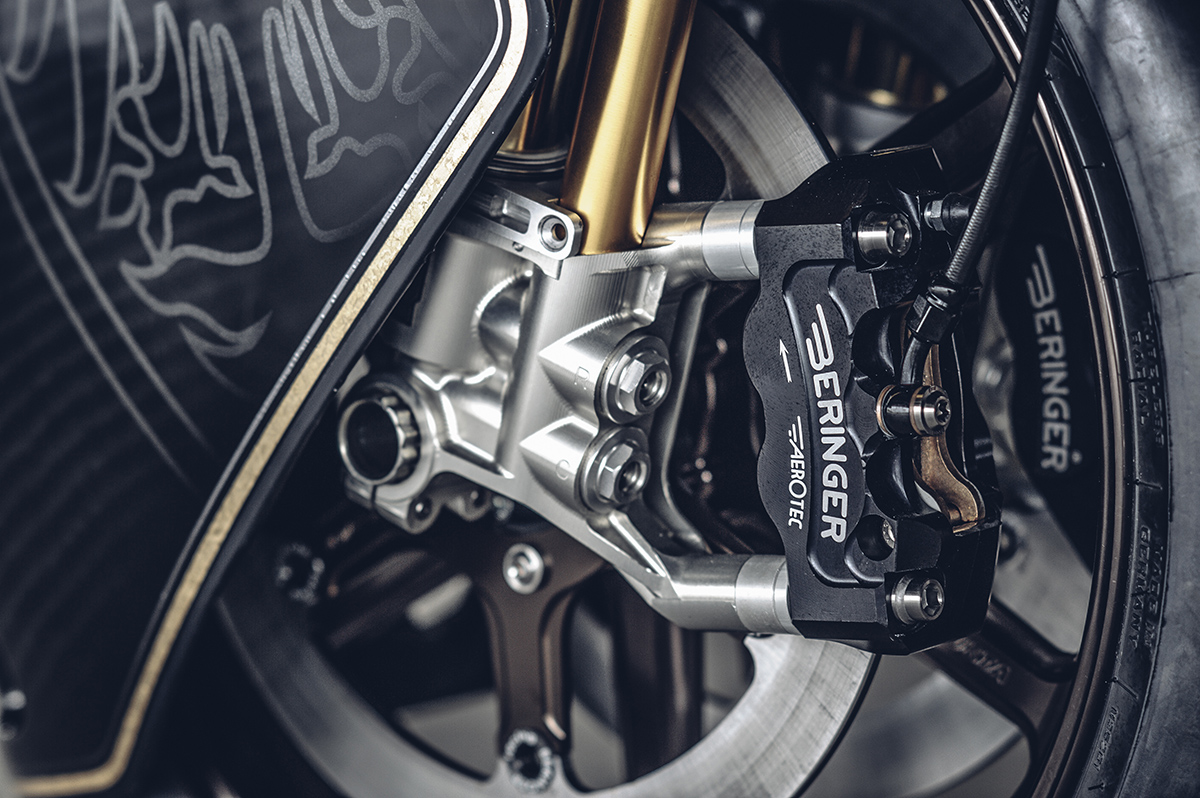 Winston's 2015 MV Agusta build, named the "Ballistic Trident", was a commissioned project by the company's Taiwanese distributor. Inspiration came from MV's rich racing history, in particular, their dustbin faired GP race bikes of the 1950s. Knowing full well the limitations of dustbin fairings on performance, Winston decided to create his own modern interpretation of the style.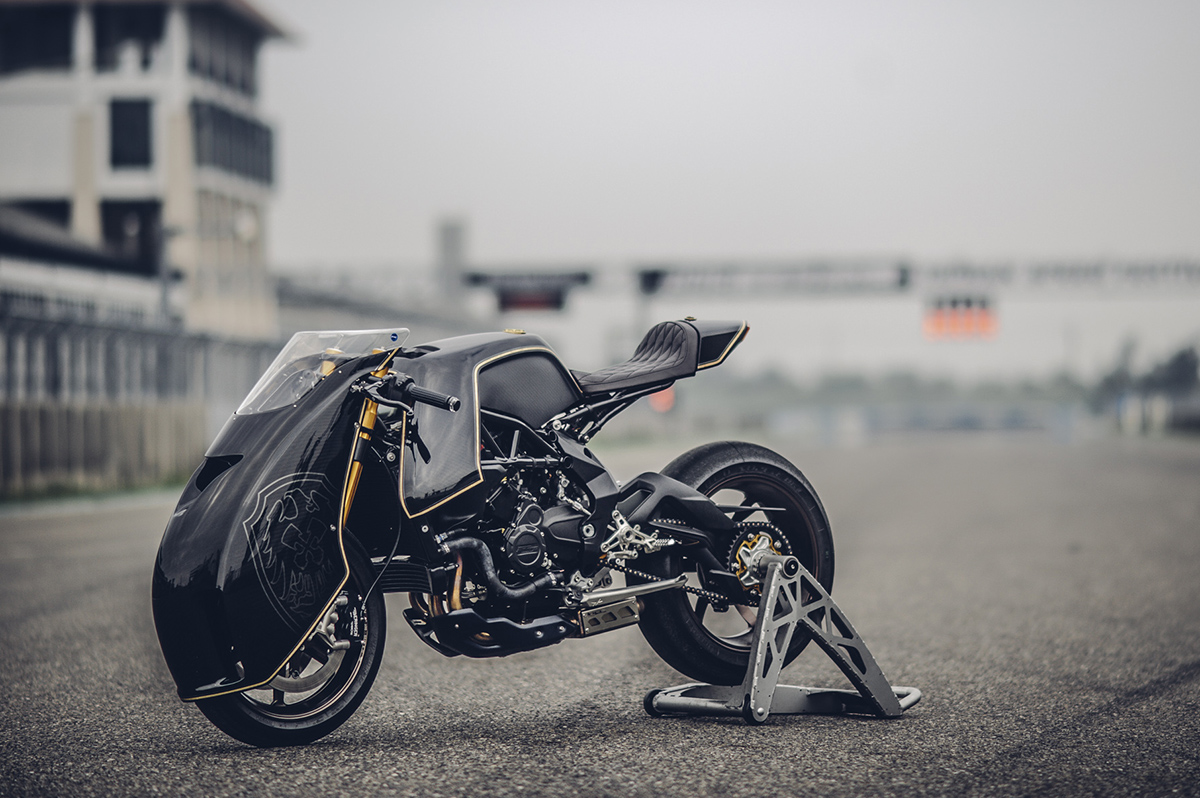 To negate the steering limitations imposed by traditional dustbins, Winston designed a fairing that moves with the bikes front end. The fairing hugs the bike's forks closely to maintain a narrow profile and can be removed in a matter of minutes, allowing the fitment of a headlight for street riding. The fabrication of his fairing began with a full-scale wooden buck carved from solid wood. The buck was then used by composite experts 'Lee Speed' to mould the single piece carbon fibre fairing. Vents in the fairing allow air to flow through to the brakes and radiator to prevent the fairing from impeding on cooling. Winston then designed a carbon fibre fuel tank cover and rear cowl using lines that flowed on from the fairing. The finished bodywork combines to create a flowing visual line that travels from the front edge of the fairing right back to the tip of the tail.
Taking further inspiration from classic Guzzi GP racers Winston then designed a custom set of wheels which were CNC milled and anodised dark bronze. Rough Crafts preferred brake specialists, Beringer, worked with Winston to design a brake package for the Brutale that included a custom made disc to fit the bikes custom wheels. For suspension, Winston chose to fit a set of gold Ohlins FGR800 forks to the front end and paired them with an Ohlins TTX shock in the rear. For handlebars, a set of Bonamici clip ons were slid on to the forks wearing a mix of MV and Rough Crafts controls and MotoGadget bar end indicators. The custom triple clamps have been kept clean by mounting the original instrument cluster in a custom made housing that's nestled into the front of Winston's carbon fibre fuel tank.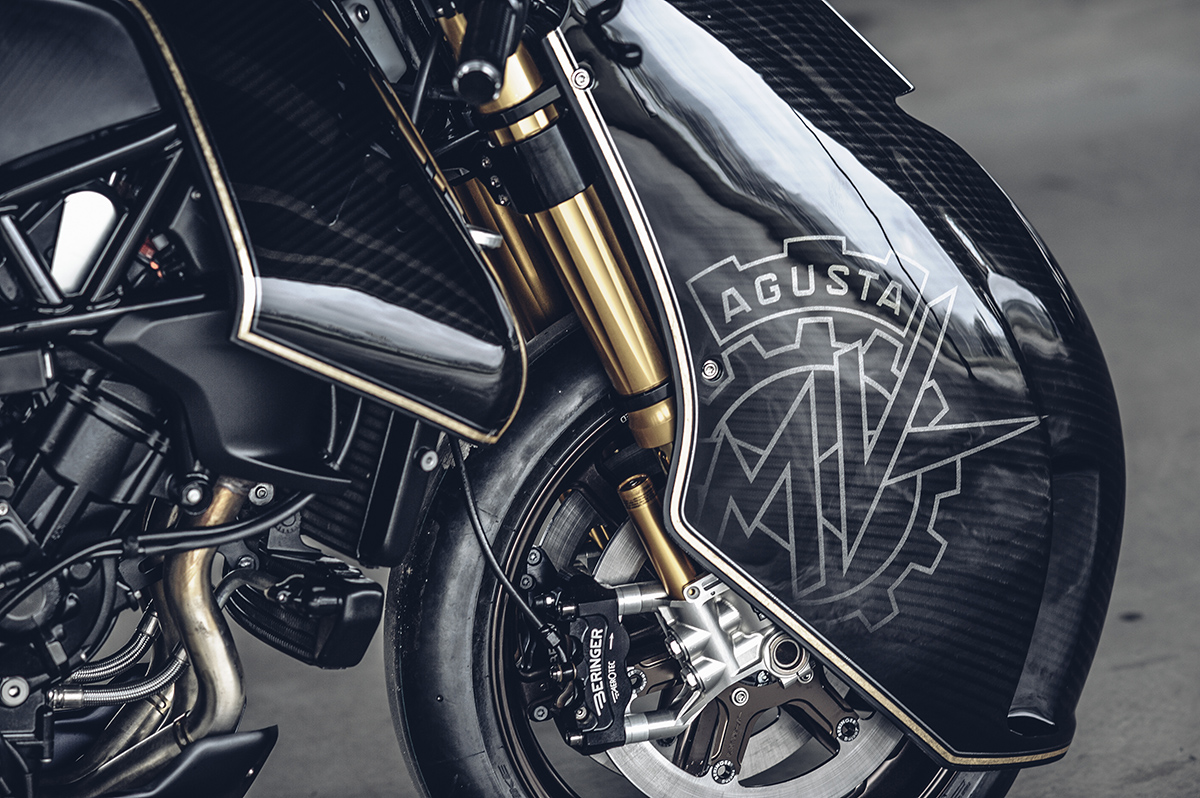 Rearing their heads from beneath the Brutale's belly is a trio of exhaust tips that belong to the bike's HP Corse 'Hydro-Tre' system. After contacting the HP team Winston was generously given the opportunity to mount the all new system to the bike before it had even been released to the public, which goes to show just how far this builders influence has spread.
One underlying theme you'll find across all of Rough Crafts builds is the use of dark, sinister paint schemes and the Ballistic Trident is no exception. Winston's trusted paint shop 'Air Runner' were tasked with the job and they delivered an incredible result. A mix of deep glossy and contrasting matte clear coat covers the Brutale's bodywork. Black gradients add depth and twin pinstripes of silver and gold leaf frame the body. Finally, to commemorate this collaboration the front fairing wears asymmetrical silver emblems of both the Rough Crafts and MV Agusta brands.