As any decent photographer will tell you, getting noticed is not always about how you shoot; sometimes it's also about what you shoot, too. You could be the greatest lens-meister on the entire planet, but if all you capture is beautiful photos of the grandkids, you're probably going to spend your career in the shadows with nothing to show for it but a fridge full of half-eaten ice creams.
After a chance encounter on the streets of New York, Shaik Ridzwan began shooting the bikes made by an upcoming builder called Max Hazan. A decade later and both Shaik and Max are still doing their thing, albeit with a tsunami more attention than they had before. And what a killer combo it's proven to be. We spoke to Shaik about life, the universe and what it's like to shoot the world's best custom bikes.
Can you introduce yourself?
My name is Shaik Ridzwan. I am originally from Kuala Lumpur, Malaysia. I have lived in a few different cities in the US since moving here in 2000 but currently I am a designer and photographer based out of Los Angeles, California. I am also the founder of a creative studio called The Mighty Motor.
Where are you right now?
It is 10pm and I am sitting at my desk in my home office while my kids are sound asleep. Before this I was casting spells and fighting off demons to get them to stay in bed.
What is it about motorcycle photography that inspires you?
I grew up around them but I only started taking photos of motorcycles as a way to tell the story about the rider, owner or the builder. The interest was already deeply rooted in me but it was always about the story. Also, let's be honest; motorcycles are sexy.
What makes for a great motorcycle photo?
I think knowing a little more about the bike goes a long way. Motorcycles are pretty honest. They all have lines that can be accentuated from certain angles. Motion can be tricky to add to an image, but when done correctly it becomes complete. A motorcycle is made to be moving, leaned, and ridden. So I always add that to a shoot when possible.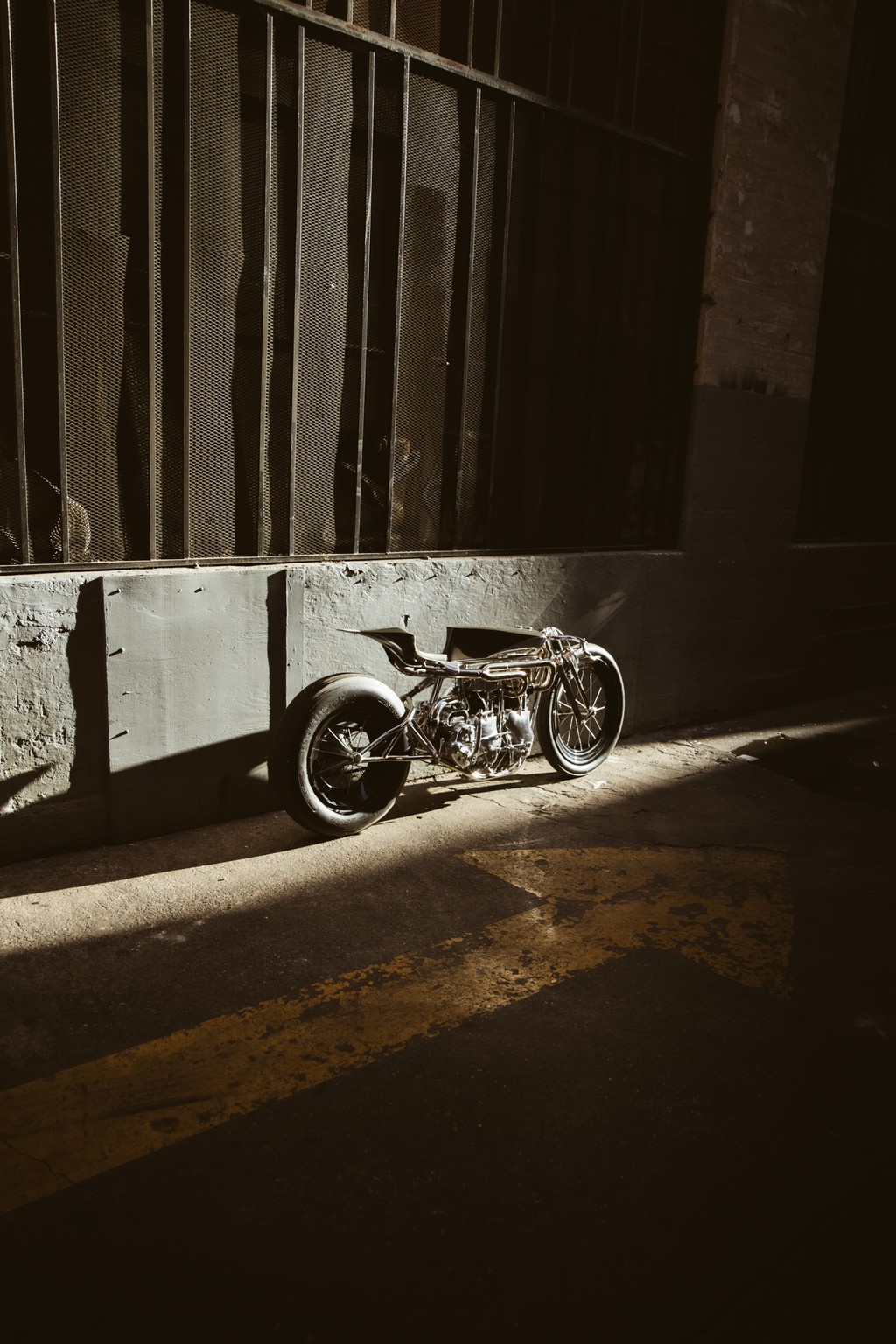 People know you as 'the guy who shoots Max Hazan's bikes.' How did this happen?
We met randomly on a street in New York; that was really the start of our friendship. There wasn't any agreement then and there's still none now. We share a lot of the same interests and respect each other's creative process and abilities. We have a method that works for both of us and we like to keep working that way.
Max knows that I will always find those angles and shots he likes for the bike. I know what to capture because I am familiar with the birth of each design feature and I've seen the hard work done to complete it. I am thankful to have a talented friend like him and feel honored each time we get to work together.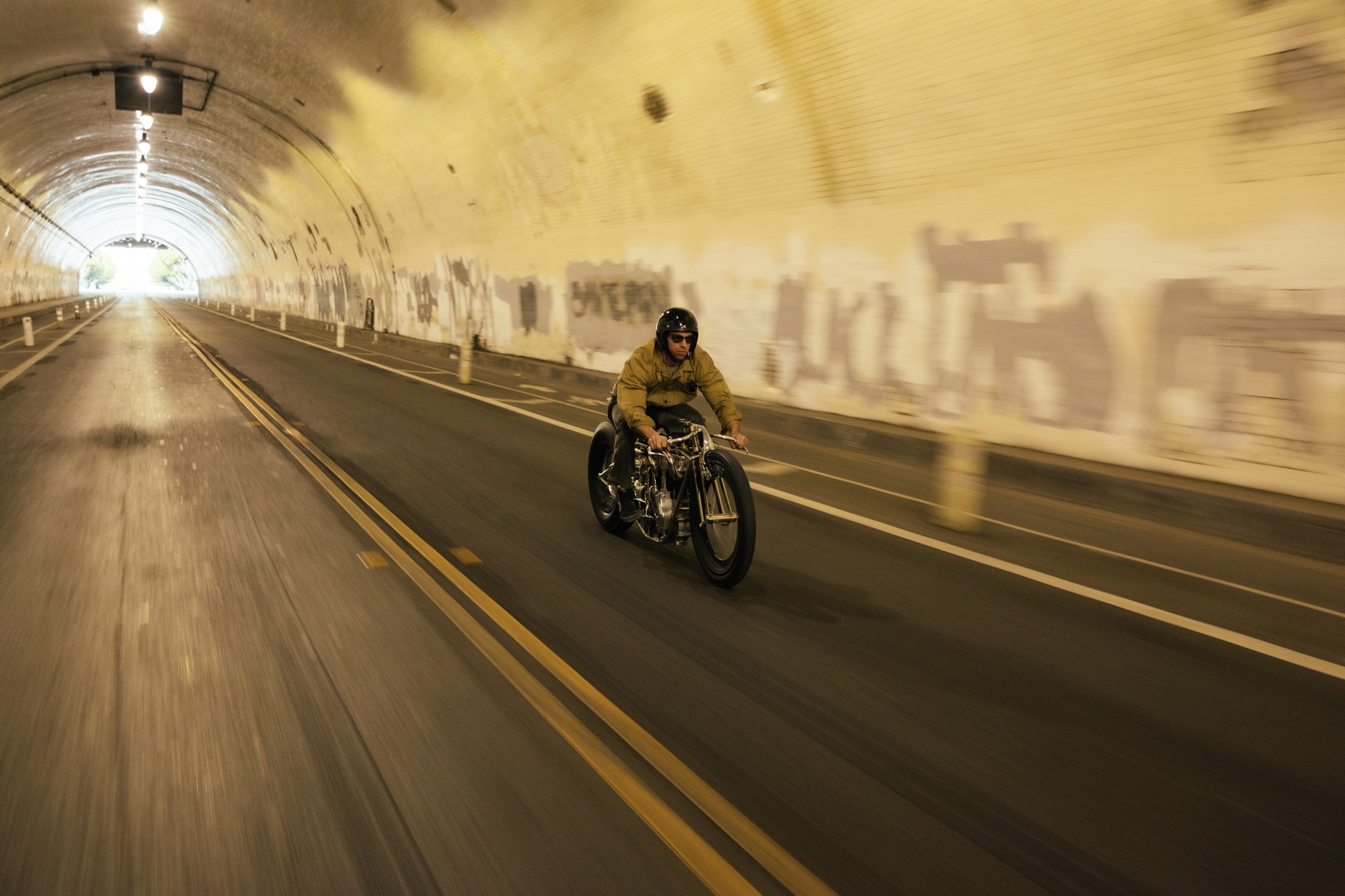 What are your go-to camera and lens combos?
I have been using Canon cameras for a long time. My favourite setup right now is a 5D MK4 paired with a prime 35mm 1.4 and a 70-200mm 2.8 to get closer when needed. I also carry my EOS 1-V loaded with either Portra 400 or Tri-X 400. I love that camera.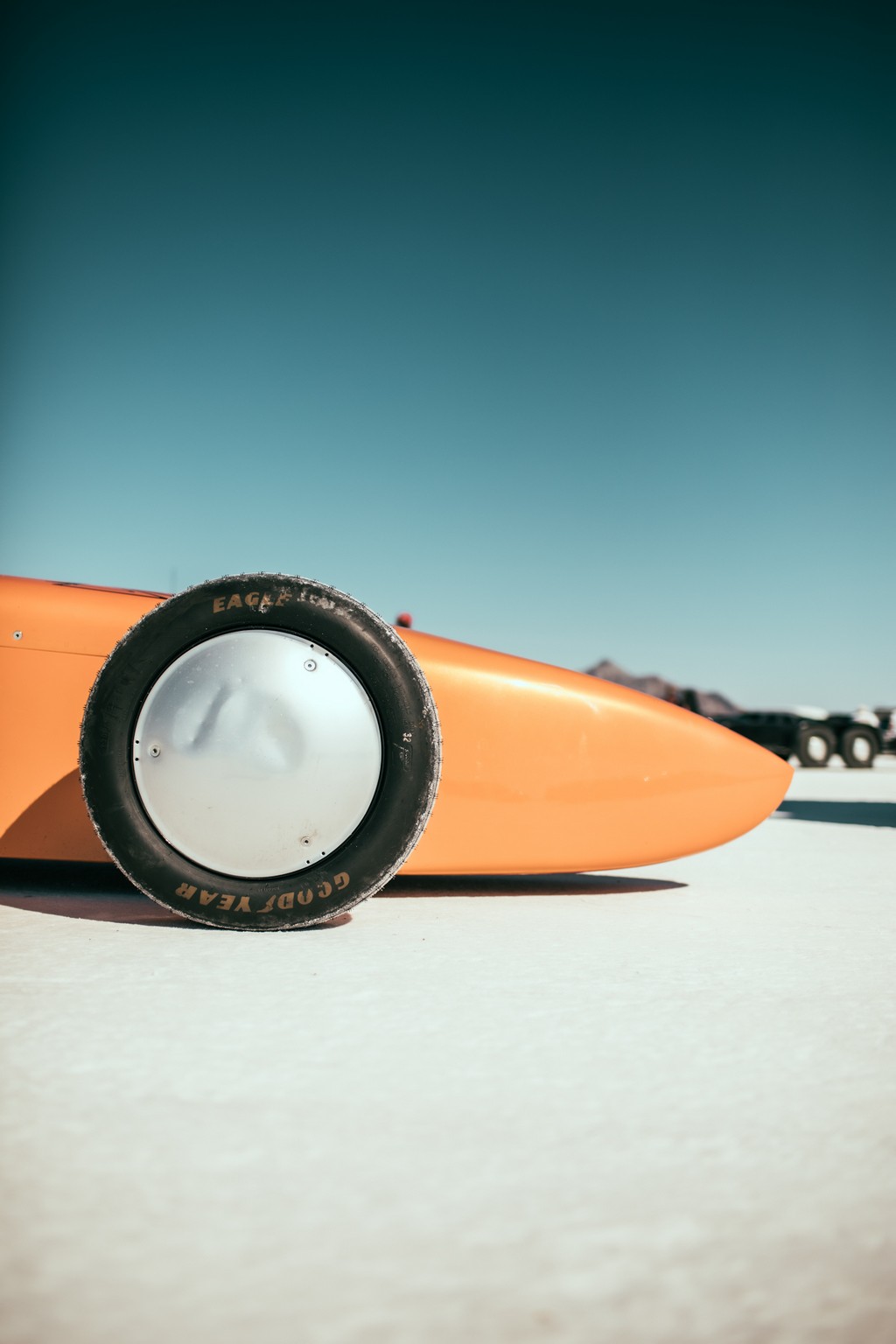 Describe your dream bike shoot
Living in Los Angeles, you get great weather almost all year round. This means that after some time you find yourself wanting something different when shooting outdoors. I love the winter in LA. The sun is low and this makes the shadows long and dramatic. Clouds add so much to the look of the image. It's hard to say what the dream location would be for me. I hate the idea of my shoot with bikes to be overly produced and premeditated. I leave all that for client work. That being said,  maybe something completely out of the box? In a plane shooting in zero gravity or something ridiculous like that. I want to shoot a bike like it has never been shot before.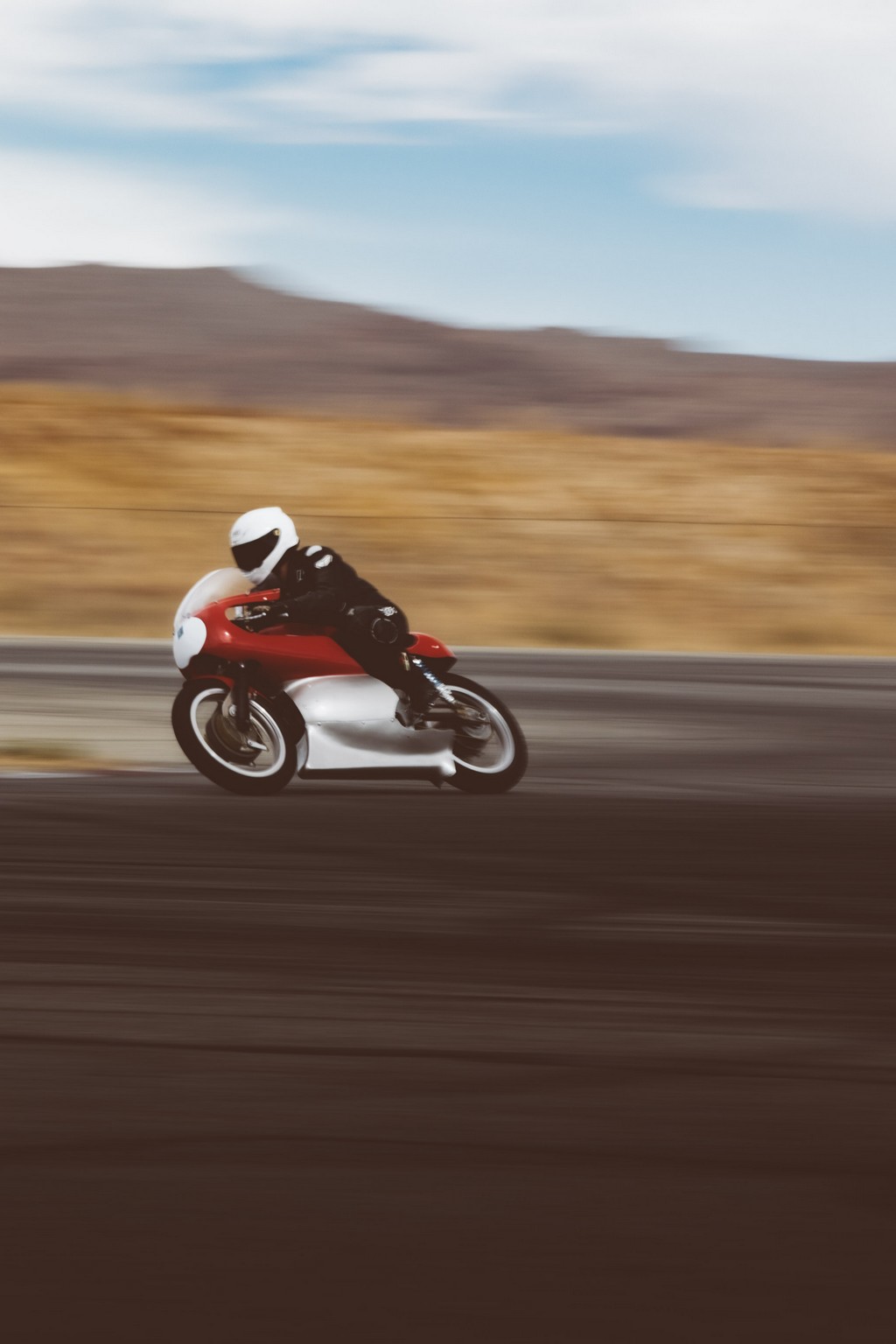 What bikes do you own personally?
Not very much anymore since my time with the family is a priority. When I do get a chance, it is a hard choice. I personally own seven bikes and a few projects here and there. I have a 1969 Ducati 450 Scrambler, a 1965 BSA A65 Hornet Flat Tracker, a 1980 Ducati Darmah, a 1995 Cagiva Elefant Lucky Explorer, a 1995 Ducati 916 Strada Varese, a 2000 Aprilia RS 250 Cup and a 2005 CRF450R supermoto race bike. I would love to build a couple of Ducati 750 TT bikes.
I tend to focus on riding the track more these days. It's easier to plan for in advance and a lot more predictable. I won't say it's "safer," because we all know the risk is still there. My favorite time these days is running my BSA around the neighborhood with my older son Micah. He loves to race me around the school parking lot on his bmx. It's magical.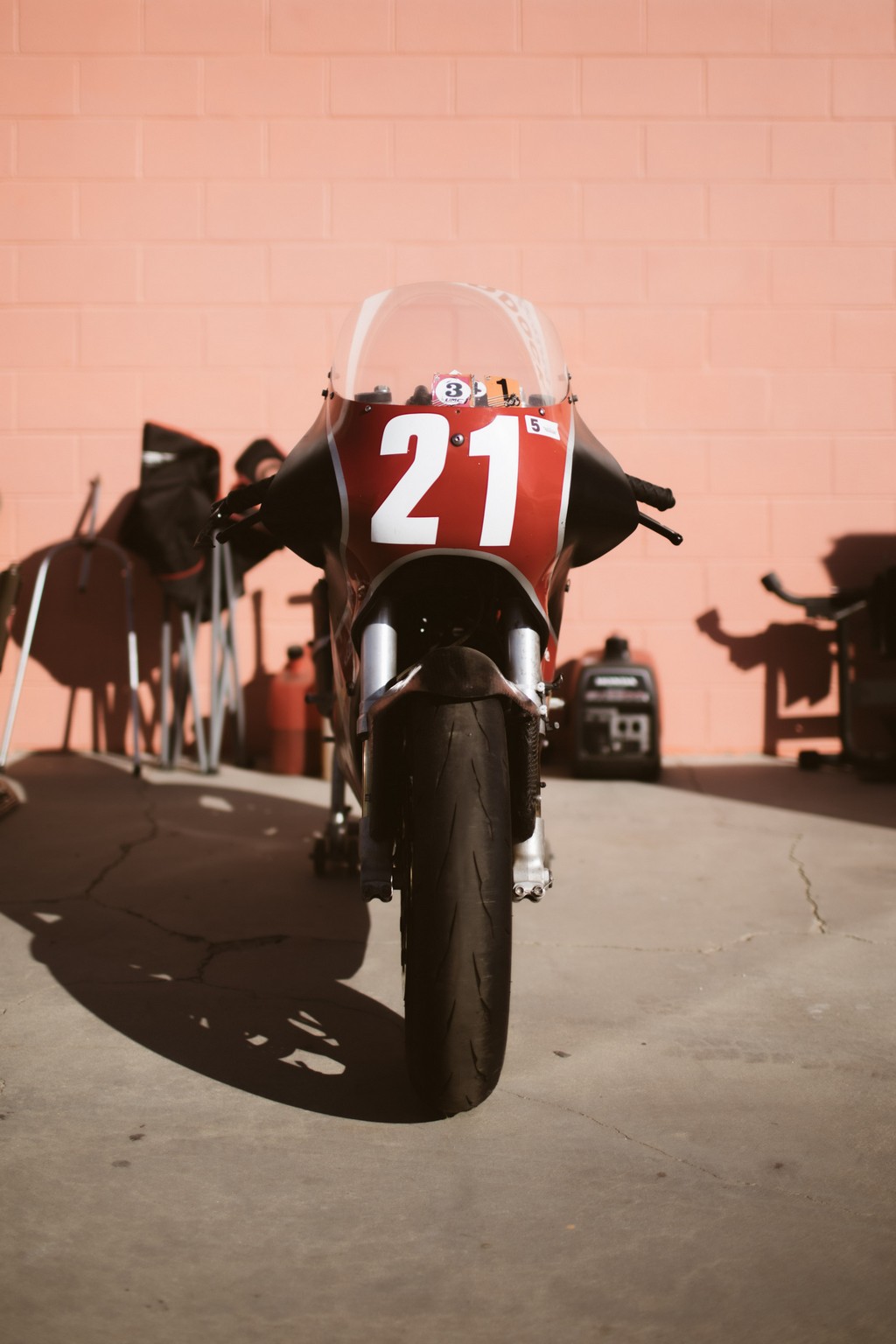 What advice would you give to someone starting out in the industry?
Be humble and focus on the work. It's a very small industry with a lot of great people doing really cool things. Always approach each project – big or small – with the same enthusiasm. I have always been respectful and only interested in adding value to the industry. Never feeling entitled or removing part of it for my personal gain. I try to not get caught up with the 'who's who and who's doing what' mentality. I'm stoked for my friends when they get ahead and when I have the opportunity, always bring them up with me. I am happy to help if anyone needs some honest advice. Hit me up.
Social media and photography. A match made in heaven or hell?
Depends on how you use it. Like I mentioned, are you adding value to people's lives with your contribution to social media? Would you be doing the same thing if there was no Instagram ? It's just a window. A distribution channel. A form of communication. I have done original content straight from the beginning. I love what I do and I have nothing to hide. That's my approach to Instagram. I have made tons of friends through the platform and reached people in corners of the world that without the application would be impossible. I am thankful for the support from everyone that spends their time to see my work. It humbles me.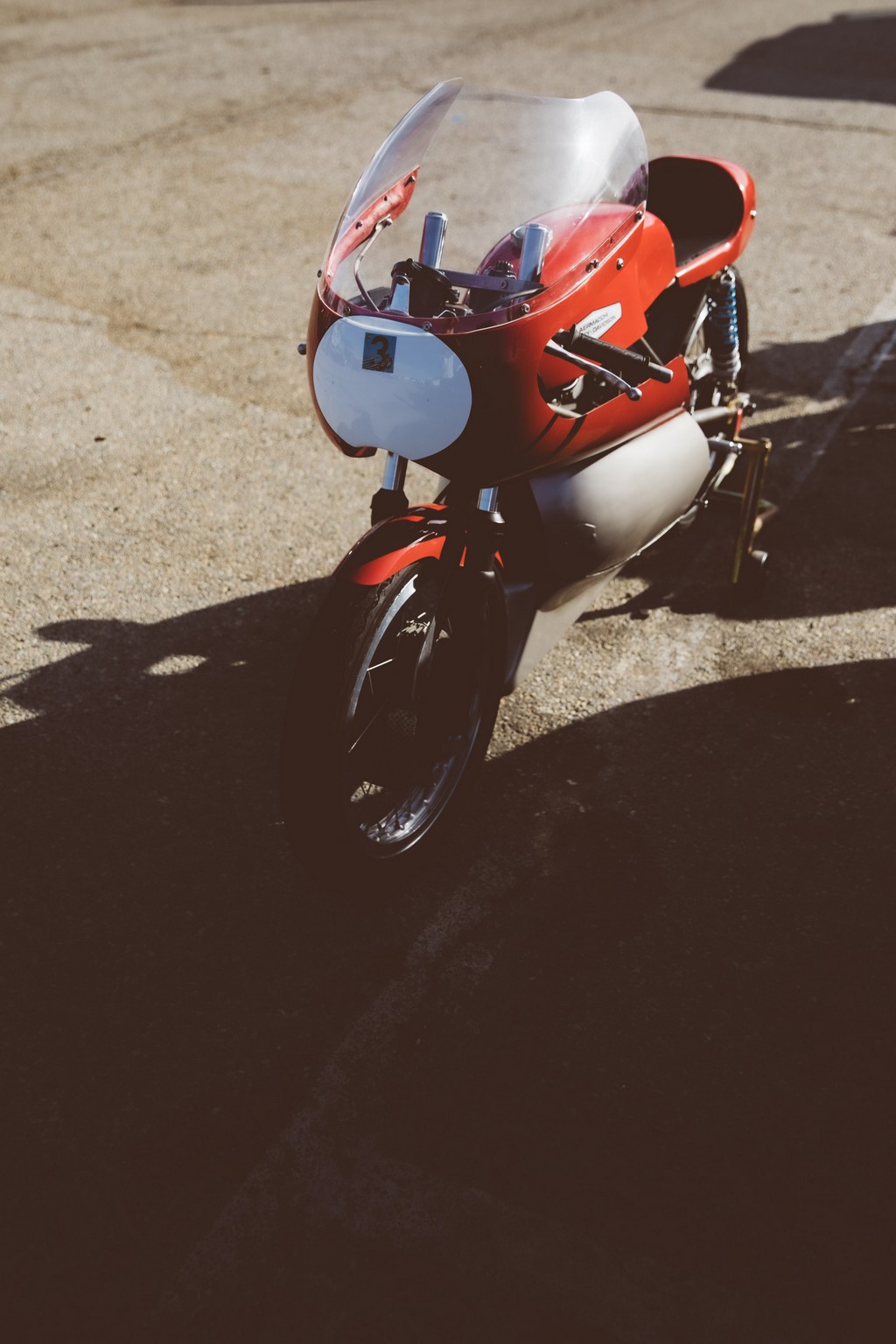 What do you do when you aren't taking photos?
I try to spend more time with my family and be more in the moment while with them. I work a lot and so balancing free time is difficult. I have recently stopped taking my camera on outings. We are a culture that is so afraid of missing the opportunity to capture daily moments that, in turn, we're not embracing or appreciating the experience. We recreate it, but it's not the same. I also sketch a lot on paper. It's an old habit from my industrial design days and it is a form of creative meditation for me.
**All photos courtesy of Shaik Ridzwan