We've all got one of those mates who brings a different bike to every ride. When I first met Brendon Anthony many years ago, he was that guy. It would be an F1 Ducati one week, Bimota DB1 the next, and so on. Brendon is a bit of an Italian motorcycle guru – namely Ducati. On a more recent ride, Brendan brought out his Ducati TT2 tribute, and we all promptly fell in love with it.
"I've always been fond of the Ducati Pantahs and I've built a few 'specials' over the years," says Brendon. "In fact, my twin sons, Des and Mo, owe their existence to one of those machines after a particularly memorable day riding my Bimota DB1 for the first time around the racetrack in Collie, Western Australia."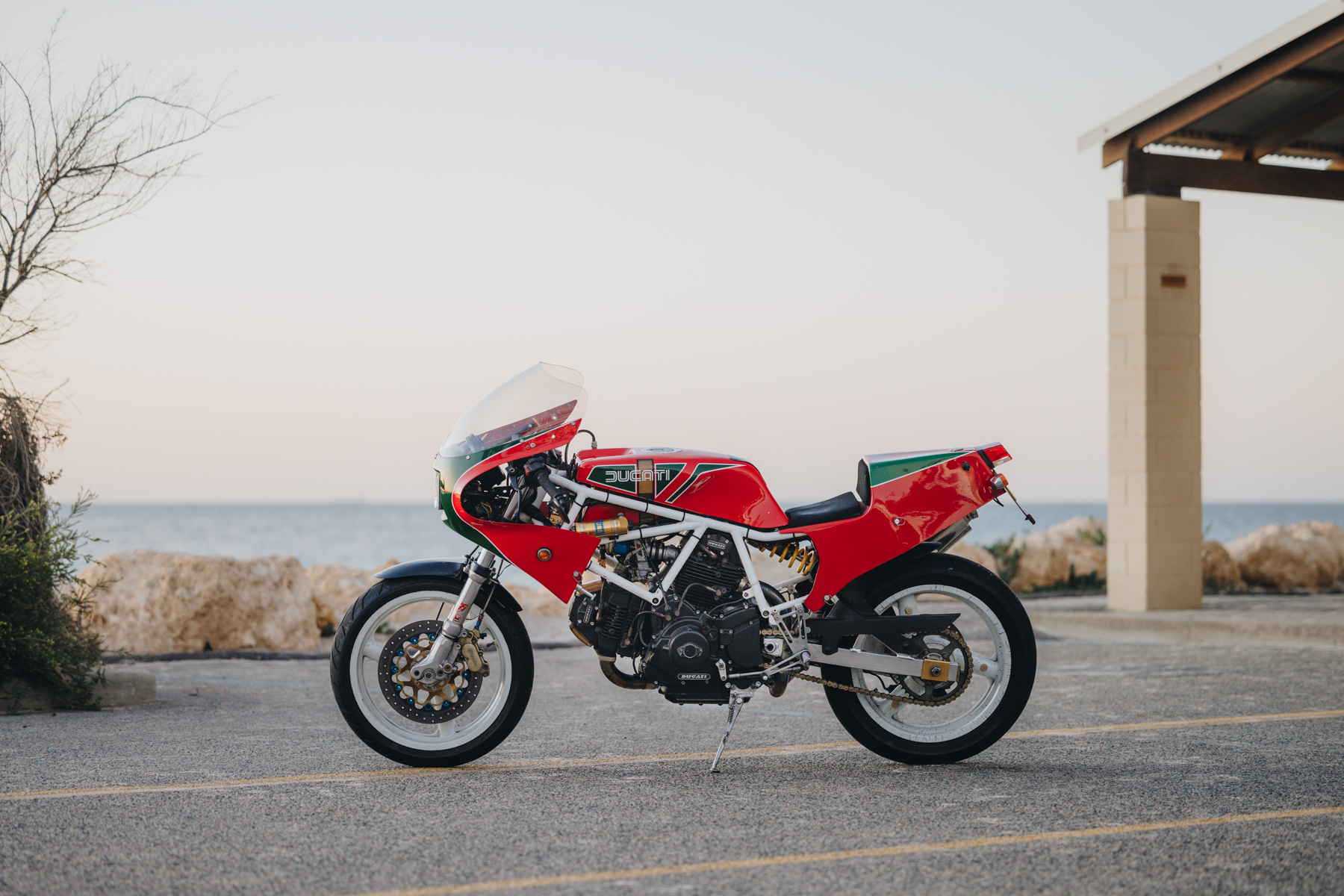 This penchant for Pantahs has also led Brendon down the dark path of Ducati tuning. He's a great rider and a gifted mechanic (as you have to be to own vintage Ducatis). Further to this, Brendon has spent a lot of time in his wife's home country of Japan – meaning Brendon can navigate the Japanese import market with ease, which has allowed him to assemble vast swathes of rare and exotic parts.
"The bike is a bit of a parts bin special and is loosely based on the Ducati TT2 racing Pantahs of the early 1980s," explains Brendon. "I've tried to make it as light as possible with the biggest engine that I could squeeze into the frame."
Speaking of the frame – it's from a late 80s Ducati 400 F3 (little brother to the iconic 750 F1). The engine is a 944cc unit, which Brendon thinks is most likely from an early 90s 900SS. The custom exhaust and muffler were both made from stainless steel. Ample fuel is supplied by a pair of Keihin FCR39 flat slide carburettors. Combined with the exhaust and a lightened flywheel, the engine spins up with great haste.
Brendon has the uncanny ability to make something out of nothing, and a testament to this is the air filters – they are actually tea strainers that Brendon found at a $2 shop. The belt covers are also custom. Made from vintage speaker grills found on the side of the road, they were only supposed to be temporary. Brendon says that people liked them he decided to leave them.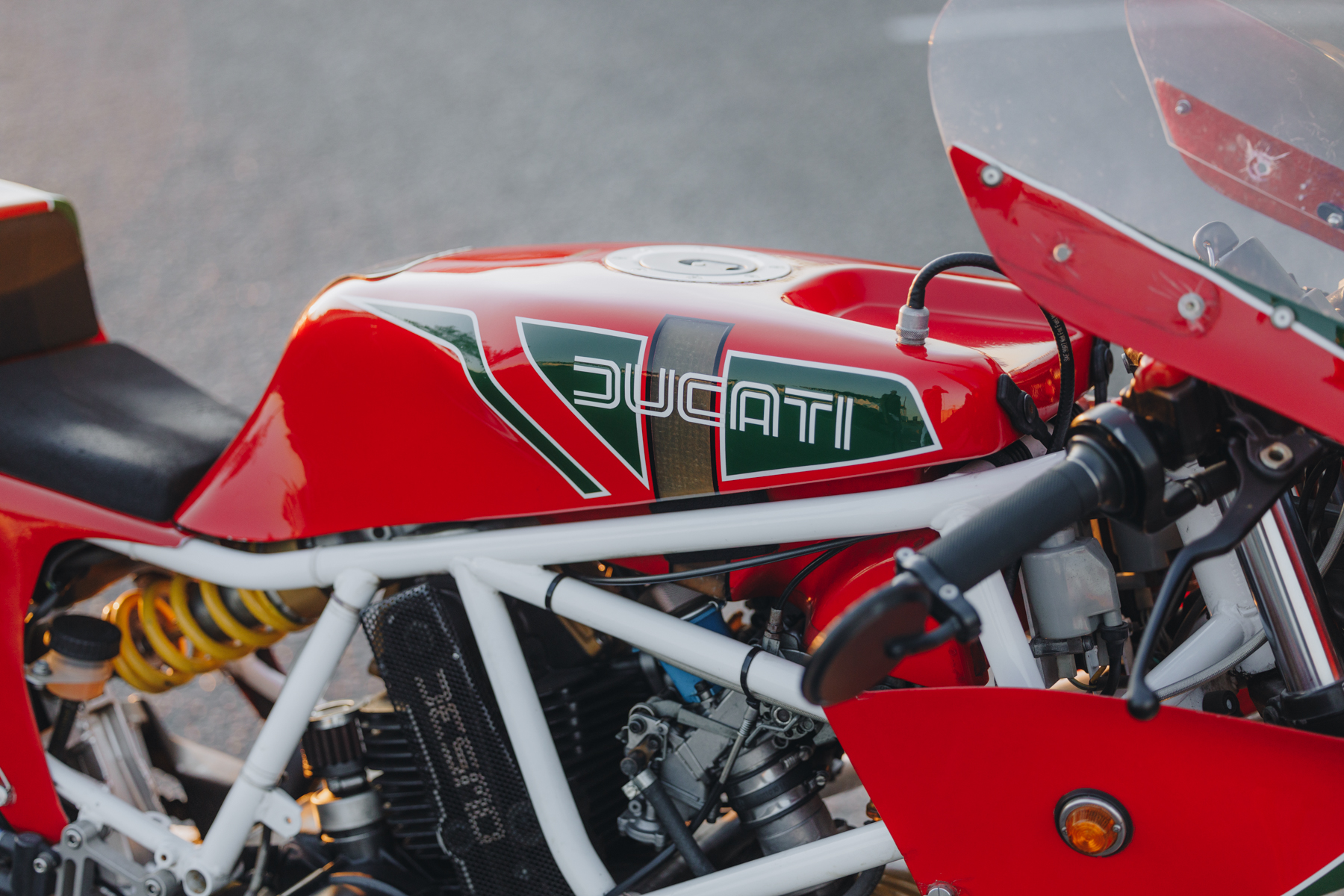 The rest of the bike was assembled with weight reduction in mind. The front fairing, tank and seat are all Harris-Ducati TT2-style fibreglass items and the rearset footpegs are custom. No, the seat doesn't provide much in the way of comfort but this isn't exactly a BMW GS, is it?
Lightweight Marvic magnesium wheels reduce unsprung weight, as does the single 300mm fully-floating Brembo disc up front. Brendon says the single Goldline four-piston Brembo caliper provides more than enough stopping power for a bike of this weight and that this is why he opted for the single disc.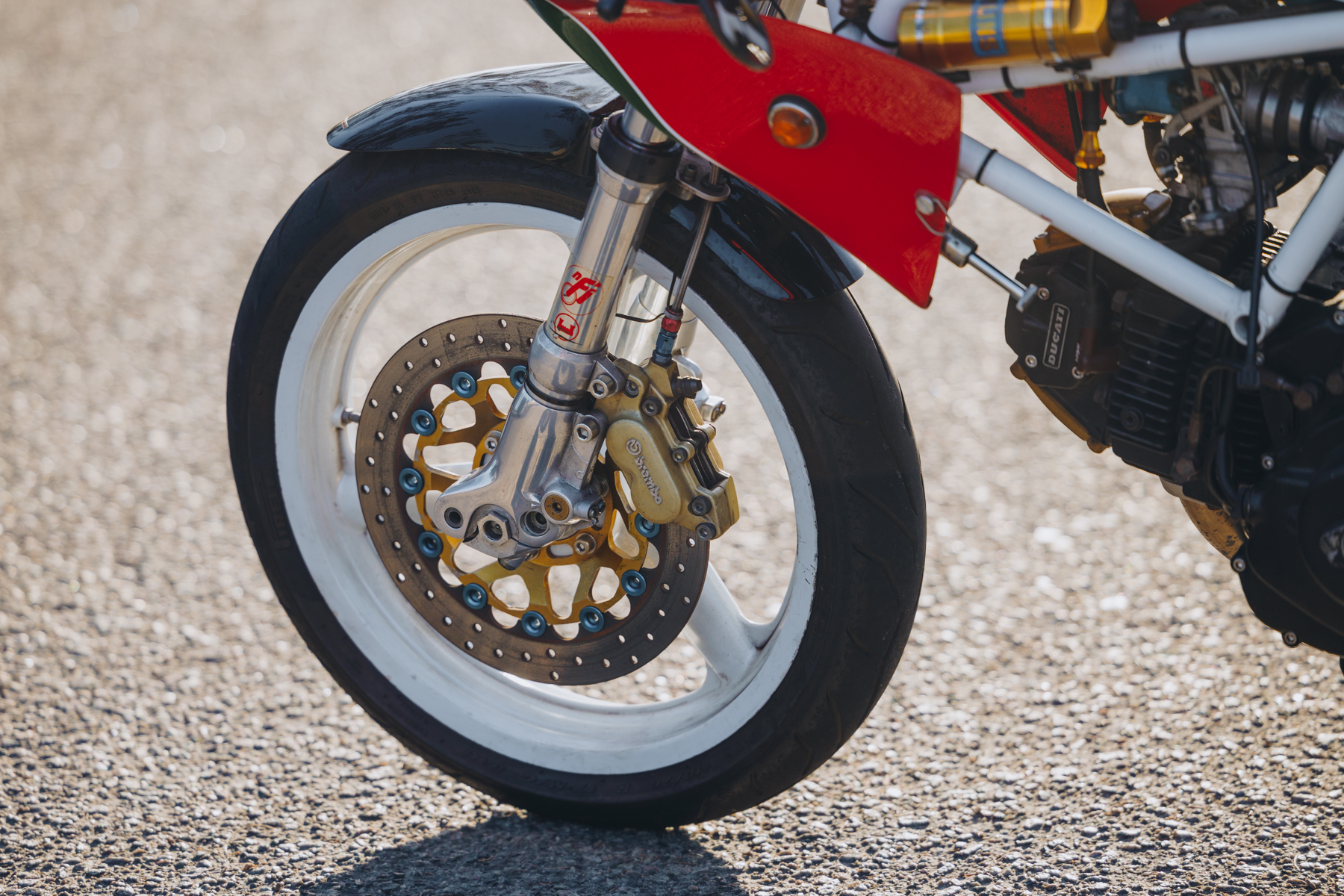 The front forks are fully adjustable, quick-release racing forks from Ceriani. A Gilera Saturno donated them and if they look fancy, that's because they are. Top shelf, period-correct parts like this are very rare and turn a good build into a great one. The aluminium swingarm is Verlicchi and along with being a work of art, it's supported by a fully-adjustable Ohlins rear shock with a remote reservoir. Located just below the tank on the left hand side, the shock adjuster is right next to the steering damper. This allows Brendon to adjust all the suspension with his left hand either at the traffic lights or on the fly – a truly intelligent design.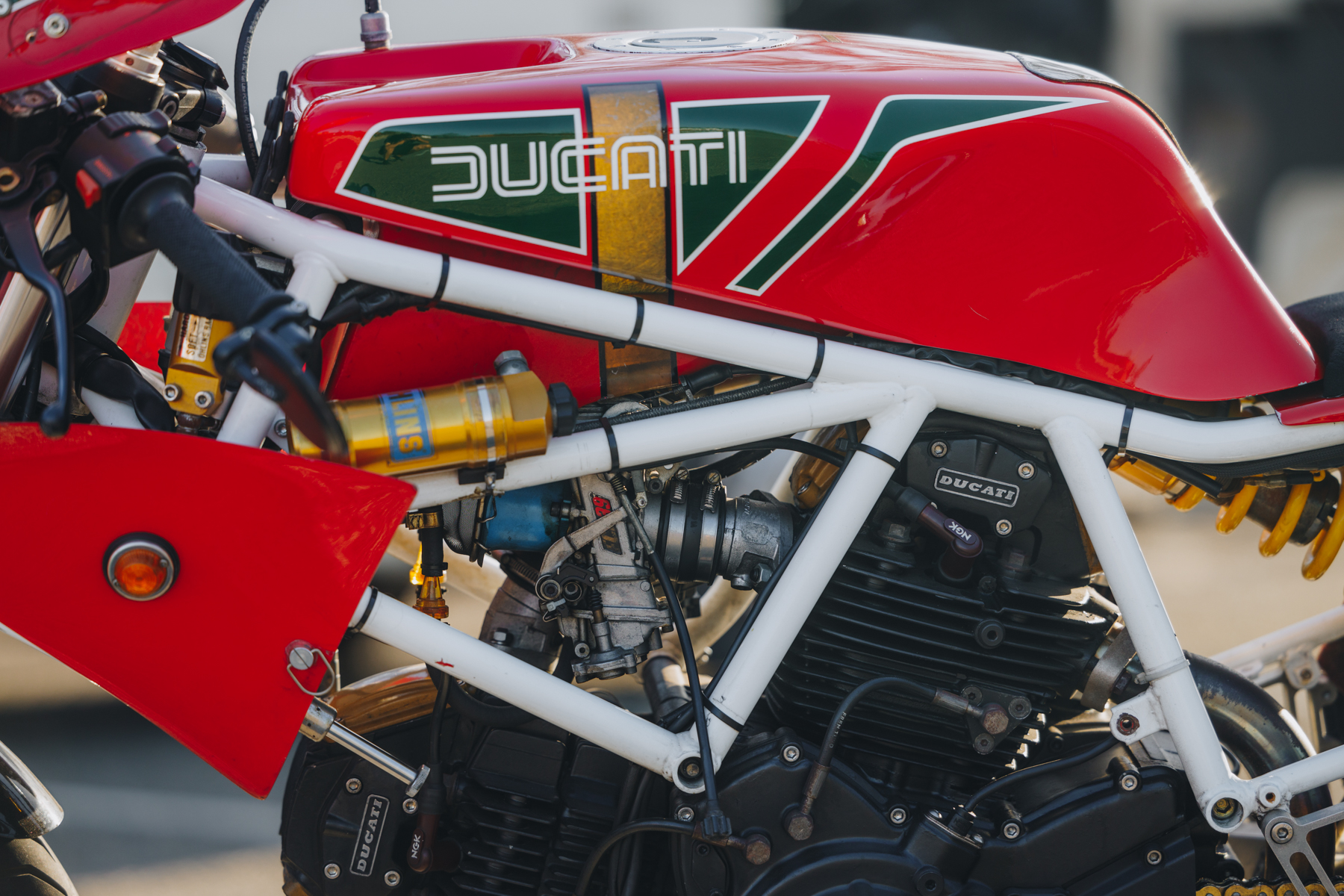 As a nod to the bevel-era MHR (Mike Hailwood Replica), Brendon finished the bike in green, white and red but adapted it to the TT2 style graphics. Just like the race bikes (and as is proper for a bike of this pedigree), Brendan left an unpainted strip on the tank to monitor the fuel levels. The wheels and frame were finished in a custom white paint. Ingeniously, Brendon added a few bottles of cheap, pearlescent white acrylic nail polish to the mix to provide just the right amount of sheen.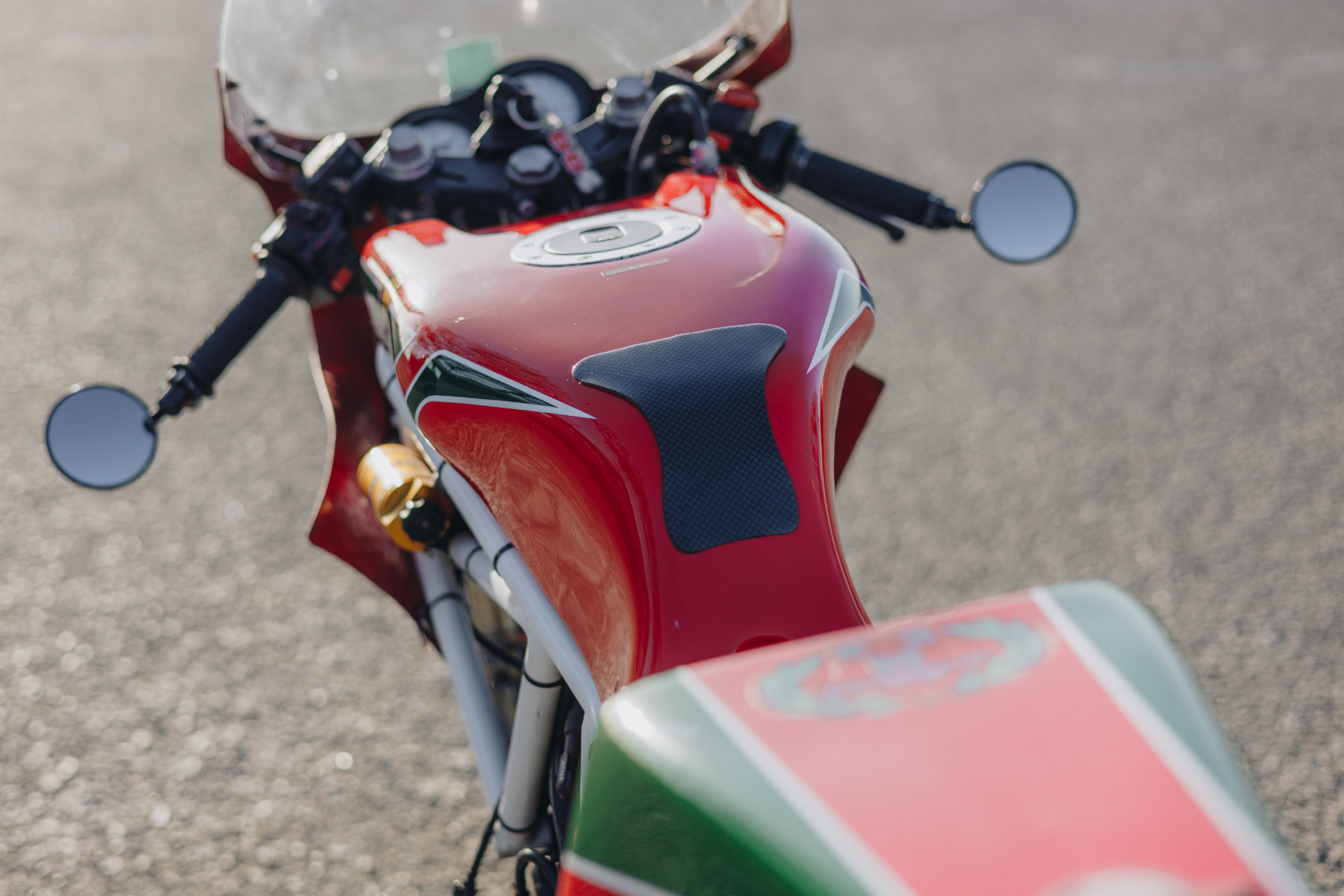 What's the bike like to ride? Brendon explains it beautifully.
"The bike is ultra nimble and extremely torquey," Brendon beams proudly. "I never twist the throttle without covering the rear brake – I did more wheelies on this bike in the first two weeks than I'd done in 30 years of riding."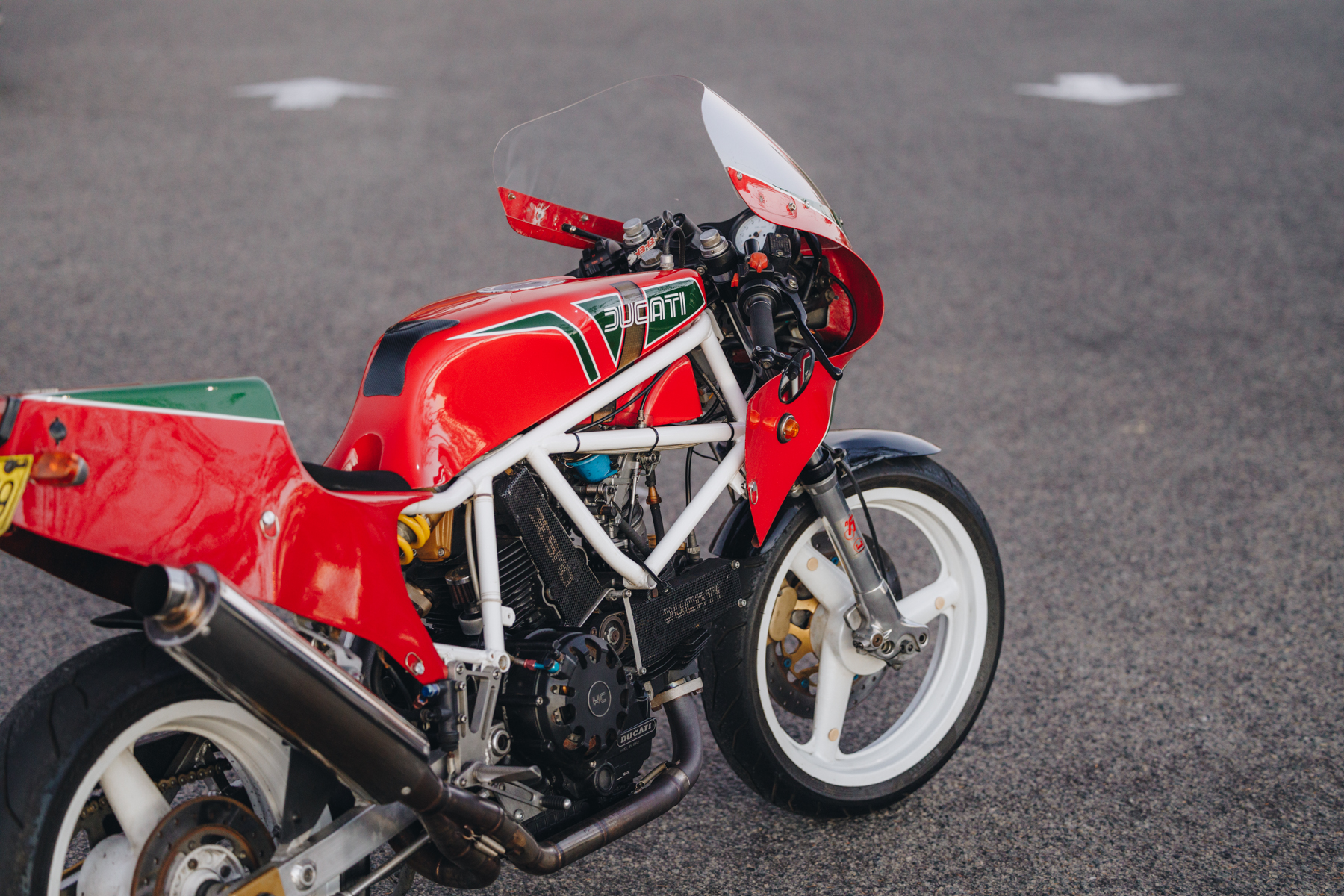 It's obvious that this bike was built to be ridden, not hidden – as is evidenced by the chain lube splattered on the back wheel and the dust and dirt covering the nooks and crannies. Brendon has built a winner and he's emblazoned the names of his two boys on the belt covers, so they're always with him.
There are just two things for Brendon to decide now. Firstly – which of the boys will inherit this bike? And secondly, what is he going to bring to the next ride? We'll have to wait and see.
Photo Gallery