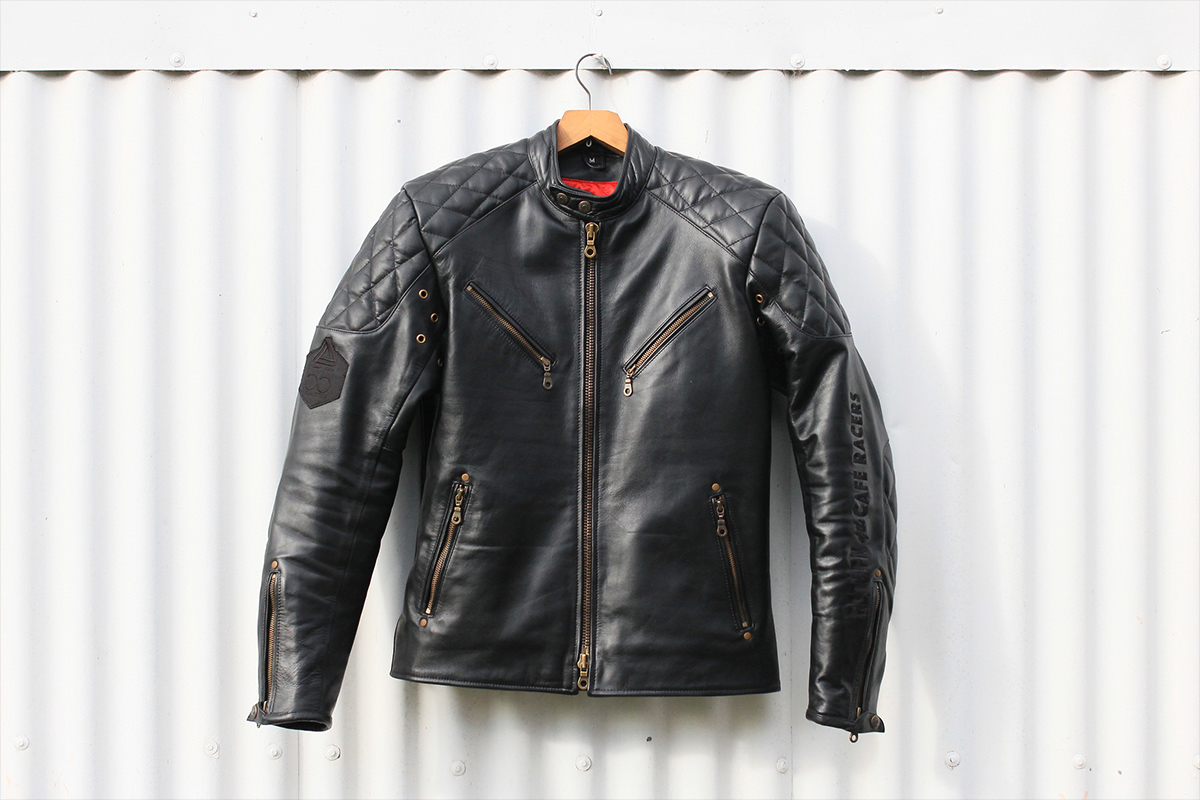 Spanish motorcycle jacket manufacturer '55Collection' are offering customers the ability to order their current range of leather motorcycle jackets tailored to your unique body shape size. Better still they'll even create a bespoke jacket using whatever style you specify. What this means is that for around about the same price as a high-end brand leather jacket (approx $680USD) you could be riding around in your very own, one-of-a-kind leather jacket that fits better than your favourite pair of gloves. A couple of months ago I was lucky enough to have the opportunity to do exactly that when Aitor Gonzalez of 55Collection contacted me.
When Aitor offered me a custom made jacket rather than going all out on a complete custom design I opted to go with their rather cool looking, but strangely named "Poke" motorcycle jacket. The Poke is one of four motorcycle jacket designs in the 55Collection range. It's a Racer style black leather jacket with diamond stitched shoulder, elbow and back panel, sturdy brass YKK zips, a band collar and central zip. Since I was given the option to do something custom I decided to make a few minor changes, opting to remove some of the stud details and getting my Return of the Cafe Racers logo sewn down the left sleeve.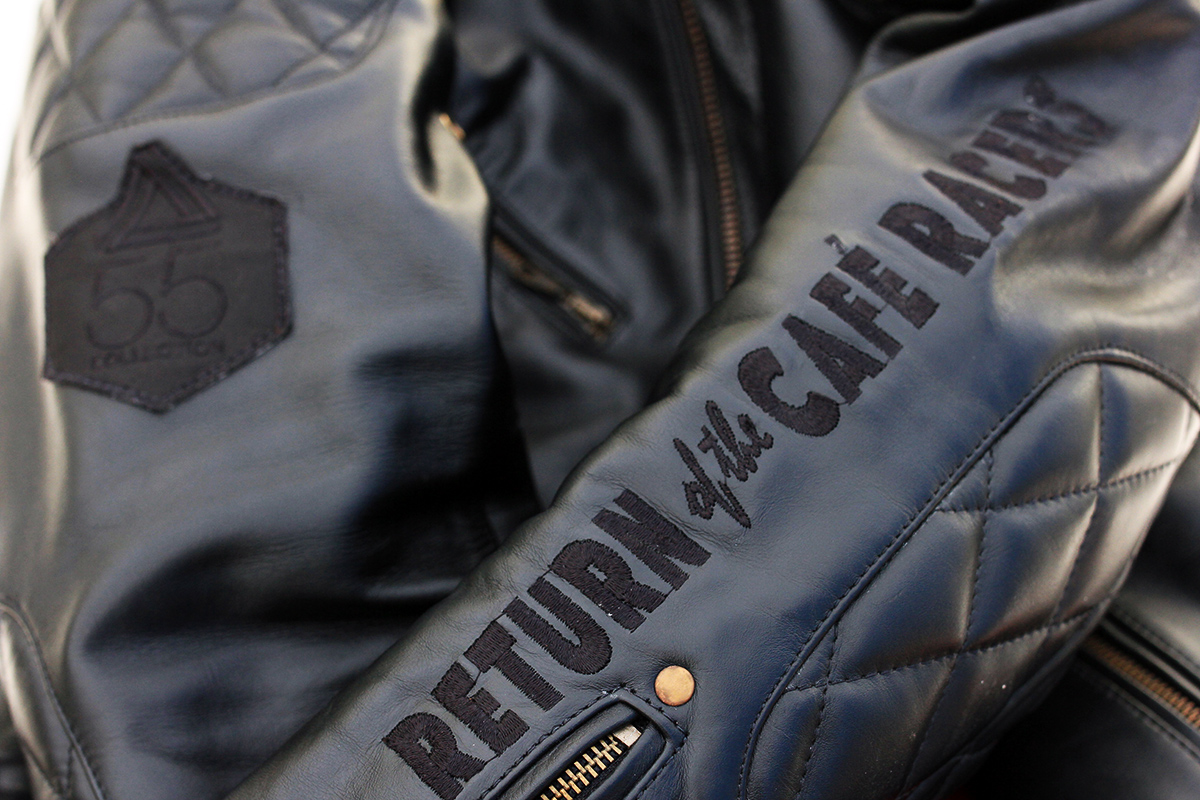 After sending through my measurements and design modifications it took around 30 days for my custom made jacket to arrive in Australia from their Spanish workshop. Around about the same time as the jacket arrived I was invited to the Australian launch of Harley Davidson's new 1200cc Roadster, so I decided to take the jacket with me to Canberra where the launch was taking place. This could have been a bad judgement on my part. Going to an event like this without breaking in a leather jacket could have lead to a rather uncomfortable full day of riding, thankfully that wasn't the case.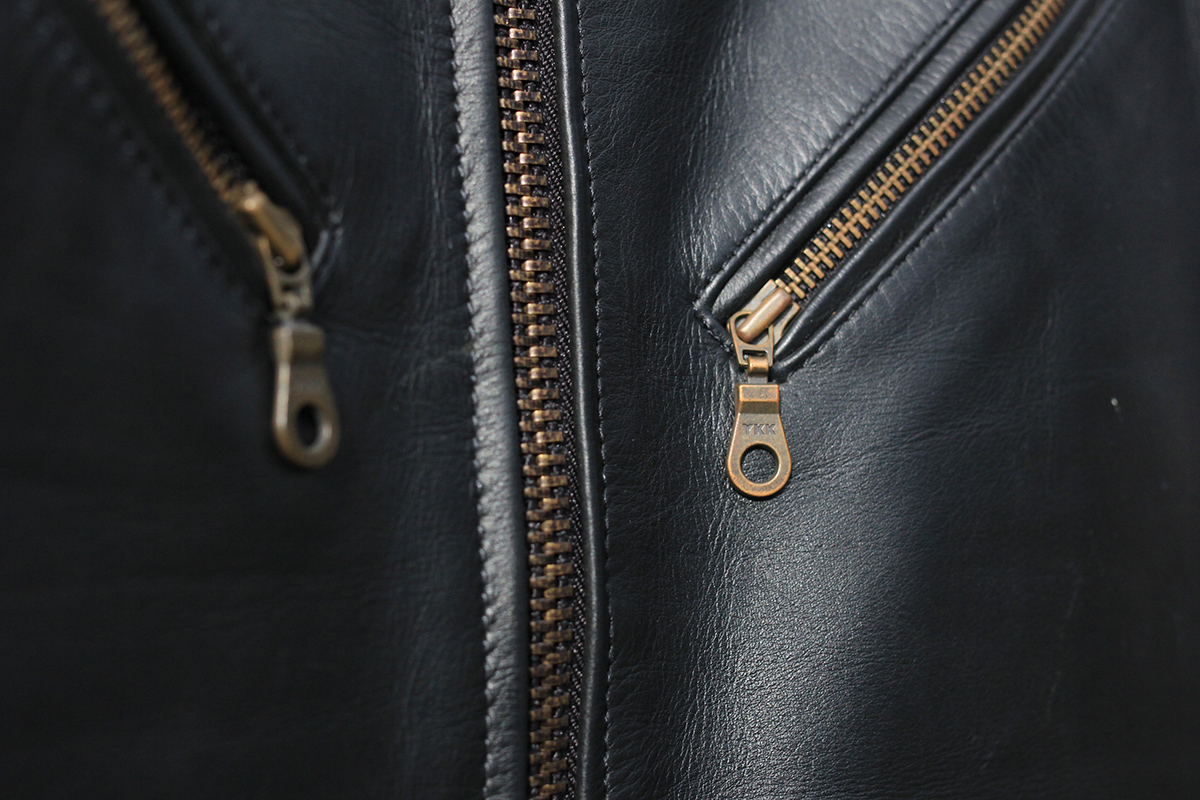 The 55Collection Poke jacket is constructed from 100% Italian leather with a supple finish that negates the uncomfortable breaking in period. Since I'd supplied my own measurements I was expecting a good fit and thankfully I was not disappointed. The sleeves sat right on my wrists with arms outstretched, the collar wasn't restrictive and my, "I really need to do some exercise", midsection was well accommodated. On the exterior of the jacket are four pockets (2 chest / 2 waist), ventilation holes in each armpit, cuff zippers with studded straps to prevent the zips from retracting  and a central, dual way zipper with double button collar. Elasticised panels on each side help to keep the fit relaxed in different riding positions and everything is double stitched for extra safety.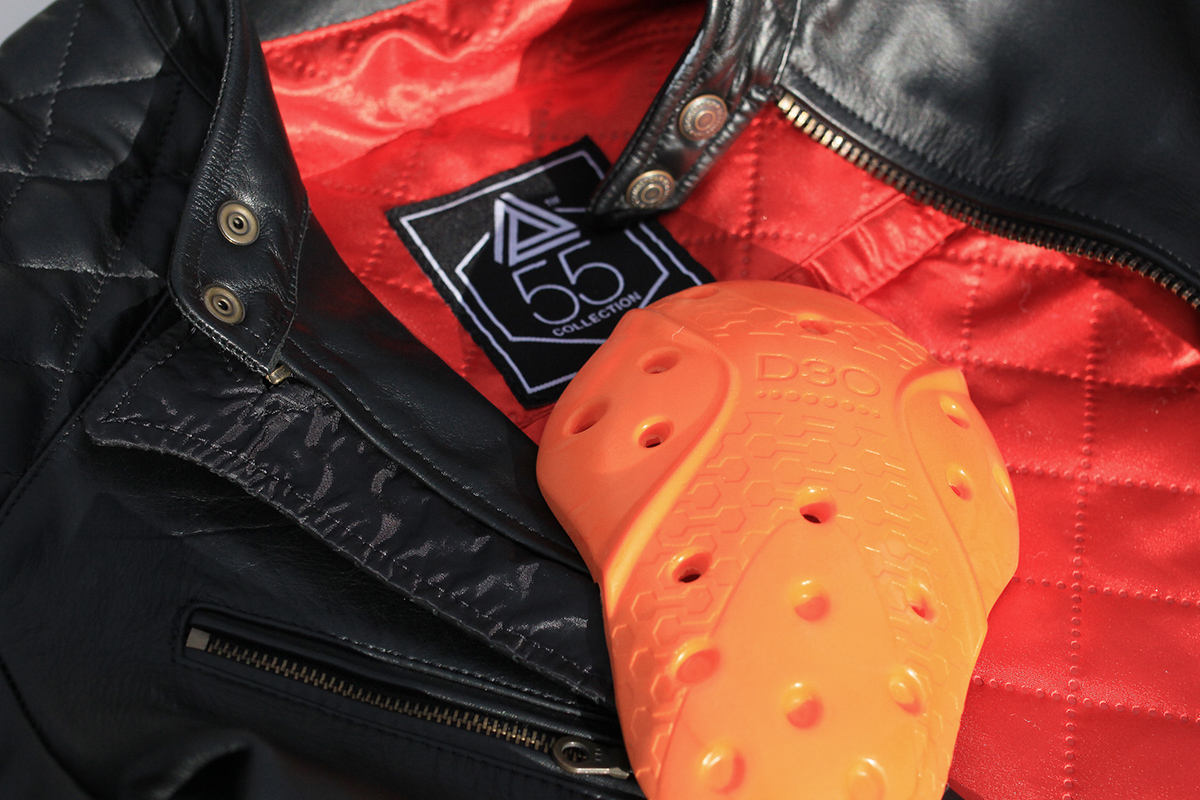 The inside of the jacket is lined with a non-removable, lightly insulated, red satin liner which looks the business, especially when you're off the bike with the zipper open. Inside of the main zipper is a breeze barrier to help keep you warm and on each elbow, shoulder and in the back are velcro secured pockets for armour insertion. Included in the price you'll also get a full set of shoulder, back and elbow D30 level 2 armour inserts. Inside you'll also find additional storage with one open top pocket and one zipped pocket offering weatherproof storage.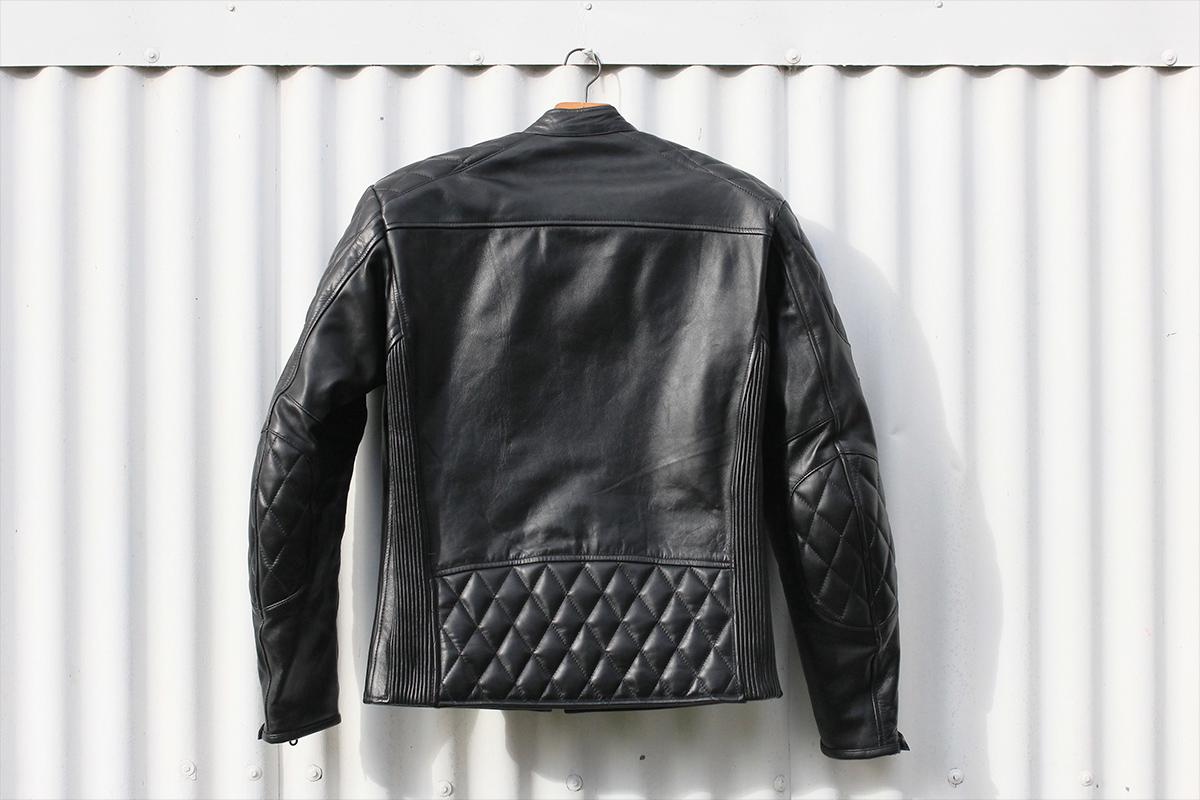 This time of year Canberra can be rather chilly so I took along a light sweater and thermal underlayer. The morning of the ride I woke up to a rather chilly 4 degrees so I opted to go with the thermal. The Roadster's mid control footpeg riding position made the jacket lift up, but thanks to the dual zipper I was able to relax the fit at the waist. As the day progressed the weather improved and my thermal layer started to become a little too much beneath the leather and lining of the jacket. Although I'm yet to test it in really cold conditions I'd probably opt for one of my thicker lined jackets over the Poke. To me this is more of a warm or mild weather jacket, which means it'll be getting a lot more use from me in a couple of months. Being tailor made to my dimensions it's easily the best fitting jacket I own and although some may consider the price high, I doubt you'll another brand offering the same tailored service for the price.
Would I recommend the 55Collection Poke jacket? Unequivocally yes.
The Bad
Lining not removable
Stitching on velcro armour pockets is weak
The Good
Tailoring service
Supple leather with no break in period
Sturdy zippers and reinforced stitching
Custom design service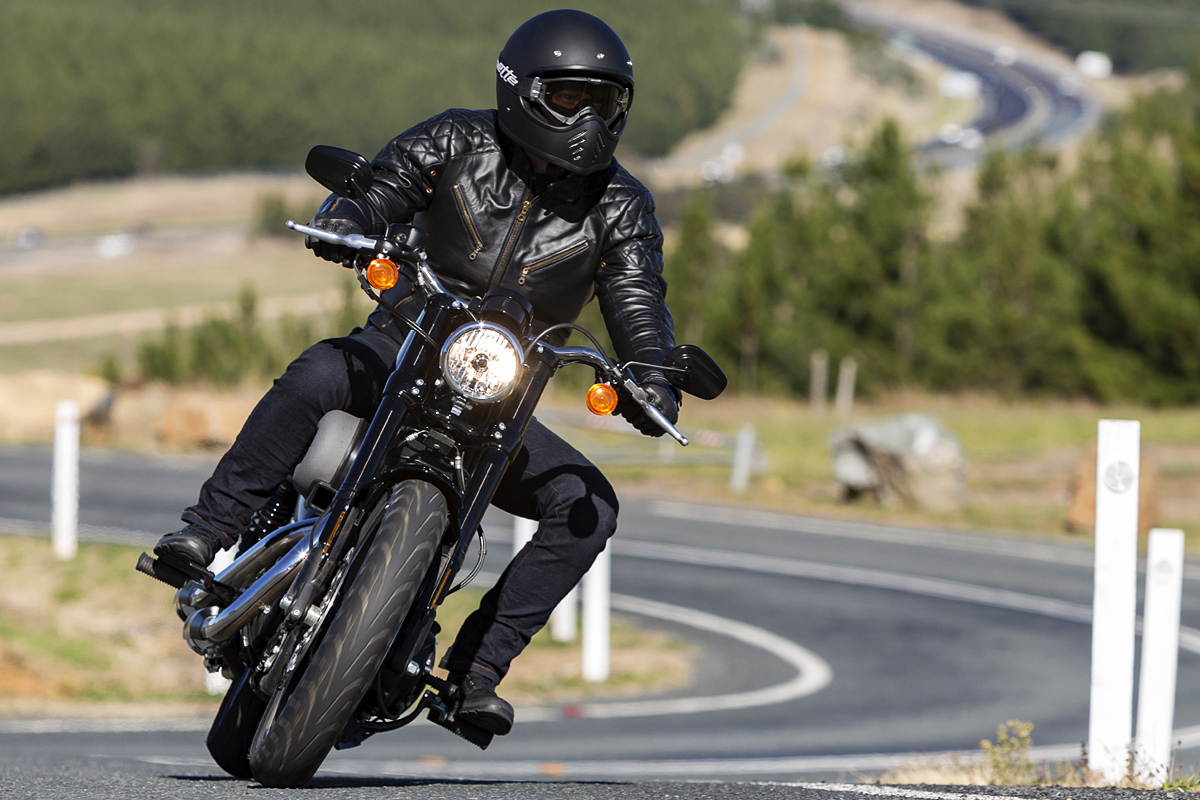 In recent years we've become spoilt for options when it comes to finding a great looking leather motorcycle jacket. Whether you ride a scrambler, a classic or a cafe racer there's a style out there that will suit your ride. However when it comes to finding the right fit things can get a little difficult. Slight differences in sizing and proportions from country to country can leave you with an expensive, ill-fitting jacket. It's an experience many of us have gone through at least once during our riding lives. Fortunately, there's now a solution.