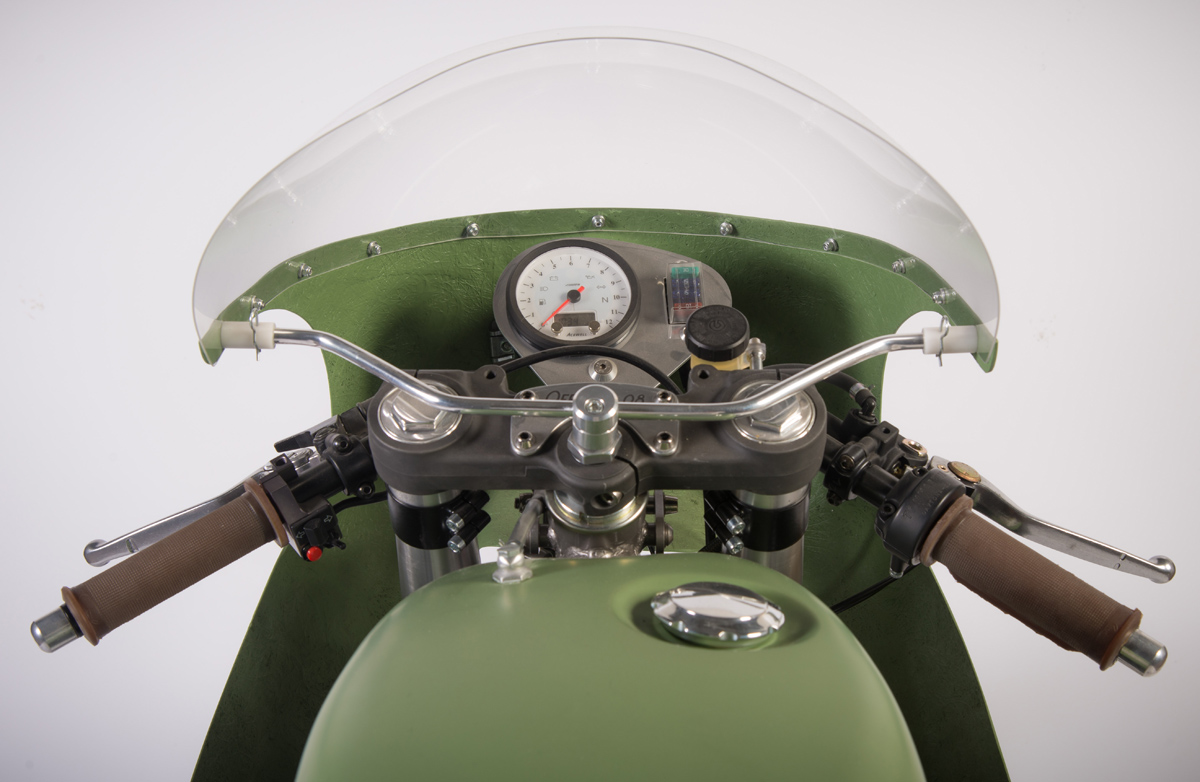 Launched in 2011 by Simone Spina and Danilo Del Raso, Officine 08 is made up of a team of 5 friends who manage the business which currently stocks around 14,000 different classic parts and accessories. Recognising the importance of the ECIMA show the team invested over 460 hours in creating this very special, '81 Moto Guzzi 1000 SP. "We love classic racing motorcycles" says Simone. "Since Moto Guzzi retired from racing in 1957, we tried to imagine how a Guzzi could have been if the brand decided to race during the seventies. The bike is called Banfugliera."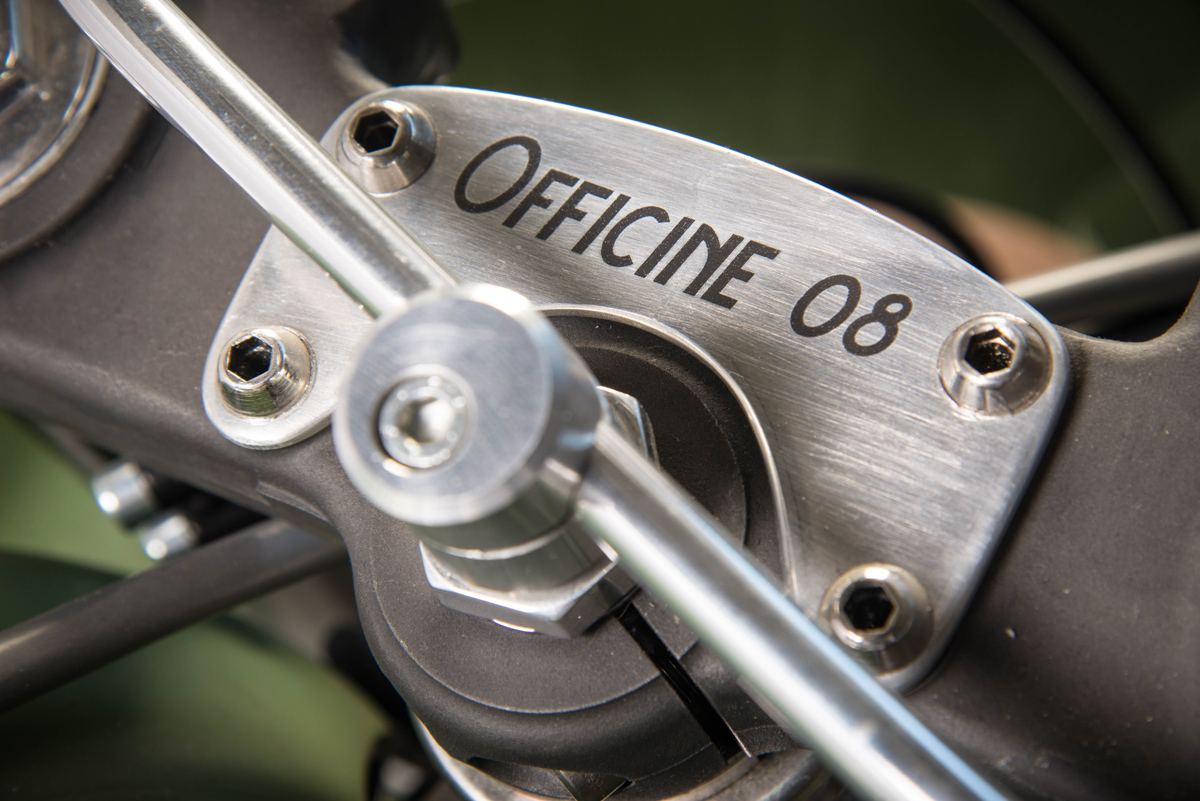 Before any of the styling could begin the team first wanted to create a motorcycle that could perform accordingly. Work began by shortening the rear of the frame and modifying the swingarm to allow the fitment of a 140 rear tire. The bikes factory cast wheels were swapped for a pair of Borrani rims laced to custom hubs for period correctness and weight savings. Handling was upgraded suitably with the fitment of 50mm USD Showa forks and a pair of YSS 350mm adjustable rear shock absorbers. Then to get the bike pulling up hard and fast there's a custom Brembo front and rear brake configuration designed and built in-house.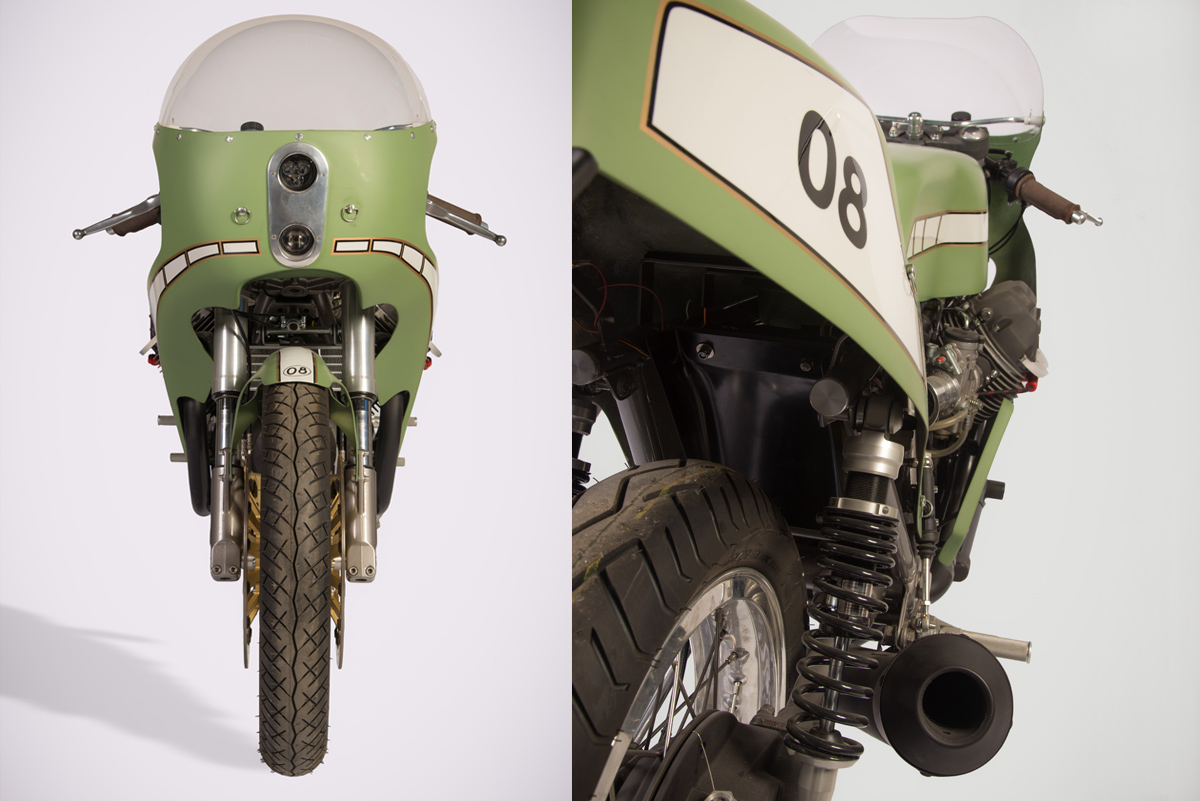 To keep temperatures in check a Toyo oil cooler has been positioned high behind the front wheel and the oil filter has been modified to sit externally. Big gains in power can be attributed to the Dell'Orto 38mm carbs sitting behind each cylinder, which are being fed by an acceleration pump, and a Mass 2-into-1 homologated exhaust system. For race season durability the timing chain has been swapped out with a timing gear kit and there is a lightweight flywheel and hi-comp pistons for additional performance gains.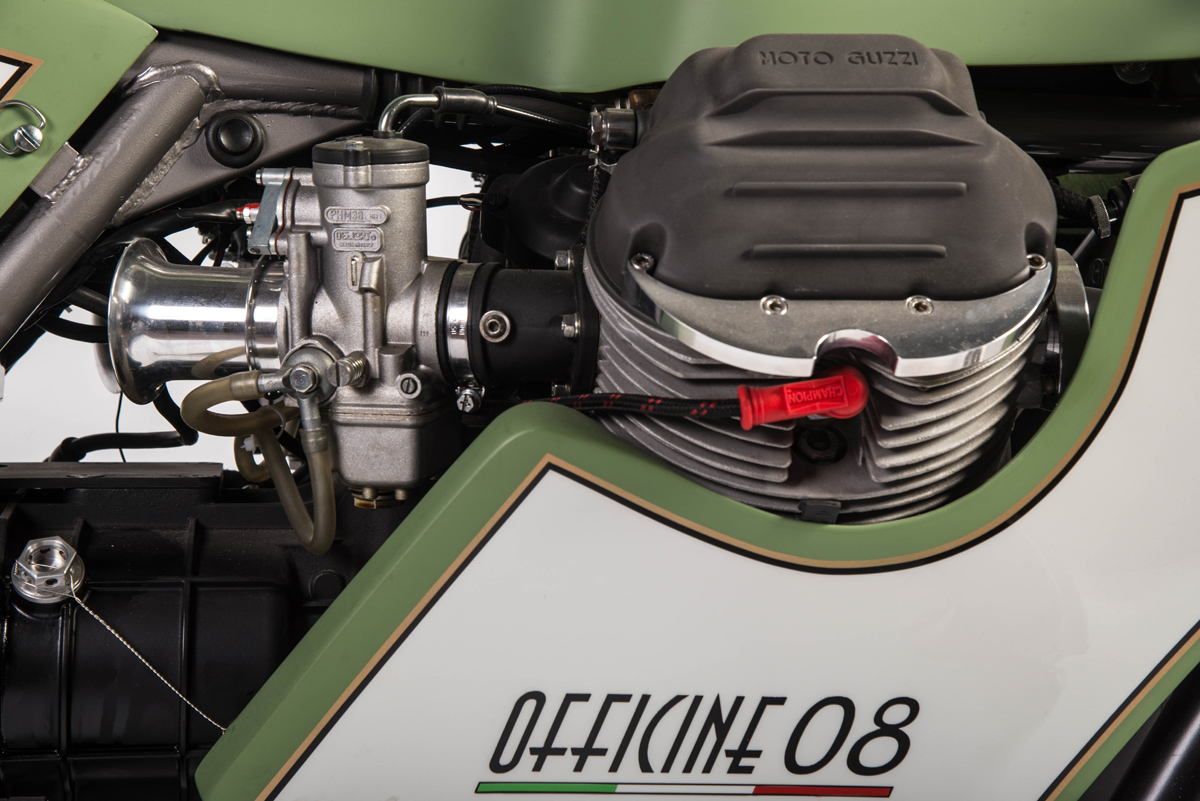 A simplified wiring harness delivers power to the bikes Dynatek ignition system and simplified accessories. There's a single AceWell speedo sitting in the cockpit beside an easy access fuse box and although this bike is built to race spec, they've added an LED tail light and pair of vertically stacked cree headlamps for optional road use. Keeping weight down is always paramount so the cumbersome lead-acid battery has also been discarded in favour of a Motobatt gel battery.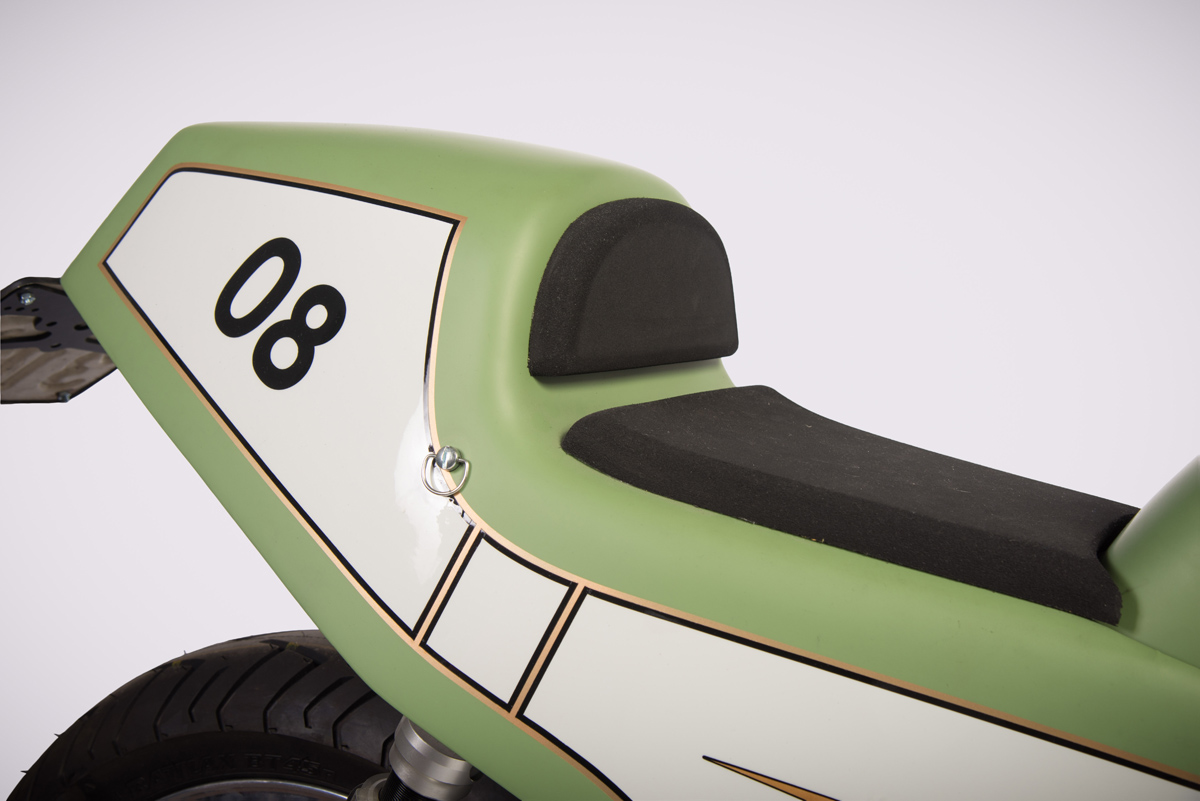 Officine 08 mechanics and fabricators Tullio and Michael were then tasked with building Banfugliera's bodywork. Tullio applied his experience with race fairings to the Guzzi by forming the bikes fiberglass tank, seat and full fairing by hand. Michael's task was to fabricate aluminum components such as the handmade front fender; custom brackets and mounting gear. Then to position the rider appropriately there's a set of clip on bars from classic Italian manufacturer Menani that are wearing Domino controls and Tommaselli handgrips, and Tarozzi rearsets for foot controls.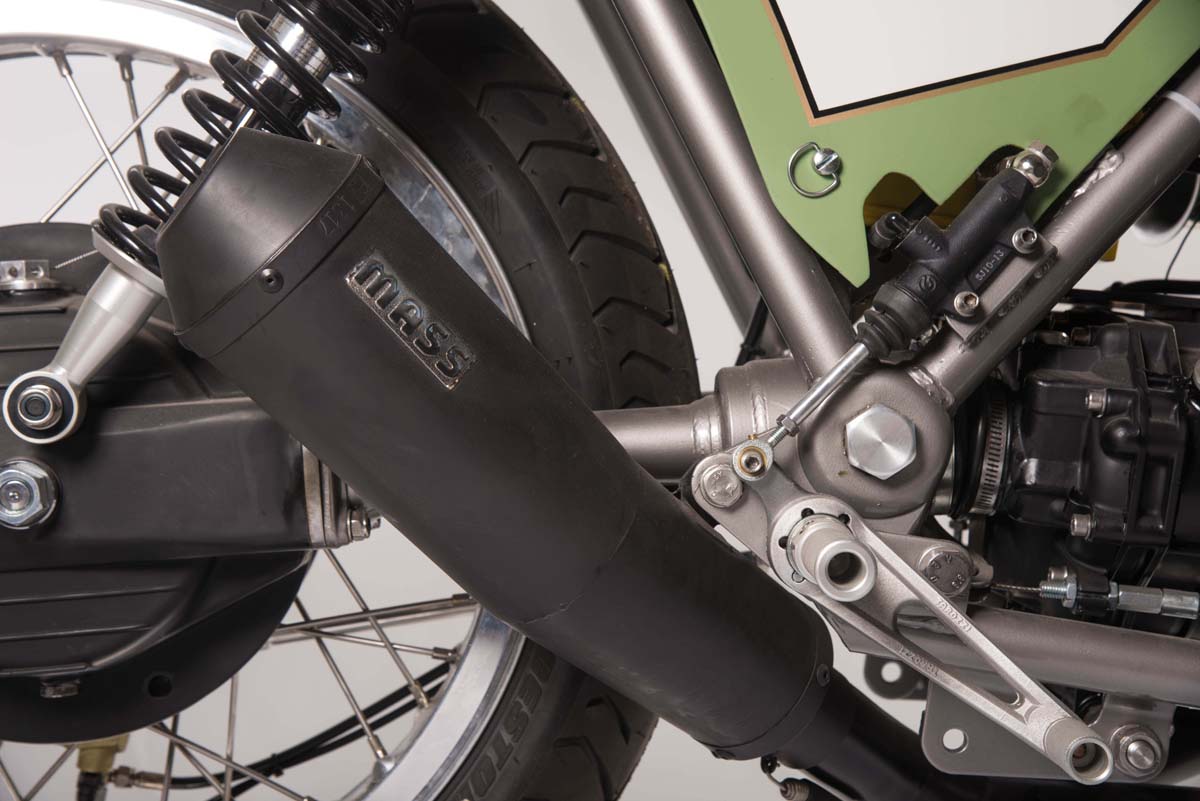 Pale green has always played a part in Moto Guzzi's racing past. It covered the dustbin fairing of their Otto Cilindri V8 Grand Prix Racer and was the perfect finishing touch for Banfugliera. Visitors to the recent Bike Shed show in Paris would have had the pleasure of seeing this bike in the flesh, unfortunately, the rest of us will have to make do with drooling over these images.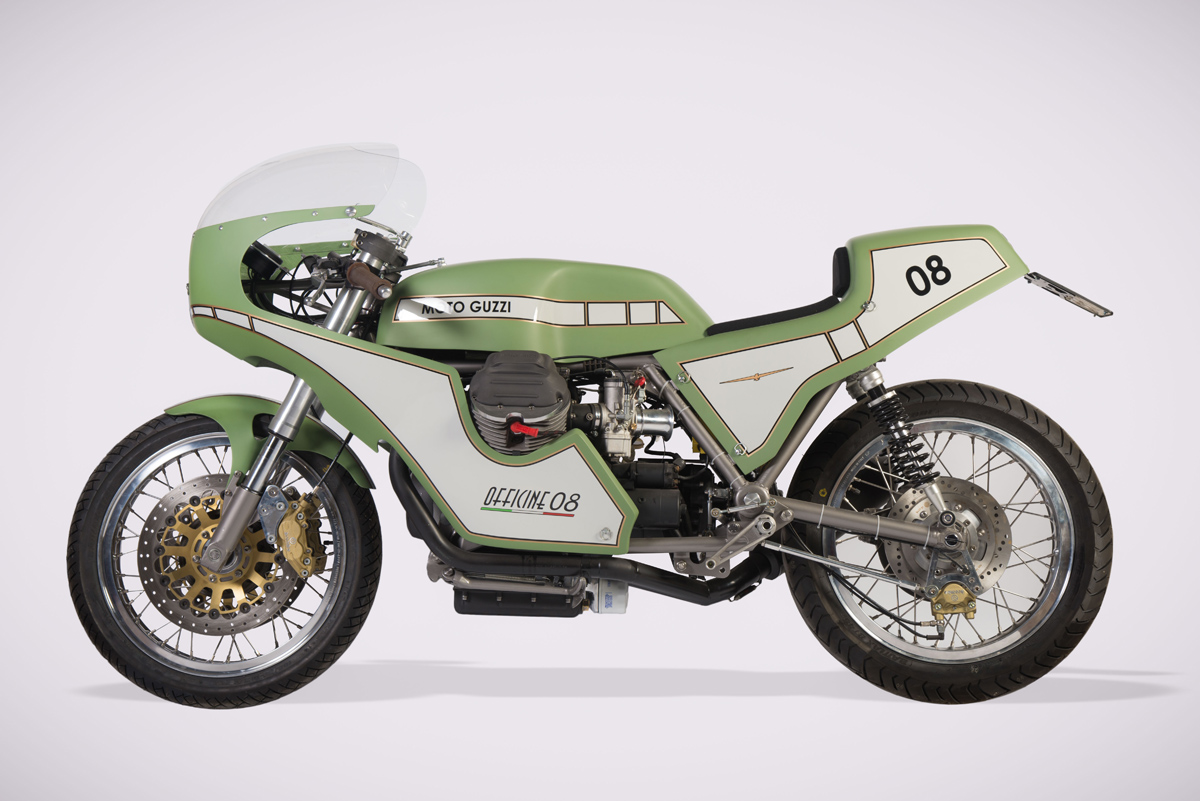 I have to admit I have a soft spot for classic race bikes. Purposeful performance and minimal aesthetics are certainly contributing factors to this, but above all else, it's their styling. The shape of their bodywork and their retro livery remind us of a time when being bold and brash was par for the course. Without doubt, it was during the sixties and seventies when the best looking motorcycles navigated racetracks around the world and Italian classic spare parts supplier and custom builders Officine 08 couldn't agree more. As regular exhibitors at the EICMA show in Milan, they know that it takes something special to make an impression at the show and in 2015 that's exactly what they set out to do.