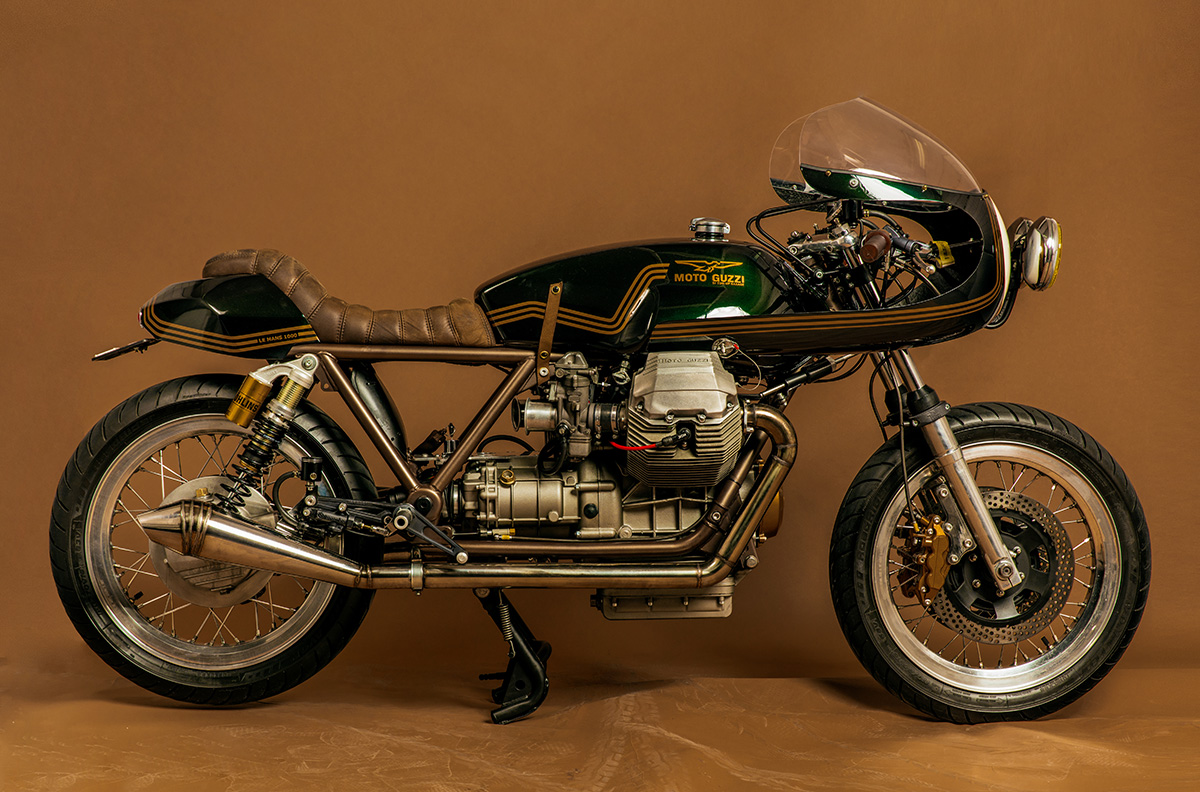 The Moto Guzzi Le Mans series began back in 1976. Sporting an 850cc version of their iconic longitudinal V-twin it was named the Le Mans 850 café racer and was based on the V7 platform. Boasting an impressive 71bhp at the rear wheel it wore clip on handlebars and a bikini fairing and was named in recognition of the hugely popular 24 hour endurance races at Le Mans in France. During the decade that followed the Le Mans gradually grew in capacity, but as with many bikes of the era became the victim of chunky, angular 80's styling.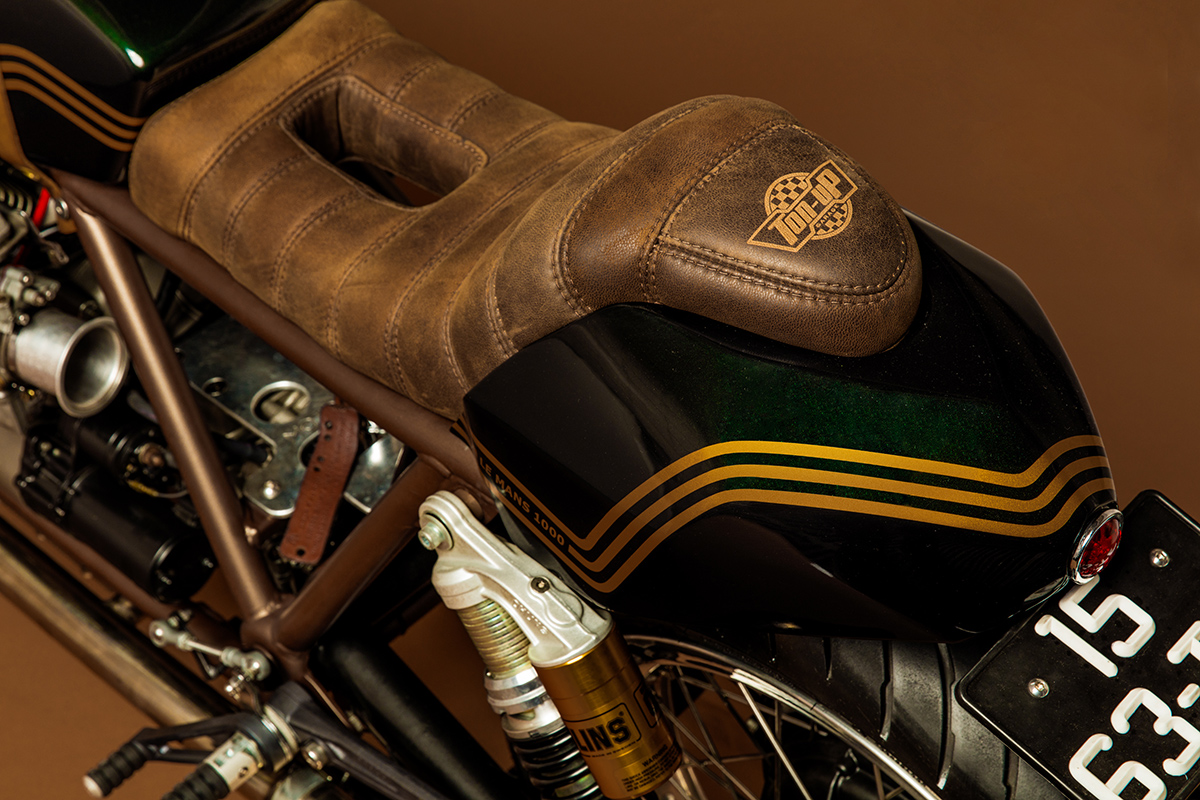 When it came to reimagining their eighties built Le Mans 1000, Daniel and Pedro of Ton Up Garage looked back to the thing that originally inspired the creation of the bike, the 24 hour endurance races. Sleek, long and powerful were the 3 key design points they pulled from their study of the 70's racers and these were the building blocks for this bike. Starting with the bodywork they added a longer fuel tank and fabricated a short single seater tail end. Clip on bars wearing classic Ariette grips and Tarozzi controls were slid onto the forks and a retro half fairing was custom mounted up front. Removal of the old bodywork exposed some of the bikes less aesthetically pleasing electrical systems so everything was relocated out of sight and a new wiring loom designed that utilised some of Motogadget's latest kit to ensure it would perform its best.
The rebuilt wheels use Borrani rims laced to the original hubs via stainless spokes and have been wrapped using Avon's best classic racing rubber. The Le Mans rider's feet are set higher and more rearward thanks to a set of Tarozzi rearsets and the well padded seat featuresa unique hole in the center design so the rider can quickly reach through it to access the ignition key. Rear suspension was also given an overhaul with the addition of Ohlins piggyback shock absorbers.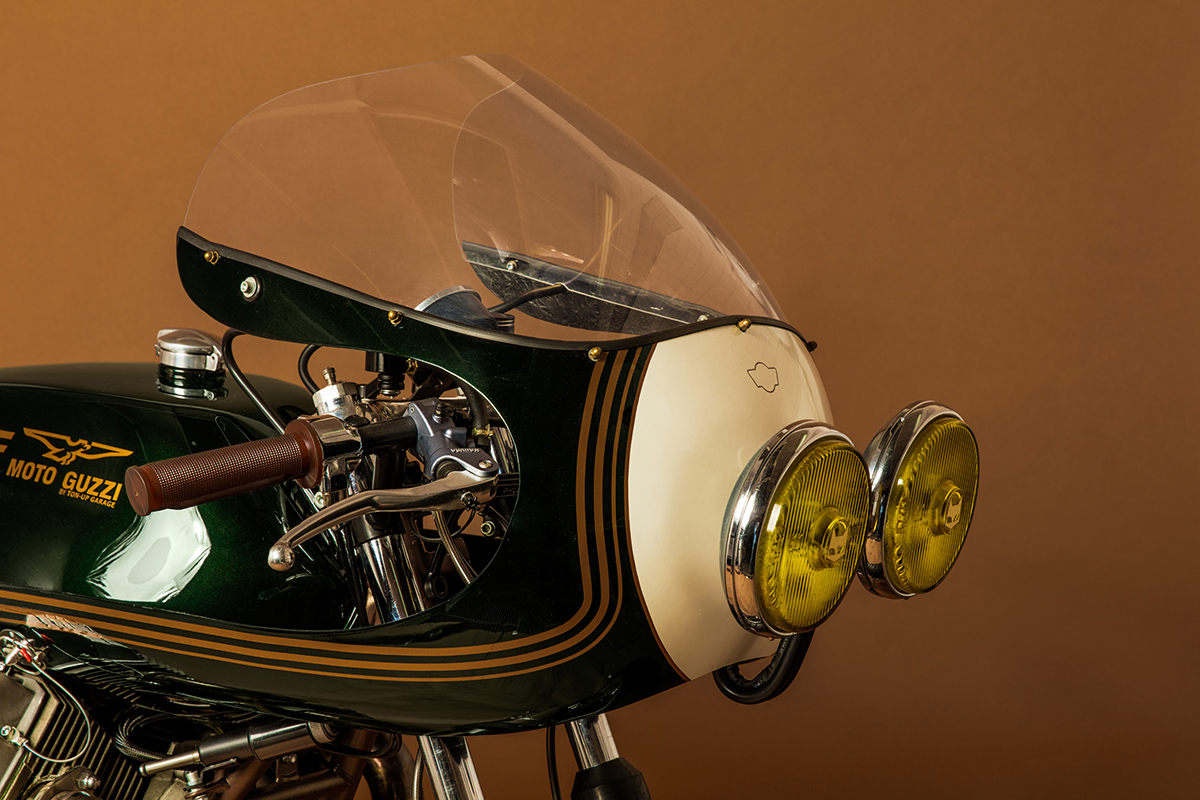 Of all the retro and race inspired elements in the Ton Up design it's the externally mounted, twin Marshall headlights that really stand out. Unlike other races the 24 hour Le Mans schedule meant that the competing motorcycles required lighting solutions. In some cases race teams fit them externally to bikes already wearing race fairings which resulted in a look that could only be described as an afterthought. On this bike however they provide the perfect connection to a glorious time in motorcycle racing and are one of our favourite features.
"First time we tested it, the engine just kept on revving with really strong torque and we knew right away the bike was perfect for what we were aiming to create." recalls Pedro. This didn't mean however that there wasn't room for improvement. To make the bike worthy of its '1000' livery the engine was bored out from 949cc to a full 1000cc. Carburettion was then upgraded using a pair of race carbs wearing velocity stacks and the ignition was switched over to a more reliable and powerful electronic system. Lastly at the opposite end of the combustion cycle they installed a complete custom exhaust system designed to deliver great performance and an unforgettable sound.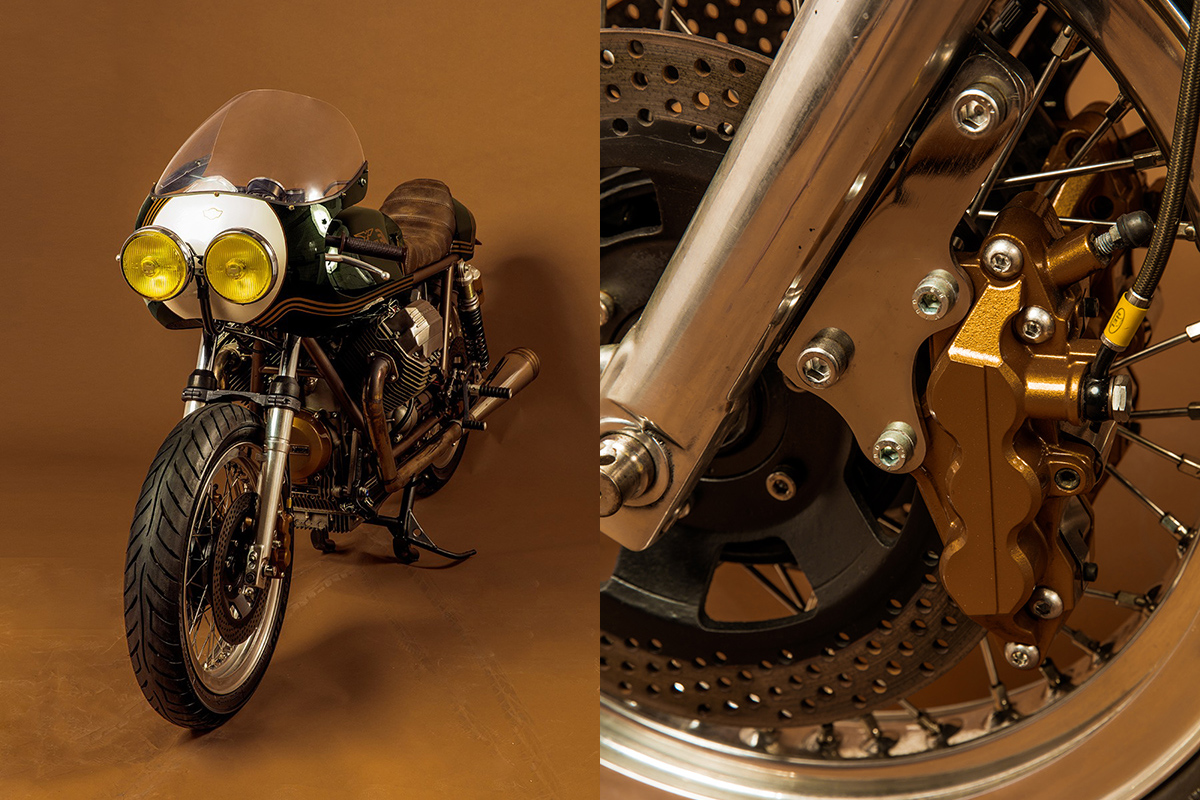 Much to our approval the Ton Up Garage boys aren't the kind of guys you'll see sitting in cafes staring at their bikes outside. Instead they like to put their builds to the test and the Le Mans was put through it paces to ensure it was performing as desired. In fact they even put it up against a few of the "new bikes on the block" in some unsanctioned street races where it repeatedly proved that "age doesn't mean a thing".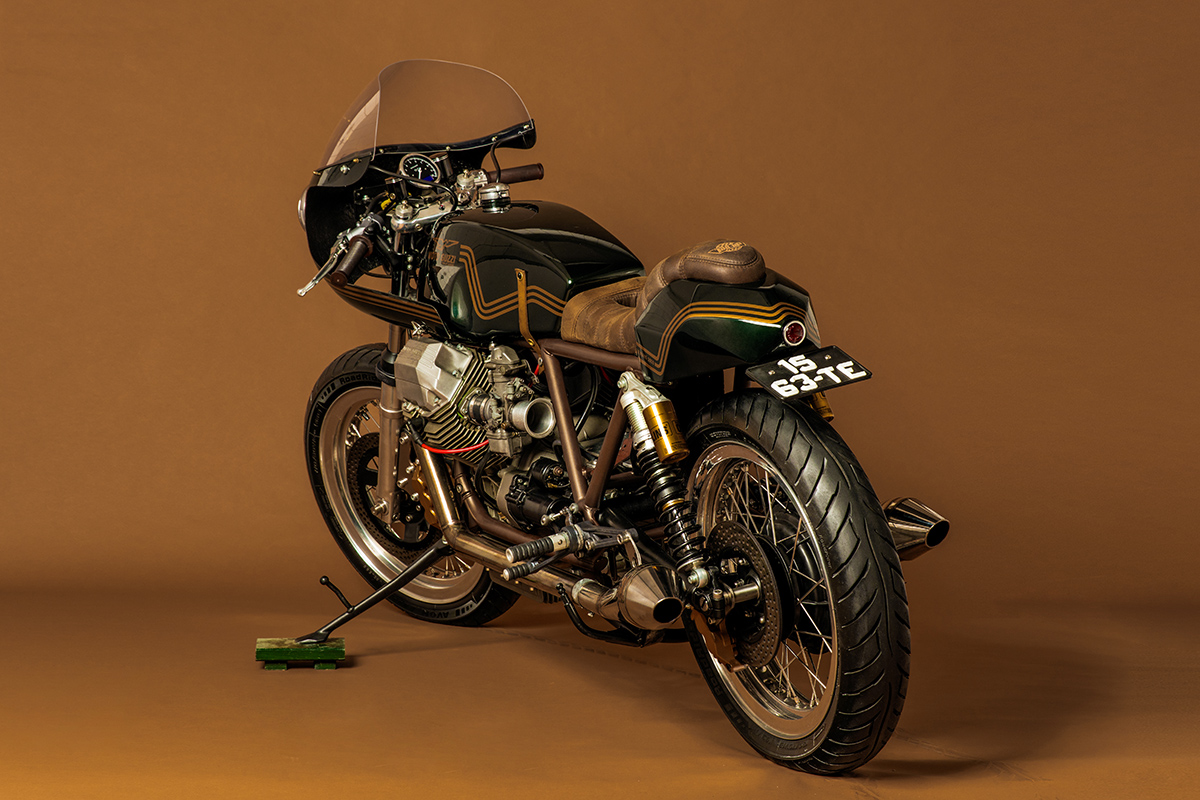 Just like many of the other motorcycle manufacturers, Moto Guzzi has been celebrating its past by releasing a series of classically style models over the past few years. Their V7 proved to be a huge success and with the recent release of the V9 they're hoping to once again tap into current trends in styling and customisation. However, despite all the new technology and performance improvements there still seems to be something missing from the newer bikes. I may be a hopeless romantic, but the bikes I recall from my youth are the ones that really get me excited. Over in Portugal, the guys at Ton Up Garage couldn't agree with me more. They've built a business out of revitalising and customising classics and their latest build using a Moto Guzzi Le Mans 1000 is no exception.