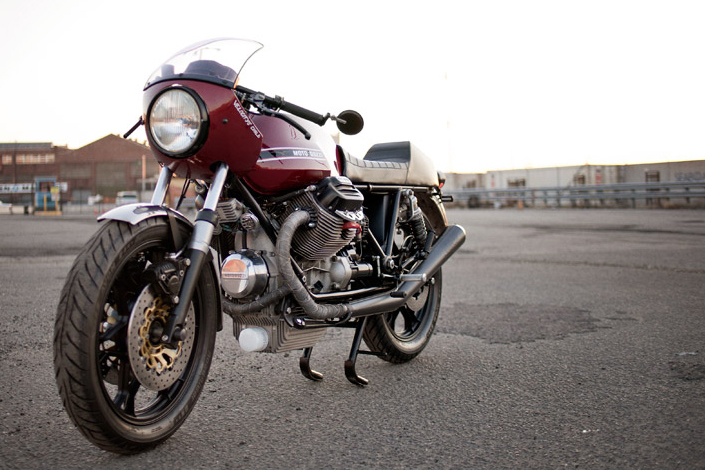 Moto Borgatoro is a Brooklyn based workshop specialising in the restoration, maintenance and customisation of classic Euopean and British Motorcycles. Shop owner Peter Boggia opened his doors in 2008 with little more than a 
Moto Guzzi Lemans
 that was salvaged from the aftermath of Hurricane Katrina. His reputation and the level of service he provides to his customers has seen his business grow to become one of NYC's most respected workshops. The Moto Guzzi you see here is a Lemans 1100 built for a lucky customer from the frame up.
The Guzzi's motor and drive train represents a merging of a '95 1100 Sport engine with the bikes original Lemans 5 speed gearbox. To get the most out of the Guzzi's V-Twin (as if 90bhp wasn't enough) the airbox was replaced with a set of K&N pods and the carbs underwent some drastic re-jetting. A blacked out, upswept exhaust from LaFranconi in Italy also adds to performance improvements while a new ignition system and custom wiring harness keep the electrics in check. Then to keep all those horses under control the entire braking system has had an upgrade with Brembo calipers all round and 300mm dual rotors on the front.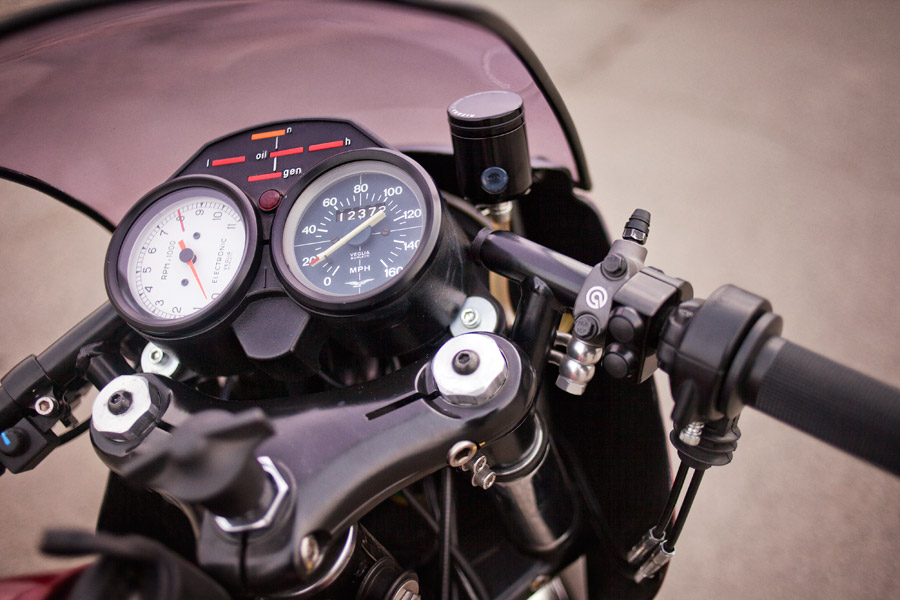 To reduce clutter on the bars Peter wired custom, minimalist switches that sit beside the Tomaselli grips. Under the seat you'll find a custom handmade tray which houses the battery.  The brackets holding the stock V7 Sport fender are also handmade and sitting on the righthand side you'll find a Clearwater asymmetrical LED driving light.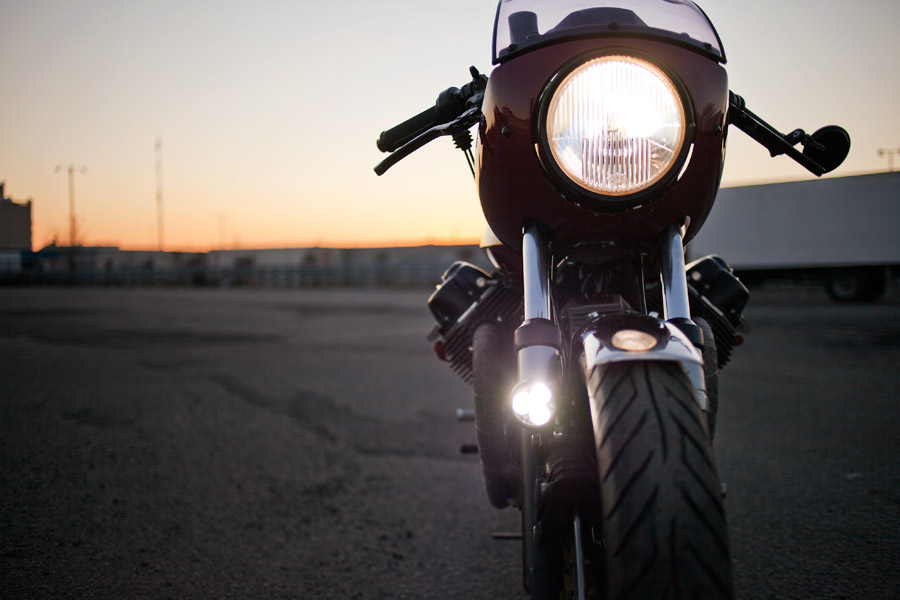 Much of the bodywork on the bike is original but individual items have been hand picked from other Guzzi models to create Peter's own vision of the Le Mans. As I mentioned the front fender comes from a V7 Sport same as the rear, the seat comes from an S-3 and retains it's flip-up functionality for access to the battery and storage and the tank and bikini fairing are original Le Mans items.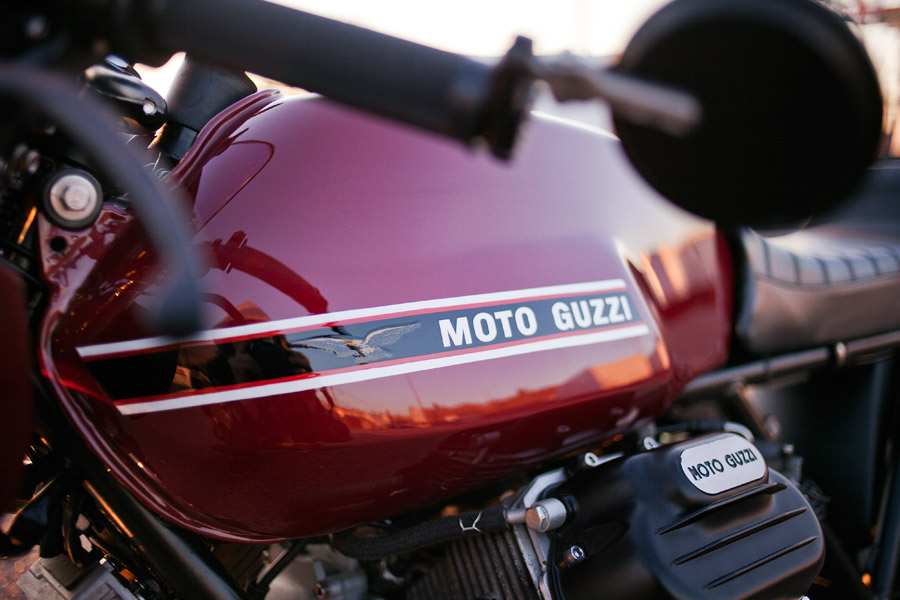 The frame and wheels are as fresh as the day the bike rolled out of the factory after being treated and powder coated while the tank and fairing got the royal treatment. Cycle Garden did an amazing job of painting the tank in candy apple red with with classic tank decals and some personalised lettering on the fairing.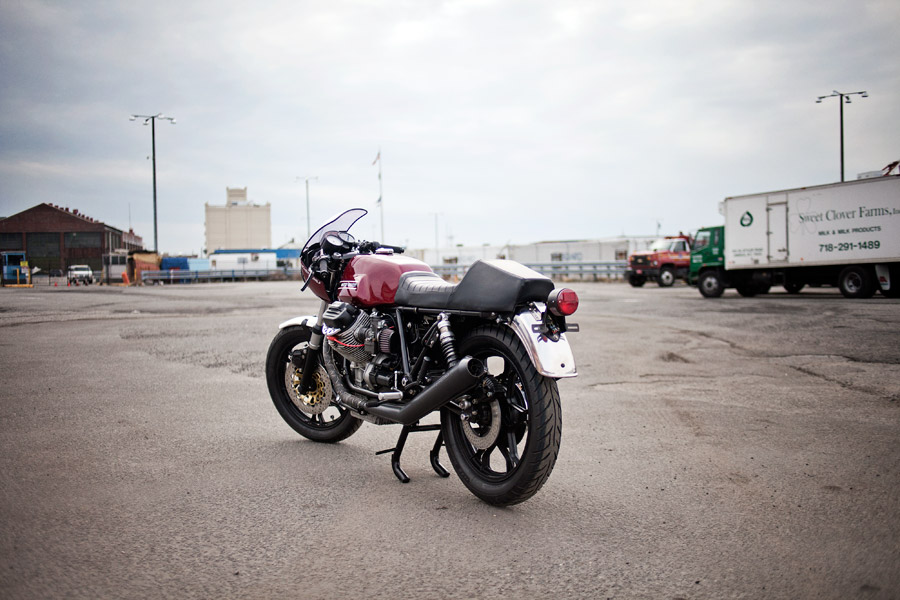 Got a soft spot for a Moto Guzzi? Take a look at the new 2013 Moto Guzzi V7 Racer and book a test ride!