The V35 was never designed to be one of the Moto Guzzi's top performers. The reason it was built was to qualify for a low-cost license and tax category rather than breaking any new ground. With a capacity of only 346cc, it was a city bike ideal for commuters. It used an alloy swingarm for reduced weight and used a 3 disc synchronised brake set up that was eventually phased out. Despite the V35's shortcomings, Marco of Matteucci Garage knew it had more to offer so he created this bike, the Sunrise V35 cafe racer.
"Simple, streamlined and agile" was Marco's priority during his V35 cafe racer rebuild. Out of the factory the bike tipped the scales at a measly 150kg, but there was still room for improvement. With even less weight to haul the v-twins 35bhp could potentially become a lot more entertaining. So he kicked things off by stripping the bike down to its bare essentials.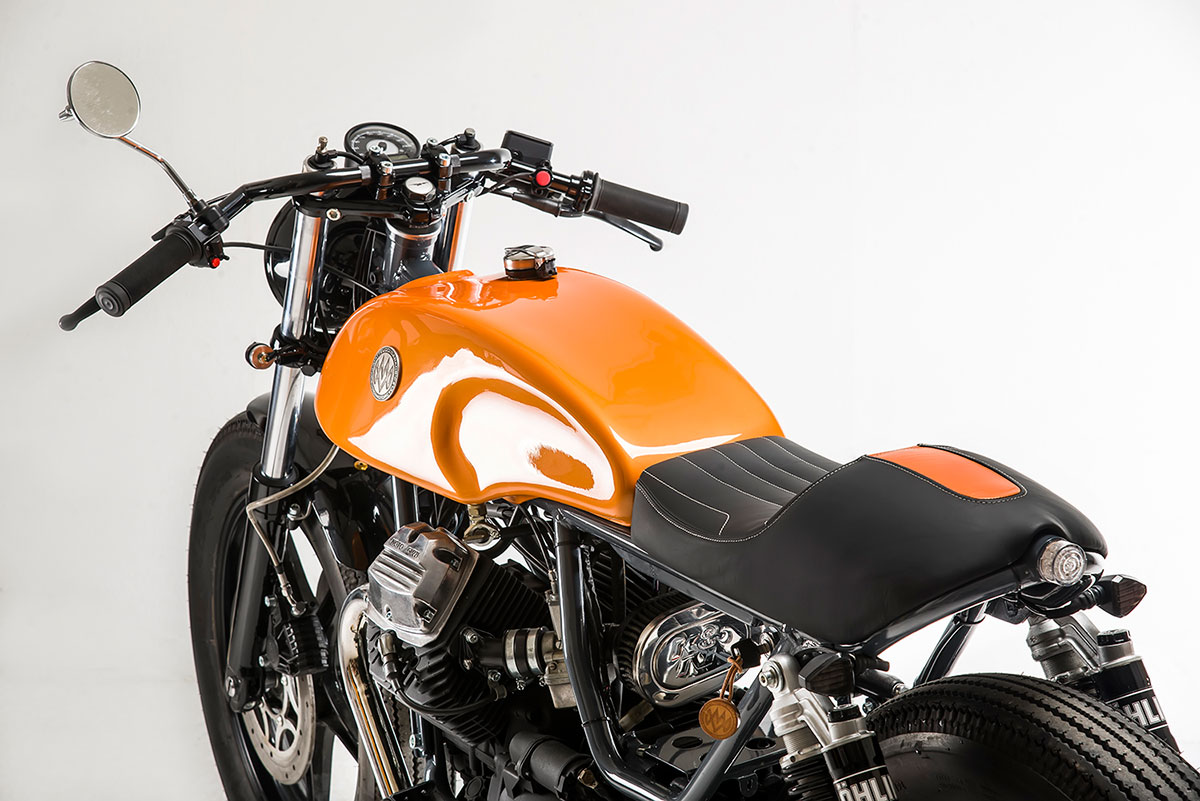 Marco devised a cafe racer aesthetic for the Moto Guzzi V35 using a Norton styled tank and low slung handlebars. The fabrication work kicked off with a new tail hoop into which he integrated the brake light. A hugger style numberplate mount replaces the steel fender and there's inconspicuous LED indicators tucked in behind the shock mounts. To compliment his cafe racer theme a new seat was upholstered using a hornets tail design and an orange leather insert to complement his planned paint scheme. The dash has also been decluttered by swapping out the original dials with a digital Daytona unit.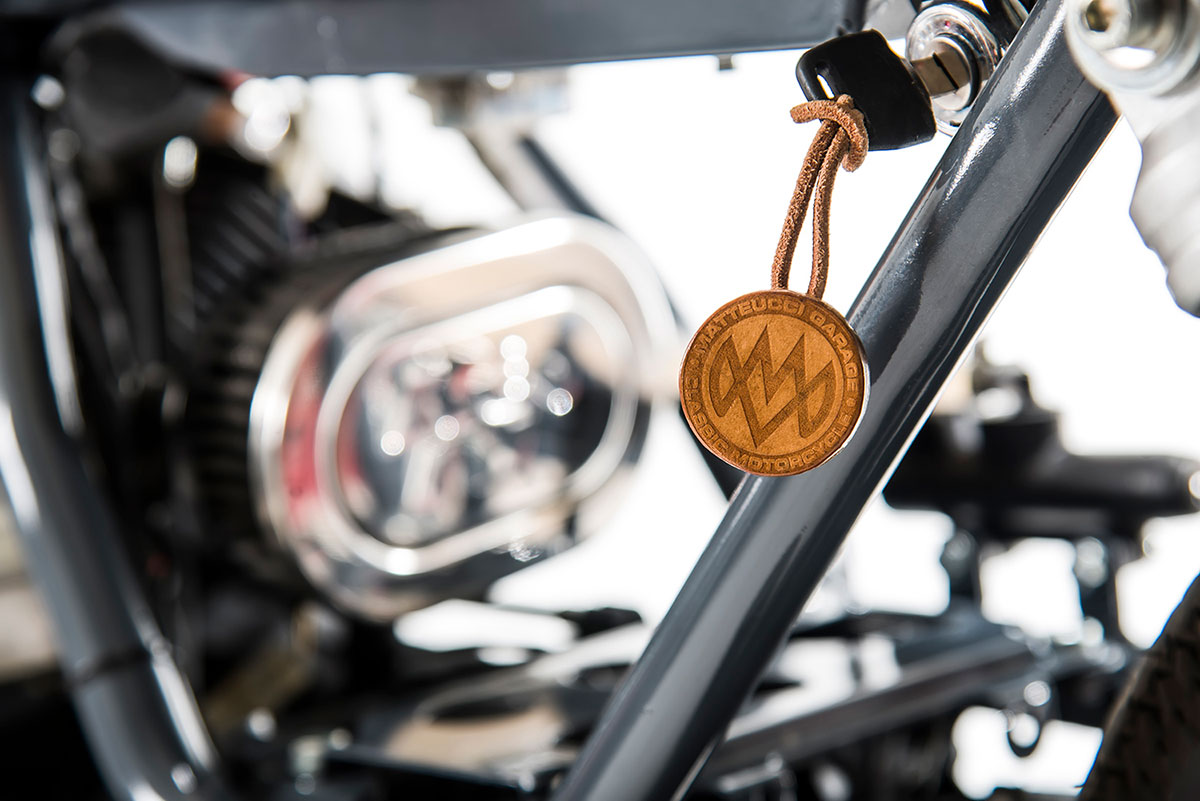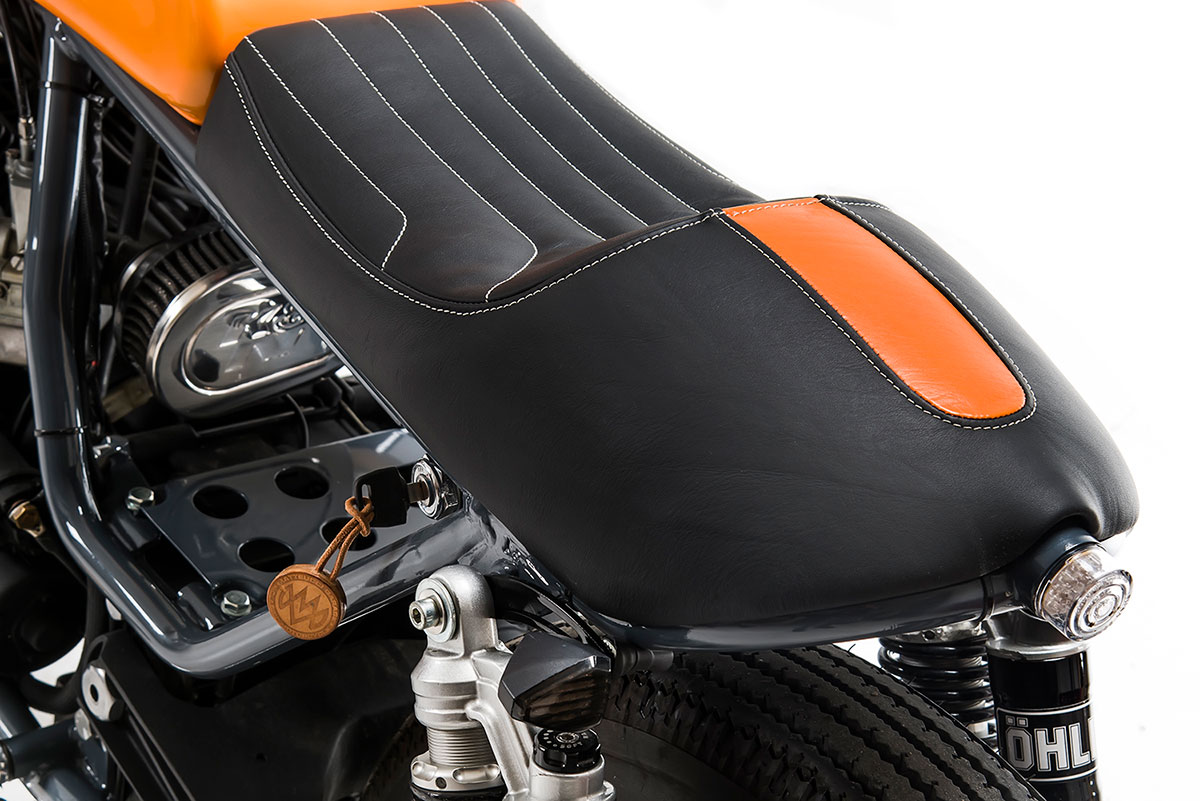 Suspension improvements come in the form of a rebuilt front end and Ohlins rear shocks. There's also new Brembo brake pump for improved stopping power. As for tyre choice, Marco opted for visual appeal over handling enhancements. The stock rims now wear chunky vintage rubber to beef up the otherwise svelte steed.  Rider comfort was another consideration so, rather than customary clip ons, the V35 wears higher set clubman bars.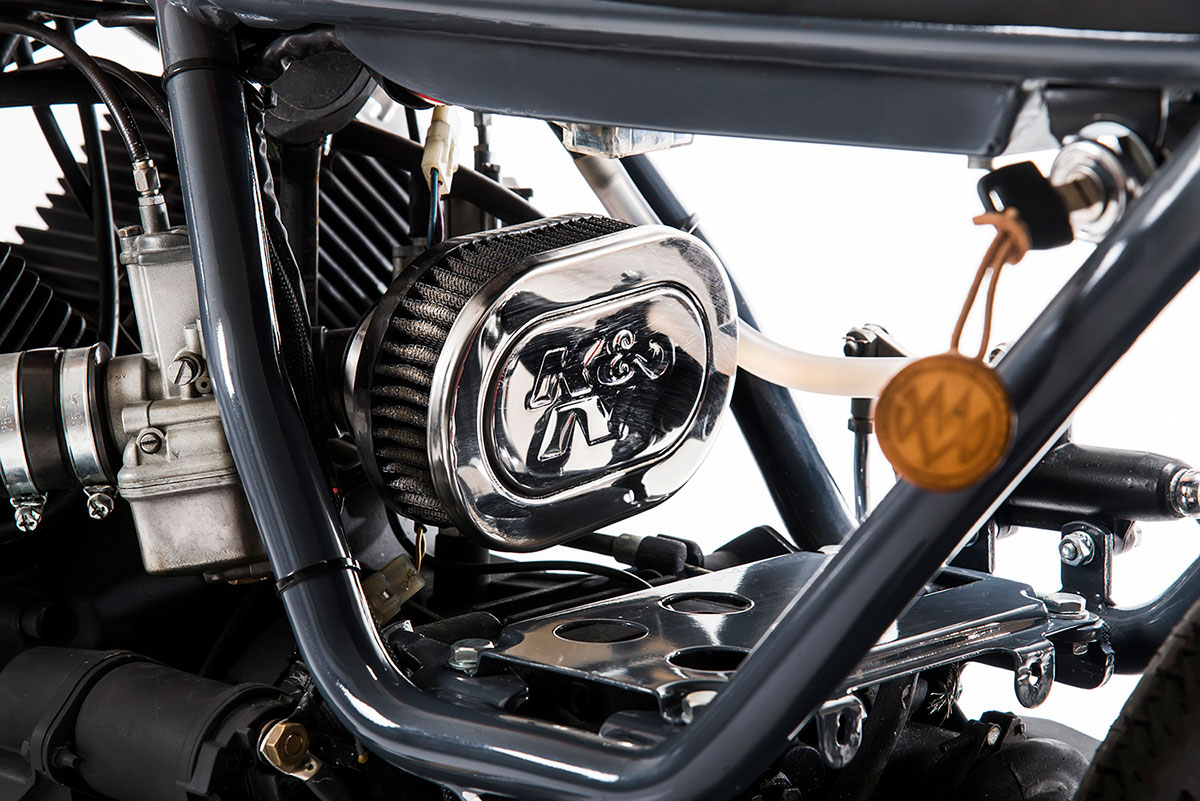 As for the engine, the modifications are modest, but enough to make things a touch more interesting. A pair of Dell'Orto carbs are fed by a single K&N filter. Then there's a Megatone muffler hanging of each of the exhaust headers that do more for the sound of the bike than adding any extra oomph. And, although we all know it's red paint that makes things go fast, Marco tried his luck with Lamborghini Aventador orange. I'm pretty sure his Sunrise V35 cafe racer won't be entering any races, but it's sure to be turning plenty of heads.