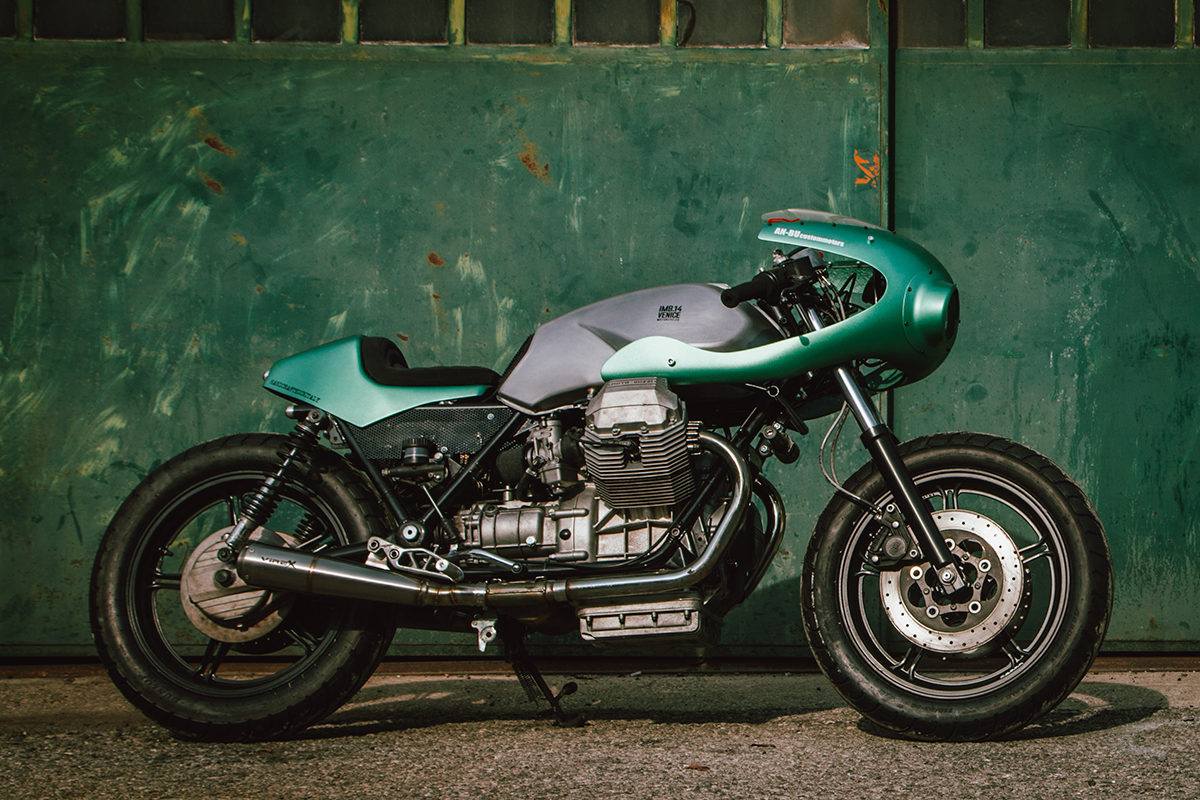 Maurizio, who's been running his Imbarcadero 14 workshop for the past 3 years, has always been inspired by the Japanese style of building. After discussing the concept of an international collaboration with local motorcycle boot manufacturer HNBiker it was agreed that bringing An-Bu main man Koichi, with his 10 years of custom building experience and unmistakable style into the mix was a must. After making initial contact with Koichi over facebook he gladly accepted the opportunity and HNBiker made arrangements for him to make the 14-hour flight from Japan to Italy.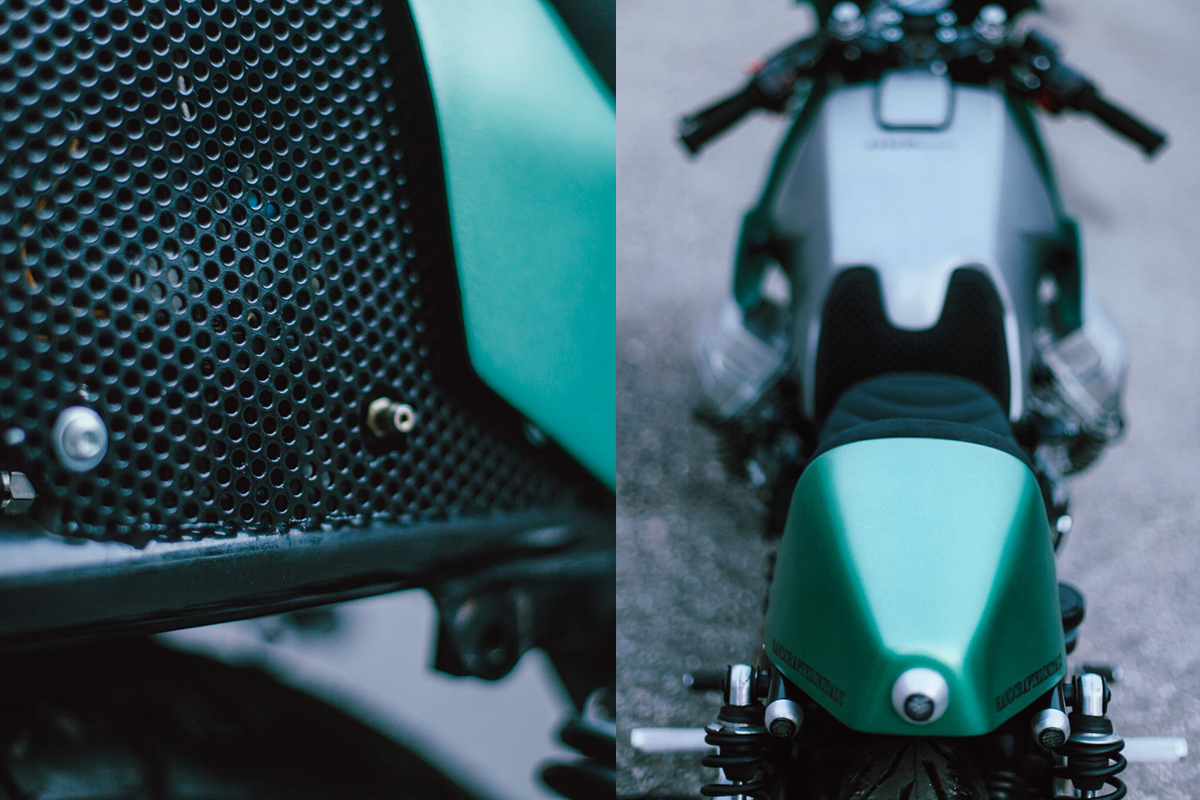 Despite the language barrier, the two builders communicated through their shared passion for motorcycles and a multitude of descriptive hand gestures. Having little experience with European motorcycles Koichi showed interest in modifying an Italian made motorcycle, much to Maurizio's pleasure. Opting for an engine configuration unlike any of the Japanese or American made machines he usually works on, a 1989 model Moto Guzzi SP3 1000 was nominated for the task. Inspired by enduro racer styling of the 1980's Koichi would being the project by designing new front and rear end fairings for the bike.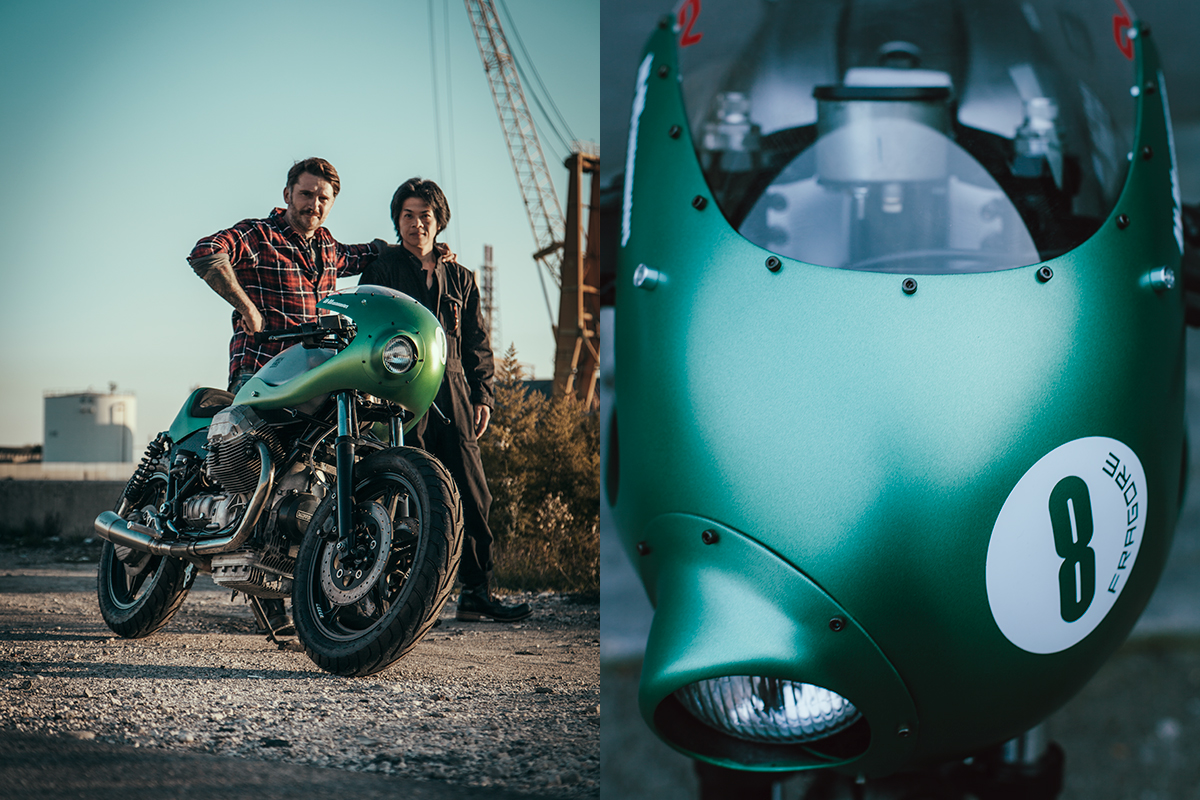 Once all of the bulky SP3 touring bodywork and plastics were removed from the stock bike, work began on reimagining the bike's appearance. Koichi designed a signature An-Bu style half race fairing front end with an asymmetrical headlight configuration, which he modified to match the Guzzi's front end and fuel tank dimensions. For the bike's rear he also designed a narrow race inspired seat and tail to sit over the bikes subframe. With Koichi working on the fibreglass bodywork Maurizio took to the subframe with a grinder, trimming it back just shy of the rear shock mounts. To match the tiny round tail light Koichi had in mind for the rear Maurizio made a pair of aluminium surround, LED indicators which he slid into the open ends of the subframe, running the wires internally for a clean finish.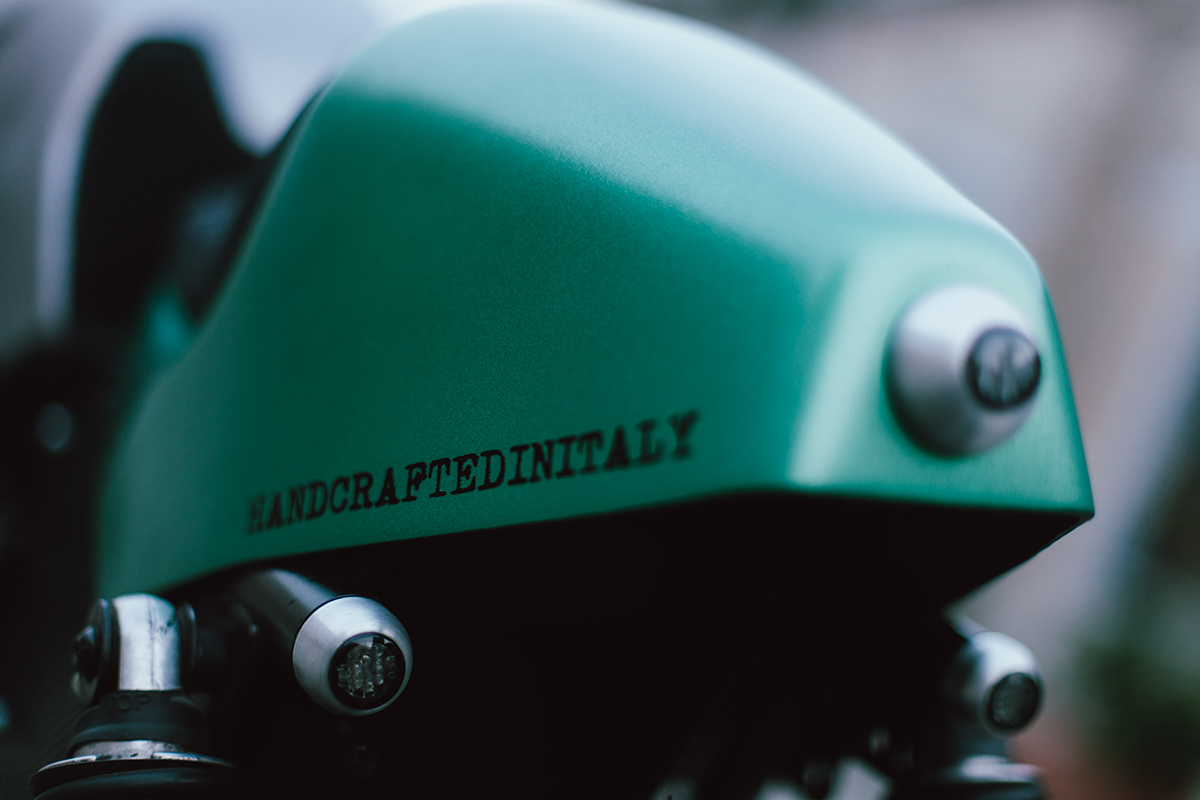 The bikes original fuel tank was stripped of it's factory paint and its raw steel meticulously brushed before applying a satin clear coat to keep rust at bay. The frame and wheels were also treated to a fresh dose of saint black powdercoat paint and grippy modern compound tyres mounted. For improved performance (and sound) Maurizio removed the bikes air box, fitting high flowing foam filters and a custom made stainless exhaust system. The bikes exposed electrics were then simplified and concealed in the tail along with a lightweight lithium-ion battery.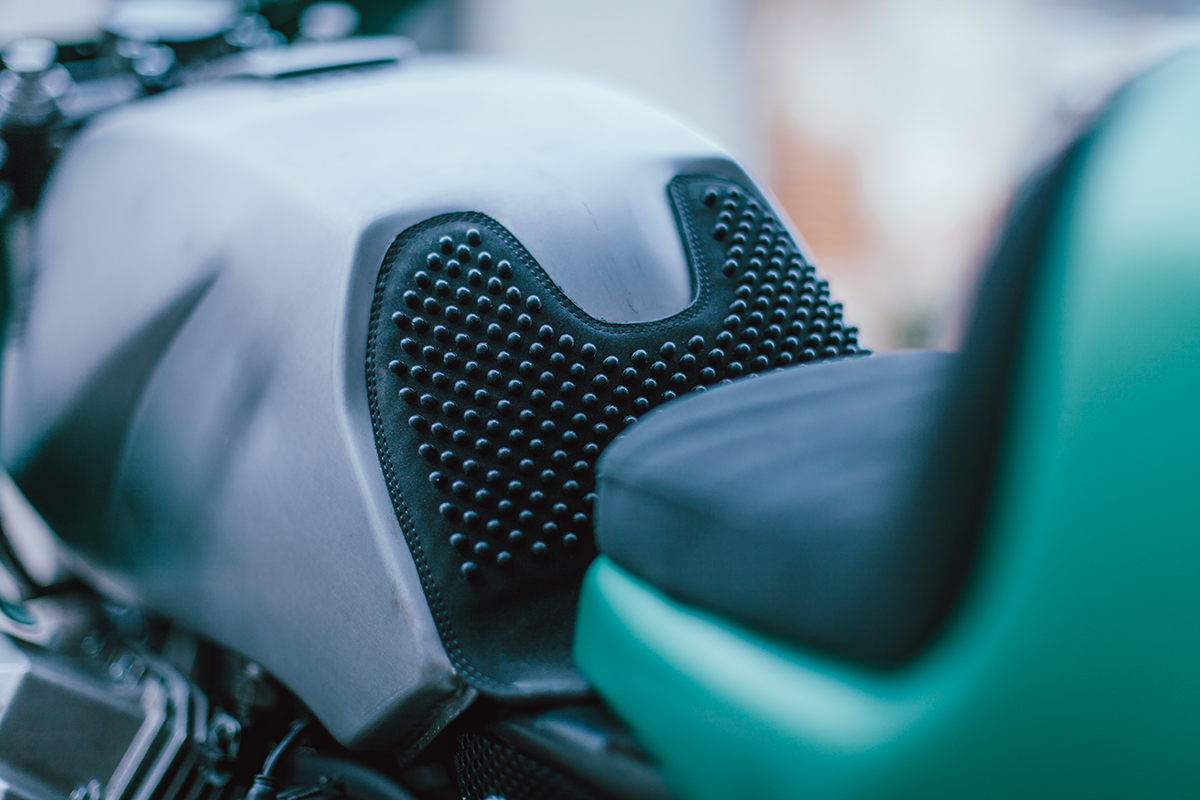 The pair then added the final touches to the bike such as the suede covered seat and studded tank pad to disguise the grooves in the stock tank where the original seat once sat. Lastly, a satin metallic green paint, Maurizio's own take on Moto Guzzi's Griso green, was applied to the An-Bu bodywork along with IMB.14, An-Bu and HNBiker motifs.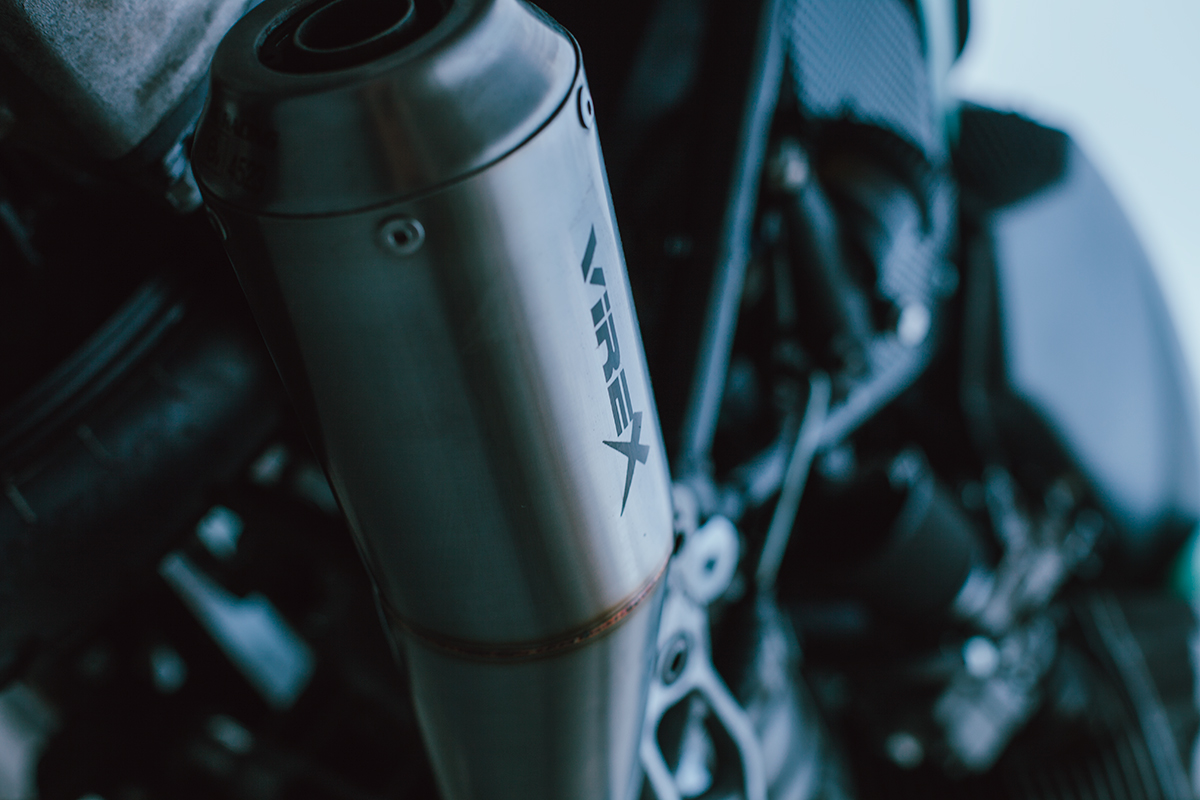 As far as winning recipes go the flavor of this IMB.14/An-Bu has me salivating and it's collaborations like this one that we hope to see more of in 2016.
What do you think of the Fragore Moto Guzzi SP3? Add your thoughts in the comment section below…
Build sheet:
Fairing with headlight offset
Narrow tail end and single seat
Custom clip on handlebars
New instrumentation
Handmade exhaust with Virex muffler
Custom rear tail
Custom rear LED indicators
Simplified electrical system
Lithium battery
Mesh side panels
Billet rear set footpegs
Air box removal
Bare metal tank with custom pad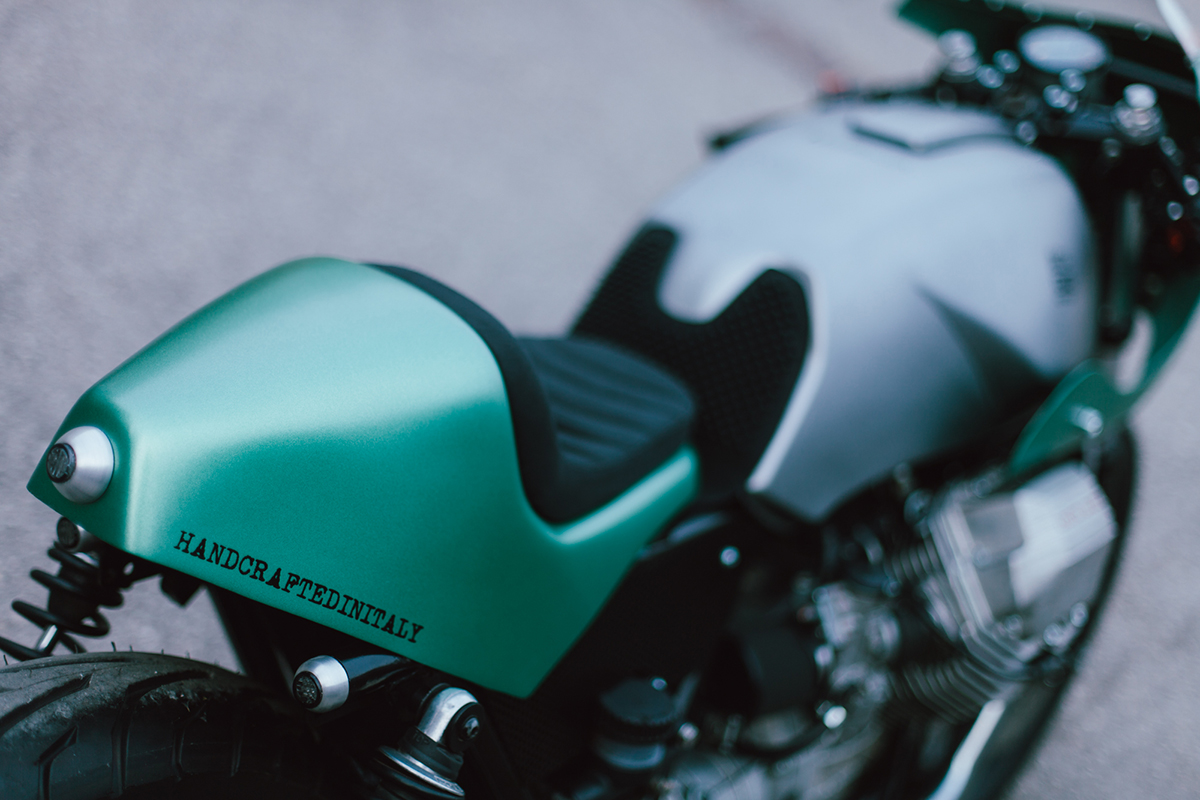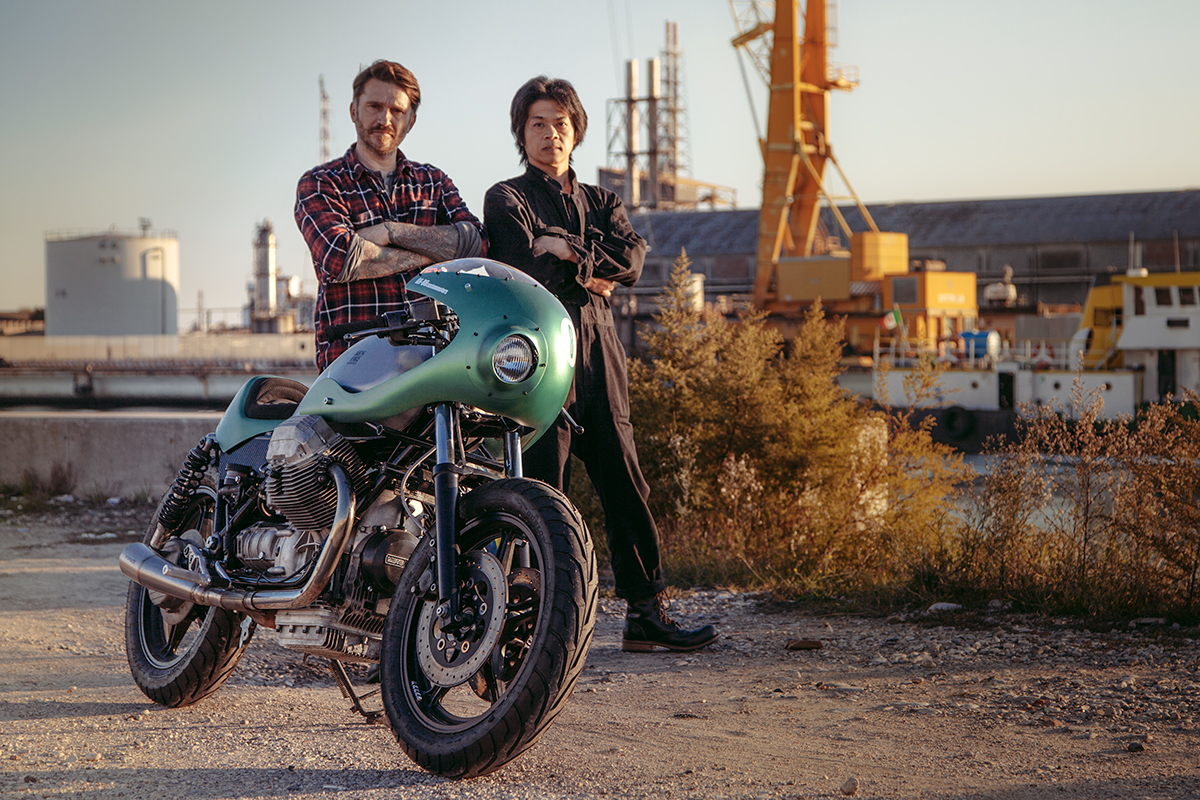 Despite a challenging language barrier and being separated by a 10,000km expanse of land and sea, Maurizio Carraro of Imbarcadero 14 in Venice, Italy and Fujita Koichi of An-Bu Custom Motors in Nagoya, Japan combined their skills to reimagine this 1989 Moto Guzzi SP3. Named 'Fragore', an Italian word roughly translating to roar or rumble, the bikes custom exhaust and it's striking design both do exactly that.