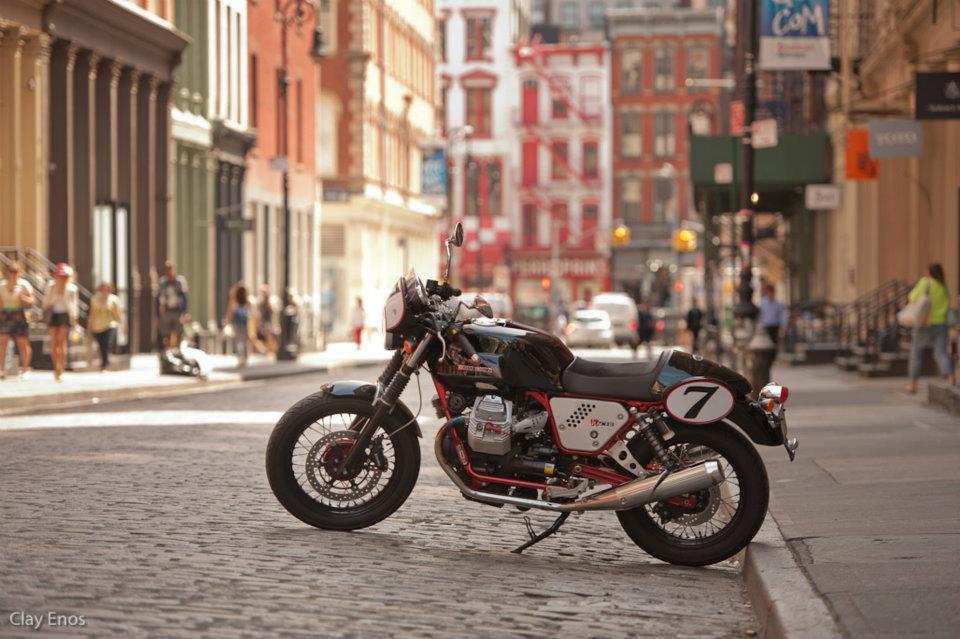 When Moto Guzzi released the V7 Clubman Racer back in 2010 it made all of us Cafe Racer nuts sit up and take notice. The Clubman ticked all the right boxes in the styling department with its polished alloy tank and low slung bars and although it wasn't a high powered crotch racer it certainly didn't disappoint out on the street. Fast forward 3 years and the folks at Moto Guzzi decided it was time for a change so they've re-released our favorite modern retro in 2013 as the V7 Racer.

The V7 Racer has all the same Cafe Racer style and impeccable quality we saw on the old Clubman Racer but when it comes to performance Guzzi have stepped things up a notch. Seventy percent of the bikes engine was replaced with new components that have raise compression and boost power figures by 12%. That's around 50bhp with max torque coming on at around 5000rpm, plenty for a quick burn around the block or as a daily commuter through the city. They've also shaved a few pounds from the bike dropping the kerb weight down to 179 kg (395 pounds) and although it's not a huge drop every kilo counts!
Back in June of this year Guzzi invited New York based photographer Clay Enos to shoot the V7 Racer out on the streets of his home town and to clock up some miles in the saddle. In Clay's own words "the V7 Racer is an attention grabber" and it's easy to see why. You can read about the rest of Clay's day with the bike on the Moto Guzzi Originals website along with several other reviews of the 2013 range of Moto Guzzi retro rides.
"Having spent tons of time on an Aprilia Mana 850 GT ABS, I was surprised just how smooth the V7 Racer shifted. It was a real pleasure and I enjoyed the few times I got to let it rip. NYC isn't exactly a speedy town but the bridges provide."
If you're keen to take a V7 out for a test ride Moto Guzzi are taking test drive bookings now for their matte black V7 Stone which you can learn more about on the official Guzzi USA website.