In the early 1960s, the Surf scene in California was peaking. Skilled fibreglass workers were in high demand by up and coming surfboard brands. One such fibreglass expert was Tracy Nelson. After honing his skills making surfboards he launched a business idea based on another of his passions, motorcycles. With the custom motorcycle scene also in full flight, his timing couldn't have been better. He quickly became the biggest manufacturer of motorcycle body kits in the USA and he named his business Tracy's Fiberglas Works.
Renowned surf Illustrator Jim Phillips (the man behind the Santa Cruz screaming hand) worked closely with Nelson creating artwork for his marketing and branding. I interviewed Phillips to discover the full story behind Tracy's Fiberglas Works for Fuel Tank which I have the opportunity to share here today.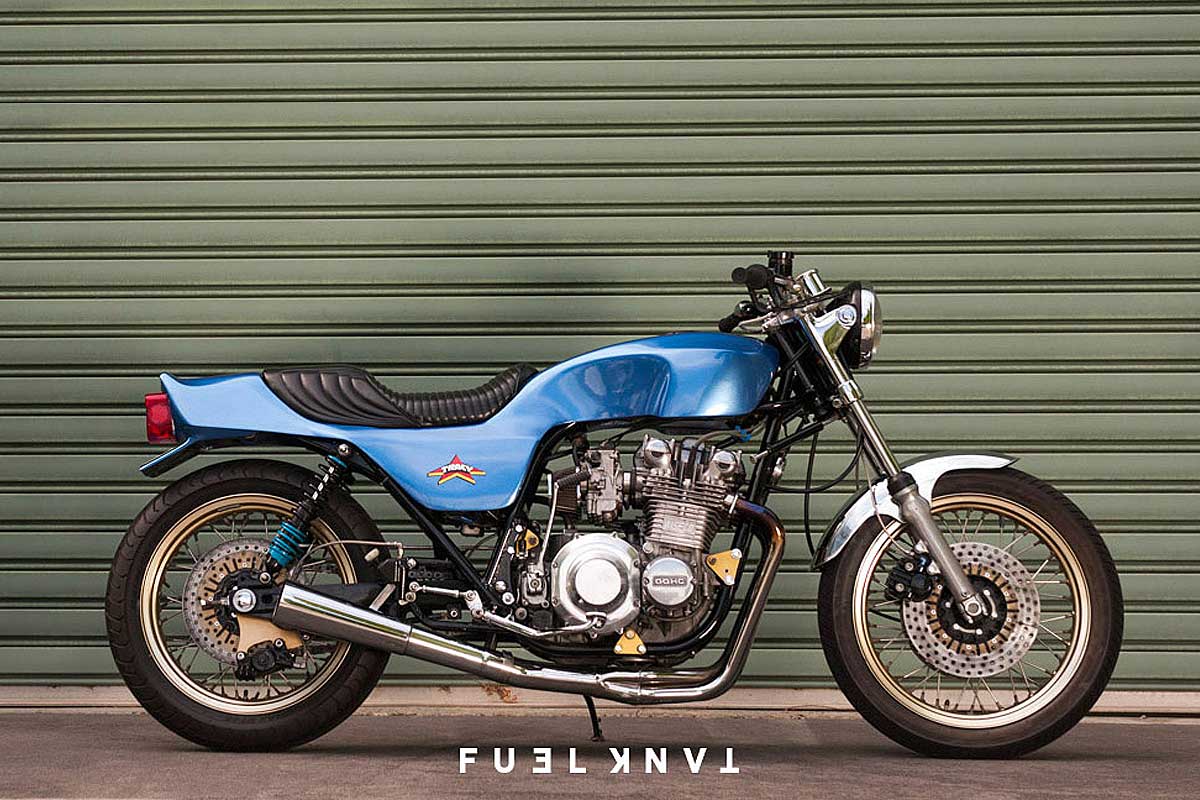 "Tracy's Fiberglas Works transformed my life. Tracy Nelson was one of a group of surfers that I became friends with during the early 60s. Tracy worked glassing surfboards at O'Neill's Surf Shop a few years after my own glassing work there. Surfboard manufacturing workers often had side projects in the shop, and Tracy made a fibreglass mould for his dirt bike gas tank. Other riders saw Tracy's tank and asked him to build them one. In fact, he got so many orders that he quit his O'Neill job to set up a small shop for making tanks. I designed the Fiberglas Works star for him around 1971, and shortly after that a Fiberglas Works poster and 1972 calendar.
Within a year Tracy moved to a larger shop, then an ex-cannery factory and hired 150 employees. That's when he came over to my office at Overlin's Surfboard shop, where I was doing pen & ink artwork on surfboards, and asked if I wanted to come over to the art studio he was building. I agreed to do art and advertising full-time for him with considerably more pay. I liked my job doing art on surfboards with plenty of time to surf but I jumped at the chance to work in an art studio, the pay raise made the difference.
The Tracy star was the logo I designed for Tracy's new empire. It was a fitting emblem for Tracy. Like Superman, Tracy excelled at everything he did. He had me paint a mural on his factory and I represented him in the design like Superman, bursting through the door handing designs to the draftsmen. He was a certified genius with motorcycle designs and promotion. He was like an impresario. Bank of America was featuring him on national TV ads extolling Tracy as a successful young entrepreneur using their services. Tracy opened Bike Shop West, a glitzy retail showroom in Santa Cruz, which was the first of many business locations."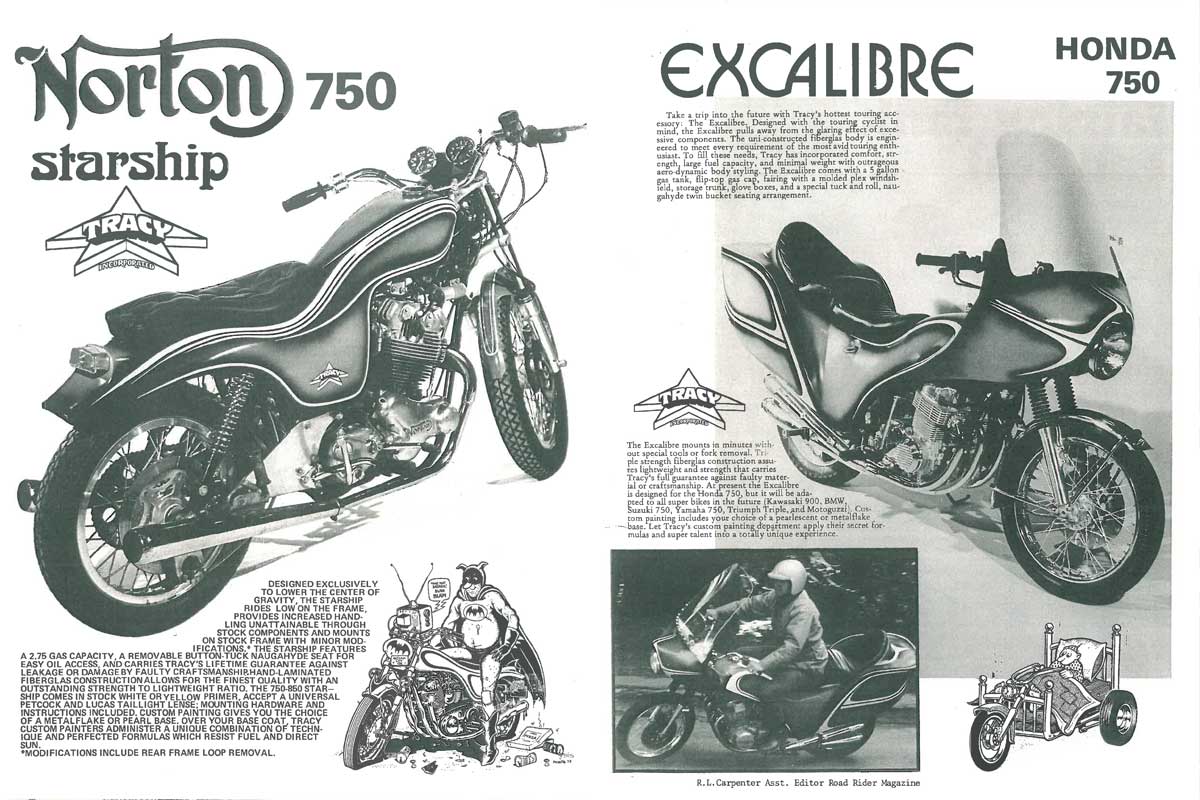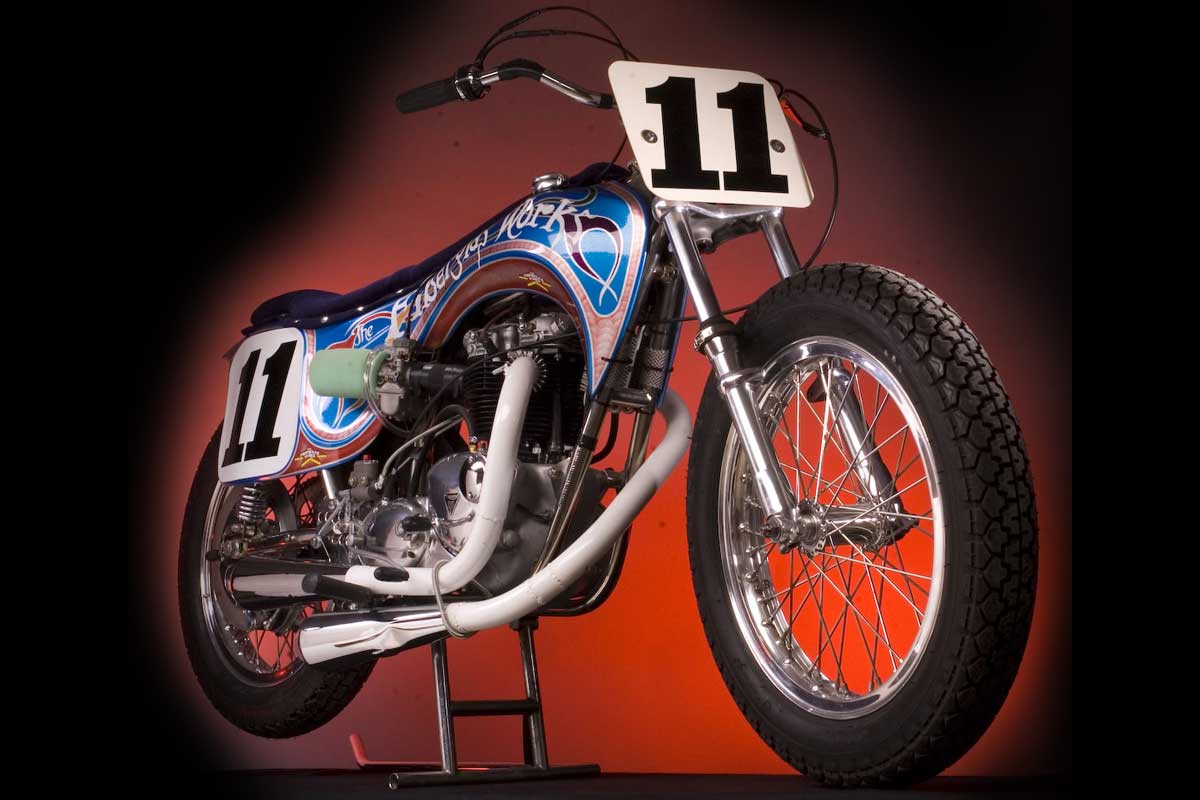 "I worked upstairs in the art studio with Geoff McCormack a longtime surfer friend. I mostly drew motorcycle illustrations and cartoons, and Geoff would put them in ads and catalogues. I had an open field and so I just ploughed ahead with whatever idea struck me. There were very few restrictions. Tracy was stoked with everything I threw at him, I did illustrations of everything I could think of on bikes. Occasionally Tracy would transmit his body design concept ideas to me while I sketched. That was super exciting to me. Tracy also liked to broker our services around so we did some contract work for other motorcycle accessory manufacturers like Cycle Shack. I did a lot of work for them, including hand-illustrating every part in their catalogue.
The dark days for the Fiberglass Works ensued with the tragic death of Tracy's beautiful wife Randy. Tracy lost his mind, the business and most everything else. I can only imagine what Tracy would have built from the momentum that he had established there. Eventually, Tracy recovered started a new family and has been involved with many innovative projects over the years.
Tracy turned my life around too. With the advertising skills I learned at Tracy's I was able to start a very prosperous freelance art service which has lasted my lifetime, with clients such as Harley Davidson, Santa Cruz Skateboards, Independent Trucks, O'Neill's, Fillmore Auditorium and many more." – Jim Phillips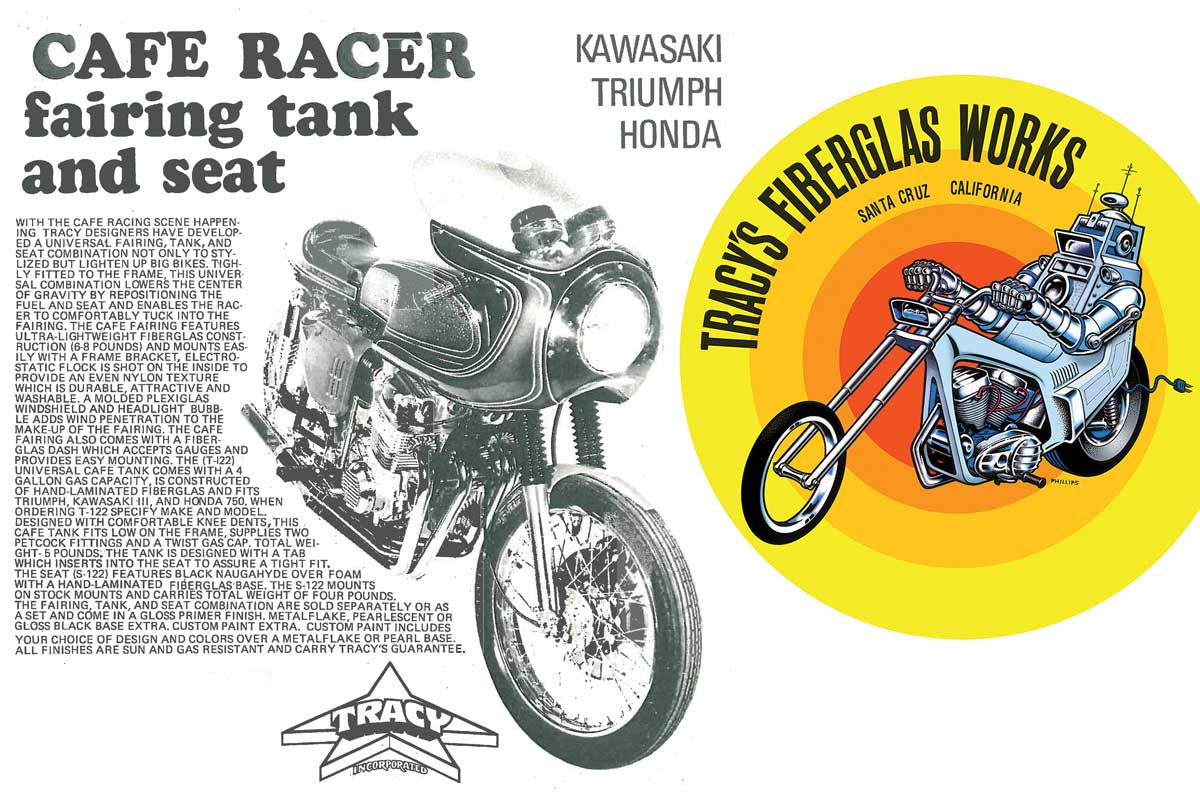 In 1974 a full Tracy Fiberglas Works body kit could be purchased for around $170 USD. For an extra $70 your kit could then be finished with a one of a kind custom paint scheme by their paint shop, 'Tracy and Friends'. The paint was laid over either a crushed polyester mirror flake or pearl white base. You chose the colours and selected a style which would be laid using Tracy's own blend of fuel and weatherproof acrylics to ensure longevity. As the Tracy catalogue stated you could order "flames, scallops, cobwebs, fish scales, lace, flags, graphics, scrolls, ribbons, explosions, or any combination of each and never see a duplicate anywhere", who could resist such an offer for 70 bucks!
The 'Eliminator' was Tracy's Cafe/Street Racer styled tank/seat/fairing combo. It had clear similarities to the Triumph Hurricane bodywork designed by Craig Vetter. When Vetter and Don Brown presented their body kit to BSA in '69 they described it as being designed to "show the Brits what Americans wanted their motorcycles to look like". Tracy's Eliminator proved Vetter's theory by being the most popular kit in the companies range. It was available as a "bolt-on" modification for the Honda CB 450/500/750, '71-'73 Norton 750, Triumph Trident & pre-'71 650s, BSA 650, Yamaha XS650, Suzuki GT750 and Kawasaki 750. The kit wasn't merely for show. Tracy designed the Eliminator to lower a bike's centre of gravity for "super handling" and despite their narrow profile and lightweight construction could hold a similar capacity of fuel to each bikes stock tank. Included in the price of each body kit was a custom diamond-stitched or rolled leather seat with a hinged base to allow access to the battery or oil filler depending on the model purchased.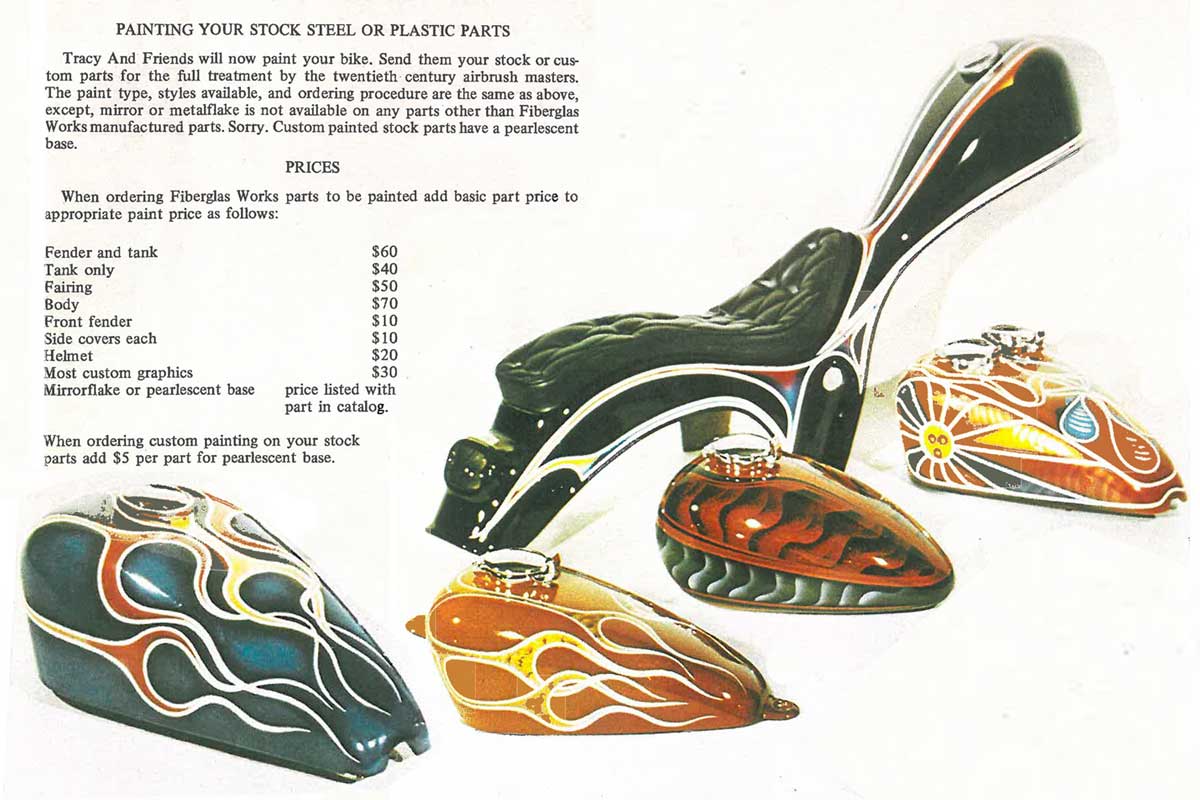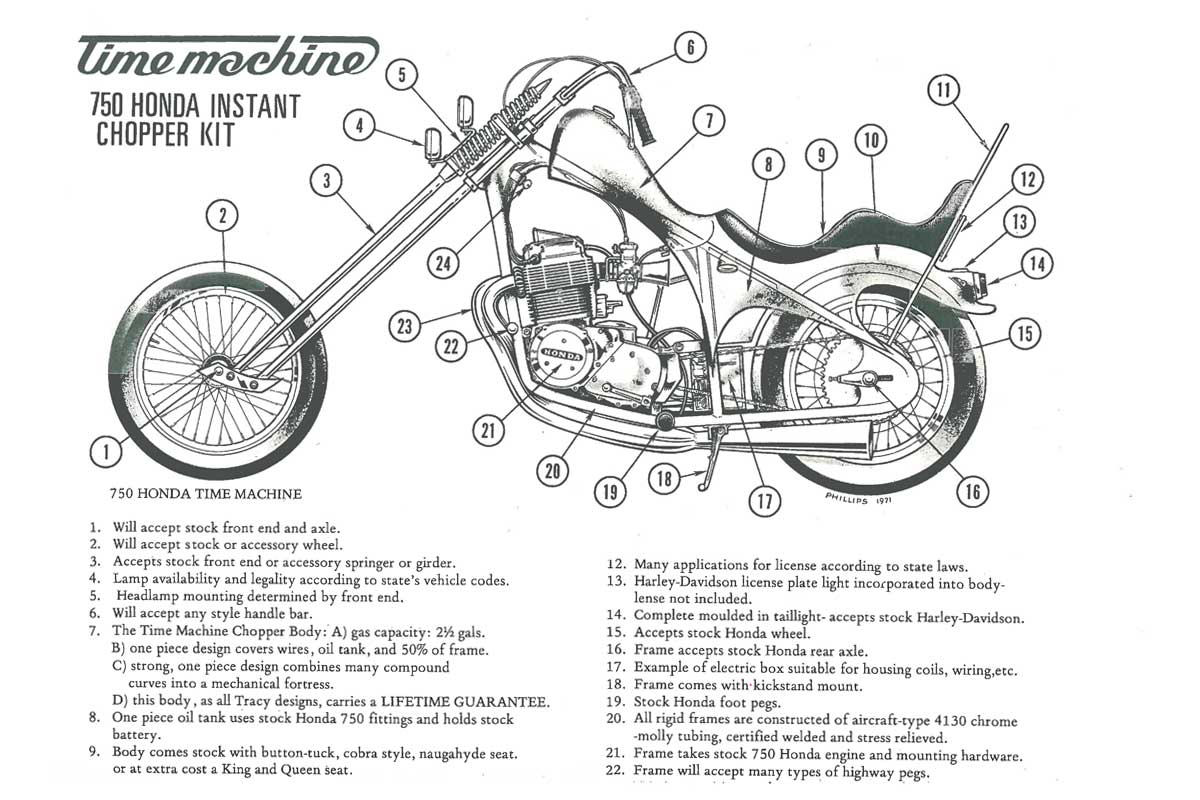 Other Tracy Fiberglas Works kits included the 'Time Machine' Chopper kit with concealed wiring, 9.5-litre fuel capacity and frame concealing design. The universal Cafe Racer kit was a 3 piece seat, tank, and race fairing. The 'Excalibre' tourer fairing had a generous 19-litre fuel capacity and the out of this world 'Intruder' was Tracy's "total solution to a cyclist's needs". The Intruder was a space-aged, uni-construction fairing (one piece from the headlight through to the rear fender) designed for the Honda CB750. It also held 19 litres of fuel, had a rolled seat that ran from the dials back to the bum stop and concealed the rider's arms inside the front fairing while riding. Totally rad!
Forty years on Tracy body kits are becoming highly sought after with good examples fetching upwards of $1000 USD. You can identify a genuine Tracy kit by the card moulded into the underside or inside of the tank channel which can be seen through the filler hole. Unfortunately, fibreglass of this age can crack and leak quite easily but for those who are willing to overlook those challenges, a Tracy Fiberglas Works kit would make an awesome addition to any 70's inspired custom build.
You can see more of Jim's work for Tracy in his first book, 'Surf, Skate and Rock Art of Jim Phillips', available here.