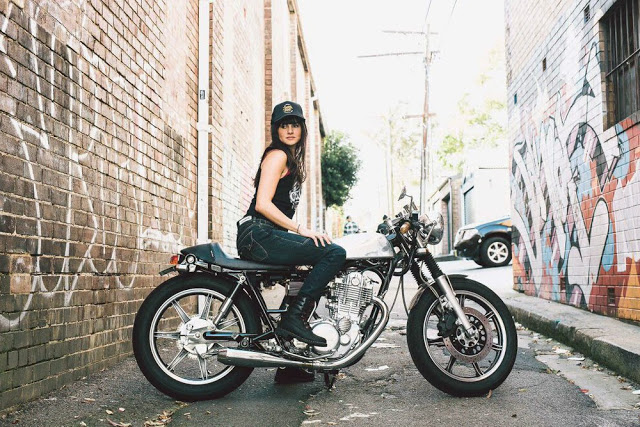 Moto Doll – "My Instagram feed had been filling up with posts about 'Throttle Roll', an event that I hadn't heard of until a few weeks prior to it happening. I did a bit of social media research and concluded that it looked cool enough to fly up to Sydney for. Being Melbourne based, I was going to need some wheels for the ride so I gave my mate Sean 'Geezer' Goldhawk a call at Yamaha Australia and he was onto it for me. A couple of days later I had a gorgeous customised SR400 with my name on it for the weekend. I was going to Throttle Roll!!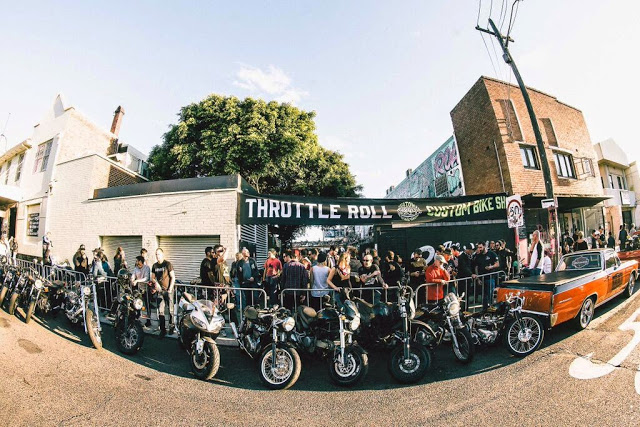 My Throttle Roll experience began with my alarm going off at 6.30am and me getting my sorry, hung over self out of a top bunk in an 8 bunk dorm to meet Geezer so I could follow him to the event. So there we were at 7.30am. I had been sick allnight and slept about 3 hours, yet to have a coffee or food, parked out the front of Central Station. Sean looks at me and says, "well go on, kick her over".
Is he for real?! I had never kick started a bike in my life! So 20 minutes later I got her fired up and I  nearly puked from excitement and exhaustion or maybe it was just those fireball whiskey shots from the night before.
We made our way through the quiet inner city streets to the ride out starting point, Harry's Café De Wheels, a giant airstream caravan serving hotdogs for brekkie. The scene upon arrival was like something from a dream. Around 300 of the coolest, customised motorcycles of all denominations were overflowing out of the parking lot as riders woke up with a caffeine hit while pouring over each other's bikes. As I meandered through the crowd (feeling very much like a loner) I saw a pair of large, sparkling blue eyes staring at me. The face that they belonged to was beaming with a familiar smile and I heard her say "Moto Doll". Oh the relief I felt in that moment! It was Nicci, Queen of the Foxy Fuelers whose face I recognised from Instagram….I was no longer alone! We said hello like old friends and she introduced me to the rest of the crew. It was time to hit the road.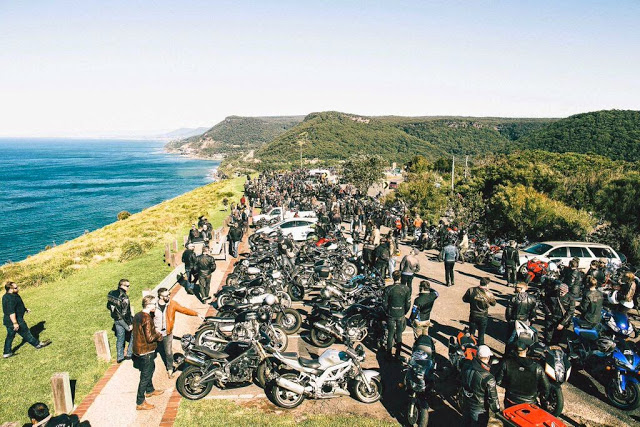 We headed south to the Royal National Park where the roads were twisty and the lush greenery lining them made it a perfectly picturesque ride. I had tried to hang back with the girls but soon enough found myself working up through the traffic, bikes and cars alike. I ended up amongst the Vespa pack riding the first half of the national park which was amusing. The guys were riding the wheels off of those scooters! All of the bikes converged at the lookout. We must have picked up more bikes along the way as there now seemed to be around 500 of us! As I thawed out my mind began to race back to my SR400 and whether I had enough fuel to get to the servo. I tracked down the support vehicle and turned on my 'damsel in distress', as I truly was at this point. I suggested that I may not have enough fuel to get to the service station and they radioed for the fuel. Within 5 minutes a dude with a tattooed face who at first glance my initial thought was "be nice to this guy" rocked up with a fuel can. I showed Steev to my bike and we both fumbled around trying to figure out how to get the fuel tank open. Instead of just putting enough in my tank so I could get to the servo, this bloody legend just about filled me up so I wouldn't need to stop again until we got back to the end point. Steev became my hero that weekend for that one wonderful deed!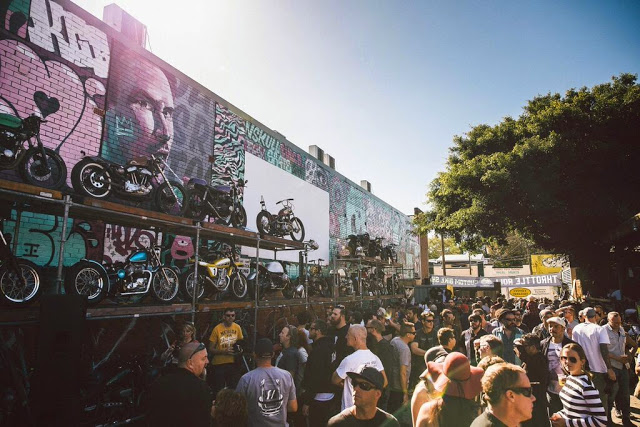 We arrived at our final destination, the Vic Enmore Hotel in Newtown. After 4 hours on the bike walking into the Vic Enmore was like reaching the Promised Land! The walls of the outdoor courtyard were decorated by a 3 storeys of scaffolding displaying 50 of the most creatively designed and built motorcyclemasterpieces that I have ever seen! There was live music playing, a lamb roasting on a spit and the atmosphere was buzzing with excitement and joy. The booze, food, bike talk and music flowed well into the evening with the festival part of the event being just as enjoyable as the ride itself.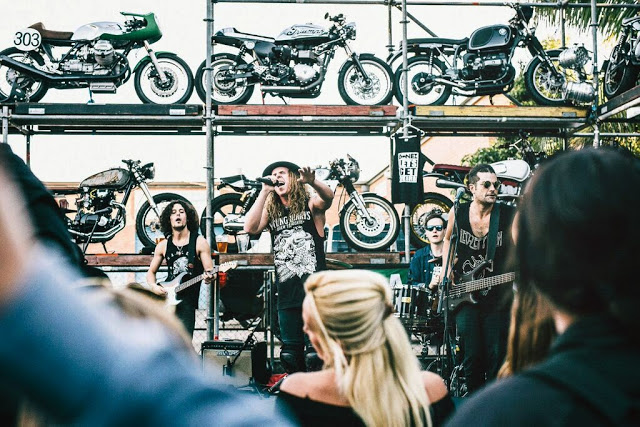 I arrived at the Throttle Roll an out of town stranger and left the event with a new network of friends and Motofam. Mark Hawwa the event founder, The Foxy Fuelers and the Sydney Café Racers, took me in and made me feel like one their own all through a distant Instagram connection. I can't tell you how much my eyes have been opened to the power of social media to connect people and build networks and this event for me was a perfect example of that. I can't wait to get back to Sydney for Throttle Roll 2016!!"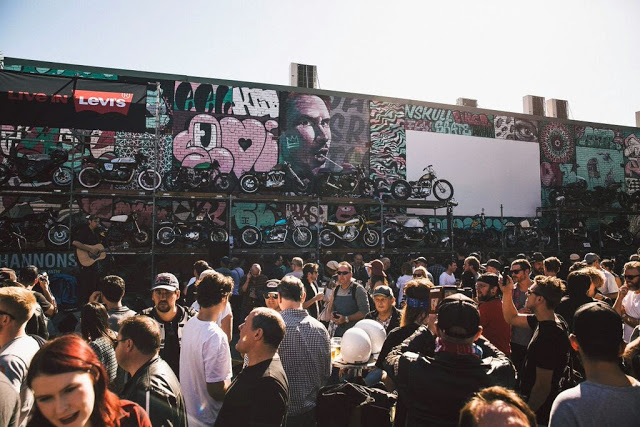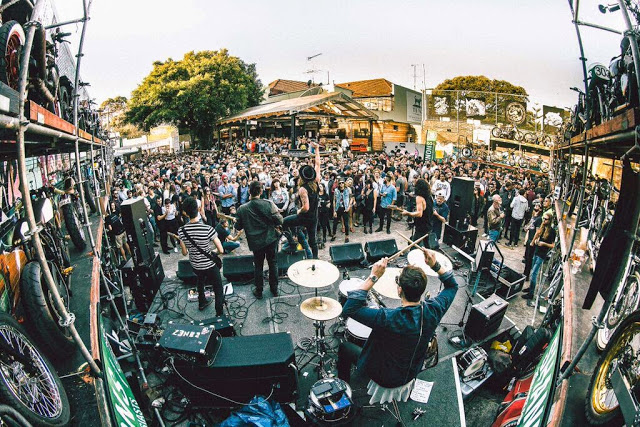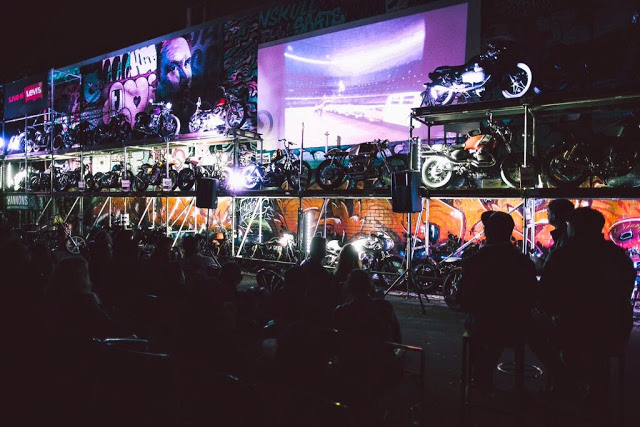 This year I wasn't lucky enough to attend the 2015 edition of Throttle Roll in Sydney, but thousands of other people were. The event has grown exponentially since it first began and Mark Hawwa and his team really know how to throw a killer party. With 50+ killer custom motorcycle builds, live music all weekend, a massive 500 strong group ride and plenty of good beers on tap the events now one of the biggest custom motorcycle events in Australia.
Although I wasn't able to go along to the show local girl Jacinta Siracusa, otherwise know as @MOTO_DOLL did and in her first contribution to Return of the Cafe Racers here's her account of a weekend at Throttle Roll…