As with all our other issue Tank Moto 5 features an eclectic mix of custom builds. In this issue we spoke to our good mate Kev Caddick to hear the story of how he got his hands on a tidy '51 Harley Panhead from the States. Brandon Holstein introduced us to his 'Mako' HD Sportster which was turning plenty of heads at this years 'Born Free' show…and speaking of Born Free our buddy and local engineer whizz Matt McLeod shared his account of attending the show alongside some great photos from the event by Jose Gallina.
In our ongoing mission to uncover the female side of the custom motorcycle scene we interviewed Maria of Sydney's Throttle Dolls and you can see the ladies standing proud beside their motorcycles on our very special cover photo set by Cam at Stories of Bike.
If high performance is your thing we've got a 120bhp Shovelhead that's heading out to the salt next year, a 'tried and tested' TriBSA sidecar racer father and son story and LowBrow customs jaw droppingly cool, twin engined 'Double Vision' Triumph land speed bike.
You'll also find interviews with artists Richard Minino of 'The VNM' and Viet Nguyen. Addiction customs SR500 'Arcanum'. Sofi Tsingos charity bike build. We meet New Zealands smokiest MC The Quake City Rumblers and I had the opportunity to review Braaap Motorcycles Mercury Cafe Racer.
As always it's all printed on 144 pages of high quality, full colour stock in our unmistakable, perfect coffee table size format. You can purchase a copy of the issue here.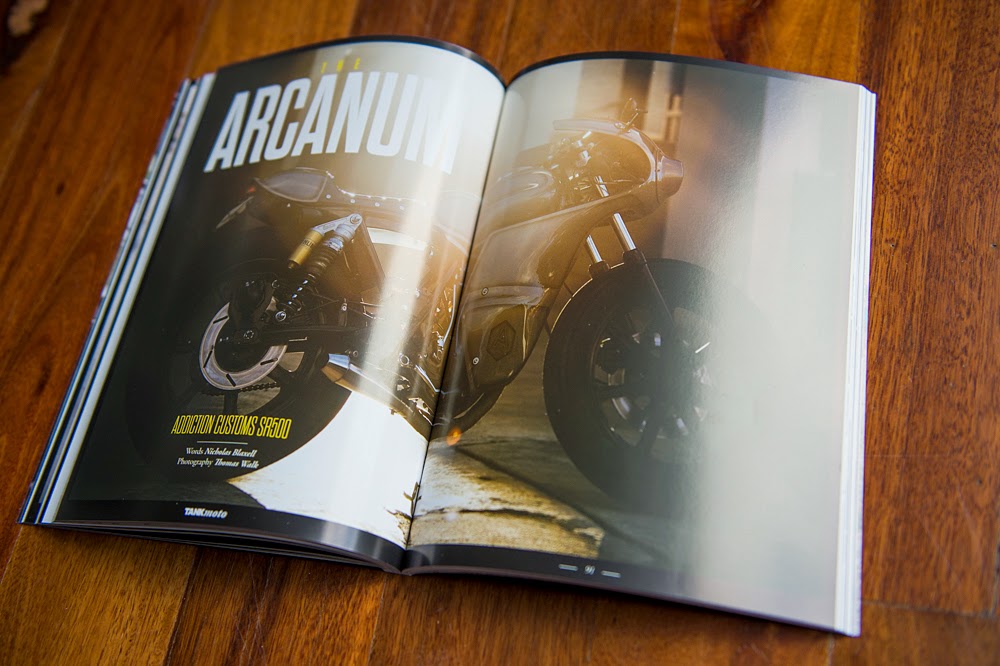 It's hard to believe it's already been 3 months since we released issue 4 of Tank Moto! Just like the previous issues Tank Moto 5 is packed with awesome moto features. Grab yourself a copy to see some stunning custom builds from around Australia and the rest of the world, cool artist features, new bike reviews and custom motorcycle event coverage…